Frontier Airlines makes a network push starting in late 2015 as it flexes its new ULCC muscle
Analysis
With its transition to an ultra low cost airline essentially complete, Frontier Airlines continues to undergo network changes to maximise its ULCC business model. In the latest round of flights starting in late 2015 and continuing early into 2016, Frontier is stepping up competition with familiar foes, namely American Airlines and Southwest Airlines. American in particular has faced deep discounting in its markets during 2015 from Southwest and other ULCCs, which has been one main factor in the Fort Worth-based airline's sagging unit revenues.

Among the network changes for Frontier is the pruning of some service from Cincinnati, a market that seemed ripe for the airline's business model. But it appears Frontier is opting to focus much of its new network offerings in leisure markets with a push from Fort Myers, Florida and Las Vegas.

Frontier also recently marked a milestone with the delivery of its first larger gauge Airbus A321 featuring a high density configuration of 230 seats. As it continues to fine-tune its network and product offerings, Frontier finds itself in a US domestic environment where unit revenue and yields are falling, yet profits are reaching record highs.
Frontier steps up competition with American and Southwest in its latest expansion
Frontier's latest raft of new flights starting in late 2015 and continuing to early 2016 are largely to leisure markets, with some larger routes such as Denver to Charlotte and Philadelphia mixed in. Among the new additions are five routes from Southwest Florida International airport in Fort Myers, four from Orlando International and three from Las Vegas. Frontier is also taking aim at American with service from Denver to American's hubs in Charlotte and Philadelphia.

Forward looking schedules from CAPA and OAG for the week of 14-Mar-2016 to 20-Mar-2016 show that Frontier and Southwest will hold a duopoly on flights from Southwest Florida to Milwaukee, St Louis and Indianapolis. Frontier's competitors on flights from Southwest Florida to Detroit are Spirit and Delta.

Frontier is breaking American's monopoly on service between Philadelphia and Southwest Florida and Montego Bay. Frontier joins American, United and Southwest on service between Denver and Philadelphia. Frontier is also entering another hub to hub market, Denver-Charlotte, which is presently operated by American and United.

Southwest is Frontier's sole competitor on flights between Tampa and St Louis and is also Frontier's major competitor on flights from Orlando to Kansas City and Milwaukee. Delta has a very marginal presence in those markets.

Frontier's competitors on flights from Orlando to Houston Intercontinental and Las Vegas to Intercontinental are United and Spirit. Between Las Vegas and Miami, Frontier is competing with American, and with Southwest on the Las Vegas-Milwaukee pairing.

Generally ULCCs only offer enough service on route pairing to stimulate traffic to cover their flights, and Frontier's seat share on the new routes reflects that strategy. Its largest shares are 31% each from Southwest Florida to St Louis and Philadelphia to Southwest Florida.
Competitors and seat share distribution on Frontier's new routes introduced in late 2015 and early 2016 for late Mar-2016
Route
Airline Seats and Seat Share
Orlando-Houston Intercontinental

United 9,584 76%

Spirit 1,424 11%

Frontier 1,610 13%

Orlando-Kansas City

Southwest 2,991 74%

Frontier 966 24%

Delta 77 2%

Orlando-Milwaukee

Southwest 5,293 84%

Frontier 966 15%

Delta 76 1.2%

Tampa-St Louis

Southwest 3,136 73%

Frontier 1,183 27%

Las Vegas-Houston Intercontinental

United 7,360 68%

Spirit 2,492 23%

Frontier 966 9%

Las Vegas-Miami

American 4,389 82%

Frontier 966 18%

Las Vegas-Milwaukee

Southwest 3,530 79%

Frontier 966 22%

Denver-Charlotte

American 7,245 81%

United 1,120 13%

Frontier 552 6%

Denver-Philadelphia

American 2,289 34%

United 1,686 25%

Frontier 845 12%

Southwest Florida-Detroit

Delta 6,958 61%

Spirit 3,507 31%

Frontier 966 8%

Southwest Florida-Indianapolis

Southwest 4,002 79%

Frontier 966 19%

Southwest Florida-Milwaukee

Southwest 3,347 78%

Frontier 966 22%

Southwest Florida-St Louis

Southwest 2,139 69%

Frontier 966 31%

Orlando-Los Angeles

Delta 3,563 40%

Virgin America 1036 12%

American 2,317 26%

United 966 11%

Frontier 966 11%

Philadelphia-Southwest Florida

American 2,625 69%

Frontier 1,183 31%

Philadelphia-Montego Bay

American 1,908 79%

Frontier 507 21%
Frontier cuts some routes from Cincinnati, a poster child for ULCC expansion
As Frontier adds a solid number of new flights in 2015 and 2016, it is cutting some service from Cincinnati, a market that has seen a drastic number of flight reductions after consolidation among US major airlines.

Cincinnati seems like the model market for ULCC expansion. It is dominated by one airline, and has fares that are consistently among the highest in the US.

See related report: Frontier Airlines moves on Cincinnati and Cleveland, increasing overlap with Allegiant and Spirit

Frontier made a push from Cincinnati in the 2013-2014 time period, and data from CAPA and OAG for the week of 26-Oct-2015 to 1-Nov-2015 show that it offers flights to Orlando, Dallas/Fort Worth, Denver, Las Vegas and Southwest Florida.
It has cut flights from Cincinnati to Atlanta, Fort Lauderdale and Philadelphia. Frontier competed with Delta on service to Atlanta, with Delta and Allegiant on flights to Fort Lauderdale. Its competitors on flights to Philadelphia were American and Delta.

Allegiant Air has also been building up Cincinnati, and has concluded that its expansion in the market is the fastest in the company's history. Presently, (19-Oct-2015 to 25-Oct-2015) Frontier represents 10% of the airports seats and Allegiant 7%.
Cincinnati/Northern Kentucky International Airport capacity by airline (% of seats): 19-Oct-2015 to 25-Oct-2015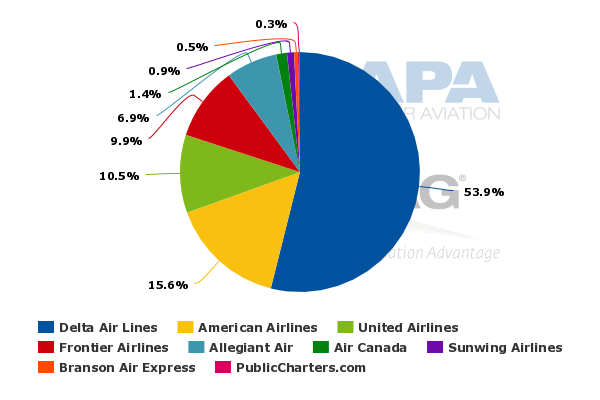 But by 28-Mar-2016 to 3-Apr-2016, Allegiant will represent nearly 9% of the airport's seats and Frontier's share is projected to fall to 5%.
Cincinnati/Northern Kentucky International Airport capacity by airline (% of seats): 28-Mar-2016 to 3-Apr-2016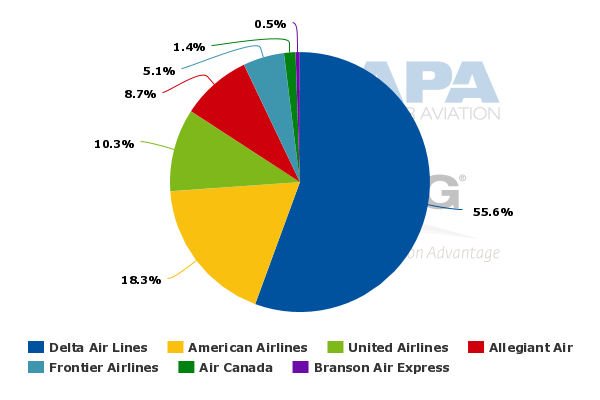 In theory, it seems that Frontier could easily compete in the markets it has shed from Cincinnati, but ULCCs often tout their ability to quickly redeploy assets, so perhaps Frontier has identified other markets that could perform better than some of its routes from Cincinnati, which remains dominated by Delta.
Frontier is likely experiencing unit revenue pressure but is able to record profits
The new competition from Frontier for American continues a trend that American has cited throughout 2015 of pressure from low cost airlines. American has stated that it is matching the fares of discounters, and also has concluded that fare pressure by those airlines is a major factor in its passenger unit revenue decline, which was 4.4% for 1H2015.

Lower fuel prices are allowing the large US major airlines to match fares for what they deem as marginal capacity, which is also putting pressure on Spirit Airlines' unit revenues. Presumably, Spirit still needs to offer fares below the US majors, so the pricing actions by the larger airlines have a cascading effect. Spirit posted a 12.5% decline in unit revenue during 1H2015, and in Oct-2015 declared: "Prices in the markets we serve are low, and we don't expect that to change in the foreseeable future."
Frontier, which is controlled by Indigo Partners, is no doubt experiencing the same pressure on passenger unit revenues. Although Spirit's unit revenue decline is deeper than the rest of the US industry, it recently updated its operating margin guidance for 3Q2015 from 22% to 25% to 27%, driven by lower costs.

See related report: Spirit Airlines' expansion & unit revenue declines concern Wall Street, but are central to the model

Privately held Frontier does not publicly release its financial data; but the airline has previously stated that it was profitable in 2015. News outlet The Denver Post recently quoted the airline's flight attendants union, which highlighted that Frontier is the world's fifth most profitable airline. Frontier president Barry Biffle told local Denver news outlet 9News that Frontier was completely restructured, having removed one quarter of its costs.

Indigo Partners managing director Bill Franke has stated that the key to successfully executing the low cost model is unit costs excluding fuel below USD6 cents. At the time Indigo acquired Frontier, the airline's ex-fuel unit costs were USD7.7 cents.

See related report: The unpredictable impact of ULCCs in the US as they move aggressively to make their mark
Can Frontier catch Spirit's falling unit costs? Denser aircraft could help
Part of Frontier's strategy to lower its costs is densifying its aircraft. It is growing seat counts on its A319s from 138 to 158 and increasing seat numbers on its A320s from 160 to 180. Frontier recently took delivery of its first A321, which features 230 seats.
Frontier Airlines Fleet Summary as of 23-Oct-2015

After the reconfigurations, Frontier's Airbus narrowbodies will feature more seats than the Airbus single aisle jets flown by ULCC rival Spirit Airlines. Its A319s are configured with 145 seats and its A320s feature 178 seats. Spirit's A321s are flown in a 218 seat configuration.

The added seats should help Frontier achieve the unit costs enjoyed by its main rival Spirit; however, Spirit seems to be moving the goal posts on unit cost performance. Its unit costs excluding fuel for 1H2015 fell 4.2% to USD5.76 cents, and the company's projected unit costs for 3Q2015 are USD5.38 cents to USD5.42 cents.
Frontier develops a product offering to perhaps distinguish itself from Spirit
Part of the ULCC model is charging a low base fare and then selling add-ons such as checked and carry-on luggage, food and drinks and seat assignments.

Over the years, Southwest has used its policy of not charging for bags as a key marketing tool, and in Oct-2015 the airline launched a new advertising campaign entitled "Transfarency" that promotes its policy of not charging for bags or having other hidden fees.

Frontier has opted to package its add-on fees into a product called "The Works" that bundles those items together for sale outside of its base fare. The airline stated that the bundle, which includes priority boarding, one checked and one carry-on bag, seat selection, refundability; and no change fees, is 60% cheaper than buying the offerings separately.

It is a useful concept to bundle the add-ons for sale, and something rival Spirit has not done extensively. Perhaps Frontier is attempting to distinguish itself from Spirit in the ULCC space, but the overall ULCC model continues to drive negative consumer sentiment.
The US DoT Air Travel Consumer Report shows that Frontier and Spirit were the airlines that drew the largest amount of complaints per enplanement for Aug-2015 (the latest data available). Frontier's complaint level per passenger 100,000 passenger enplanements was 8.69 (up from 4.87 the year prior), and Spirit's score was 15.42. International experience suggests however that this is not always a determinant of success: for years Europe's Ryanair distinguished itself in this way and has become the region's most consistently profitable airline.
The next couple of years should be interesting for Frontier, and the ULCC space in the US
A tumultuous time for Frontier ended with the purchase of the airline in 2014 by ULCC specialist Indigo.
The transition to a ULCC business model allows Frontier to have some distinction after attempting several network strategies during the last few years that fizzled out.

Frontier still has a lot to prove operationally, and to customers, which are generally cool to the underlying strategy of ultra low cost airlines. But for now it is taking the ULCC playbook and making small nuanced changes. The next couple of years should provide clarity about the sustainability of two larger ULCCs in the US market, and if Indigo's turnaround of Frontier is successful.