Frontier Airlines and its network challenges: starting and leaving routes as US ULCC dynamics shift
Analysis
US ULCC Frontier continues to make numerous changes to its network. In early 2016 it unveiled a network blitz, tabling 42 new routes that start in Apr-2016 and continue through Jun-2016, including a return to the smaller market of Colorado Springs. It also joined Allegiant Air in injecting some ULCC competition into Pittsburgh, and it continued expansion from Orlando International airport.

At the same time Frontier has opted to reduce its footprint in Atlanta after joining fellow ULCC Spirit Airlines in making a push from the airport in 2015. Atlanta is a market dominated by two of the large US network airlines – Delta and Southwest. It is not clear whether that has bearing on Frontier's evaluation of its strategy in Atlanta but Orlando is largely an O&D market, which could be better suited for Frontier's ULCC operations.

The only conclusion that can be drawn from many of Frontier's network moves is that no distinctive pattern emerges. There are major competitors in every market that it is leaving, but that is also the case for the remaining routes the airline is serving from Atlanta. Despite the shifts by Frontier, a small ULCC presence remains in one of the world's busiest airports.
Frontier shrinks in Atlanta but remains on some highly competitive routes
Frontier and Spirit undertook significant expansion from Atlanta in 2015. The logic for their push from the airport is that Atlanta is dominated by the full service global network airline Delta, and its second largest operator is Southwest – no longer the low fare leader it once was. The premise was that Frontier and Spirit would inject lower fares into Atlanta to stimulate demand from passengers priced out of air travel.
Atlanta Hartsfield-Jackson International Airport system capacity by airline (% of seats): 4-Jul-2016 to 10-Jul-2016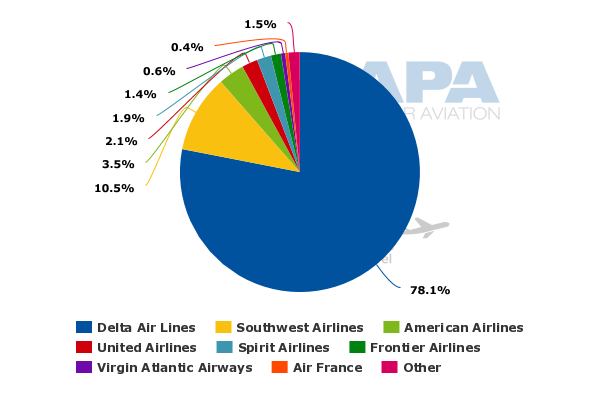 After their respective initial pushes from Atlanta, Spirit and Frontier overlapped on six routes from the airport – Cleveland, Las Vegas, Los Angeles, Philadelphia, Chicago O'Hare and Orlando.

See related report: Spirit and Frontier add new ULCC competition in Atlanta, will Delta or Southwest feel the most heat?

Since that time Frontier has exited Atlanta-Philadelphia and Atlanta-Chicago O'Hare. Now, in the Sep-2016 and Oct-2016 period Frontier plans to cut flights from Atlanta to Cleveland, Cincinnati, Houston Intercontinental, Pittsburgh, Austin, San Antonio, Cincinnati, Kansas City, Indianapolis, St Louis, Raleigh-Durham, Milwaukee and Memphis, according to the news outlet Travel Weekly. The airline told the publication that the route eliminations were seasonal adjustments, and Frontier would determine which markets would return in 2017.

No clear pattern emerges in the method Frontier will use to evaluate the performance of those markets. On most of its routes from Atlanta it competes with Delta and Southwest, and holds anywhere from a 2% to 7% seat share for the week of 4-Jul-2016 to 10-Jul-2016.
Seat share on Frontier's existing and soon to be cut routes from Atlanta: 4-Jul-2016 to 10-Jul-2016
Once Frontier cuts service from Atlanta to Cleveland it will continue to compete with Spirit in three remaining markets – Las Vegas, Los Angeles and Orlando. Five airlines operate the Atlanta-Las Vegas route and four offer service to Las Vegas.
On all those pairings the operators include full service airlines, Southwest and the two major US ULCCs. Spirit also operates flights from Atlanta to New Orleans, Minneapolis and Houston Intercontinental – routes where Spirit and Frontier have subsequently competed, but Frontier has eliminated service. Spirit also still serves Philadelphia and Chicago O'Hare.

All the routes that Frontier has cut or plans to exit from Atlanta have ample competition, as do the remaining markets the airline offers from the airport. Although Frontier has opted to eliminate some routes where it competed directly with Spirit it still has route overlap with its ULCC rival in the Atlanta market, so it is not a case of Frontier opting to shun all routes where it competed with Spirit. It seems that Frontier is possibly looking for routes to redeploy the aircraft used in the Atlanta markets that are being cut, in order to drive more profitability. It is launching flights from Las Vegas to Tampa and Nashville in Sep-2016, breaking Southwest's monopoly on each of the routes.
Frontier has steadily grown at Orlando: potentially better revenue dynamics
Although Frontier's network decisions during the past couple of years have seemed somewhat erratic, the airline has grown rapidly from Orlando International airport during the past three years. In Apr-2016 the airport deemed Frontier the fastest-growing airline in Orlando measured by seat capacity. The airport noted that Frontier grew its seat capacity from 34,000 per month to 230,000 during the last three year.

Data from CAPA and OAG show that for the week of 4-Jul-2016 to 10-Jul-2016 Orlando is Frontier's second largest base measured by seat deployment.
Frontier Airlines system top 10 hubs/bases/stations by seats: 4-Jul-2016 to 10-Jul-2016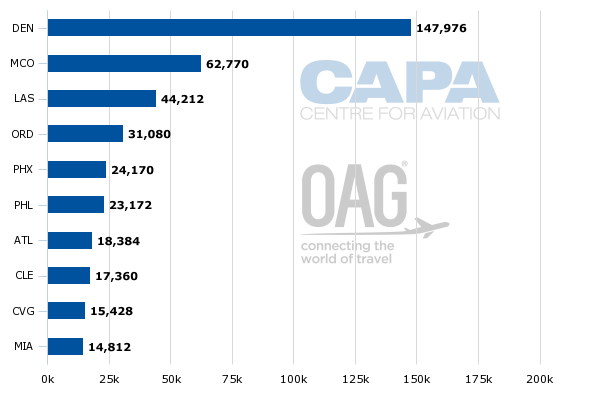 Frontier represents 6% of Orlando International's system-wide seat deployment.
Orlando International airport system capacity by airline (% of seats): 4-Jul-2016 to 10-Jul-2016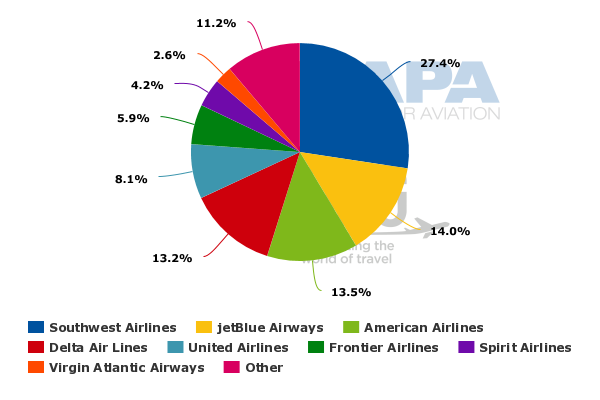 Frontier faces the same competitors on its markets from Orlando as from Atlanta – largely Southwest and Delta – but its seat share on some routes is markedly higher. Orlando is a much larger O&D market than Atlanta, and the airport is not a major hub for any of the four large US airlines.
The lack of domination by a US major and an absence of significant competition with the airport's largest airline jetBlue (which capitalises on north-south traffic flows on the US east coast) may result in Frontier generating an overall better revenue performance in Orlando.
Seat share on Frontier Airlines routes from Orlando: 4-Jul-2016 to 10-Jul-2016
Testing the waters again: a return to Colorado Springs and expansion from Pittsburgh
Frontier has returned to Colorado Springs in 2016 after establishing a short-lived base at the airport in 2013. It serves Las Vegas and Phoenix from the airport and is adding service to Orlando in Oct-2016. The flights from Colorado Springs are likely more viable now that Frontier presumably has attained ULCC unit costs (largely accepted as USD6 cents or below), and because the Colorado Springs airport has lowered expenses, creating incentives to boost aerospace activity.

See related report: ULCC Frontier Airlines needs to emphasise newfound stability ahead of a potential IPO

Another point of expansion for Frontier in 2016 is Pittsburgh. In late Jun-2016 the airline launched flights from Pittsburgh International to Atlanta, Chicago O'Hare, Denver, Las Vegas and Orlando. Schedules from CAPA and OAG for Dec-2016 show that Frontier will only serve Denver and Las Vegas from Pittsburgh. Similarly to other routes, Frontier is likely evaluating which routes should return to Pittsburgh in 2017. It competes with Delta and Southwest from Pittsburgh to Atlanta, with United and Southwest to Denver, United and American to O'Hare and Southwest to Las Vegas.
Frontier and US ULCCs exploring numerous network options
In some ways Frontier's network strategy has been a moving target during the last few years. That's been driven in large part by various business strategy changes, including its ultimate shift to the ULCC model. It seems as if Frontier is testing the model in different types of markets to determine the most profitable routes.

Frontier's network fluctuations may seem more rapid than others, but its fellow ULCC Spirit is seriously examining entering smaller markets to limit its overlap with large US airlines on some routes, so in some aspects Frontier's network fluidity is a normal course of business. Given Allegiant's recent declaration of launching service from New York Newark, US ULCCs are exploring a variety of options for future expansion.
See related report: Allegiant Air attacks United New York, testing the ULCC niche model in large competitive metro market