Oil surges back on heavy winter demand. Jet fuel prices jump
Analysis
The bitter Northern Hemisphere winter conditions are providing more than just operational hassles for airlines, as resurgent oil demand has pushed prices firmly back above USD80 per barrel in the first week of trading in 2010, taking jet fuel prices up with it.
Fuel prices are now more than double where they were 12 months ago, and the spike in oil is an ominous sign for the industry, particularly the LCC sector.
Globally, traffic saw the first signs of resurrection in late 2009, although this is only in comparison to the depressed levels seen at the end of 2008. European air traffic control body, EUROCONTROL, noted in late Dec-2009 that traffic in Europe had been reset to 2005 levels.
Better demand levels and slowly returning yields have prompted more confidence in airline pricing decisions to offset the rising jet fuel prices, which have been climbing resolutely since mid-Dec-2009. Some US full service carriers increased fares after Christmas by up to USD6 per sector, although LCCs such as Southwest, JetBlue and AirTran have not followed the move.
Oil demand is expected to increase in 2010. The International Energy Agency (IEA) marginally upgraded its global oil demand estimates for 2010, raising its estimates from 86.2 to 86.3 million barrels per day. In Dec-2009, the US Energy Information Agency (EIA) forecast revenue from OPEC oil sales would approach USD759 billion in 2010, some 32% higher than in 2008.
IATA's most recent forecast for 2010 oil prices is USD75 per barrel, which would cost the airline industry approximately USD123 billion.
Oil prices firmly above USD80
Oil prices for the week to 05-Jan-2009 rose 3.9% from the previous week, hitting USD81.74 per barrel - the first time oil prices have risen above USD80 since mid-Oct-2009. From a three month low of USD69 per barrel in mid-Dec-2009, oil prices have climbed 17.6%.
WTI spot price: Jan-2009 to Jan-2010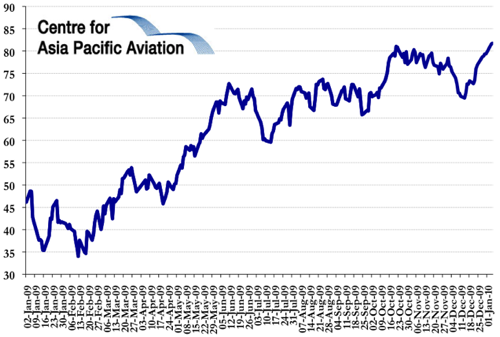 Jet fuel climbed across the major markets. The largest gain was seen at Singapore, with prices up 6.9% to USD2.16 per gallon. Los Angeles prices fell 3.8%, staying above USD2.00 per barrel. Strong climbs were also resisted at the Amsterdam-Rotterdam-Antwerp exchange (+5.9%) and the US Gulf Cost (+5.4%). New York Harbour and Los Angeles both rose 4.4%, to settle above USD2.21 per barrel.
Major oil market movements, USD cents per gallon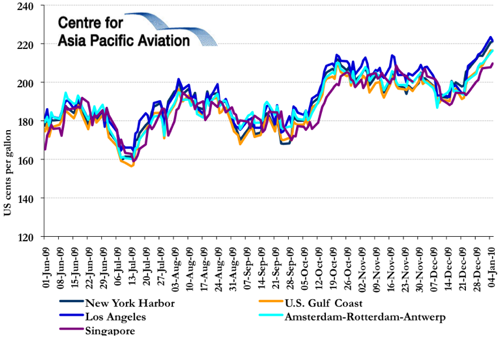 Daily jet fuel prices (kerosene, cents per gallon) at New York, US Gulf Coast, Los Angeles, Amsterdam, Singapore: 05-May-09 to 08-Dec-09
| | 28-Dec-09 | 29-Dec-09 | 30-Dec-09 | 31-Dec-09 | 04-Jan-10 | 05-Jan-10 | one week Change | 12 month Change |
| --- | --- | --- | --- | --- | --- | --- | --- | --- |
| New York Harbor | 211.95 | 213.63 | 213.8 | 213.67 | 220.68 | 221.22 | 4.4% | 64.6% |
| U.S. Gulf Coast | 205.39 | 207.64 | 207.98 | 208.76 | 216.5 | 216.47 | 5.4% | 63.3% |
| Los Angeles | 212.2 | 214.38 | 215.05 | 216.17 | 223.43 | 221.47 | 4.4% | 69.6% |
| | 204.48 | 208.11 | 209.69 | 209.77 | 215.21 | 216.49 | 5.9% | 60.1% |
| | 201.19 | 204.88 | 207.26 | 207.74 | 209.76 | 215 | 6.9% | 64.2% |
| WTI Spot* | 78.67 | 78.87 | 79.35 | 79.39 | 81.52 | 81.74 | 3.9% | 104.9% |