Fraport to sell out at Saint Petersburg Pulkovo: part one – sale could be possible this year
Analysis
Fraport had a hard enough time of it when it dipped its toe into the Russian airport scene well over a decade ago, in the form of taking an equity stake in the underperforming Saint Petersburg Pulkovo Airport.
It would be fair to say that they were both good for each other, but all good things come to an end – in this case by way of the Russian invasion of Ukraine, immediately after which Fraport walked away from the operational side for which it had responsibility.
But Fraport couldn't sell its 25% share, as the contract did not permit it to do so until 2025. Now local news sources say a sale could be possible by the end of 2023.
Western operators will surely eschew the 'opportunity'. But Russian operators (and there are many) assuredly will not, and bids could also emerge from some countries that have offered tacit support to Russia, including those in the existing and to-be-expanded BRICS bloc.
The airport has remained profitable, and it was the location of an innovative 'open skies' policy just before the COVID-19 pandemic.
Pulkovo certainly has potential, but it won't be realised for a long, long time.
This is part one of a two-part report.
Summary
Russia's VTB Bank president and Chairman Andrey Kostin said in Sep-2023 that Fraport was planning to divest its share in Saint Petersburg Pulkovo Airport.
Mr Kostin added that many Russian companies were candidates for taking over the ownership stake and that "I think we will reach a decision by the end of the year".
Novaport Group owner Roman Trotsenko was quick to comment, "If there is some sort of a sale, we will think about it, once it is announced. For now we have not heard about it".
Novaport is already a minority investor at Saint Petersburg.
The first Russian airport to be developed as a PPP venture
At the time of its concession in 2010, Pulkovo Airport was the only one in Russia to be developed on the basis of a public-private partnership (PPP).
The PPP Agreement became effective with three parties/signatories — the Saint Petersburg City Government, Pulkovo Airport Company (100% city ownership) and the Northern Capital Gateway Consortium (NCG), and it remains in force until 30-Oct-2039.
NCG was set up as a consortium of Fraport (35.5%), VTB Bank (with a 50% stake), the Cypriot investor Koltseva Holdings Ltd. (7.5%), and Copelouzos Group/Horizon Air Investments of Greece, with 7%. The ultimate owner remained as the City of Saint Petersburg Administration.
In Oct-2016 NCG sold a 24.99% stake in the airport (including 10.5%of Fraport's holding) to the Qatar Investment Authority. Fraport retained its role as Pulkovo Airport's operator.
Fraport's CEO Dr Stefan Schulte said the company's partial stake sale "demonstrated that we are not only able to buy airports or concessions, but that we can also boost their attractiveness amid difficult market environments, even enabling us to sell them for a profit".
Later, in 2017, VTB Capital signed an agreement with a consortium composed of the Russian Direct Investment Fund (RDIF), Mubadala Development Company and other leading Middle Eastern and Asian co-investors, alongside Baring Vostok Private Equity Fund V and related funds – the agreement being to sell a 25% equity stake in Thalita Trading Limited (Thalita), the holding company of NCG.
As a result of the transaction, VTB Capital reduced ownership in Thalita to 25.01%; Fraport AG's and Qatar Investment Authority's stakes remained at 25% and 24.99% respectively.
Fraport's role as the lead airport operator of Pulkovo again remained unchanged.
Presently controlled by two Russian-managed interests, including a state inward investment fund and one German one
So, at that time two of the original investors, VTB – a majority state owned financial institution – and Fraport – one of the worlds' five largest airport operators – remained.
The latter as the operator at Pulkovo, both with a diminished equity stake, while the newcomer, RDIF, is a USD10 billion fund established by the Russian government to make equity investments in "high-growth" sectors of the Russian economy.
Committed to 10 different sectors including 'transport and logistics' in the 'modernisation' category, in all of its investments RDIF is mandated to co-invest alongside some of the largest and most sophisticated global investors – thus acting as a catalyst for direct investment in Russia.
So the balance of power had swung in favour of Russian state control, over a 'privatised' airport that at least one senior executive of NCG had described as being very difficult to agree terms over with the Russian authorities in the first place.
Ukraine invasion changed the whole ball game, as Fraport walked away from its management role
But the biggest shift in management and ultimately ownership began with the Feb-2022 invasion of Ukraine by Russia.
It was only weeks later that Fraport, the only foreign operator to have a stake in a Russian airport, walked away from its management role at Pulkovo; one that had sustained a consistent increase in passenger traffic, especially in the early years.
Saint Petersburg Pulkovo Airport: annual traffic, passenger numbers/growth, 2009-2023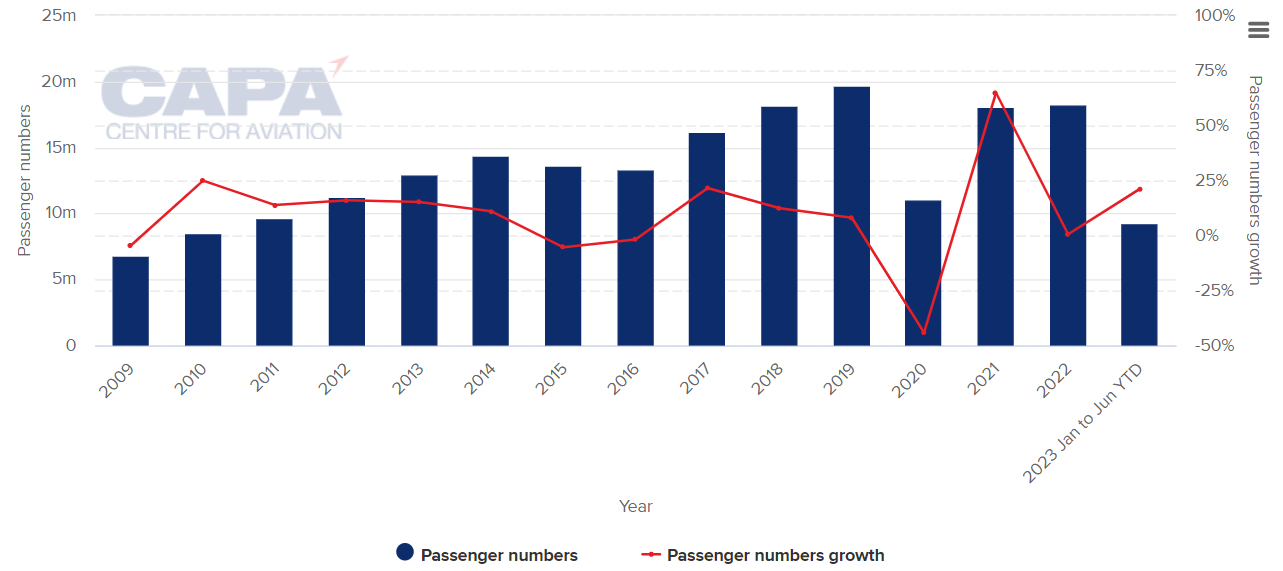 Fraport immediately removed Pulkovo from its website, although it still carries basic data on NCG.
Pulkovo had been an 'underachieving' airport and passenger traffic increased threefold in a decade
What might have attracted Fraport to Saint Petersburg in the first place is the fact that Pulkovo airport, the only commercial airport to represent Russia's second largest city (5.5 million population in 2023) where Moscow has four, was underachieving at the time, despite being in a wealthy city and with a greater attraction touristically than Moscow.
The management was able to obtain a special dispensation for 'open skies' in the form of uninhibited traffic rights between several countries and the Pulkovo airport solely, five years ago, just before the pandemic. The war put an end to that initiative.
Between 2009 (the year before the concession being awarded to Northern Capital Gateway) and 2019 traffic increased from 6.7 million to 19.6 million.
With those 19.6 million passengers Pulkovo was the fourth busiest airport in Russia after the three main Moscow ones – Sheremetyevo, Domodedovo and Vnukovo.
Passenger numbers at Pulkovo fell by 44% in 2020, but recovered by 65% in 2021, to 18 million, led by strong domestic demand.
Economic sanctions put paid to any pandemic-related recovery, but Pulkovo remained profitable
By comparison, growth in 2022 was just 0.6% – this was a minuscule increase compared to those recorded at Fraport's other foreign airports, which varied from +37.5% to +130%. That Pulkovo figure was mainly determined by economic and operational sanctions imposed on Russia, rather than by the lingering impact of the COVID pandemic.
Meanwhile, the Russian national flag carrier Aeroflot recorded 7.9 million passengers in the three months ended Aug-2023, an increase of only 4.4% year-on-year in the busiest months in the calendar.
And there is always another side of the coin.
During 2019 Pulkovo, which is a base for Aeroflot's subsidiary Rossiya, did handle 18.2 million passengers. That made it the country's third busiest airport after Sheremetyevo (28.4 million), and Domodedovo (21.2 million).
In fact, in 2023 Pulkovo could surpass the latter to become Russia's second busiest airport.
Moreover, despite all this, in 2022 NCG was able to post a profit of RUB4.8 billion (USD50 million approximately) on RUB17.2 billion revenues (USD179 million).
A sale could be concluded before the end of 2023
So Fraport's management expertise has undeniably been a boon for Pulkovo, and the German company has benefited from it.
The real difficulty is that as the previous CAPA - Centre for Aviation report Ukraine invasion: Fraport exits St Petersburg Pulkovo Airport. Alarms sound for airport investors made clear, the contract barred any on-sale of its investment by Fraport until 2025 – still 16 months away as at today (Sep-2023).
But within Russia there are strong rumours, emanating from Russian financial newspaper Vedomosti, that Fraport will conclude a sale before the end of 2023, which suggests an adjustment to the contract law.
That newspaper says Fraport has been negotiating its exit from Pulkovo for more than a year, and that the parties concerned may now be close to settling the matter.
Fraport values its stake in the consortium at around EUR111 million (USD119 million), although Russian authorities have been imposing penalties on foreign companies divesting from their Russian equity holdings, as many have indeed done.
In part two of this report CAPA - Centre for Aviation will look at those parties likely to show interest in the stake, mostly domestic, but also among countries which are sympathetic to the Russian cause; consider the current operations at Pulkovo Airport which are impacted by international sanctions against Russia; and consider future opportunities for Fraport in supporting the rebuild of aviation infrastructure in Ukraine.