19-Dec-2008 12:45 PM
Fraport investors say Danke schön, as BAA ordered to sell Gatwick
Shares in German (and soon to be British?) airport operator, Fraport, soared 10.6% yesterday as the UK Competition Commission decided BAA should sell Gatwick, Stansted and Edinburgh airports. BAA parent, Ferrovial's share shrugged off the regulator's decision, rising 2.2%.
Selected airports daily share price movements (% change): 18-Dec-08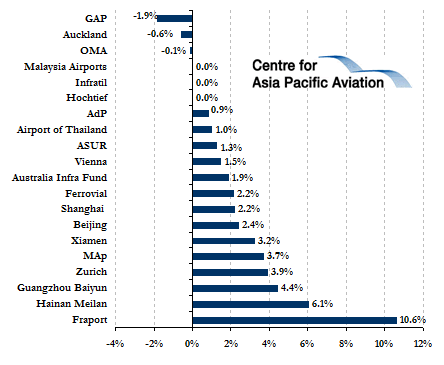 BAA CEO, Colin Matthews, argued the company does not believe the CC has set out "compelling evidence" to support its view that selling Stansted as well as Gatwick will increase competition. Mr Matthews added, "we remain concerned that its proposed remedies may actually delay the introduction of new runway capacity".
For Fraport investors, a delay in new runway capacity in London enhances the Frankfurt hub, while Fraport is considered one of the frontrunners alongside Manchester Airport Group in the sale of Gatwick Airport announced by BAA in Aug-08 following the Competition Commission's initial report. Fraport looks to be a winner either way.