Fraport and Aeroports de Paris lower, BAA parent, Ferrovial steady as MAp gains
Shares in airports worldwide were generally higher on Friday (17-Jul-2009) as stock markets around the world finished the week on a positive note. Italian airport operators, Aeroporto Toscana and Aeroporto di Firenze, led the increases, rising 4.1% and 4.6%, respectively. Hainan Meilan International Airport and Auckland Airport went against the trend, closing 1.1% and 0.7% lower, respectively.
Macquarie Airports' shares outperformed the Sydney ASX 200 index (+0.1%) on Friday, gaining 0.5% as the group reported "moderation in the rates of decline" in its Jun-2009 traffic results. Australian Infrastructure Fund's shares gained 1.1% as Melbourne Airport reported a 6% increase in international passenger numbers for the three months ended 30-Jun-2009. Investors also reacted to the commencement of AirAsia X's daily service between Perth Airport and Denpasar (see below). The long-haul LCC also recently announced plans to increase the frequency to twice daily service from Aug-2009.
Australia's Macquarie Airports (MAp) reports (20-Jul-09) the following traffic highlights for its investment airports in Jun-2009:
In Europe, shares in Ferrovial, parent of BAA, gained 0.5%, in line with the increase on the previous trading day, amid reports the last remaining consortium bidding for London Gatwick Airport, led by Manchester Airport Group, is reluctant to raise its GBP1.4 billion offer. Ferrovial and BAA are still hoping to raise GBP1.6 billion from the sale of the airport and stated it still has interested buyers. The question is, who?
Selected airports daily share price movements (% change): 17-Jul-2009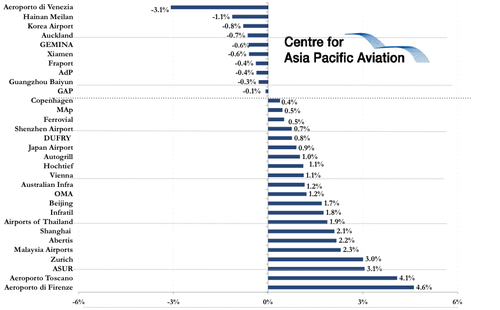 Perth Airport congratulates AirAsia X on new route - edited press release
Perth Airport has congratulated low-cost carrier, AirAsia X, on adding a new route between Perth and Denpasar to its network. The inaugural flight into Perth touched down at the International Terminal at 0435 hrs on 18-Jul-2009 and the first flight from Perth to Denpasar departed at 0533hrs. Both flights were at capacity, confirming the popularity of this new service.
Perth Airport Chief Executive Officer, Brad Geatches, stated, "the introduction of this new route is great news for West Australians who can now expect more competitively-priced flights and greater access to this favourite holiday destinations".
Melbourne Airport stated the new service opens up the entire Asia region to travellers who can use Bali as a stop over to other destinations. The airport expects both its inbound and outbound traveller numbers to continue to grow over the coming months.
Meanwhile, AirAsia X recently announced plans to introduce a second daily flight on the new route between Perth and Denpasar, effective 19-Aug-2009. According to Melbourne Airport, the announcement came on the back of the response generated when the route opened for sale in May-2009, with seats snapped up in just three hours.