Fraport – "airport operators have bid advantage over private equity companies"
Analysis
Fraport's CEO, Wilhelm Bender, has gone on record that he believes the current financial crisis and falling demand for air travel provides airport operators with an advantage over private equity companies in bidding for airports that are for sale. His comments come as Fraport is short listed, along with Changi Airport International and Macquarie, for a USD900 million investment in the proposed new airport project in Kunming and a stake in the company that will operate the new airport, Yunnan Airport Group. Mr Bender also confirmed Fraport is interested in London Gatwick Airport, when the sale process begins, so his comments come at an opportune moment for Fraport.
Mr Bender's theory is based on his belief that "the expectations of sellers are that they need airport operators' know-how to position airports in these financially weak times", ergo (conversely, by implication) that private equity companies cannot offer this degree of know-how.
Not a unique viewpoint
This refrain is not unique. Several industry commentators for example have voiced the opinion that Grupo Ferrovial is not an airport operator per se and that while it was able to handle relatively small-scale projects it was 'found out' when it raised its ambitions dramatically with the bid for BAA. In a similar vein some airlines have openly expressed the desire that the next operator at Gatwick is more concerned with the operational issues that affect airlines and passengers than with financial ones and does not incur unrealistic levels of debt.
In referring to 'financially weak times' Mr Bender makes reference to the fact that global air traffic shrank in Sep-08 for the first time since the SARS epidemic in 2003 with shrinkage in business travel spending particularly notable. In consequence, airports are now under pressure to keep their costs down and to generate more revenue from retail sales.
Private equity funds modus operandi under scrutiny
But is he suggesting that private equity funds are unable or unwilling to do either? It is certainly true that the modus operandi of such funds has been under intense scrutiny. In the UK for example, an analogy is frequently drawn with the popular and long-serving Automobile Association (AA), which was taken over by the private equity funds Primera and CVC in 2004. 3,500 employees were laid off. When it subsequently merged with Saga the Managing Partners stood to make GBP300 million each for owning the company for less than a year while service standards were said to have plummeted. There are also many questions posed about the British taper relief tax regime under which such funds work, which allow private equity capitalists allegedly to 'pay less tax than a cleaning lady' according to one newspaper.
Private Equity Funds do typically have a short-term objective and demand a minimum return on investment of 25%. The providers of these funds are usually not covered by protective legislation so their investment can be highly risky, hence the demand for a high rate of return.
Evidence from the UK is that there has been (pre-credit crunch) a redirection of the sums invested by private equity firms towards smaller deals. Investment increased during 2007 from GBP2.9 billion to GBP31.6 billion but the effects of the credit crunch have hit harder in 2008.
Investment at Leeds Bradford exceeds some expectations

One positive example of a private equity fund in action is the UK's Bridgepoint Capital, which in the airport business has specialised in smaller deals, at Birmingham and Leeds Bradford (LBA) airports.
Bridgepoint argues that it's record on investment at Birmingham Airport (1997-2001, when it owned 24.125% eventually sold to Macquarie) bears comparison with any other and since it took over LBA early in 2007 (100% equity for GBP145.5 million) it certainly has.
By most accounts LBA was a moribund municipally owned airport before the Bridgepoint acquisition, but a GBP70 million investment announced immediately thereafter is taking shape now with plans for a GBP28 million terminal expansion being put to public consultation. The airport is to be expanded to a capacity of five million p.p.a. by 2013 and 3,000 jobs, it is claimed, will be created, an interesting comparison with the lay-offs at the AA.
Since the takeover some 30 new routes have been announced and in Aug-08 the airport saw a record 345,000 passengers pass through the terminal - the highest number the airport had ever experienced in a single month. The number of passengers travelling out during the summer months also grew significantly with a total of 1,277,752 passengers passing through the airport between May and August, making it one of the fastest growing airports in the UK after years of stagnation.
That is not to say a private equity fund could do the same at London Gatwick, which is a whole different ball game, (and there is at least one interested enough to try), but it does show that there are two sides to the story.
More information is available on private equity funds in the World Airport Privatisation Report 2008, contact db@centreforaviation.com
Fraport's Ebitda and revenues down in 3Q08
Meanwhile, Fraport reports the following financial highlights for 3Q08 and the nine months ended 30-Sep-08 (EUR, millions).
Three months ended 30-Sep-08:
Revenue: 555.3, -11.9%;
Ebitda: 207.1, -4.7%;
Ebit: 156, -0.9;
Net profit: 126.9, +9.6%.
The heavy falls in revenue resulted in higher margins year-on-year.
Fraport Group EBITDA margin and EBIT margin: 1Q07 to 3Q08: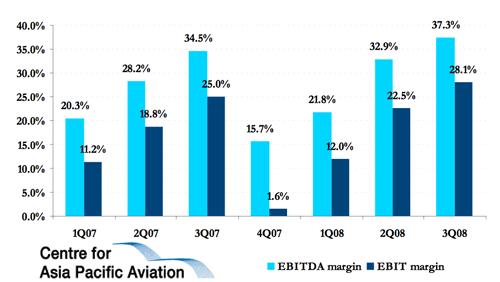 The Group's financial highlights for the nine months ended 30-Sep-08 were as follows:
Revenue: 1,599.8, -8.8%
Ebitda: 492.5, +0.4%
Ebit: 335.7, +2.9%
Net profit: 220, +0.6%
Passenger numbers: 61 million, +1.9%
Fraport Group financial performance in 3Q08 vs YTD3Q08
In a company statement, Fraport said that because of the current market development, it expects passenger figures at Frankfurt Airport for the full year 2008 to decline by between 1% and 1.5%. The prime reasons include: a general weakness in demand due to higher energy prices, the financial market crisis, the slowing economy, as well as negative extraordinary effects from strike-related flight cancellations and their repercussions on customer booking behaviour.
It anticipates that 170 million passengers will this financial year use the 13 airports where Fraport is involved either via equity investments or management contracts.
Intercontinental traffic to drive industry growth
Within this overall traffic decline, however, the intercontinental passenger sector will continue to climb by 1%. Furthermore, passenger traffic at all of the Fraport Group's (majority-owned) airports is expected to rise by approximately 1%. "Despite the aforementioned changes, Fraport remains steadfast in its forecast to raise Group EBITDA above the 2007 figure."
Construction plans that have been confirmed at Frankfurt include
New landing runway by 2011;
New 160,000 sq m 'Pier A West' terminal facility, which will increase capacity by six million passengers p/a;
Commercial and office park for logistics, trade and other aviation-related enterprises;
Gateway Gardens city district at the northern side of the airport;
Modernisation of Terminal 1 Pier B;
Frankfurt Airport City and the Airrail Train Station construction progressing well
In the long term, Fraport expects world air traffic to rebound with "over-proportionate growth rates" at the conclusion of the current economic downturn.
Background information:
Private equity firms that are involved in airport operation, or that aspire to be, include: Advent International; Blackstone; Bridgepoint; Penta; RReef (Deutsche Bank) and Terra Firma.