Finnair to open new flight to Hanoi as part of next phase of Europe-Asia growth strategy
Analysis
Finnair's basic strategy is well-known: the carrier seeks to connect Europe with Asia via its Helsinki hub, which is geographically advantageous and offers connections of about 35 minutes. But within that strategy are different phases: first Finnair looked at linking primary European cities with primary Asian cities and then secondary European cities with primary Asian cities. Now the carrier is increasingly looking at a third phase: linking first and secondary European cities with secondary Asian cities.
It is in this phase where Finnair's newly-announced service to Vietnam's Hanoi fits in. From 14-Jun-2013 Finnair plans to link Helsinki and Hanoi with three weekly services for the northern summer season. It will be the only European carrier (Finnair excludes Aeroflot in this criteria) to offer service to Hanoi, although other carriers, most recently LOT Polish Airlines, attempted it in the past. CEO Mika Vehviläinen, speaking at CAPA's World Aviation Summit in Hong Kong on 28-Nov-2012, noted the service is not a clear-shot victory but Finnair does expect long-term success.
Mr Vehviläinen remarked that Finnair's interest was in Vietnam, which is served by only three European carriers (Air France, Lufthansa and Turkish Airlines, all of which serve Ho Chi Minh), and has favorable growth forecasts. PricewaterhouseCoopers expects the country to have the world's fastest growing economy between 2008 and 2025 while IATA projects Vietnam to be the second fastest growing aviation market in the next few years.
Finnair looked at serving Ho Chi Minh, the country's largest city and commercial centre. Mr Vehviläinen notes Ho Chi Minh had some advantages over Hanoi for demand projection, but the deciding reason to select Hanoi, the country's capital, over Ho Chi Minh was due to operational requirements.
Mr Vehviläinen said Finnair constructs its hub so that all services operate within 12 hours, allowing for streamlined operations. (The carrier makes an exception for Singapore, with a 12h 30m block time, due to the city's key business nature.) Helsinki-Hanoi is 7,478km while Helsinki-Ho Chi Minh is 8,510km, and the nearly 1,000 extra kilometres would put the route over the carrier's 12 hour threshold.
Although Ho Chi Minh may hold an advantage over Hanoi for business traffic, Mr Vehviläinen expects more businesses to shift their office from Ho Chi Minh to Hanoi, which will help the carrier's performance. From Europe Finnair expects demand to be heavy on the leisure side while from Vietnam growth will be in leisure but increasingly business as the overall market grows.
LOT, in deciding to drop its Warsaw-Hanoi service earlier this year, cited low yields. From a load factor perspective, the route performed well with a high portion of passengers connecting at Warsaw to destinations throughout Europe. CAPA previously reported that LOT was experiencing load factors of about 90% on its Hanoi service. LOT instead launched services to Beijing in Jun-2012, believing Beijing will have a higher mix of business traffic and therefore provide higher yields than Hanoi.
See related article: LOT Polish Airlines continues Asian growth with Beijing
Mr Vehviläinen implores that while long-haul traffic from Vietnam may be low, attention should be paid to spending volumes – and, it might be inferred, demand for business class and flexible (high-yielding) economy fares. Finnair in recent times has been offering some of the lowest business class fares, which if booked in advance could be half of another carrier's.
In light of the leisure-orientation of the market, Finnair will initially serve the city only during the northern hemisphere summer, running until 27-Oct-2013. Finnair under Mr Vehviläinen has set out to double its 2010 Asia revenue by 2020.
See related article: Finnair is betting on Asian flights to underpin its growth
Finnair passenger traffic and revenue breakdown by geographic region: 2Q2012
Finnair Asian network as of Oct-2012
Partner choices in Vietnam will be limited
Vietnam has one main international full-service carrier, Vietnam Airlines, which is a member of SkyTeam whereas Finnair is in oneworld. Two LCCs are prominent in the market: Jetstar Pacific, now partially owned by Vietnam Airlines, and independently-owned VietJet. The market mainly comprises a series of trunk routes but increasingly alternative city-pairs are gaining traction.
Vietnam domestic capacity (seats) by carrier: 03-Dec-2012 to 09-Dec-2012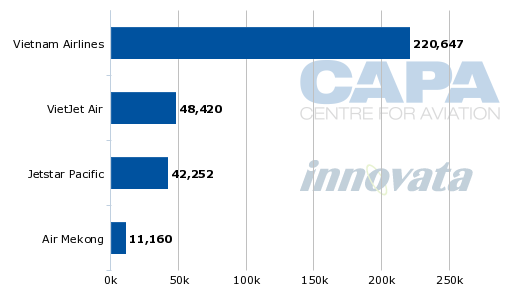 Finnair will try to succeed where LOT did not
LOT commenced services to Hanoi in Nov-2010 but withdrew in Mar-2012, citing unprofitability with no chance of improvements. Hanoi was LOT's first Asian destination as part of a strategy to link Europe with Asia, which of course is Finnair's too. Beijing has replaced Hanoi as LOT's only Asian destination although the carrier is looking at other potential destinations in Asia which could become viable with its new fleet of Boeing 787s.
LOT's initial selection of Hanoi surprised many as Ho Chi Minh had been the traditional destination for intercontinental carriers. At the time of LOT's service, the only European carrier at Hanoi was Aeroflot while the only other intercontinental carrier serving Vietnam's capital was Qatar Airways. There have been no further intercontinental entries into Hanoi while Ho Chi Minh is seeing a number of carriers add or consider adding services. Aeroflot's service primarily caters to the outbound Russia leisure market; Hanoi is a hub for tourist hotspots around the northern part of the country including Ha Long Bay.
Intercontinental carriers serving Hanoi and Ho Chi Minh: 03-Dec-2012 to 09-Dec-2012
Ho Chi Minh has considerably higher levels of traffic, although Hanoi has more seats to western Europe. This is a result of most of Vietnam Airlines' Europe-bound traffic routing through Hanoi.
Ho Chi Minh City Tan Son Nhat Airport international capacity (seats) by region: 03-Dec-2012 to 09-Dec-2012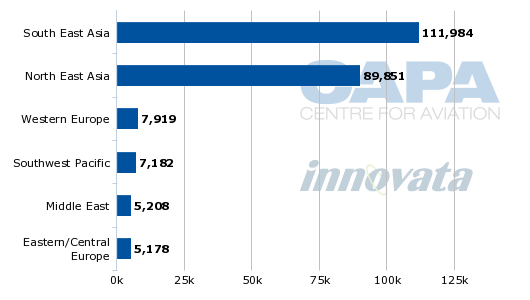 Hanoi Noibai Airport international capacity (seats) by region: 03-Dec-2012 to 09-Dec-2012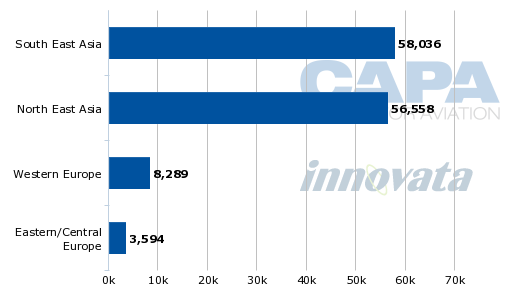 While the premise of Finnair and LOT – connect west with east – may be the same, their propositions are different. Finnair is the 23rd largest carrier in Europe for the week of 03-Dec-2013 with 169,680 intra-Europe seats while LOT is 30th largest with 112,504 seats, the difference allowing for greater connectivity. Finnair also typically has higher frequencies than LOT, further enabling greater connections.
Finnair top 10 international routes by frequency: 03-Dec-2012 to 09-Dec-2012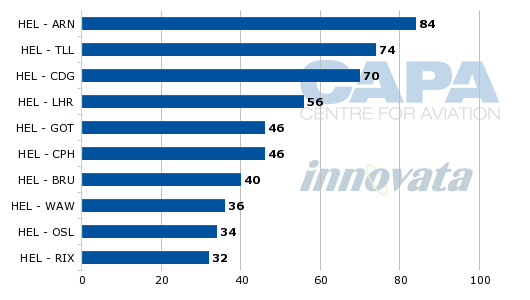 LOT Polish Airlines top 10 international routes by frequency: 03-Dec-2012 to 09-Dec-2012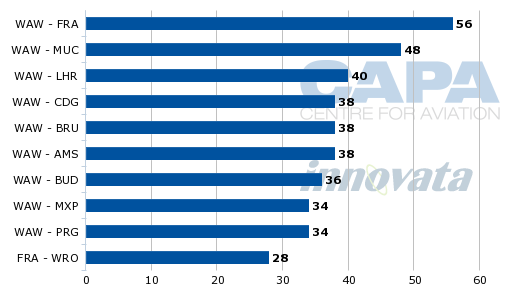 Finnair's widebody fleet of A330s and A340s (A330s will be used to Hanoi) are recognised as having greater comforts than the 767s. LOT served Hanoi with 767s although is now replacing its 767s with 787s that are more competitive. From a market perspective, Finnair's strategy is better known, as is the carrier. Alliances have an ambiguous role for each carrier as their networks compete with other carriers.
While Finnair has advantages over LOT, they are not tremendous. LOT in Jun-2011 remarked to CAPA that 75% of the tickets on its Warsaw-Hanoi service are sold in Europe but outside Poland, primarily in France and Scandinavia. The France-Vietnam market sees large competition from Air France and Vietnam Airlines, both members of SkyTeam.
Aeroflot is increasingly taking an active role in sixth freedom Europe-Asia traffic while Qatar Airways is expanding its footprint across Europe (and other regions), including in Finnair's hub at Helsinki, although only a tiny portion of Finnair's traffic to Hanoi is expected to originate in its home country. With the European economic situation not showing signs of improvement, Finnair will be stretched to bring Hanoi to viability, especially as other carriers – Aeroflot and Qatar Airways – are in overall healthier conditions in terms of their own companies and major markets.
See related article: LOT pursues new 'east meets west' strategy ahead of 1H2012 privatisation
Some of the greatest growth potential for the international Vietnamese market is from Middle East network carriers, whose large networks and efficient hubs promise traffic inflows. Qatar Airways was the first of the Middle East three to serve Vietnam, which offers daily Boeing 777-300ER services from its Doha hub to each of Hanoi and Ho Chi Minh, but via Bangkok. (The carrier has steadily expanded capacity to Vietnam since initially launching services to Ho Chi Minh in 2009 but last year dropped its non-stop flight).
Emirates in Jun-2012 opened a daily Dubai-Ho Chi Minh A330-200 service but upgraded it as planned in Oct-2012 to a 777-300ER. Etihad in Oct-2013 will operate daily A330-200 services from its Abu Dhabi hub to Ho Chi Minh, and intends to expand its partnership with Vietnam Airlines, which currently consists of Etihad codesharing on Vietnam Airlines' flights from Bangkok and Kuala Lumpur. Emirates and Etihad have both been considering Hanoi as a second Vietnamese destination.
In addition to the Middle East network carriers expanding in Vietnam, Air Astana plans to launch Almaty-Ho Chi Minh service by early Jan-2013 and Jet Airways is considering launching Mumbai-Ho Chi Minh service in the future.
The Middle East network carriers could re-shape Vietnam's economy as well as traffic flows around Southeast Asia. As CAPA previously wrote:
Vietnam could easily surpass smaller Malaysia – which currently has almost 40,000 seats per week from Emirates, Etihad and Qatar – as a larger destination for Gulf carriers.

It has not been easy for governments globally to put national interests ahead of those from their flag carrier, however much sense it makes. Vietnam was able to, and will benefit from it. The country needs carriers like Emirates to continue to grow its tourism sector and compete with other Southeast Asian destinations such as Thailand. The importance to the overall economy outweighs the potential impact on government-owned Vietnam Airlines. The flag carrier alone is also currently not equipped to keep up with the fast growing demand for long-haul services to and from Vietnam.
See related article: Emirates' Ho Chi Minh service to impact Asian carriers, but provides Vietnam with much needed growth
Finnair partnership with JAL looms, possibly opening new Finnair routes
Finnair is not due to receive additional long-haul aircraft until the first of 11 A350-900s arrive in 2014. But Finnair may be able to open new routes prior to then if it is able to adjust its network. Such an opportunity may present itself if Finnair ties up with fellow oneworld carrier Japan Airlines on services between Japan and Europe. Finnair has the most extensive Japanese network for a European carrier with five weekly services to Nagoya, five to Osaka Kansai and a daily scheduled service to Tokyo Narita. JAL will commence services to Helsinki in Feb-2013, and both sides seem warm to a deeper partnership.
JAL already has anti-trust immunity with British Airways, which includes connections from BA's London Heathrow hub to points across Europe. While JAL and BA have been eager to promote these, it is understood the thrust of the partnership concerns Japan-UK traffic with less emphasis on continental European connections, a reflection of the strong O&D market but also the backtracking involved in London.
JAL and British Airways codeshare network: Oct-2012
Although the London codeshares may not be convenient, they are still better than not having any connections at all, as Japanese carrier Skymark will not have this opportunity when it commences A380 services to London after New York.
See related article: Skymark switches first A380 destination from London to New York but viability remains to be proven
JAL is very upbeat about using Helsinki to transfer passengers across Finnair's European network, which leads to far more efficient connections. The deeper cooperation could see Finnair reduce its Japanese capacity and instead open new routes as JAL expands its operation to Helsinki.
Finnair has a competitive advantage in North Asia destinations and is likely to serve more cities in China in due course. Finnair's most recent Asian destination, Chongqing in China, was launched in May-2012. Chongqing was the carrier's first secondary city in China and Asia - a strategy it will look to duplicate as it looks for new opportunities to further expand in Asia. As is the case with Hanoi, Finnair is the only European carrier serving Chongqing and Qatar is the only other non-Asian carrier.
The further south Finnair goes in Asia the less competitive advantage it holds as Middle East network carriers in particular can offer a more competitive routing. Destinations further south also do not allow Finnair to keep its Asia rotations at 24 hours, which the carrier sees as a competitive advantage as other European carriers are unable to operate to destinations in the Far East with 24 hour rotations.
While Qatar is the only one of the three with its eyes on Helsinki, the Middle East trio serve a plethora of other points across Europe and from where Finnair sources its connecting traffic. This competitive framework led Finnair to express serious concerns about Qatar Airways joining the oneworld alliance as a member elect, and may lead to further fractures within the alliance.
See related article: With Qatar Airways as new member, oneworld seeks to regain momentum but may become more divisive
Questions have also been raised about Finnair's role around Scandinavia as LCC Norwegian gears up for long-haul operations. But Norwegian's first Asian destination will be Bangkok, in Southeast Asia, not North Asia where Finnair's strength is. The market could welcome Norwegian's entry due to SAS withdrawing, and the Middle East network carriers consistently seeing strong performance – in loads and yields – in Bangkok. Thailand is a well-established tourist destination for Europeans, but North Asia – Finnair's backyard – less so. So Finnair's competitive concern remains Middle East network carriers.
Finnair's position in Japan looks like it will improve with a tie-up with JAL, but the Hanoi market remains to be proven as a market that is ready today for another European foray.