Finnair is betting on Asian flights to underpin its growth
Analysis
A quick look at world route maps reveals Finland's strategic geographic location for flights from Europe to Asia, and it is no surprise that the country's flag carrier is betting on Asian traffic to generate growth. Finnair's Asian focus is not new – it was the first European carrier to operate non-stop commercial service to Tokyo aboard a DC-10 in 1983 – but it received new impetus in Aug-2011 as part of group president and CEO Mika Vehviläinen's restructuring plan to bring the company back to profitability.
Finnair's objective is to double its revenue from Asian traffic from 2010 to 2020 and the foundation of this growth strategy is threefold: the growing Asian markets, fast flight connections and competitiveness. The airline at present enjoys nearly unrivaled competition on its Asian routes in the Nordic market, however, the emergence of a competitor is not far away. Scandinavia's dynamic LCC Norwegian Air Shuttle will receive its first three Boeing 787s in 2013 followed by a further seven in 2014, and Asian routes will most likely be part of its new long-haul network.
The shortest flight path from Europe to China and Japan passes through Finland, but Norway can easily claim a comparable geographic advantage. Norwegian has built up a dense European network, which will feed the new long-haul operations, and it can be safely assumed management will clinch a deal with a regional partner for feed on the Asian side of the operations.
Finnair offers connecting services from its destination airports in Asia throughout the region with fellow oneworld members such as Japan Airlines, (JAL), Cathay Pacific and Qantas.
Finnair Asian network as of Aug-2012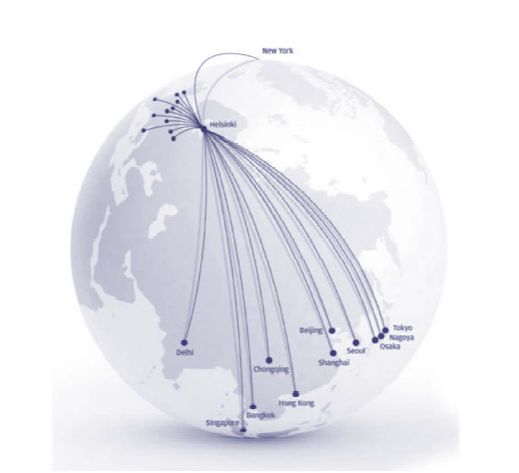 In the current IATA northern summer schedule, Finnair operates 77 weekly non-stop scheduled passenger flights from Helsinki-Vantaa Airport to Asian destinations. It launched a four times weekly service to Chongqing on 09-May-2012 using Airbus A340s and this expanded its reach in Asia to 11 gateways, of which three are in mainland China (Beijing, Shanghai Pudong and Chongqing) and three in Japan (Tokyo Narita Airport, Osaka and Nagoya). It also flies to Hong Kong, Seoul Incheon, Singapore, Bangkok and Delhi.
Finnair operates two additional long-haul destinations – New York JFK and Toronto Pearson International – but the latter is a seasonal service. Finland's location is less favorable for routes to North America than to Asia, hence its strategy to limit its services to the US and Canada. It used to operate to Mumbai, but this destination was abandoned during the 2008 financial crisis.
In 2Q2012, the airline deployed about 51% of its capacity expressed in ASKs on routes to Asia, and this segment represented 43% of passenger revenues.
Finnair passenger traffic and revenue breakdown by geographic region: 2Q2012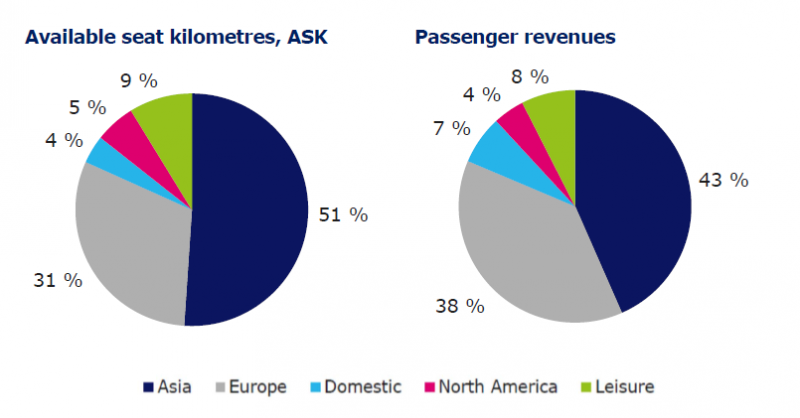 Finnair is focused on Asia to support its growth, but the expansion is prudent and paced. It launched three new Asia routes in the past two years, with Delhi service in Jan-2011, Singapore in May-2011 and Chongqing in May-2012. It has been adjusting capacity on a number of routes and compared to summer 2011 the airline is operating an additional three fights to Asia. In its 2Q2012 results presentation, Finnair pointed out that it is currently flying a record number of flights to Asia despite the fact that it had to cancel some flights due to maintenance delays and shortage of overflight permits from Russia.
Tokyo Narita is Finnair's top route in terms of weekly ASKs on offer. Based on ASKs, Finnair's top seven international routes are to Asia, with a further two ranking ninth and 10th.
Finnair top 10 international routes by weekly ASKs: 13-Aug-2012 to 19-Aug-2012
Finnair also targets secondary airports in Asia
China is a key part of Finnair's Europe-Asia strategy. The airline offers 26 weekly flights from Helsinki to its four Chinese gateways of Beijing, Shanghai, Hong Kong and Chongqing.
Finnair is the only carrier flying non-stop between Europe and Chongqing, although several European carriers serve the destination through their Asian codeshare partners over their respective hubs. Qatar Airways is the only other scheduled passenger carrier not from Asia that also operates to the airport.
Chongqing is a fast growing industrial centre in China and many western companies, especially in the electronics, automotive and chemical industries, are currently expanding their operations in the city. With limited competition and the potential of high-yielding business traffic and cargo traffic, Chongqing could become a very successful route for Finnair.
If the Chongqing route proves to be successful, Finnair will look to launch services to other secondary cities in China that are not served by any European carrier. Speaking to CAPA at the IATA AGM in Jun-2012, Finnair VP alliances and commercial partnerships Paavo Virkkunen said Chongqing attracts a good mix of European tour operator traffic (Chongqing is an embarkation point for Yangtze River cruises) as well as local traffic.
With Chongqing's big industrial base, the area has strong local business traffic to Europe which Finnair has an advantage in capturing as it is the only European carrier serving the city. Mr Virkkunen added that the Chongqing flight has initially performed according to plan and the carrier is pleased with its development.
Finnair's newest long-haul route also marks the continuation of the airline's strategy to serve secondary hubs in Asia. It is one of few European carriers that connects secondary cities such as Nagoya or Osaka. Nagoya is not served directly from other European hub airports such as Amsterdam, London Heathrow, Paris Charles de Gaulle or Zurich whereas Osaka is not served from London Heathrow or Zurich.
Limited competition in the Nordic region, for now
Finnair enjoys nearly unrivalled competition in Europe's Nordic region on its Asian routes. It has no direct competition on any of its Asian routes from its home base at Helsinki-Vantaa Airport while its main Scandinavian competitor SAS has scaled back its Asian operations.
SAS operates from three hubs in Scandinavia, Copenhagen Kastrup, Stockholm Arlanda and Oslo Gardermoen, and Asia represents a mere 1.7% of its international capacity in terms of seats per weeks and 8.7% in terms of ASKs. SAS flies only from Copenhagen Kastrup to four Asian gateways: Bangkok, Beijing, Shanghai and Tokyo Narita. A further two Asian carriers fly to Copenhagen, SAS' Star Alliance partner Thai Airways flies from Bangkok and Singapore Airlines operates service from Singapore.
The share of international capacity deployed in the Asia Pacific market from Copenhagen is just 3.7% in terms of international seats and 19.5% in terms of ASKs. The airport offers only seven Asian non-stop scheduled passenger destinations, including two in Pakistan (Lahore and Islamabad Benazir Bhutto International Airport).
Copenhagen international capacity by region (% of ASKs): 13-Aug-2012 to 19-Aug-2012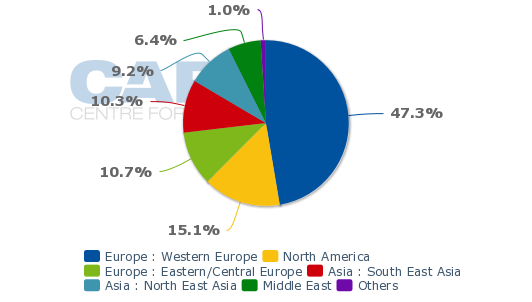 Oslo's Asian network is limited to three routes, Bangkok, Lahore and Islamabad Benazir Bhutto International while Stockholm Arlanda's network incorporates only two Asian routes, Bangkok and Beijing. The route to Bangkok is served by Thai Airways and Beijing is operated by Star Alliance member Air China.
Helsinki is the region's leading hub to Asia, with 11 routes. Approximately 15% of capacity in terms of seats and 45% in terms of ASKs is deployed on Asian routes, according to schedules in Innovata. Finnair operates all this capacity.
Helsinki Airport international capacity by region (% of ASKs): 13-Aug-2012 to 19-Aug-2012
Finnair's Asian network has a further advantage because Finland is not served by any Gulf carriers. But this is set to change later in 2012 when Qatar Airways commences service from Doha to Helsinski. Overall, the Middle East's big three sixth-freedom airlines do not have a large presence in Scandinavia. Qatar is the largest operator with services to Stockholm, Oslo and Copenhagen, whereas Emirates serves Copenhagen from its hub in Dubai.
Travelling via a Middle East hub is not a threat to Finnair's traffic between northern and mid-Europe to destinations in Northeast Asia, but Helsinki's advantage as a connecting hub from Europe vanishes for routes between southern Europe and southern Asia and even between mid-Europe to southern Asia. As the likes of Qatar and Emirates expand in Scandinavia, Finnair's prospects in India are not promising and the airline will have to focus more on routes to Japan and China.
For now, the small Nordic carrier holds its own against larger competitors. According to schedules in Innovata for the week 13-Aug-2012 to 19-Aug-2012, Finnair has a near 7% capacity share of one-way seats between South Korea and Western Europe, a 10% share of Japan to Western Europe (ahead of British Airways), about a 5% share of seat capacity from Hong Kong to Western Europe and an approximate 6% share of the China to Western Europe market.
China to Western Europe capacity by carrier (seats per week, one way): 19-Sep-2011 to 03-Feb-2013
Hong Kong to Western Europe capacity by carrier (seats per week, one way): 19-Sep-2011 to 03-Feb-2013
Japan to Western Europe capacity by carrier (seats per week, one way): 19-Sep-2011 to 03-Feb-2013
South Korea to Western Europe capacity by carrier (seats per week, one way): 19-Sep-2011 to 03-Feb-2013
Transfer traffic is the backbone of its Asian operations
Finnair has a small home market and none of its Asian routes would be viable on a point-to-point basis. The airline has been successful in promoting its "Via Helsinki" concept to draw passengers from other northern and mid-European countries to its Asian network.
Finnair offers more than 200 route pairs between Europe and Asia. "Via Helsinki" banks on two elements: the airport's short connecting times (the airport offers connection times of roughly 40 minutes) and Helsinki's geographical location in Europe that allows for the shortest flight times between northern and mid-Europe to the Far East.
According to the airline, some 40 million passengers travel between Europe and Asia annually, and about half of these passengers fly non-stop from a major hub like London Heathrow, Frankfurt and Paris Charles de Gaulle with the other half connecting via an intermediate airport in Europe or the Middle East. Finnair strives to be among the three largest operators in traffic between Europe and Asia involving transfers during the trip.
Mr Virkkunen says Finland-Asia is a very small point-to-point market and transit traffic accounts for a much larger portion of the carrier's Asia traffic. "Asia is the growth market for us," he says. "During the past 10 years or so we have grown from a rather small Asian carrier to a rather larger Asian carrier having 11 destinations. The traffic between Europe and Asia is the engine feeding our growth."
Europe-Asia traffic is growing
Passenger traffic between Europe and Asia is growing at a rate of 6% to 10% a year. Member airlines of the Association of European Airlines (AEA) increased their RPKs to Asia in 1H2012 by 7.4% compared to the year-ago period, while passenger numbers rose 7.7%. This is well above the average growth rate recorded on long-haul scheduled flights.
AEA member airlines passenger traffic growth: 1H2012 vs 1H2011
Finnair has been growing its traffic to Asia at a higher rate than the AEA average. Passengers carried rose 9.4% in during 1H2012 to 741,000 and RPKs 11.6% on a 7.9% capacity hike. Load factor improved 2.5ppts to 79%. System-wide enplanements rose 10.4% to 4.3 million and passenger traffic rose 10.2% on a 3.3% increase year-over-year of ASKs.
Asia focus is one of the three pillars to bring Finnair back to profitability
Finnair Group has recorded negative earnings in six of the past nine years, including a consolidated net loss of EUR87.5 million in 2011, a EUR22.8 million deficit in 2010, a EUR95.2 million loss in 2009 and EUR46.1 million of red ink in 2008. Finnair Group's net loss for 1H2012 amounted to EUR40.2 million.
Passenger numbers rose in 2011 to 8 million, reversing four consecutive years of decline. Finnair carried 8.7 million passengers in 2007, 8.3 million in 2008, 7.4 million in 2009 and 7.1 million in 2010.
Finnair Group select financial results: 2003 to 2011
Finnair brought in Mr Vehviläinen to help reverse the company's fortunes. Mr Vehviläinen, who was the COO of Nokia Siemens Networks, took up his current position on 01-Feb-2010 and succeeded Jukka Hienonen, who resigned in Aug-2009, citing his frustration about his inability to install change at the carrier. "Many structures as well as the company's culture have been formed in totally different conditions. With these we cannot do well in the present competitive environment, but changing them has proved to be extremely difficult," Mr Hienonen said in his resignation statement.
His successor has been very forthright about his objectives for Finnair and in Aug-2011 released an extensive restructuring and cost-reduction programme for the company while also stating that the airline is open for consolidation. In an Aug-2012 interview with Helsingin Sanomat, Mr Vehviläinen reiterated that the carrier has "been going through a survival struggle. The idea that we would be independent is not necessarily the only option."
The company is listed on the Helsinki Stock Exchange and the Finnish state holds directly and indirectly almost 70% of the shares as of 31-Jul-2012, according to Finnair Group's investors' page. The Government could reduce its stake, according to the Minister responsible for state ownership Heidi Hautala. Finnair has been listed on the Helsinki Stock Exchange for over 20 years. But shares have gradually lost value since 2007 and closed at EUR2.07 on 15-Aug-2012.
Finnair share price evolution: Aug-2007 to Aug-2012
In the current environment buyers for a loss-making airline with a limited home-market are sparse and Mr Vehviläinen is moving ahead to try to establish the "necessary and inevitable structural reform".
Mr Vehviläinen's reform plan rests on the view that as a small company Finnair can no longer do everything itself and partnerships are the way forward. Finnair will continue operating long-haul flights, particularly the Asian flights which drive growth, but the short- and medium-haul flights are to be outsourced to a third party or a joint venture with a third party. A first deal was concluded at the end of 2011 with the British regional airline Flybe for Finnair Nordic operations, which are now operated by Flybe Nordic, a Finnair-Flybe JV.
See related article: Changes in Northern Europe: Finnair outsources European routes to Flybe; Skyways & City Airline fold.
Finnair in May-2012 inked a second agreement with Flybe covering Finnair's European flights aboard Embraer E190 aircraft. The cooperation under which Flybe would operate 12 Finnair-branded E190s is scheduled to begin in Oct-2012; but before a binding agreement can be signed, employee consultations between Finnair and its cabin attendants needs to be concluded. Negotiations with Finnair's pilots in relation to the business transfer and cost savings concluded in Jun-2012.
The Finnish flag carrier also is looking at outsourcing its European network that is currently operated with its Airbus narrowbodies to a third party, but so far it has been unable to find a suitable partnership solution within the original target schedule. In a presentation discussing the Group's 2Q2012 results, Mr Vehviläinen said that "a radically changing competitive environment, numerous bankruptcies and challenging market conditions have made it more difficult to find the right solution".
See related article: SAS and Finnair celebrate restructuring progress but Norwegian intensifies competitive pressure
Mr Virkkunen told CAPA in Jun-2012 that the plan to outsource A320 operations is still under review and it is unclear if Finnair will move ahead with the plan. "That's still under construction and we are figuring out what's the best solution for that part," he explains, adding there is no definitive timeframe for deciding on whether to outsource the A320 operation or keep it at Finnair.
Mr Virukkunen says the effort to improve efficiency of the short-haul operation is crucial as it will help Finnair become more competitive on Asia-Europe connections. With the prospect of Norwegian launching services to Asia and other lower-cost operators starting to compete on some of Finnair's bread and butter Europe-Asia city pairs, the need for Finnair to successfully restructure its short-haul operation becomes more pressing. "We are happy with our long-haul traffic," Mr Virkkunen says. "That is actually the cornerstone of our operation. Where we have to improve efficiency is the short-haul feeding traffic. That is the emphasis."
Finnair risks losing its niche
Finnair's niche strategy to focus on Asian routes for growth and be a "leader in the Nordic" is based on its geographic location. But it has no monopoly on this geographic advantage.
Gulf carriers are only a limited threat owing to their location but Norwegian has the potential to become Finnair's main competitor. It has a more competitive cost structure on European routes and its Dreamliners are more efficient than Finnair's A330s or A340s.
Finnair has 11 A350s on order, but the aircraft programme is suffering delays and this poses a problem for the Finnish flag carrier which may have to source widebodies on a short-term lease to bridge the delivery gap. In addition, as Mr Vehviläinen has pointed out, several European airlines also have opened new routes from central Europe to China, which intensified competition.
Finnair currently has no commitments to increase its existing A330/A340 fleet prior to the delivery of the A350s, which for now is slated to begin in 2015. As a result Finnair may wait for the A350s to further expand its Asian network, a potentially risky strategy as other carriers will rapidly expand in the Europe-Asia market during this timeframe. But Mr Virkkunen told CAPA that it is too early to say if Finnair will wait for its A350s to further grow its Asian network, explaining that the carrier continues to evaluate several possible Asian destinations and if there is a good opportunity to grow the network it could quickly go to the leasing market to secure an additional widebody aircraft.
With so much riding of its future strategy riding on Asia, it is hard to imagine Finnair sitting idle for three years - or more in the likely event of A350 delays. Unlike several other small European flag carriers, Finnair in recent years has successfully carved out a niche. If it does not protect and continue to grow this niche, Finnair will face an uncertain future.
Background information
Finnair fleet summary: as of 31-Mar-2012
| Aircraft | In service | On order |
| --- | --- | --- |
| Total: | 58 | 17 |
| A319 | 11 | 0 |
| | 10 | 0 |
| A321 | 6 | 5 |
| A330-300HGW | 8 | 0 |
| A340-310 | 7 | 0 |
| A350-900XWB | 0 | 11 |
| 757-200 | 4 | 0 |
| | 12 | 1 |
Finnair passenger traffic performance by region: 2Q2012 vs 2Q2011