Finding the bottom: US consumer debt and trade protectionism the biggest risks to economic recovery
Analysis
There are some green shoots in the global economy, but they risk being burnt off by debt-laden US consumers cutting back on spending and governments erecting barriers to global trade.
Meanwhile, China's economy has shown further positive signs lately, with the Purchasing Managers' Index (PMI) for the manufacturing sector increasing to a seasonally adjusted 53.5 in April from 52.4 in March, according to the Federation of Logistics and Purchasing. It was the second month the index remained above the threshold of 50 (indicating expansion), suggesting Beijing's massive economic pump-priming exercise is stimulating domestic industrial activity, despite depressed world trade.
But most other leading economies remain deeply in recession and Europe in particular is expected to deteriorate in coming months. A further correction in the US economy is possible, as debt-laden consumers (those that keep their jobs) rein-in spending.
Recovery some time away - IATA
The International Air Transport Association (IATA) last week warned that, while air freight volumes (a key forward indicator of economic health) may have stabilised in recent months, "the same is unlikely to be true for consumer spending".
IATA stated the credit boom led to households increasing their debt from 100% of disposable incomes in 2000 to 130% by the end of last year and since their housing and equity wealth has fallen 30% or more in value, "it is highly likely that households will want to pay down debt with any strengthening of incomes". The industry body observed that even de-leveraging to just 125% would remove USD500 billion or 5% from being available for consumer spending - "so major risks remain and there are good reasons for expecting any recovery to be some time away".
IATA stated a sustained and strong economic recovery phase "will await a return to confidence among consumers, as well as a more robust banking system". This, says IATA, suggests air freight may "get little more than a moderate boost from the manufacturing inventory cycle later this year/early 2010, and a further downward leg driven by consumer de-leveraging cannot be ruled out yet".
IATA chief economist, Brian Pearce, added, "a return to more normal growth rates may not arrive until 2011. When it does air freight is likely, as it has done in the past, to signal several months ahead that a more sustained upturn in world trade and economic activity more generally is on its way".
Freight volumes stabilise - at very low levels
Overall, IATA suggests that the stabilisation of air freight may now be signalling a turning point as the recession reaches its low point, but conditions suggest manufacturers' shipments and air freight volumes will continue to move sideways, "at best". If air freight volumes continue to move sideways, by September year-on-year reductions would have moved below -20% and by November positive, though small, numbers will have returned.
IATA stated, "of course this would be no sign at all of any recovery, just of continued stagnation at current low levels of air freight".
International air freight volume and growth (NB: NOT a forecast): 2000 to 2010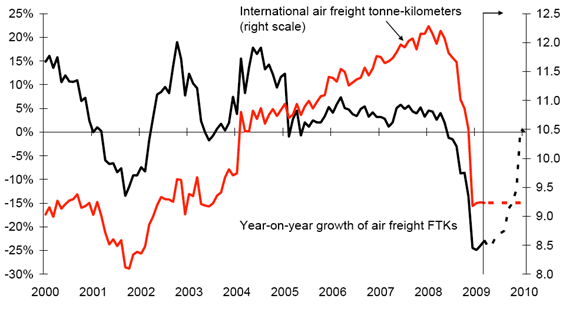 Airlines ring in the cutbacks, warn against protectionism
For airlines, the stabilisation of freight traffic at very low levels means they have no option but to take capacity out of their systems.
Last week, Lufthansa confirmed plans to reduce capacity at its cargo unit by a total of 30% in 2009, resulting in six of 19 freighters being grounded by the end of the year. Lufthansa Cargo has so far reduced cargo capacity by 20%, grounding four aircraft. Lufthansa announced it could also cut long-haul seating capacity by up to 8% this year if demand continued to deteriorate.
FedEx also last week announced plans to permanently remove 14 freighters from its fleet (10 A310Fs and four MD10Fs) by 31-May-09, as part of its cost-cutting plans. FedEx added "a limited amount of the company's total aircraft capacity remains temporarily grounded due to network overcapacity".
Depressed economic conditions and the spectre of higher unemployment is posing another major risk to world trade - increasing protectionism.
FedEx Founder, Chairman & CEO, Fred Smith, last week reiterated fears of an "all-out air trade war", if Congress moves to block the further liberalisation of air travel between the US and Europe. Mr Smith told Dow Jones that lawmakers should "resist the protectionist urge" to block additions to the US-EU open skies agreement. He stated, "protectionism is tempting to political leaders when a market is shrinking and an industry is hurting", but the US "must simply turn back that tide."
Mr Smith's comments echo those of UPS Chairman and CEO, Scott Davis, who stated in Feb-2009, the US and its trading partners around the world would be making a "huge mistake" if they responded to the economic downturn by adopting "protectionist measures to restrict free trade".
The UPS CEO stated, "the need to support global trade grows more urgent by the day". He added, "global trade is one of the most important tools we have to help lift us out of the financial crisis. No argument against free trade can justify the negative impact to economic and human development".