Europe's large "budget" airports prosper - but threats emerge as primary airports fight back
Analysis
When talking of a "low cost airport" (LCA) the temptation is to consider only those that are situated some distance from the city they serve, are used only by budget airlines and general aviation, have few routes and handle relatively small numbers of passengers, usually in the category 0.5 to three million ppa. There are some well known examples where that is certainly not the case, for example KLIA2 in Kuala Lumpur (though that is a terminal, rather than an airport) and Don Mueang in Bangkok for example. The latter has become the leading LCA in the world as judged by passenger numbers. In Europe London's Stansted Airport vies with it for that title.
But within Europe there are several other LCAs that punch well above their weight, or have the potential to, and which merit examination. Four of them are examined here. While most are thriving now, evolving airline models may threaten their comfort zone.
It is appropriate to start with Milan Bergamo (Orio al Serio) airport as it featured in a recent report that contrasted the Rome and Milan airports for future growth (As Rome's Fiumicino burns, fashion capital Milan could benefit. Alitalia is left with a hub dilemma).
The airport is also known as Il Caravaggio International Airport after the famous painter who lived in the Province of Bergamo.
Bergamo set to become Italy's third busiest airport
In that report Bergamo was described as being a similar distance from Milan as is Malpensa Airport, one of the two Milanese airports owned and operated by SEA. In fact it is slightly closer by a kilometre or two, both around the 50km mark. Road transport between both airports and downtown takes broadly the same amount of time. There is a common belief that Bergamo, in common with many other LCAs, is located considerably further out from the city than it actually is. Linate Airport is much closer than both of them at just seven kilometres.
But Linate is under attack from regional politicians who want to see greater use made of Malpensa in particular and pleas have been made to Alitalia to return there. A third runway is planned for Malpensa and now there is the complication of a potential new airport for the Brescia – Verona region (see below).
Location of the three Milan airports
So while the traffic allocation at Linate is weighted in favour of full service carriers (FSCs) in the ratio of 91.5% to just 8.5% low cost, the story is different at both Malpensa and Bergamo. At Malpensa 42.5% of capacity just now (Oct-2015) is on LCCs - but that still leaves 57.5% on FSCs and regional airlines. At Bergamo though, a hefty 97.9% of capacity is provided by LCCs, the tiny remainder falling to FSCs and in this case charters. Bergamo is the undisputed budget airport for the Milan conurbation.
Milan Bergamo/Orio al Serio Airport capacity seat share by carrier type, 05-Oct-2015 to 11-Oct-2015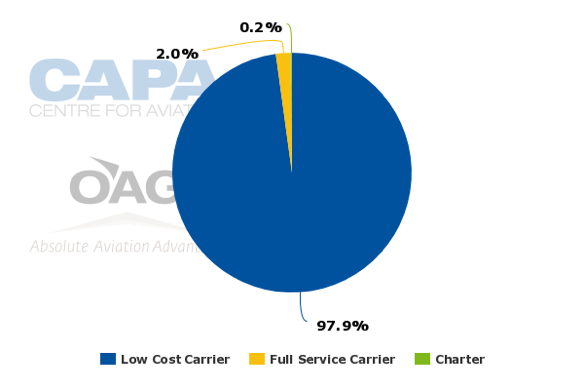 If we look at how the capacity is allocated by specific carrier there are no big surprises. Ryanair dominates as is often the case with out-of-town airports.
Milan Bergamo/Orio al Serio Airport capacity (seats per week) all carriers, 05-Oct-2015 to 11-Oct-2015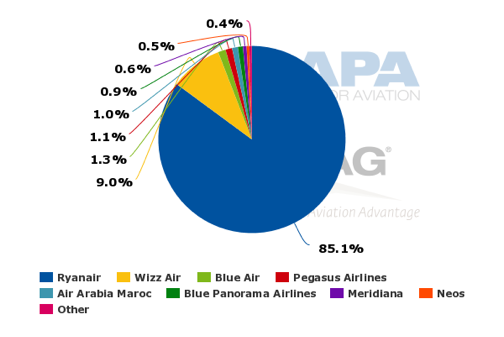 The Irish airline has not quite reached critical mass though, the point at which other carriers find it difficult to attract potential passengers away from it. That is more often 90% of capacity or more. Its regular competitor Wizz Air is present along with several other European and non-European carriers. Neos represents the charter interest.
The surprise comes when passenger traffic is contrasted between these three airports.
Milan Bergamo/Orio al Serio Airport annual passenger numbers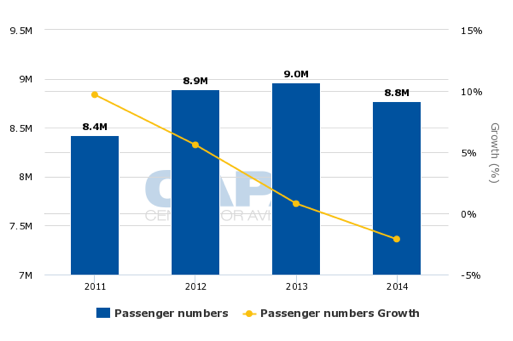 While Malpensa Airport is easily the largest of the three, with 18.9 million passengers in 2014 (from 18 million in 2013), there is little difference between Linate Airport (nine million in both 2013 and 2014 with stable traffic over four years) and Bergamo Airport (see chart). Bergamo's traffic has been slightly in decline in 2013-14 (blamed on a runway closure for rehabilitation without which it is estimated +3.5% growth would have been achieved) but the airport resumed that growth in 2015 with some quite dramatic increases, the monthly average rate of which has been 37.4% in the period Jan to Aug-2015. At this rate of growth it will almost certainly overtake Linate in FY 2015 as that airport has only been growing by 5.1% on average by month in the same period. That would take Bergamo to over 10 million ppa and position it as Italy's third busiest airport.
This is an important statistic, because nowhere else in Europe does an outright LCA hold such an exalted position apart from in Belgium (Brussels Charleroi Airport, which is ranked #2). Not even in the UK, where Stansted Airport, despite rapid growth in the last 18 months, still lies fourth in the pecking order behind its stable mate, Manchester Airport.
So the two 'main' Milan city-region airports are shaping up to be Malpensa and Bergamo, with the latter oriented towards the budget segment rather more than the former. In some ways Bergamo has similarities with London Luton Airport, which also figures in this report.
One of the reasons for Bergamo's success is its location in a region (Lombardy) that is the most populous in Italy, with 18% of the population (9.75 million) and 20% of the workforce (4.35 million) claimed to be within its catchment area. In addition similar claims are made for Italian companies (16%) and GDP (21%). GDP per capita is said to be 29% greater than the Italian average at EUR34,000. That is some way short of Europe's richest region, Bavaria (EUR50,000+) but still impressive. The Italian Stock Exchange is headquartered in Milan.
Of course none of this directly impacts on business travel when 85% of an airport's seat capacity is on LCCs but (1) the number of business travellers tends to get bigger on LCCs generally and (2) that comparatively wealthy population seeks vacation outlets, frequently. Ryanair alone serves 25 cities out of Bergamo that could be described as 'vacation destinations' and 31 that could be described as business cities (with some overlap of course). Consequently the traffic mix is good: 47.3% tourism; 24.9% business and 27.8% other (family – VFR, study etc). 80% of passengers are from the Lombardy region but the wider catchment area stretches from the western Milan suburbs to the Adriatic Sea to the east.
Bergamo also benefits from incoming tourism not only to Milan but to Bergamo itself, which is the second most visited Lombardy city after Milan, also to a number of ski resorts and the lakes Garda, Maggiore, Como and Iseo, which are within one hour's drive.
According to the CAPA Airport Construction database the only known activity presently is a recently approved MRO hangar that will be built by Ryanair, part of a EUR32.5 million (USD36.4 million) investment by the carrier that also includes a pilot and flight attendant base. But investment of EUR154 million has recently been completed, which commenced in 2006 and which included extensive terminal refurbishment and extension, runway reconstruction and a new ATC tower.
The airport is 31% owned by SEA, operator of the other two Milan airports, and partly by the City and Region of Bergamo, the Chamber of Commerce, the Banco Popolare, and assorted smaller shareholders.
Proposed Brescia-Verona airport poses a threat
The potential threat to all three of the Milan area airports and especially to Bergamo (and the 'potential' must be stressed) comes from the proposed new and as yet unnamed Brescia-Verona airport, a EUR15 billion (USD16.7 billion) 100 million ppa development by a consortium, Europe 1, lead by China's Sīxiăng Holding, which is headed by an Italian Chairman, Michele Raucci. An airport and attendant aerotropolis is proposed on a 55 sq km site located along the high-speed rail line currently under construction between Brescia and Verona.
According to Sīxiăng Holding, the airport will feature a four-runway system, and the consortium plans to expand the development into a six-runway facility in time. It will also feature domestic and international terminals, as well as dedicated first-class and private jet terminals and is slated to open in 2020. Its catchment area would stretch from Turin in the west to Venice in the east and embrace other cities such as Genoa and Bologna as well as Milan.
The Chinese typically seek access to Europe for Chinese goods as much as for passengers. But Malpensa Airport has a long established 'cargo city' where FedEx is investing in a new 35,000sqm facility that will triple the size of the existing one. SEA, the airports' owners, is investing EUR100 million on the expansion of freight infrastructure in the cargo city, doubling it in size.
Europe 1 offers little more than a speculative proposal right now though the Chinese are increasingly investing in transport infrastructure in Europe so the will is certainly there.
London Luton Airport's charter heritage has shifted in favour of LCCs
Moving on to the UK, but not to Stansted Airport, rather to London Luton Airport, an LCA that is a hidden success story even though the scheduled budget airlines there were long supported by an extensive charter regime that has declined in recent years. (Several charter airlines were based there, hence the concentration, but much of the charter capacity has latterly been switched to Gatwick Airport to the south of London). Luton's seat capacity is now accounted for by LCCs to the tune of 92.6% so it would be quite reasonable to refer to it as an LCA.
London Luton Airport capacity seat share by carrier type, 05-Oct-2015 to 11-Oct-2015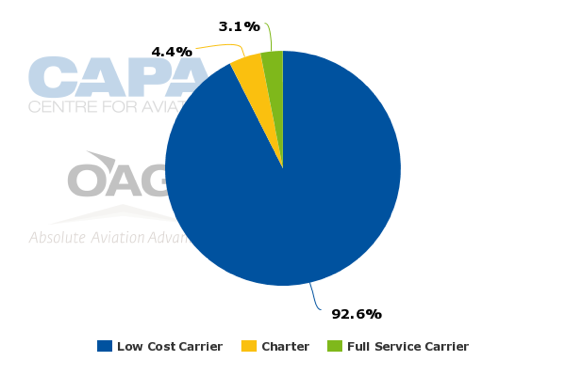 Luton is the fourth largest airport by passenger numbers serving the London area, out of six in total. It was also the fifth largest UK airport in 2014, just ahead of Edinburgh. So far in 2015 (first eight months) its growth rate is six percentage points ahead of Edinburgh so it will most probably retain its ranking this year though it is only half the size of fourth-placed Stansted, which is just 30 miles or so (48 km) to the east. As this report is written the airport reports a 19.2% year-on-year increase to 1.2 million passengers in Sep-2015, marking the 18th consecutive month of growth. Not all the airport statistics for Sep-2015 are yet available but in Aug-2015 Luton was the third fastest growing UK airport after the small Newquay Airport and London City Airport (which is about as different as it is possible to be from Luton, handling mainly full service/regional carriers on business routes).
Luton Airport, in the industrial county of Bedfordshire, is located 32 miles north of central London in the town of Luton (population 260,000) and the LCC easyJet has its headquarters there, on the airport estate. The reasons for the airport's success include:
It was the main 'package holiday' departure point for two generations of inhabitants of North London and beyond along the strategic north-south M1 motorway which runs close by. Luton became synonymous with charter flight holidays to 'exotic' Mediterranean vacation resorts;
As the British package holiday business began steadily to decline (though a recent resurgence should be noted) the LCCs moved in. Indeed, not only was easyJet first established at Luton, the airport was also host to other examples of the first LCCs in the UK, led by the failed Debonair, which attempted to match easyJet with what would now be described as a hybrid operation at rock bottom ticket prices. Ryanair also operated primarily at Luton before shifting the majority of its North London operations to Stansted, and with a similar business model, one that almost led it into bankruptcy.
Later, Luton became a testing ground for other models, such as the budget all business class British transatlantic airline SilverJet, which competed with its peers, the American Eos and Maxjet, which themselves operated out of Stansted (and all failed). Latterly La Compagnie, a French long haul all-business airline has begun a route Luton – New York Newark, again with a similar model.
While Luton has thus identified itself as a test bed for airline entrepreneurs, its fundamental operations today are based on services operated by the LCCs easyJet, Wizz Air and Ryanair, supported by the hybrid Monarch Airlines (which has foregone its charter operations) and the charter mainstay Thomson Airways. It is a traffic mix most airport managers would settle for.
The one weak area comparatively speaking is cargo, where Stansted Airport is well ahead. Luton's much shorter runway prescribes against operations by the larger aircraft that characterise the cargo segment.
London Luton Airport capacity (seats per week) all carriers, 05-Oct-2015 to 11-Oct-2015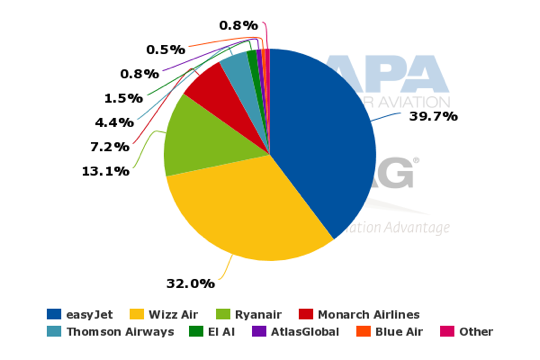 Ownership, investment and access difficulties are in the past
Luton is emerging from a set of adverse circumstances that have hampered its growth over the past few years. Firstly there were issues arising out of its management. The airport is owned by the Luton Borough Council and leased to London Luton Airport Operations Limited under a 30-year concession contract currently held by AENA (51%) and Ardian (AXA Private Equity) (49%). A previous (90%) leaseholder, the Spanish construction conglomerate Abertis, which has since exited airport management altogether, was criticised widely for lack of commitment to its UK airports, which also included Cardiff and Belfast International, though some of the criticism might have been unfair.
The previous 10% stakeholder, AENA, consequently became the major investor through its AENA Internacional division and the second part of the equation, infrastructure investment, has since accelerated, which was critical as the airport is expected to reach capacity within a year. A GBP100 million investment project, includes doubling of the size of the departure area, doubling the size of and relocating the security search area, the extension of the pier and the construction of a new one, the remodelling and expansion of aprons and taxiways and the provision of additional car parking. This is intended to put to an end the piecemeal growth of the airport that has predominated throughout its 77-year history and put in place a framework for long-term development. The work will be completed by 2020 with much of it long before then. Capacity will rise to 18 million ppa (from 12 million) by 2026.
The third part of the equation is surface access, which even in fairly recent memory has been woeful. In its latest Passenger Survey Report the UK Civil Aviation Authority reports that while London airports have the highest proportion of passengers in the UK that travel to and from them by public transport with Stansted the highest (50%) followed by London City (46%), Luton is far and away the lowest, at just 29%.
The airport is situated very close to the town centre (less than two miles) on a hill, but within three miles of junction 10a of the M1 motorway. That junction has been remodelled for easier airport access and the final approach road will be widened into a dual carriageway.
A new bus terminal will be built and improvements are sought with the rail operating company Govia, which runs the Thameslink rail line, to improve the Shuttle Bus service to and from the rail station, which is approximately one mile from the terminal building.
London Luton Airport locator map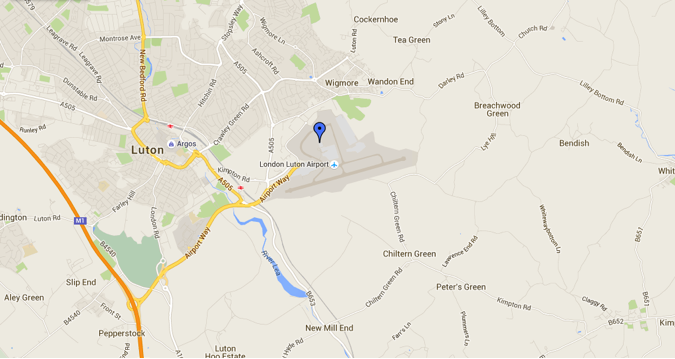 The rail service has been improved dramatically in recent years and continues to be. Thameslink runs between Bedford, Luton and Luton Airport, central London (five main stations), Gatwick Airport and Brighton on the English south coast. One of those five central London stations, Farringdon, will also be on the west-east Crossrail line when it opens in 2019.
Govia also starts to operate the Gatwick Express service this year. So the remarkable situation has arisen whereby Luton Airport is connected not only to Central London but also through it to its competitor for LCC business in the south, Gatwick Airport, by a single operator that also runs a competing service to Gatwick! Consumers in the southeast of England have more transport choice than their parents could ever have imagined.
Luton did not get past the first hurdle, the Interim Report, in the Airports Commission's deliberations. A proposal for an extension up to four runways was excluded from further consideration but it was made by a private organisation, not by the airport or the council. It did include an intriguing suggestion for a rail 'spur' off the West Coast rail line, Europe's busiest.
But out of that Interim Report did come a recommendation that the Highways Agency (now Highways England) should develop a comprehensive strategy for motorway access to the airport, with a particular view to examining the case for enhancements to M1 Junction 10A. That seems to have happened already, and together with the other infrastructural enhancements mentioned earlier Luton has become a very significant part of the short to mid-term solution to capacity needs in advance of an extra runway being added in the southeast, assuming that happens at all. That is a feather in the cap for what remains essentially an LCA.
Liverpool John Lennon Airport's potential, like that of the city's eponymous football team, is yet to be realised
Remaining in the UK, Liverpool John Lennon Airport (JLA) also merits brief consideration here, not for what it is but for what it has been and aspires to be in the future. It is another LCA that has punched above its weight in the past and at least has the potential to do so again.
JLA has featured frequently in CAPA reports throughout the last decade, so this synopsis is brief. Essentially it was a municipally operated facility, one that perennially failed to make a profit. Having been identified by central government for expansion as the main northern England gateway in the 1970s it lost its way owing partly to local political inertia and partly because the city region fell out of favour with government as a consequence of industrial militancy. Nearby Manchester Airport (35 miles) was not slow to seize the opportunity and the rest is history.
Liverpool – Manchester locator map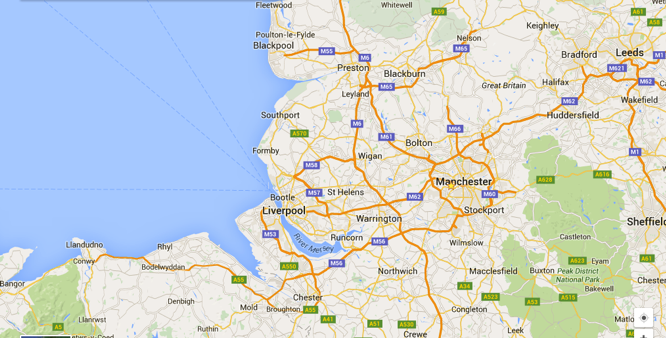 The airport was privatised in 1990 and subsequently acquired 100% in 2000 by Peel Holdings (now Peel Group), one of the largest property development companies in the UK, renamed and targeted expressly at LCCs. EasyJet was the first to build a network there, followed by Ryanair. Combined, they took large numbers of actual and potential passengers away from Manchester. Others, such as Flybe, have arrived, departed and returned, while consistent attempts to establish FSC routes – or those operated by airlines that do interline - have largely failed.
These routes include London – which remains unserved - and Amsterdam (which is operated by easyJet), where a further attempt to do so has commenced recently (by Flybe, if that counts as an FSC). Flybe has secured a code share deal with Etihad at Amsterdam, a strange decision for the UAE airline because of the potential to cannibalise its services at nearby Manchester, but certainly a coup for Liverpool.
Long haul routes (e.g. New York, Hamilton, Ontario, Canada) have also been commenced but were invariably withdrawn quickly.
Liverpool John Lennon Airport capacity (seats per week) all carriers, 05-Oct-2015 to 11-Oct-2015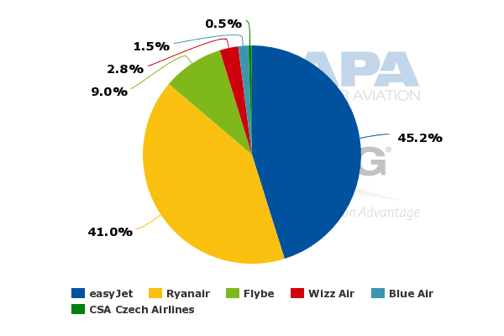 Even so, the presence of the two LCCs meant that JLA was one of the fastest growing airports in Europe between 1997 and 2007, with passenger numbers increasing from 0.7 million to almost 5.5 million, which is considerably more than many capital city airports in Europe. Those numbers fell away though to just shy of four million in 2014 (-4.8% compared to 2013). Like many other airports that are dependent on one segment, JLA was subject to the intense scrutiny of market forces.
Liverpool John Lennon Airport annual passenger numbers
Peel Group was able to capitalise initially on European aid grants in its infrastructure investment but latterly has had to employ its own resources. A new terminal was added in 2002, subsequently extended, and further enhancements are planned. However, a refinancing package was needed after the airport lost GBP97 million in the year to Mar-2014. Negotiations with banks were completed, GBP76 million of debt was refinanced for a further five years and a further investment of GBP25 million has been made by Peel Group, partly funded from a shareholder loan and partly to be used for terminal investment. The Peel Group property arm will purchase various assets in order to pay down senior debt.
JLIA's financial position is thus better than it was, although the management admits there is still much work to be done to get the airport back to its previous position. Liverpool City Council has been considering investing in the airport, having been approached by the Peel Group to become a third party investor. And at the beginning of Nov-2015 the City Council's Cabinet took the decision to obtain a shareholding in two joint venture companies on the basis that it will make a financial return. The City Council was a majority shareholder in the airport until 1990 when BAE Systems took a 76% share but never did make such a return during that period. The Council may have been influenced by the GBP100 million investment made by Peel Group during the last 15 years.
Interestingly this is an example of a (partial) reverse privatisation, just as what was 'emergency' government ownership at Cardiff Airport is coming under scrutiny. The outgoing Chairman there recently said he expected the airport to be privatised again within five years.
A lot will depend on the airport's ability to attract new services. Unlike Manchester, which is attracting the Chinese investment that Liverpool covets in droves, there is no 'airport city' development to fall back on although the continuing development of the city's port (by the same owners) could be mutually beneficial. So far in 2015, route development activities have produced satisfactory results. There was a 7.0% year-on-year increase in passenger numbers in 3Q2015, which is marginally better than the figure for the first eight months (+5.7%) and the airport also reported Sep-2015 as its seventh consecutive month of passenger growth.
New routes include a Dublin service, also one to and from Amsterdam by Flybe, which commenced in Sep-2015. In addition, Prague, the Isle of Man and Edinburgh (commenced 25/26-Oct-2015) and services by Vueling and BlueAir that are scheduled to begin in summer 2016. Another interesting development is a seasonal charter to Palma by Thomson, also scheduled for summer 2016. Manchester has dominated charter operations in northern England for many years.
The acid test though will be JLA's ability to attract and retain more FSC routes to important hubs such as Frankfurt and Paris. The presence of easyJet and Ryanair has been essential to the continuation of service at the airport but both of them operate to more cities – and more importantly business cities – from Manchester. While JLA can benefit, ultimately, from the construction of a third runway at Heathrow (and both the airport and supporting economic agencies in the Liverpool city region have championed that prospect) the lingering uncertainty of what strategic direction the big two LCCS will take in the future continues.
Traffic forecasting - how demand can easily be overestimated
When FSC/network routes have been introduced in the past - KLM's Amsterdam service was a case in point, duplicating and potentially cannibalising a very long-established route at Manchester - a tug of war ensued between the two airports, Liverpool and Manchester, for business from the Cheshire town of Warrington (see map above) which lies between the Greater Manchester and Merseyside city-regions. Warrington occupies a more powerful economic position than its small size indicates.
It can be compared with Milton Keynes, the Buckinghamshire town some 50 miles north of London (and close to Luton Airport) and which is the country's fastest growing. Milton Keynes is reputed to have more banks than Zurich. In its own way Warrington occupies a similar position. Lying at the junction of the M6 (north-south) and M62 (west-east) motorways it is a very important distribution centre and it has also become the premier location in the UK for engineering consulting companies.
Airlines and airports look at where bookings originate from partly by looking at postcodes. But the Warrington WA postcode, because of the arcane way in which they administered in the UK, actually includes parts of Greater Manchester and the county of Cheshire that are wealthy, contain lots of regular air travellers, and, critically, are very close to Manchester Airport. Consequently it is entirely possible to overestimate demand, and Liverpool is not the only airport to be at the mercy of such vagaries.
It may be a little facetious but Liverpool Airport can be compared with Liverpool FC, a famous football club that has grossly underachieved during this decade apart from a brief rally in the 2013-14 season. As this report is written it has appointed a new manager who, it is hoped, will be able to attract some new high value players just as the airport needs those new high value routes
There is also the question of how the airport wishes to be branded here on in. 'John Lennon' and the Beatles music legacy has served it well. But with each passing year that legacy diminishes a little in value. Heaven forbid that anyone should suggest 'Manchester – Liverpool Airport.' That would receive short shrift. But perhaps the time is fast approaching when the airport needs to identify with the wider northwest of England and North Wales, which is also in its catchment area.
(For more on airport branding, see: What's in an eponym? Celebrity airports - could there be a commercial benefit in naming?.)
The last low cost airport to be featured here is Brussels South Charleroi Airport, which quickly came to attention when it was selected as the first European base for Ryanair in 2000. As mentioned previously it is the second largest airport in Belgium despite LCCs accounting for 100% of its seat capacity. It is situated some 30 miles south of Brussels close to the old industrial city of Charleroi, in the midst of a heavily populated area and at a major international crossroads.
Brussels – Charleroi locator map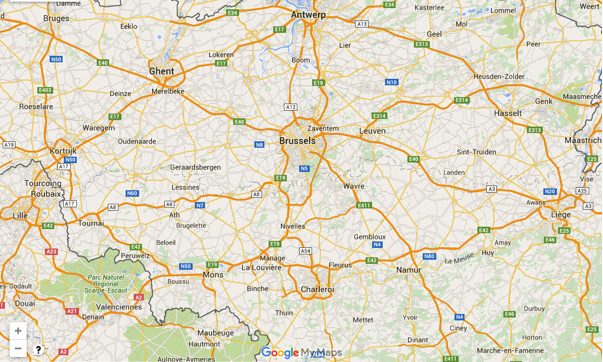 Following corporatisation at the airport in the 1990s Ryanair began operations in 1997. The Irish airline was involved in several court cases concerned with the alleged illegal payment of subsidies by the airport and indeed this has become the most celebrated case, of many. It was airlines operating at Brussels Interational Airport, including the now defunct Virgin Express, which were responsible for pressing the claims.
As a result there was some uncertainty for a while about low cost operations there in general but the Charleroi airport was able to profit by the inability of Brussels International to offer specific services for LCCs.
Ryanair cut back some of its services then increased them again and was then joined by a small number of other LCCs which remain in place today: Wizz Air, Pegasus and Jetairfly (previously TUI Airlines Belgium, a charter carrier). While a few other airlines have come and gone the portfolio at Charleroi has remained remarkably consistent.
Brussels South Charleroi Airport capacity (seats per week) all carriers, 05-Oct-2015 to 11-Oct-2015
As was the case at Liverpool, it was the construction of a new terminal that opened in Jan-2008 that improved the outlook for the airport. The terminal had a capacity of five million ppa but that has been exceeded; there were 6.4 million passengers in 2014 and despite a reduction of 5.1% between 2013 and 2014 the average monthly passenger growth in the first eight months of 2015 has been 7.3%, which is 3.2 percentage points more than the National Airport. According to the CAPA Airport Construction Database there is no construction activity underway or planned presently, other than a new departure lounge that opened at the beginning of Sep-2015. This must be a dilemma for the management and demonstrates the dangers of underestimating future growth when planning for a new terminal.
What Brussels South Charleroi Airport has not become though is an alternative airport for full service/network airlines, even though that objective was proposed a number of years ago. Part of the reason for that is the decision taken by Brussels International airport to welcome LCCs. Low cost currently accounts for 22.1% of that airport's seat capacity. Moreover, that airport is expanding, having opened a USD82 million 'Connector Building' in Mar-2015. Somewhat disconcertingly for the Charleroi airport, Ryanair now has a seat capacity share of 7.3% at Brussels International.
The fear is that LCCs will continue to defect to primary airports
And to conclude, that is the issue that all of these four highly significant LCAs must face up to in the coming months and years – that the LCCs will continue to enhance their presence at primary airports where they know they can attract higher yield - even if that means sacrificing operational benefits (Brussels South Charleroi Airport, like the other LCAs here can turn around an aircraft in less than 30 minutes).
Beyond that there is the potential for those LCCs – again probably led by Ryanair – to adjust their modus operandi momentously, for example by shifting into the provision of feed traffic for long haul network airlines, a notion that is attracting much attention right now.