European full service airlines struggle amid demand drop, capacity reductions still not enough
Europe's full service airlines have continued to see the deterioration in demand outpace their efforts to cut seat numbers. For the week ended 17-May-2009 (Week 20), total passenger traffic (RPKs) for Association of European Airlines (AEA) members was down 9.5% year-on-year, a mild improvement on the 9.9% fall the previous week. However, its still one of the strongest falls since the Easter period.
Association of European Airlines' weekly passenger traffic (RPKs) growth (% change year-on-year) by region: First 20 weeks of 2009 (to 17-May-09)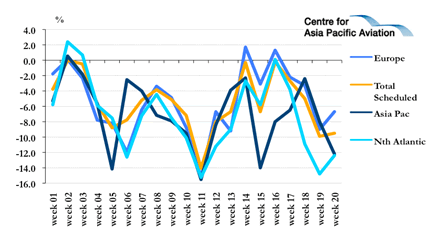 Demand on the North Atlantic showed a small improvement, with RPKs down 12.4% year-on-year in Week 20 compared to the 14.8% fall in Week 19. Cross-border European traffic showed similar improvement, although it still declined 6.7% in Week 20 year-on-year.
Asia Pacific traffic has not yet arrested its steep downward trajectory. RPKs fell 12.2% in Week 20, worsening from the 8.0% fall in Week 19. Traffic on Asia Pacific routes has generally been weaker than North American or European traffic, despite stimulatory efforts by airlines.
Association of European Airlines' weekly passenger traffic (ASKs) growth (% change year-on-year) by region: First 20 weeks of 2009 (to 17-May-09)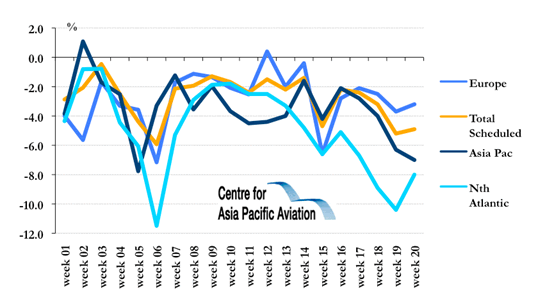 Capacity cut backs continue unabated
Total scheduled ASKs dropped 4.9%, much in line with last week's 5.2% reduction and continuing the trend of strong capacity reduction seen by Europe's full service carriers in the past few weeks.
Capacity on the North Atlantic again saw the strongest falls, down 8.0%, while Asia Pacific ASKs dropped by 7.0%. Capacity reductions on cross-border European traffic again lagged behind the cuts to long haul capacity, down 3.2%.
Competition of the North Atlantic looks to be consolidating, with Air France-KLM and Delta Air Lines announcing a new long-term JV under which they will jointly operate their trans-Atlantic businesses by coordinating operations and sharing revenues and costs. The new JV, which included Northwest Airlines, represents approximately 25% of total trans-Atlantic capacity.
The British Airways, Iberia Airlines, American Airways tie-up is still provoking arguments, but BA is confident of a positive result within six months.
If alliance moves do not achieve regulatory breakthroughs and economic conditions remain anemic, the outlook for the Northern Winter could be very bleak for AEA carriers.
Load factors coming back
Meanwhile after three consecutive weeks of declines, passenger load factors jumped back somewhat, with the exception of the long-haul Asia Pacific market. Total scheduled passenger load factors for AEA members reached 73.2% in Week 20.
Association of European Airlines' weekly passenger load factor (% change year-on-year) by region: First 20 weeks of 2009 (to 17-May-09)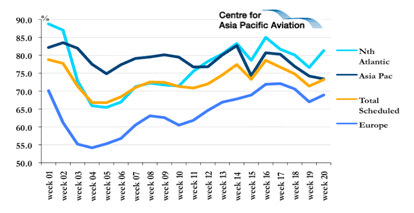 Asia Pacific load factors dropped down to 73.4%, surpassing last week's record low for traffic to/from the region. Asia Pacific load factors had been consistently higher than other regions for much of the year, but are now slipping with the strong falls in traffic.
Load factors on the North Atlantic are now the strongest of the AEA reporting areas. In Week 20 they were 81.3%, strongly up from the 76.6% reported in Week 19. European load factors remain generally at the weaker end of the scale although they too showed some improvement, at 68.9%.
European carriers "battle" to reduce capacity
Air France-KLM CEO, Pierre-Henri Gourgeon, has framed the capacity reductions in Europe in warlike terms, stated that the airline group was "leading the battle and moving more aggressively than Lufthansa and British Airways" to reduce capacity.
British Airways, which reported a GBP358 million net loss for the year to Mar-2009, stated that the carrier has now shifted its focus from managing yields to increasing passenger volumes, as the market becomes increasingly price sensitive. While the carrier plans to reduce capacity by 4% over Northern Winter, CEO, Willie Walsh, stated that BA's market share is growing at the moment, and the carrier "must maintain this momentum", despite the fall in premium travel.
With premium traffic still weak, any strength in pricing and yield control seems a long way off for Europe's full service carriers. They are now engaged in a battle to cut capacities - and even deeper cuts could be required if conditions fail to improve after the Summer.