EU Parliament approves sustainable aviation fuel mandate; up from 2% in 2025 to 70% in 2050
Analysis
On 13-Sep-2023 the European Parliament voted to increase the use of sustainable aviation fuels (SAF) at EU airports.
Under the legislation, which still needs approval by EU member states, the share of aviation fuel that must be sustainable will rise from 2% in 2025 to 70% in 2050. These percentages have increased since the EU's SAF mandate, known as ReFuelEU, was first drafted in 2021.
Airlines and fuel suppliers, both old and new, are working to increase production of SAF from its current very low levels. Government and regulators also need to implement policies to grow SAF supply.
SAF mandates are one element of this, although IATA has criticised this approach for resulting in higher prices, thereby diverting resources from other environmental investment.
Tax credits and other incentives, as introduced in the US, are another government intervention to stimulate SAF production.
Summary
ReFuelEU targets SAF at 2% of aviation fuel in 2025, rising to 70% in 2050. Synthetic fuel targets as a proportion of the fuel mix are also set.
Flights are to be labelled by environmental performance. European aviation has welcomed the new rules.
The UK plans a SAF mandate in 2025.
IAG was the first European airline group to target 10% SAF by 2030, a target shared by Air France-KLM. Lufthansa Group is developing a range of SAF suppliers and partners.
ReFuelEU targets SAF at 2% of aviation fuel in 2025, rising to 70% in 2050
ReFuelEU is an initiative within the EU's 'Fit for 55' plan to cut greenhouse gas emissions by at least 55% by 2030, compared with 1990 levels.
It also chimes with European aviation's aims to reach net zero carbon emissions by 2050. SAF is a crucial element on the pathway to net zero, pending the development of new aircraft propulsion technology.
Following approval by member states via the European Council, the new rules will apply as of 1-Jan-2024, and some provisions as of 1-Jan-2025.
The mandate requires EU airports and fuel suppliers to supply SAF as at least 2% of aviation fuels in 2025, 6% in 2030, 20% in 2035, 34% in 2040, 42% in 2045, and 70% in 2050.
As originally drafted in 2021, the percentages from 2030 onwards were slightly lower than these targets, ending with 63% in 2050.
ReFuelEU mandate: SAF as a percentage of aviation fuel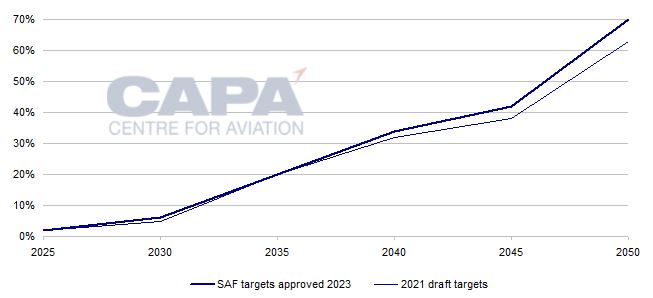 Synthetic fuel targets as a proportion of the fuel mix are also set
There are also specific targets for the proportion of the fuel mix that must comprise synthetic fuels, such as e-kerosene, which are made by combining hydrogen with carbon dioxide.
The synthetic fuel targets as a proportion of the fuel mix are 1.2% in 2030, 2% in 2032, 5% in 2035, and progressively reaching 35% in 2050. In the 2021 draft, this rose to only 28% in 2050.
The hydrogen produced for sustainable synthetic fuels needs to be produced using renewable electricity ('green hydrogen) and the CO2 needs to be captured from the atmosphere.
Synthetic fuels are still in the development stage, but are regarded as more scalable, deriving from renewable electricity as their source of energy, versus biomass feedstocks used for biofuel SAF production.
ReFuelEU mandate: synthetic fuels as a percentage of fuel mix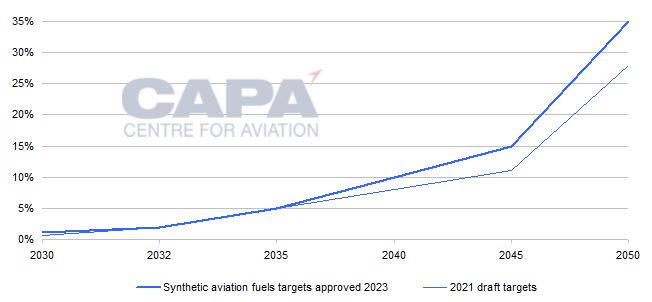 What is, and what is not, SAF?
The EU legislation defines SAF to include synthetic fuels, certain biofuels produced from agricultural or forestry residues, algae, bio-waste, used cooking oil, or certain animal fats.
Also considered green are recycled jet fuels produced from waste gases and waste plastic.
Furthermore, renewable hydrogen can be included as part of a sustainable fuel mix as the technology develops.
However, the rules also exclude feed and crop-based fuels and those deriving from palm and soy materials, which are not green as they do not meet sustainability criteria.
Flights are to be labelled by environmental performance
In addition to the SAF mandate, the legislation introduces an EU label for the environmental performance of flights.
This will display the carbon footprint per passenger and CO2 efficiency per kilometre of flights and allow passengers to compare airlines on the same route.
European aviation has welcomed the new rules
Aviation industry associations representing Europe's airlines, airports, civil aeronautics industry and air navigation service providers have welcomed the EU Parliament's approval of the new rules.
In 2021 A4E, ACI EUROPE, ASD, CANSO Europe and ERA collectively produced a roadmap to aviation's net zero target in Europe, called 'Destination 2050'.
Following the new rules, the five trade bodies said that they looked forward to further SAF development globally.
Although the SAF percentages adopted are higher than in the EU draft of 2021, the target of 70% in 2050 is some way below Destination 2050 roadmap's original target of 83%.
Nevertheless, Destination 2050 pre-dated the EU mandate and was influential in prompting world aviation to adopt a target and roadmap to net zero CO2 emissions by 2050.
The UK plans a SAF mandate in 2025
Of course, the EU's SAF mandate does not cover airports in the UK, which is Europe's largest aviation market.
The UK lags the EU in setting SAF targets, but plans to introduce a mandate in 2025. This will require at least 10% of jet fuel from SAF by 2030 – more than the EU's 6% target for 2030.
A consultation process has been carried out before setting the percentages after 2030.
However, the central scenario in the UK consultation document rises to only 50% in 2050, which is well below the EU's 70% (although it envisages rising to 100% under its most ambitious trajectory).
The public consultation ended in Jun-2023 and the UK government is in the process of analysing the feedback.
IAG was the first European airline group to target 10% SAF by 2030
Europe's leading airline groups have been increasing their involvement with, and knowledge of, SAF and SAF suppliers over recent years.
IAG was the first European airline group to set a target to meet 10% of its fuel needs from SAF by 2030, compared with the ReFuelEU target of 6%.
It has called for government policy to stimulate investment in SAF production and believes that 30 SAF plants could be built across the UK and Europe over the next eight years with the right policy support.
IAG is funding supply agreements as well as investments to accelerate SAF production, including in Nova Pangaea's UK waste-to-fuel production facility.
In Aug-2023 IAG and Microsoft announced the largest co-funded SAF purchase agreement.
Microsoft will co-fund 14,700 tonnes of IAG's SAF purchasing in 2023 – enough to fuel approximately 300 London and Seattle flights by British Airways using Boeing 787s. The deal will enable Microsoft to reduce its emissions and make progress toward its goal of being carbon negative by 2030.
SAF produced from used cooking oil and food waste will be provided by Phillips 66 Limited's Humber Refinery, which is the UK's only industrial scale producer of SAF.
Air France-KLM's 2030 SAF target is also 10%
Air France-KLM also aims for 10% SAF by 2030 and says that it has already secured sufficient supply to meet 3%.
For example, it has agreements with Neste for one million metric tonnes of SAF from 2023 to 2030, and with DG Fuels for 600,000 tonnes from 2027 to 2036.
In late 2022 Air France-KLM signed a Memorandum of Understanding with Total Energies for the supply of more than 800,000 metric tonnes of SAF to the group over a 10-year period from 2023.
In Sep-2023 Air France-KLM agreed a contract with the Vienna-based energy company OMV for the supply of 2,000 metric tonnes of SAF to the group in 2023. There is also an MoU enabling the purchase of more than 300,000 metric tonnes by 2030.
Lufthansa Group is developing a range of SAF suppliers and partners
The Lufthansa Group is also investing in SAF procurement and looking at options for long term SAF partnerships with a number of suppliers.
The Group is a partner and pilot customer of one of the world's first plants for the production of PtL crude oil in Werlte, Germany, which opened in Oct-2021. The crude oil is ultimately processed by a refinery into eFuel for aviation.
In 2022 it signed an MoU with Shell that could supply up to a total 1.8 million metric tonnes in the period 2024 to 2030, using a range of sustainable feedstocks.
Lufthansa recently announced an agreement with the chemical solutions company HCS Group for the production and supply of SAF from a planned new 60,000 metric tonne per year plant from 2026.
easyJet to scale up SAF in line with EU mandate
easyJet has said that its use of SAF will scale up at least in line with RefuelEU mandates as a minimum.
In 2019 easyJet claimed to be the world's first major airline to operate net-zero carbon flights across its whole network, by offsetting its carbon emissions.
Ryanair targets 12.5% SAF by 2030
Ryanair has set the most ambitious 2030 SAF target, aiming for SAF to be 12.5% of its fuel by then.
Ryanair has welcomed the European Parliament's decision to adopt SAF mandates, but has highlighted the need to overcome barriers to producing significant quantities of SAF, including limited feedstock availability, uncompetitive pricing, and a lengthy certification process.
In May-2023 Ryanair and the global energy group Repsol signed an MoU for SAF supply at airports in Spain and Portugal.
The deal provides Ryanair with up to 155,000 tonnes of SAF between 2025 and 2030, helping to achieve c.15% of its 2030 goal.
EASA to monitor progress towards net zero
EASA (European Union Aviation Safety Agency) will be responsible for monitoring EU aviation's progress in achieving carbon neutrality by 2050.
This includes measuring SAF use and the resulting CO2 emissions and oversight of the scheme labelling the environmental impact of flights.
EASA will also seek to enforce measures to prevent operators from the practice of tankering kerosene at airports where it is lower-priced, to minimise the amount of higher-priced fuel they need to buy at another airport. This practice results in heavier aircraft and increased pollution from fuel burn.
True sustainability requires certification
The challenges to the build-up of SAF development include proof of sustainability, which has led to the development of certification bodies such as International Sustainability & Carbon Certification (ISCC) and the Roundtable on Sustainable Biomaterials.
Criteria for SAF range from food security to rural development, the quality of air, soil and water resources, and waste management. It is also important to have multiple feedstocks and production methods.
Current SAF production is very low…
Current production of SAF remains at a small fraction – about 0.1% – of global aviation fuel consumption.
Moreover, SAF is considerably more expensive than fossil kerosene.
Production of SAF is slowly beginning to develop just a little momentum, but the growth curve is likely to remain fairly shallow in the near term.
…and growth needs supportive policy and investment incentives
Greater commercialisation and production scale should lead to lower prices, in turn creating a positive feedback loop helping to accelerate SAF usage and steepen the upward curve.
However, the ramp-up of sustainable aviation fuels will require a supportive policy framework and financial incentives for investors, while ensuring the sustainability of the different feedstocks and production processes are held to high standards.