Etihad 3Q2014: partner revenue reaches 27%, but clouded by Germany's codeshare rejection
Analysis
Etihad Airways appears to have re-gained momentum in 3Q2014, with passenger revenue growth of 26% outpacing its 16% increase in ASKs. This reverses the trend from 1H2014 when 14% passenger revenue growth was outpaced by a 19% increase in ASKs. The strong third quarter coincides with what is the peak travelling season in many of Etihad's markets, and is also Etihad's busiest period for growth.
Partner revenue continues to drive the story, with partner revenue growing at 44%, faster than the 26% growth in organic passenger revenue. In the first three quarters of 2014, partner revenue reached USD823 million, setting Etihad well on course to achieve over USD1 billion of partner revenue in 2014. Partner revenue accounted for 27% of passenger revenue in 3Q2014, and 25% of passenger revenue in the first three quarters of 2014. This critical, and unique, revenue stream is clouded by growing protectionism, as seen with Germany's recent rejection of Etihad-airberlin codeshares.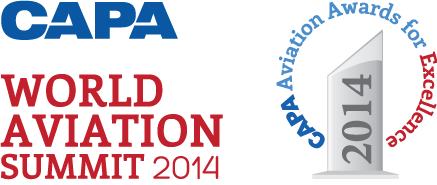 CAPA's World Aviation Summit will he held at the Hilton Antwerp Hotel on 20/21 November 2014, preceded by a Corporate Travel Innovation Day on 19 November.
Register now to hear:
- Director General João Aguiar Machado of DG MOVE
- the highest level debates on EU objectives,
- global liberalisation and the Gulf carriers,
- the role of unions and many other critical issues, involving over 20 airline CEOs and numerous other industry and government decision makers. Please click here: CAPA World Aviation Summit and Corporate Travel Innovation Day
Etihad's passenger revenue in 3Q outpaces capacity growth
Etihad does not release full figures, including costs or profits, so this report is based on the limited information available. A more thorough analysis would be possible with greater transparency. Based on revenue and passenger figures, Etihad appears to have had a stronger 3Q2014 than 1H2014. Passenger revenue of USD1.3 billion grew 26% from 3Q2013's USD1.03 billion. This was far faster growth than Etihad's 16% increase in ASKs, and an improvement on 1H2014 when passenger revenue growth of 14% was outpaced by a 19% increase in ASKs.
See related report: Etihad 1H2014 results
RPKs, load factors and unit revenue information was not disclosed and cannot be calculated based on available information.
Etihad Airways revenue up 29% - financial highlights for three months ended 30-Sep-2014:
Revenue: USD1800 million, +29% year-on-year;

Revenue from codeshare/equity partners*: USD352 million, +44%;

Passenger numbers: 3.9 million, +30%;
Cargo volume: 144,498 tonnes, +9%;
Aircraft: 105, +26%;
Employees: 22,886, +38%.
Total group revenue grew 29% to USD1.8 billion. This was faster than passenger revenue growth of 26% and is consistent with total revenue growing faster than passenger revenue as Etihad accelerates growth in non-passenger activity, such as ground-based services and cargo. This is part of Etihad's objective to be a group and not just an airline. Passenger revenue in 3Q2014 comprised 72% of group revenue, slightly down from 73% in 3Q2013. In 1H2014, passenger revenue comprised 64% of total group revenue, down from 72% in 1H2013.
The sharp variance between 1H2014 and 3Q2014 may be explained by the relatively weak performance in 1H2014 coupled with the strong performance of 3Q2014. In the nine months to 30-Sep-2014, passenger revenue comprised 67% of total group revenue.
3Q is Etihad's busiest period for growth
The strong performance in 3Q is consistent with that period (July through September) being a popular travel season for many airlines. Etihad's 3Q coincides with peak travelling periods in many of Etihad's key markets. Etihad's quarterly capacity measured in ASKs increases each quarter as Etihad is in rapid growth mode. But it can still be seen that the third quarter is Etihad's busiest. In 2013 and 2014, the fourth quarter will understandably feature more capacity than the third quarter, but in 2011 and 2012 the fourth quarter saw little change from the third quarter.
Etihad quarterly ASKs: 2011-2014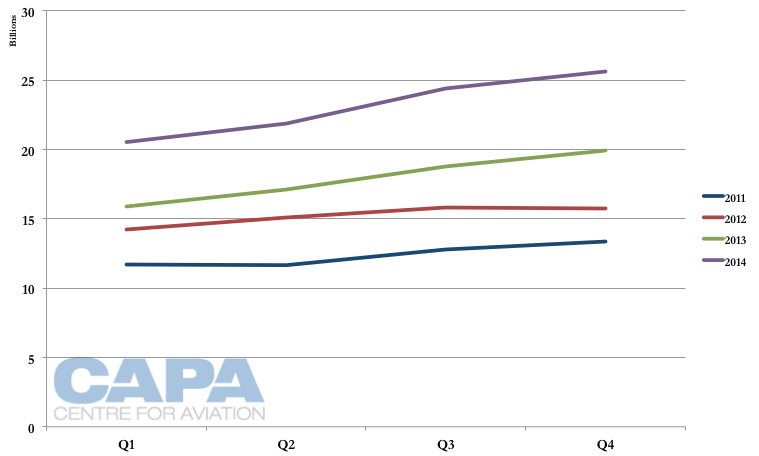 The important of the third quarter to Etihad's growth is apparent when looking at quarter-on-quarter comparison. In 2011, 2013 and 2014, the third quarter had the highest quarterly growth of the year. Etihad's 3Q2014 capacity is nearly 12% greater than in 2Q2014. 3Q2014 was Etihad's fastest-growing quarter in four years. 4Q2014 will see about 5% greater capacity than 3Q2014.
Etihad ASK growth from previous quarter: 2011-2014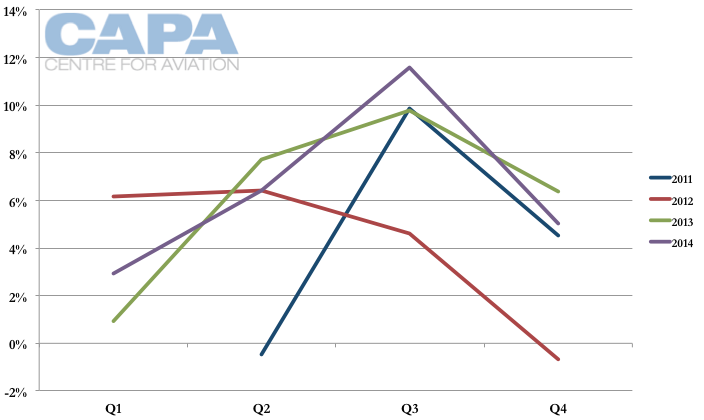 Partner revenue accounts for 27% of all passenger revenue
A key differentiating factor for Etihad is the large number of sales it receives from partners, which includes nearly 200 interline relationships, nearly 50 codeshare relationships and Etihad's equity partners. Revenue from partners in 3Q2014 was USD352 million, up 44% from USD245 million in 3Q2013. Revenue from partners comprised 27% of all passenger revenue, up from 23% in 3Q2013. In the year to 30-Sep-2014, Etihad has received USD823 million in revenue from partners, with partners comprising 25% of passenger revenue. This figure is all but guaranteed to exceed USD1 billion by the end of 2014.
Etihad revenue (USD millions) from codeshares/equity partners and its share of total passenger revenue: 3Q2011-3Q2014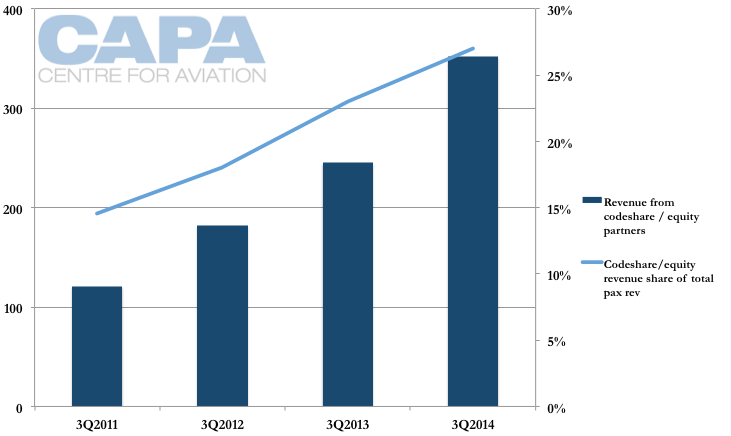 3Q2014 continued the trend of partner revenue growing faster than organic passenger revenue growth. Partner revenue increased 44% while organic passenger revenue grew 26%.
Etihad codeshare/equity partner revenue growth compared to organic revenue growth: 3Q2011-3Q2014
The outlook on revenue growth from partners is clouded with Germany rejecting plans from Etihad to codeshare on airberlin. Etihad's exact calculation of partner revenue is unclear, but presumably the codeshare rejection (if it stays) should not impact the revenue Etihad receives from partners. Etihad's proposed codeshares were for its flight number on airberlin, and not airberlin's code on Etihad – the latter of which would qualify as revenue from partners.
However, there could be a concern that restricting Etihad's placement of its code on other airlines could spread to other airlines being restricted on placing their code on Etihad. Such possible rescinding is not known to be actively considered, but the antiquated air transport regime has proven itself capable to innovate in twisted and absurd ways in order to achieve protectionist measured. The mere possibility of decreased liberalisation is negative enough; Etihad and its partners could benefit from greater codeshare access than they already have. The global trend is towards greater codesharing, and codeshare growth outpacing operating flight growth, as identified in Airbus' 2014 global market forecast.
Monthly number of codeshare flights versus operating flights: 1996-2014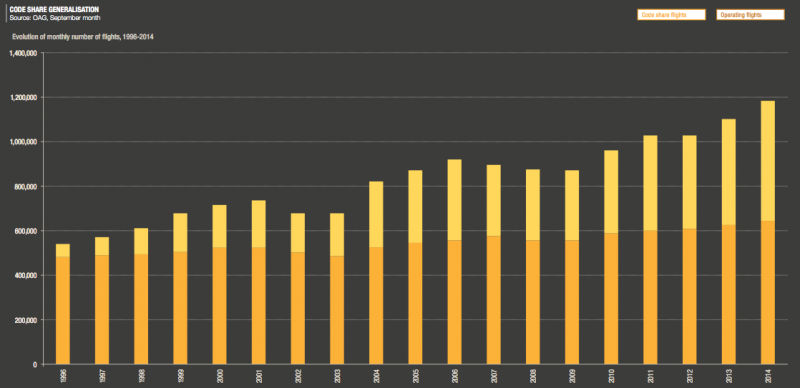 Germany's Luftfahrt Bundesamt (LBA) rejected Etihad Airways' plans to codeshare on 34 airberlin services in the carrier's winter 2014/2015 schedule, affecting around 46,000 bookings. The LBA, which evaluates codeshares for each seasonal schedule, rejected the plans on the basis that they violate Germany's air services agreement with the UAE. The story appears complex as the codeshares were previously approved, with an Etihad Airways spokesperson stating: "Etihad Airways challenges the LBA's decision to reverse earlier approvals for 34 existing codeshares…these codeshares have been consistently approved by the LBA, with the German Ministry of Transport's full knowledge…for the last six seasons."
airberlin CEO Wolfgang Prock-Schauer said: "This decision does not reflect our legal position and will shake the trust of passengers in these flight connections, which have been available for a long time." Mr Prock-Schauer added: "As the financial impact will be borne mainly by Air Berlin, the airline will take all legal steps within its power to fight this decision." Etihad said: "We are calling on the authorities to immediately reverse this unprecedented, unilateral and incorrect decision" while airberlin said it would would appeal the decision. In the interim, customers holding tickets for the codeshare services will have their bookings reissued without an Etihad Airways flight number.
Etihad to take delivery of A380 and 787 by end of year
3Q2014 saw Etihad commence services to Yerevan, Perth and Rome in addition to increasing frequencies on eight routes including Dublin, Athens and Chennai. Growth in the remainder of the year includes Phuket in Oct-2014 (replacing airberlin's Abu Dhabi-Phuket tag), San Francisco in Nov-2014 and Dallas in Dec-2014. Dec-2014 will also see Etihad take its first A380 and 787 that feature its new products and livery.
Protectionism rebounds, as Germany leads the charge

The fourth quarter may provide Etihad an opportunity to have revenue growth continue to outpace capacity growth, helping to reverse the trend from earlier this year. Etihad's full-year results, for which the airline expects a profit, will be closely watched.

While Etihad may not match Emirates' disclosures, it is still ahead of Qatar Airways, although Qatar has said it will commence regular financial reporting in 2014. Providing transparency will begin to take away the fire detractors use to limit the growth of Gulf carriers. As shown by the examples of Air France-KLM and Air Canada, working on relationships means detractors can become partners.
The use of 70 year old protectionist rules to intervene in today's trade regimes to impase inertia is highly questionable as a public interest issue. But such is apparently the residual influence of some national airlines in directing national policy that there is now a substantial shift towards reversing much of the liberalisation movement of recent years. Etihad is not the only target of this use of arcane technicalities that exist in old bilateral air services agreement; indeed Emirates is usually the first in the firing line for indiscriminate opposition. Most usually the detractor airlines are unable to match the competitive nature of the Gulf carrier products and using the opportunities offered by the old bilateral agreements becomes an effective means of stifling competition.
The same is not possible with the "third Gulf carrier" Turkish Airlines, which is also now even more powerful than the Gulf airlines in the German market. Its bilateral access is not so easily contestable, even if its strength in the market has forced Lufthansa to break off its previously close working relationship with the German flag carrier.

The major US airlines too are lining up to take potshots as they seek to exclude the new, highly competitive models that are threatening the status quo.

Etihad, with its new generation partnership model, is an easy target in this respect. Its model is futuristic and, regardless of challenges over subsidy and other matters, offers new options for improving the global effectiveness of air services. There is little point in preventing the industry's evolution - in various directions - merely to achieve the goal of enforcing the status quo. But aviation, sadly, holds a mystique that seems to support such oblique interventions.