Emirates increases competition with Etihad and Qatar as it adds Chicago to its US network
Analysis
Chicago gives Emirates a mid-continent point in the US
Based on CAPA's Top 100 airports ranked by seats (3-Mar-2014 to 9-Mar-2014), Chicago O'Hare is the sixth largest global airport with approximately 1.6 million seats on offer. The airport's overall passenger levels remained relatively flat year-on-year during 2013 at 66 million. But O'Hare is a key connection point in the central US and a major hub for both United and American, who combined account for roughly 81% of the seats on offer – United has a 46% share and American has a 35% share.
Chicago O'Hare International Airport capacity by carrier (% of seats): 3-Mar-2014 to 9-Mar-2014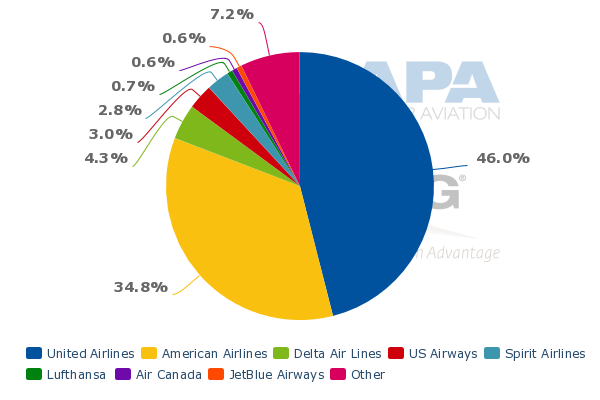 Schedules from OAG and CAPA show that combined Qatar and Etihad offer nearly 5,000 one-way weekly seats from Doha and Abu Dhabi to Chicago O'Hare (Qatar roughly 2,300 and Etihad about 2,600). Emirates plans to launch daily service in Aug-2015 with three class, 266-seat Boeing 777-200LRs. Based on a seven day schedule with one daily flight, Emirates will add roughly 1,500 one-way seats from Dubai to Chicago.

Chicago becomes Emirates' ninth US destination, and a must-add to its North American network.
The carrier already serves large metro areas on each US coast – Seattle, San Francisco and Los Angeles on the west coast, and New York, Boston (beginning in Mar-2014) and Washington Dulles on the east coast. Emirates also operates service to Dallas/Fort Worth and Houston, which are key markets for the oil business.

O'Hare is an east-west connection point in the US and also an end-destination for tourism and business. Based on data from the Chicago aviation department, O'Hare's international passenger volumes increased roughly 2% during 2013 compared with flat growth for domestic passenger levels.

See related reports:
Emirates' scale helps to deflect some advantages its rivals have with American – for now
While Chicago can likely support Emirates' new service from Dubai, the carrier's Gulf rivals have the advantage of leveraging codesharing relationships with American to offer their passengers access to American's network beyond Chicago.
But arguably, what Emirates lacks in partnership strength is eased by the advantage of scale it has over Qatar and Etihad.

Emirates transported 39 million passengers in 2013, which represents roughly 16% growth. By comparison Qatar carried 18 million passengers, roughly 6% growth year-on-year. The youngest of the three Gulf airlines, Etihad, handled 11.5 million customers in 2013 compared with 10 million the year-prior, roughly 12% growth.
Emirates, Etihad and Qatar's CY2013 passenger growth, fleet size and destinations served
Carrier

CY2013 passengers transported

and growth

Destinations
served
Fleet size
aircraft in service
Emirates
39 million, 16%
128
212
Etihad
11.5 million, 12%
79
88
Qatar
18 million, 6%
124
126
On a network scale Qatar and Emirates are almost the same size. Presently, (week ending 9-Mar-2014, based on CAPA and OAG data) Emirates operates to 128 destinations, 42 in Asia-Pacific and 35 in Europe. Qatar offers 124 destinations including 44 in Asia-Pacific and 30 in Europe. Etihad's network encompasses 79 destinations, of which 42 are in Europe and seven are in Asia-Pacific.
Emirates', Etihad's and Qatar's contrasting partnership styles influence their penetration
Emirates' larger passenger base gives it a broader launch pad in which to build up the Chicago market. But the partnerships between American and Qatar and Etihad definitely present some challenge to Emirates in Chicago.
Etihad also has the advantage of leveraging its extensive 41 codesharing partners, of which 19 are based in Europe. Its "equity alliance" strategy also gives it scale and access to a broader network than just Etihad mainline reflects. A recent tie-up with Air Europa gives Etihad new and strategic access to Latin America, while its equity stakes in airberlin, Aer Lingus, Etihad Regional and Air Serbia flesh out its European network.

See related report: Air Europa-Etihad codeshare links LatAm to Asia Pacific: Etihad challenges alliance status quo

Emirates has also shunned the traditional global alliance model in favour of codeshare and interline partnerships. But its codeshare roster is smaller than Etihad's, and now Qatar has the benefits of fully-fledged oneworld membership.
With each of the three Gulf carriers establishing their partnership strategies, the stage is set to determine which airline will achieve the highest level of success. Emirates arguably has taken the simpler approach with more traditional codeshare tie-ups and interline agreements versus equity relationships or alliance membership.
It does enjoy a scale that will take some time for Qatar and Etihad to rival, but with their respective partnership strategies, those two carriers now can close the gap a bit faster.
Emirates codeshare partners as of Mar-2014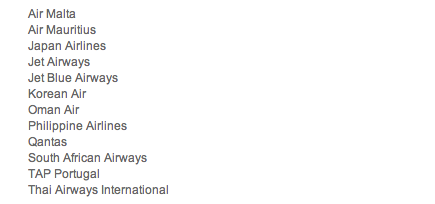 Gulf airlines seize on US expansion opportunities in 2014
During 2014 Emirates, Qatar and Etihad will between them add a total of six destinations to the US – Boston and Chicago (Emirates), Dallas (Qatar and Etihad), Los Angeles (Etihad) and Philadelphia and Miami (Qatar).

As Qatar and Etihad work to increase their presence in North America, the three Gulf carriers will increasingly find themselves squaring off in markets within the region. According to IATA data, the Middle East was the fastest growing global region in 2013 in passenger traffic of 12%.
That double-digit growth is likely to continue in the near to medium term based on the combined aircraft order books of the three largest Gulf carriers that total more than 600 aircraft. While there is some scepticism about the large number of aircraft those airlines have on order, so far each carrier is managing their respective growth without compromising profitability. The extensive scale of their networks now means that almost any new route or frequency adds incrementally to their overall strength.

With economic prospects in the US showing some signs of promise, the Gulf carriers are likely to continue rounding out their networks within the country. The expansion will also put each carrier's respective partnership/alliance strategy to the test.
Etihad has already experienced a setback in a rejection from the US Department of Transportation of a codeshare with its equity partner Air Serbia on flights from Abu Dhabi to the US via Belgrade. So it appears Etihad's expansion will continue under its own metal.
By YE2014 Qatar will serve five of the new American's hubs – Dallas/Fort Worth, Miami, Philadelphia, Chicago and New York JFK. It is possible that Los Angeles could be now under Qatar's radar given recent comments made by American's management that it expects the market to be profitable in 2014.

See related report: US DoT rubber-stamps arguments from A4A and Delta in denying Air Serbia-Etihad codeshare
Broad connectivity is fast becoming a key competitive lever in the global airline business
Emirates has the most mature North American network of the three Gulf carriers, and can leverage that strength for a bit longer. But as the competition intensifies, connectivity is key.
Emirates has a strong partner in JetBlue for numerous US domestic connections, but Qatar in particular will quickly bolster its presence in Latin America by accessing American's vast network in the region when it launches flights to Philadelphia and Miami.

As each of the three Gulf carriers refines its partnership strategies, their expansion into the Americas will continue. For the moment American is the only US carrier that has chosen to embrace their expansion and leverage the connectivity that Qatar and Etihad can provide. United and Delta at least for now have opted not to hold dialogue with those airlines.
But given the alliance and partnership shake-ups that have unfolded during the past couple of years – Emirates-Qantas, Qatar's ascension to oneworld and Air France and Etihad's tie-up, with even Air Canada responding to Ethad's overtures – it is not beyond the realm of possibility that at some point United and Delta will reverse their stance and opt to embrace Gulf carriers.
Revenue maximisation is paramount, so those two US majors cannot forever ignore the possible financial benefits of tapping the networks of Middle Eastern carriers - or the negatives of having to compete with them.
See related report: Qantas and Emirates to codeshare in first alliance shake-up of season; next: Qatar into oneworld