El Al: new LCC start UP should not excuse the mainline airline from urgent cost cutting
El Al's return to a net profit in 2013 should not be allowed to hide a wide range of challenges facing the newly appointed management team of CEO David Maimon and CFO Dganit Palti. The list is long: an ageing fleet, stagnant traffic growth, falling market share, a high cost structure, an open skies agreement between Israel and the EU, growing competition from European LCCs and network carriers such as Turkish Airlines and an under-capitalised balance sheet all need urgent attention.
El Al is clearly aware of its challenges. Its summer 2014 timetable sees more aggressive growth than for some years and it has reduced average headcount over the past two years. More importantly, its new LCC subsidiary UP commenced operations on 30-Mar-2014 with five destinations in Europe.
However, it is not yet clear whether UP will be a genuinely low-cost operation. Its establishment should certainly not be used as an excuse to avoid a radical cost restructuring programme in the core airline.
El Al's profits on a rising trend, but margins are slim
In 2013, El Al managed to return to profitability, reporting a net profit of USD25 million after a loss of USD19 million a year earlier and a USD50 million loss in 2011. Its operating profit, which had turned positive in 2012 after an operating loss in 2011, more than tripled to USD38 million in 2013. However, its 2013 operating margin was only 1.8%, below the world average of 3.0% estimated by IATA and below El Al's post financial crisis high of 4.4% achieved in 2010.
Although El Al's revenues grew by 4.3% in 2013, they were only at their 2008 level and have reached a plateau after recovering from a slump in 2009. The airline now looks to be on a trend of improving profitability, thanks to cost containment, but its margins are very slim and profits are volatile, as highlighted by the fall in operating margin from +4.4% in 2010 to -2.1% in 2011.
El Al Israel Airlines sales (right hand axis), operating profit and net profit (left hand axis), USD million: 2006 to 2013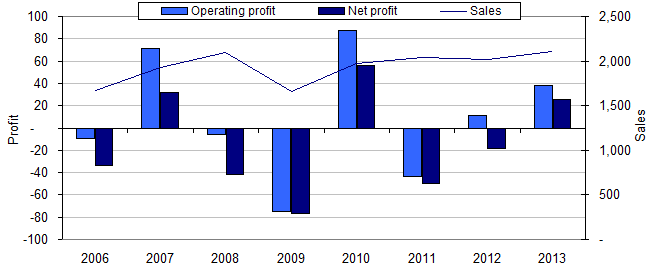 El Al's balance sheet is under-capitalised
El Al saw net debt fall by USD28 million in 2013 to a level of USD554 million, as operating cash flow improved (partially offset by higher capital expenditure). Although this has fallen from more than USD700 million in 2008, the balance sheet remains heavily indebted and net debt is more than three times the level of book equity. Adding in capitalised operating leases at eight times annual rental payments leads to an adjusted net debt figure more than double the on-balance sheet level.
Moreover, the company's gross cash balance of USD86 million at the end of 2013 was equivalent to only 15 days of revenues. These figures describe a balance sheet that is under-capitalised. It has been reported that various potential investors may be interested in acquiring a controlling stake in El Al and this would presumably include the injection of fresh capital.
Any new investor would likely seek a cost restructuring plan (see below), although El Al's workers committee has warned potential investors to consult with union members (Haaretz, 21-Jan-2014). As previously reported by CAPA, investors including former telecom executive Avi Gabbay and the Saban Group have been connected with a bid.
See related report: Israel's air travel markets benefit from liberalisation, but El Al is losing out to LCCs: Part 1
El Al Israel Airlines cash, debt and net debt, USD million, 2006 to 2013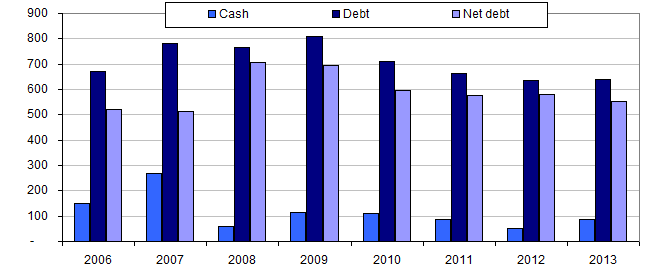 Slow capacity growth has helped solid load factors
El Al increased its scheduled ASKs by 4.4% in 2013, after cutting them by 2.7% in 2012. ASKs have grown at a CAGR of only 1.4% pa since 2007, the last year before the global financial crisis, while the Israel market overall has grown at rates closer to 6% pa. Even in the recovery since 2009, El Al's capacity growth has averaged less than 2% pa. This compares with average growth of around 3% pa in Europe and double digit growth in the Middle East.
El Al's load factor gained 0.4 ppts to reach 82.5% in 2013, higher than the AEA and global average of around 80%, possibly reflecting the largely point to point nature of its network. Load factor has improved by 1.9 ppts since 2009, but it still below its 2007 peak of 84.9%.
El Al Israel Airlines ASK and RPK (million, left hand axis) and passenger load factor (%,right hand axis): 2006 to 2013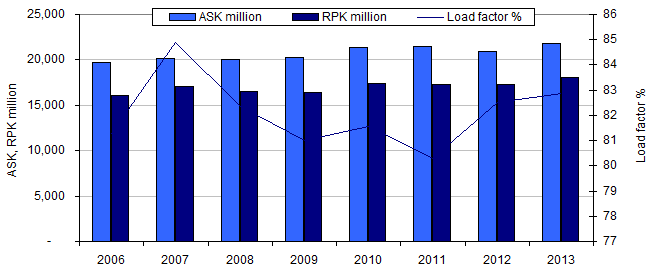 El Al's slow growth means it is losing market share
As a result of El Al's sub-market rates of growth, it has lost market share. The Group (including its charter subsidiary Sun D'or) saw its share of seats at its Tel Aviv hub fall from 43.5% in 2005 to 32.5% in 2013.
El Al and Sun D'or share of total traffic at Tel Aviv-Yafo Ben Gurion Airport: 2006 to 2013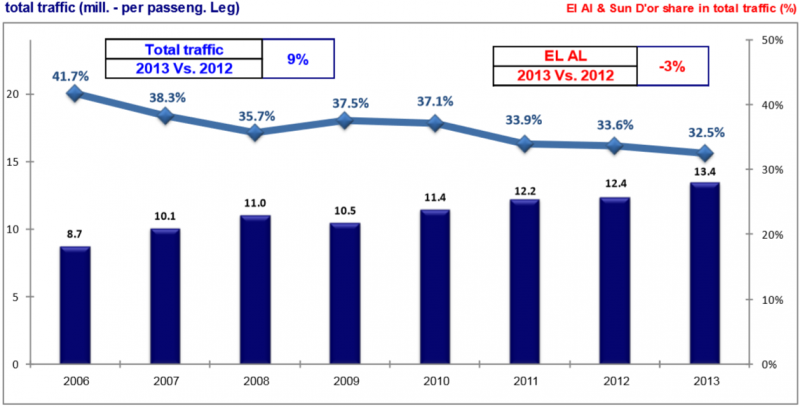 El Al's scheduled seat capacity at Tel Aviv increased by 5% in 2013, but other airlines collectively grew by 10%. Moreover, other carriers have grown their seat capacity at Tel Aviv by 20% since 2010, during which time El Al has added only 5%. In addition, other airlines have narrowed the load factor gap with El Al and so their share of passenger numbers will have grown even more rapidly.
El Al's summer 2014 timetable, effective from 30-Mar-2014 to 25-Oct-2014, sees it increase its flights by 15%, suggesting a more offensive stance than the one it has adopted in recent years.
Seat capacity and passenger load factor of scheduled airlines at Tel Aviv-Yafo Ben Gurion Airport: 2010 to 2013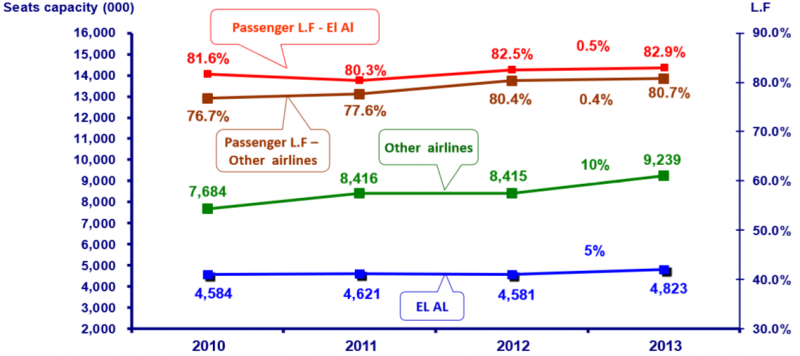 An asymmetric network with a strong west-facing bias
All of El Al's capacity is international and 90% of its seats are either to Europe (70%) or North America. Asia and other regions make up only 10% of its seats (week of 31-Mar-2014, source: OAG). Essentially, it flies passengers between Israel and international destinations to the west.
Although located in a globally central spot not far from the Gulf carriers and Turkish Airlines, who use their locations to pursue global connecting traffic flows, El Al is effectively established as an end of line, point to point carrier. This reflects Israel's bilateral agreements on traffic rights and its political relationships.
El Al seat capacity by region 31-Mar-2014 to 6-Apr-2014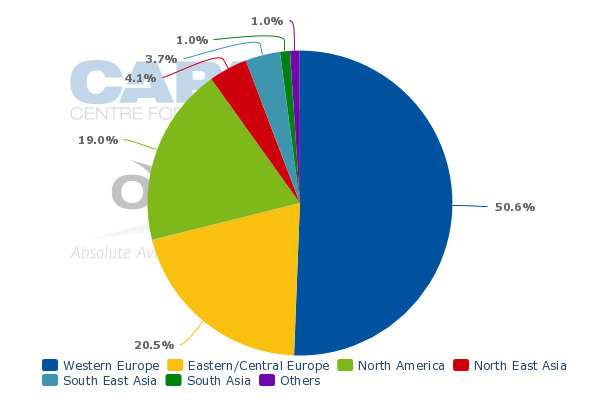 Turkish Airlines' Istanbul hub is the nearest global connecting point
In almost all cases, passengers wanting to fly between Israel and destinations to the east must use another carrier (there are a small number of exceptions: Johannesburg, Beijing, Hong Kong, Bangkok and Mumbai are served by El Al from Tel Aviv).
Since the Gulf Three do not serve Tel Aviv, the main beneficiary of the asymmetry of El Al's network is Turkish Airlines, whose Istanbul hub offers a significant number of Asian and African destinations. THY has doubled its capacity at Tel Aviv over the past two years and is the number two carrier at the airport by seats, albeit well behind El Al (week of 31-Mar-2014; source: OAG).
See related report: Turkish Airlines: capacity and network growth stay strong in 2013; profit growth is more challenging
Tel Aviv-Yafo Ben Gurion International Airport seat capacity 31-Mar-2014 to 6-Apr-2014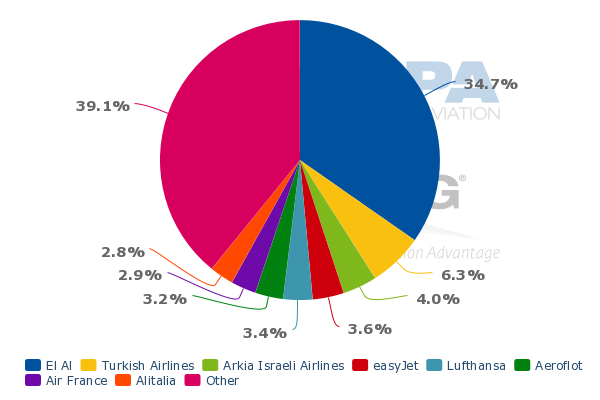 Turkey has until recently prevented Israeli airlines from operating to Turkey for security reasons and this has certainly helped THY's market position in Israel. However, it seems likely that a high proportion of Israel-Turkey passengers are travelling to Istanbul for onward connections and may continue to choose THY even after Israel's carriers are allowed to resume services.
Turkey and Israel have said that Israeli carriers would be permitted to resume flights to Turkey in summer 2014 after four years' absence, although this has yet to be implemented.
El Al is facing growing competition from other European airlines
Moscow is another alternative hub for passengers looking to connect with destinations to the east and Aeroflot has grown its seat capacity to Tel Aviv three-fold in the past two years (driven also by Russian immigrants in Israel).
See related report: Aeroflot SWOT analysis. Russia's national champion is well positioned to confront new challenges
To the west, the main drivers of capacity growth to/from Israel in recent years have been European LCCs, attracted by its increasing popularity as a leisure destination and its proximity to their bases in Europe. In addition, El Al's relatively high cost base makes it a fairly easy target for LCCs (see below). easyJet, Wizz Air and Pegasus have all grown rapidly on international routes into Israel in recent years.
The fleet is stable, but ageing
Just as El Al's capacity and traffic have not seen much growth in recent years, so its fleet has also remained stable. At the end of 2013, it operated 38 aircraft, three more than in 2006 and the same number as in 2009. Of these, two aircraft were owned by the company.
The average age of its owned aircraft was 11.8 years at the end of 2013. According to the CAPA Fleet Database, the average age of its total fleet is 13 years (3-Apr-2014). El Al data suggest that its average fleet age is slowly falling – and it is not very different from the global average – but it remains higher than the age of most European competitors.
The CAPA Fleet Database records that El Al has five Boeing 737-900ER aircraft on order, with delivery expected for 2014-2016. It has already taken delivery of three out of a total order for eight of the type. As part of a strategy to reduce the number of aircraft types in the fleet, its last Boeing 767-200 aircraft left service in Oct-2013.
El Al Israel Airlines total number of aircraft operated and average age of owned aircraft at year end: 2006 to 2013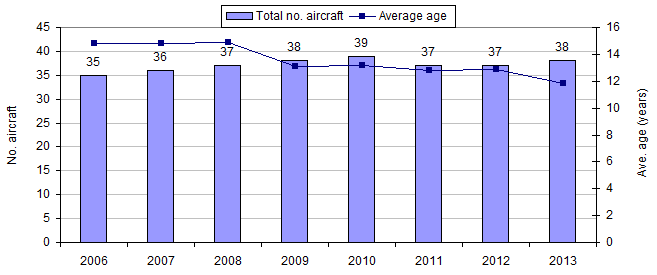 El Al Fleet Summary: as at 4-Apr-2014
| | | | |
| --- | --- | --- | --- |
| Aircraft | In Service | In Storage | On Order |
| | | | |
| | | | |
| | | | |
| | | | |
| | | | |
| | | | |
| | | | |
| | | | |
| | | | |
| | | | |
| | | | |
Lower CASK drove profit improvement in 2013…
In 2013, El Al improved its profitability by lowering its cost per available seat kilometre (CASK), which fell by 1.3%, while revenue per available seat kilometre (RASK) was almost flat (-0.1%). The improvement in profit in 2012 compared with 2011 also resulted from a fall in CASK, although it was also helped by a modest RASK increase.
In recent years, the occurrence of heavy losses has either been because the company could not cut its CASK quickly enough to cope with a slump in RASK (as in 2009), or because it could not increase RASK quickly enough to cope with a spike in CASK. The underlying sideways trend in ex fuel CASK suggests that El Al would benefit from a more concerted effort to lower its unit costs.
El Al Israel Airlines – index of operating cost per ASK and revenues per ASK (each indexed to 100 in 2006)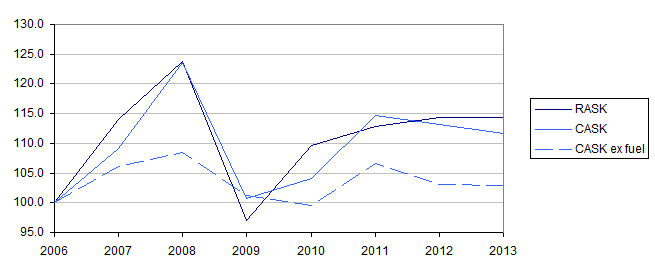 … but El Al's unit costs remain high
A comparison of El Al's unit cost versus average trip length with the position of other European airlines reinforces the conclusion that its cost structure may not be sufficiently competitive. There has been some improvement in labour productivity – 2013's 4.4% ASK growth was achieved with a 0.4% cut in average manpower – but its average labour cost per employee of close to USD77,000 is one of the highest levels compared with European airlines.
Cost per ASK, CASK, (US cent) and average sector length for selected European legacy and low-cost carriers: 2012*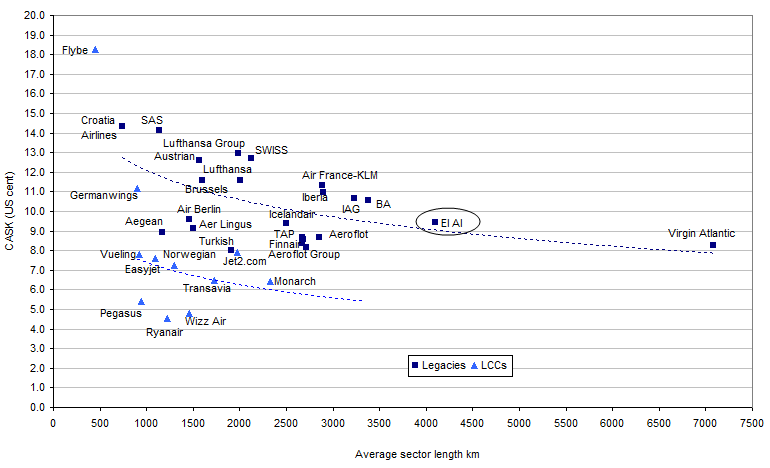 Cost efficiency is particularly important in the light of growing competition with LCCs following the 2012 signing of an open skies agreement between Israel and the EU, which provides for a gradual liberalisation until 2017. El Al attempted to resist this EU open skies agreement and sought relief from the government. Most of its requests fell on deaf ears, but the Israeli Government agreed to increase its funding of Israeli airlines' security costs to 97.5% in order not to increase their cost disadvantage.
See related report: Israel's air travel markets benefit from liberalisation, but El Al is losing out to LCCs: Part 1
Is the new LCC subsidiary UP the answer?
El Al has launched its own low-cost brand UP (pronounced "up"), which commenced operating with five Boeing 737-800s with 180 seats to Berlin, Budapest, Larnaca, Kiev and Prague on 30-Mar-2014. These are all routes previously operated by El Al and on which there is multiple competition (on all but Larnaca and Kiev, there is LCC competition).
New El Al CEO David Maimon said that UP was "a response to international market trends and the changing needs of international civil aviation (including the open skies policy)", adding that it also responded to "the range of preferences of our customers".
UP offers economy and premium economy seating and two fare classes, UP Basic (non-refundable, additional charges for checked baggage and choice of seat) and UP Smart (refundable, includes baggage, premium seat where available and lounge access in Tel Aviv).
No details have been made available regarding UP's cost structure - the key to success for LCCs - or its governance structure and it is being widely called a "hybrid LCC". The lesson from other legacy carriers that have established or acquired LCC subsidiaries is that they must be allowed to operate autonomously and with their own culture if they are to succeed in achieving genuinely low costs.
UP is branded "UP by El Al", offers El Al FFP points, uses the El Al flight code and flies El Al aircraft from El Al's hub. It looks like a step in the right direction, but, pending further evidence to the contrary, it is difficult to resist the conclusion that UP is little more than a branding exercise.
Radical cost restructuring is needed for El Al
In addition to growing competition from European LCCs, El Al is also facing increasing competition from more cost efficient network carriers such as Turkish Airlines (which also offers a superior network). El Al's relatively old fleet, schedule anomalies and limited range of destinations will make it increasingly difficult to build sustainable profit growth on a RASK-led strategy.
Establishing its LCC subsidiary shows that El Al is prepared to go some way towards re-thinking its business, but there is a big difference between branding part of the business as low-cost and genuinely lowering the cost structure of the whole operation.
New CEO Mr Maimon, reportedly the driver of the new subsidiary, and a new CFO now in place, the opportunity to implement a radical cost restructuring should not be missed. Mr Maimon is an internal appointee, previously serving as vice president trade and aviation relations. If UP is to work, it will need at least some external thinking, as will its parent.