Ebola virus in West Africa: To fly or not to fly? (from Airline Leader Weekly, 1-Oct-2014)
Analysis
Eight airlines have withdrawn all or part service to Guinea, Sierra Leone and Liberia since the Ebola outbreak accelerated five weeks ago, Brussels Airlines and Royal Air Maroc maintain service to all three capitals
This report is extracted from Airline Leader Weekly of 1-Oct-2014, delivered exclusively to industry CEOs.
It looks at the risks and likely outcomes for the airline industry stemming from the 2014 Ebola outbreak, such as how it compares with the 2002/03 SARS outbreak.
Largest Ebola outbreak in history, could last over one year and see infections quadruple form current count
Guinea (population 11.5 million), Liberia (population 4 million) and Sierra Leone (population 6 million) have been unable to stem the contagion due to the dismal state of their health infrastructure and various social factors. Accounting for underreporting, the CDC estimates in a worst-case scenario the virus could infect between 550,000 and 1.4 million by 20-Jan-2015, based on current trends.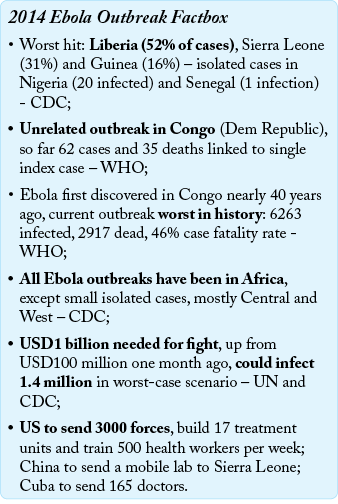 Ebola is not easily transmissible if precautionary measures are followed, and except for isolated cases all outbreaks have been confined to Africa
Ebola's transmission requires contact with infected bodily fluids, or contact with objects that have been contaminated with these fluids. It is not spread through casual contact nor is it airborne.
Greatest risk: popular panic if cases appear in developed countries
Although there is a relatively low contagion risk due to the nature of the virus, air travel presents an avenue through which a single carrier can introduce the virus to new countries. This occurred in Nigeria (population 170 million). A single traveller collapsed at Lagos Airport on 20-Jul-2014 and became the first fatality in transit during the outbreak. This index case has since led to 21 infections and eight deaths in the country.
This demonstrates both the contagion risk facilitated by air travel. It also illustrates the effectiveness of quarantine and prevention measures: Nigeria's Ministry Health said on 17-Sep-2014 that there has not been a single case of the disease in over a week.
The media can quickly whip up popular panic if Ebola appears in developed countries.
A recent visitor to West Africa was hospitalised in New York City on 04-Aug-2014 due to fever and gastrointestinal issues, generating headlines the next day such as "Ebola Scare In the City". Headlines in the UK read "Ebola Terror as Passenger Dies at Gatwick" on the same day after a passenger collapsed and later died after disembarking a Gambia Bird service from Sierra Leone. This despite the passenger's symptoms suggesting Ebola was "very unlikely" at the time of her collapse.
2003 SARS and 2014 Ebola outbreaks see similar effect on air travel
Combined weekly seats to Guinea, Sierra Leone and Liberia have dropped 67% over past five weeks. This compares with an 80% passenger drop at HKG and 60% at SIN peak-to-trough during the 2002/03 SARS outbreak. The outbreak is now a case study in the global spread of infectious diseases, as single carriers were able to spread the virus from Mainland China through Southeast Asia, North America and isolated cases in Europe.
Over 8000 people were infected with SARS and over 800 died, 80% in Mainland China and Hong Kong. The outbreak had an intense affect on air travel as holiday and business traffic nearly came to a halt. In May-2003, Singapore Airlines operated at 29% of normal capacity, Cathay Pacific lost USD3 million per day. A drop in demand to Asia of up to 85% caused Lufthansa to ground 15 aircraft, while Airbus warned that its 300 aircraft delivery target for 2003 was at risk due to the slump.
WHO-mandated screening measures at airports appeared to be effective and the organisation stated at the time that the "risk of transmission in aircraft is very low".
A large number of those affected by the SARS outbreak were actually family members or medical workers who may not have taken appropriate preventative measures while the ill were hospitalised.
MONTHLY PAX DROP COMPARISON: SIN AND HKG DURING 2003 SARS OUTBREAK
WEEKLY SEAT DROP COMPARISON: CKY, FNA, ROB DURING 2014 EBOLA OUTBREAK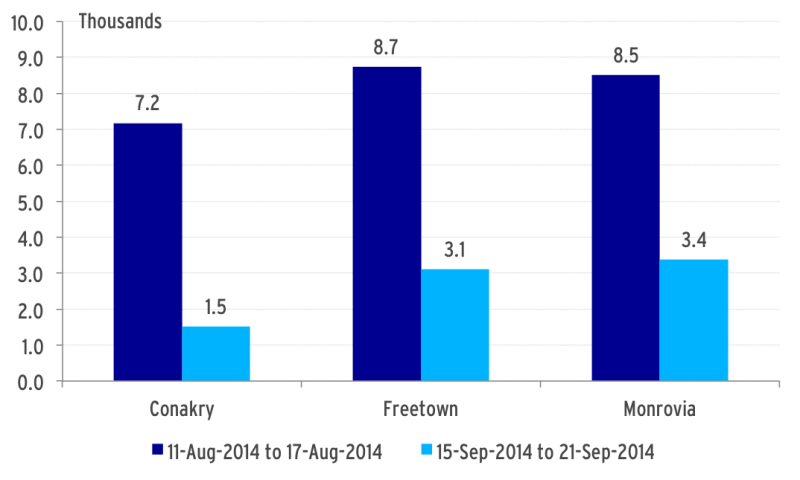 Fear rather than actual risk has been driving the reactions behind this outbreak, as health authorities see low risk to aviation from Ebola.
The WHO has repeatedly stated that "air travel is low-risk for Ebola transmission", considering Ebola is not an airborne disease and can only be transmitted through direct contact with the bodily fluid of the infected.
The CDC also emphasises this point and states the risk of Ebola spreading between passengers and crew is "low" even if there is a suspected case on board, so long as precautions are taken and routine procedures followed. IATA notes the risk of such a situation arising is quite low as well, as it is "highly unlikely" that someone suffering Ebola symptoms would be well enough to travel.
Fear rather than actual risk is driving reactions behind this outbreak, though the SARS experience shows what affect this can have on air travel. A similar impact is now being seen in West Africa. The CDC admits its worst-case scenario is "very unlikely" now that international resources are being deployed in the fight.
The greatest risk is the popular panic that would ensue if Ebola appears in a developed country, exacerbated by the media, as has been seen in limited quantities with the reaction to false alarms already. Nevertheless, there has never been an Ebola outbreak outside Africa, and prescribed measures are effective in halting the spread of the virus if properly implemented.
SUSPENDED AND REMAINING SERVICES IN EBOLA OUTBREAK ZONE, WITH DATES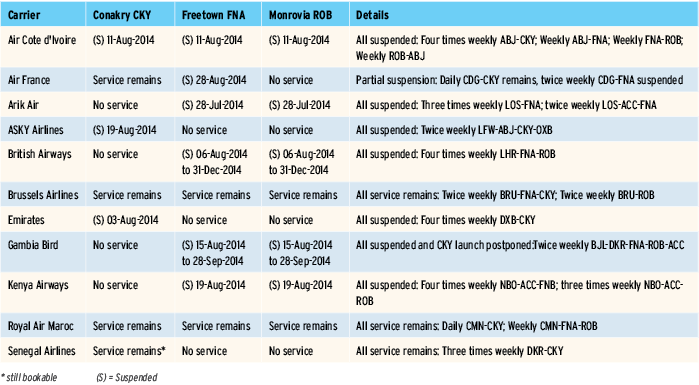 2014 Ebola Outbreak Distribution Map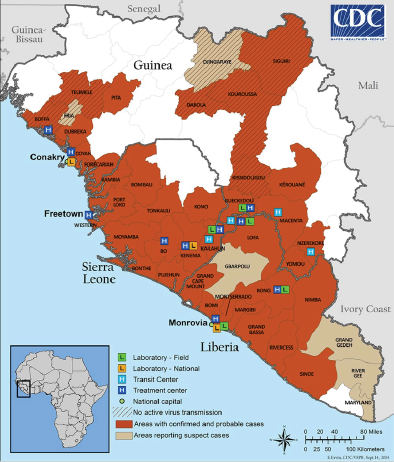 In a word:
US President Barack Obama: Ebola is "not a mystery. We know the science. We know how to prevent it from spreading. We know how to care for those who contract it." Whitehouse.gov, 16-Sep-2014
UN senior system coordinator for Ebola David Nabarro: "I am convinced that if it is properly organized the massive scale up can happen in the coming weeks and in fact will achieve the rapid ending of the outbreak." UN Multimedia, 18-Sep-2014
WHO regional director for Africa Luis Gomes Sambo: "On the whole, the outbreaks in Senegal and Nigeria are pretty much contained." Reuters, 22-Sep-2014
Royal Air Maroc spokesman Hakim Challot: "This step [maintaining service] is through solidarity and is not commercial, reflecting the Kingdom's constant commitment to Africa." AFP, 30-Aug-2014
CDC director Thomas Frieden: "I am confident the most dire projections will not come to pass. A surge now can break the back of the epidemic. If you get enough people effectively isolated, the epidemic can be stopped." Reuters, 23-Sep-2014
To find out more about Airline Leader Weekly, contact info@centreforaviation.com