easyJet: more aircraft come in as more cash to shareholders goes out. Stelios' baby is in good hands
Analysis
After exercising its last 27 purchase rights over current generation A320s, easyJet's fleet now looks set to grow from 226 aircraft currently to 304 in FY2019. Although it will remain Europe's number two LCC fleet after Ryanair, it will be able to match the latter's growth rate before its A320 neo deliveries come on stream.
This increased fleet plan reflects easyJet management's confidence in its ability to continue to generate a value-creating return on capital, which was sector-leading in FY2013 and looks set to rise once more in FY2014. Total shareholder returns, which include both capital gains and dividends, have also led the industry. easyJet now proposes to increase its ordinary dividend payout ratio from one third to 40% of net profit.
The company's biggest shareholder, Sir Stelios Haji-Ioannou, a vocal supporter of higher dividends, has been critical of its fleet expansion. At easyJet's recent Investor Day, the airline's management team gave some strong reasons for all shareholders to trust its track record.
easyJet has delivered a strong financial performance since 2010
The numbers are certainly impressive. In the three years from FY2010 to FY2013, easyJet's revenues grew by 43% and its profit before tax more than trebled. Revenue per seat increased by 18% to GBP62.58 and profit per seat rose 156% to more than GBP7.
Return on capital employed (ROCE) gained 10.5 ppts to reach 17.4% and shareholders received a total cash payment of GBP589 million in dividends over the three years, compared with no dividends previously.
Key financial metrics: FY2010 and FY2013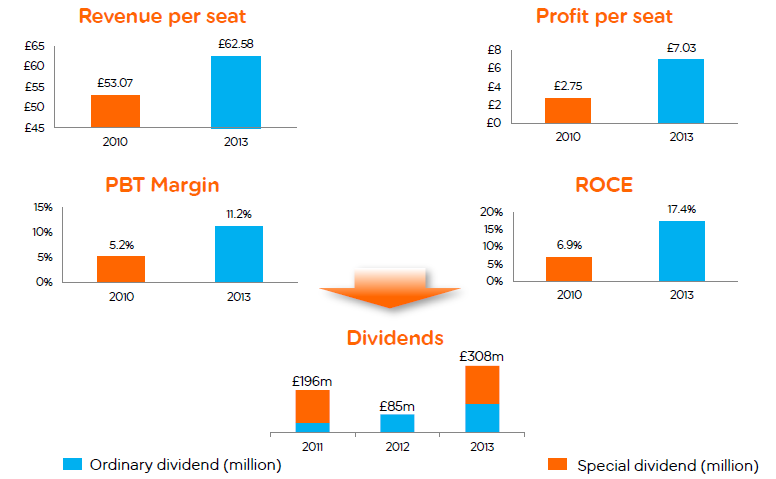 According to data presented by the company, easyJet shareholders achieved a total return of 261% from the end of FY2010 to the end of FY2013 (capital appreciation plus dividends), leading the airline sector.
Moreover, its ROCE also led the industry and ranked easyJet in the first quartile of listed companies in the UK's benchmark FTSE100 share index.
Total shareholder return and ROCE

easyJet's market strength…
easyJet's is not the biggest short-haul network in Europe. Its 704 routes across 134 airports compares with Ryanair's 1,600 routes and 180 airports, even though its presence in 32 countries tops Ryanair's 29 (although the much smaller Wizz Air serves 36 countries).
Nevertheless, easyJet's network is strong. Almost half of its seat capacity (48%) is in airports where easyJet is the number one airline, while 29% of its capacity is in airports where it is number two. Many of these airports are slot constrained, a common characteristic of primary airports, where it would take longer for competitors to build a strong position. easyJet achieved its highest returns in airports where it is the number one airline.
easyJet: returns and network position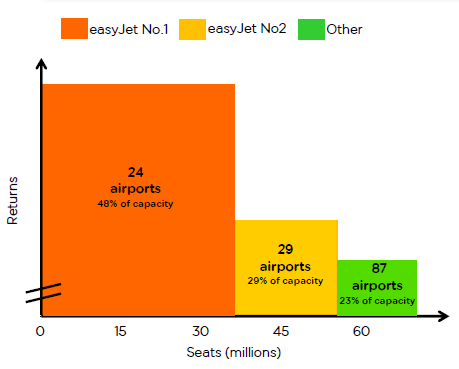 Airports where easyJet is number one or number two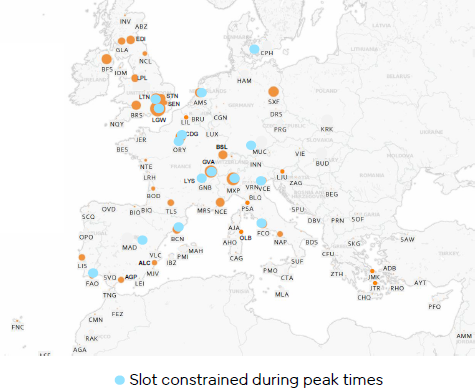 easyJet operates in 49 of the top 100 market pairs in Europe, more than any other airline. In 48 of these, the route involved primary airports at both ends, giving easyJet a greater presence in primary to primary airport pairs in Europe than any other airline (or airline group).
In this respect, it particularly contrasts with Ryanair, which ranks number two in terms of its presence in the top 100 market pairs, but which is in only 23 primary to primary pairs.
Presence in top 100 market pairs in Europe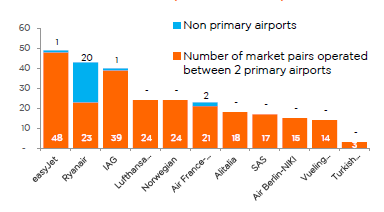 Across all the airport pairs in its network, easyJet has more than a 50% share of total seat capacity. None of its nearest competitors (Air France, Alitalia, British Airways, KLM, TAP and Thomson) has a share higher than a low to mid single digit percentage of total seats on its airport pairs (see chart below).
This situation would not be quite as strong if city pairs were the basis of the analysis, but these data highlight easyJet's strong position in its chosen markets, driven by its cost and fare advantage relative to its most significant direct competitors.
Seat share in easyJet markets*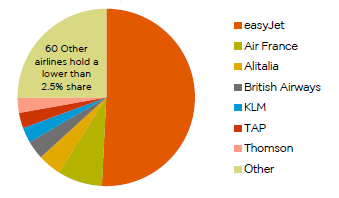 …and its market opportunity
Focusing on its top 20 airports in the year to Sep-2014, easyJet has a total market share of around 20% by number of seats. Excluding the market already taken by other LCCs and by non-LCC transfer traffic, easyJet estimates that there are 86 million seats operated by non-LCCs on point to point routes at its top 20 airports. easyJet defines these 86 million seats as its opportunity for growth within its current network and where it is already strong.
This 86 million seat opportunity is roughly evenly divided into three segments. First, there are current easyJet airport pairs providing opportunities for it to thicken routes. Second, there is the opportunity to connect existing easyJet destinations (the so-called 'join the dots' strategy). Third, easyJet sees potential to add new network points.
easyJet's opportunity at its top 20 airports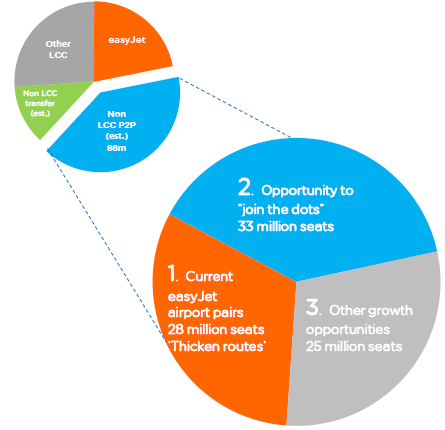 easyJet's Investor Day presentations illustrated its successful growth strategy by highlighting its development in France. From 2005 to 2014, easyJet more than trebled the number of routes offered in France from 53 to 176 and took its market share in that country from 5% to 14%. The Air France-KLM Group remains the market leader in France, with a 42% share and third placed Ryanair has 8% (12 months to Sep-2014, source: easyJet, quoting OAG data).
easyJet has also increased frequencies on routes in France and this has helped to drive an increase in the proportion of passengers that are business travellers from 17% in 2006 to 24% in 2014.
easyJet in France: 2006 to 2014

707" height="170" />
easyJet is the number one or number two airline in the top eight airports in France. This is the result of consistent growth over a period of years. easyJet has increased its seat capacity in France at a compound average rate of 11% pa over the past five years and its returns have grown at 13% pa over the same period.
LCCs have 16.1% of domestic seats and 27.5% of international seats in France, less than their 37.6% share within Europe as a whole (year to Aug-2014, source: CAPA/OAG). However, easyJet is the only LCC with such strength across the country and has around one third of all low-cost capacity in France. Air France's capacity cuts in its short and medium-haul point to point network provide an opportunity for further growth through market share gains.
The Air France-KLM Group is growing its LCC Transavia (which has a comparable level of CASK to that of easyJet) on international leisure routes, but this is mainly through the creation of new routes rather than through the transfer of existing routes from Air France. This strategy seems unlikely to provide a competitive threat to easyJet's growth plans in France. Moreover, wherever Transavia does compete with easyJet, the latter's domestic network and superior pan-European network should be significant advantages.
See related report: Air France-KLM's new plan to grow LCC Transavia has taken too long; a union confrontation looms
easyJet ranking and market share in French airports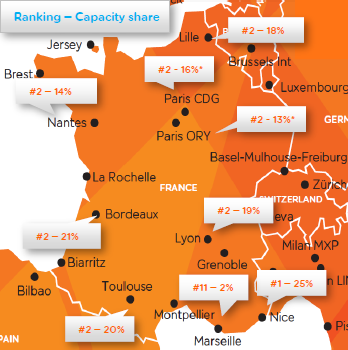 Business travellers have grown to up to 20% of total
In addition to its overall network growth, easyJet's initiatives to attract more business passengers have seen it raise the number of business travellers flying on its aircraft from less than 10 million in FY2011 to 12 million in FY2014, around 20% of the total.
Fundamental to easyJet's appeal to business passengers is its network of primary airports. In addition, it operates a high number of daily frequencies on key business routes, including 15 routes with more than four daily flights and four routes with double digit daily frequencies. It was one of the first European LCCs to bundle features into a fare aimed at business travellers, with elements such as bag check-in, fast track security and flexibility included for a single price.
Of course, having a product and pricing that appeal to business travellers is not sufficient if the distribution channels are not in place. easyJet was also one of the first major European LCCs to implement agreements with the GDS companies, online travel agents and corporate accounts.
easyJet business travellers: FY2011 to FY2014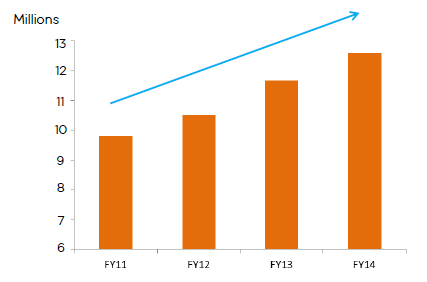 According to data presented by easyJet and sourced to BCG, the short-haul market for business travellers in Europe, Middle East and Africa is estimated at 165 million seats annually, worth GBP20 billion annually. This market can be split by channel, with 35% direct to airline websites and 65% through travel management companies.
easyJet's overall market share is estimated at 8.3% across Europe. In the direct market, its share is higher, around 15%, while its share of the "Managed Business" market is currently 3%. easyJet now has agreements with more than 80 travel management companies, but its under-penetration of this segment highlights both the opportunity that exists and also the time needed to build penetration in this channel.
Given its strong pan-European network of primary airports and the construction of suitable distribution channels, easyJet's lower fares should allow it to increase its penetration of the short-haul market for business travellers by taking market share from full service carriers.
European short-haul market for business travel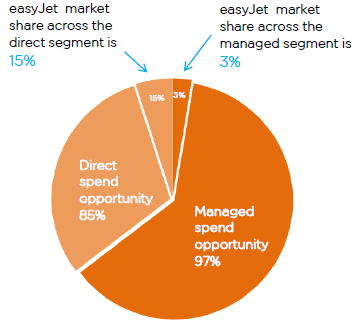 Fleet opportunity and fleet plan
Starting with its estimate of the opportunities presented at its top 20 airports, as outlined earlier in this report, easyJet has identified its potential fleet requirements in FY2019. easyJet sees the need for an additional 20 to 30 aircraft to accommodate natural market growth of 2.2% pa; 40 to 65 to capture growth in its existing network (thickening existing routes and joining the dots); and 30 to 45 from new network points and routes.
Taking account of route churn that would lead to a reduction of 10 to 20 aircraft, this would take its current fleet of 226 aircraft to a requirement of between 296 and 356 in FY2019. As a result of its analysis of this potential, easyJet has exercised the final 27 purchase rights over A320 ceo aircraft that remained to it for delivery between 2015 and 2017. From 2017 to 2022, it will then take delivery of 100 A320 neo aircraft.
See related report: easyJet's new Airbus order: let the shareholder battle commence
easyJet's fleet opportunity in FY2019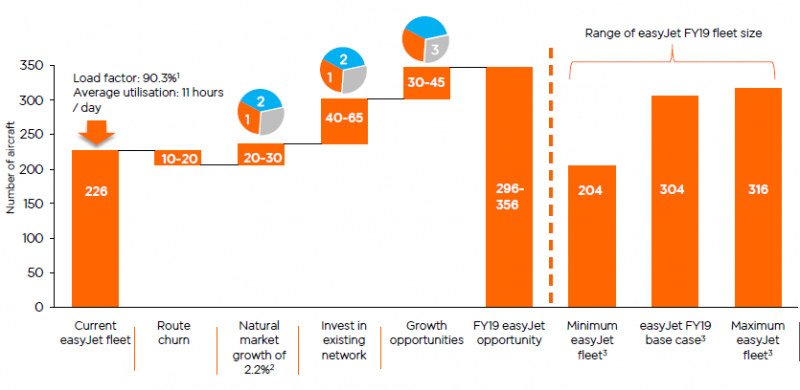 Under its base case, the fleet plan will now take the FY2019 total to 304 aircraft, at the lower end of its requirement range, but higher than the 272 under its previous plan presented in May-2014. This total could be raised a little to 316 aircraft, or cut quite significantly to 204, depending on market conditions.
The new total for FY2019 would represent compound average annual growth of 6% pa from FY2014, compared with less than 4% pa under the previous plan. This planned growth rate over the next five years matches that planned by Ryanair over the next 10 years, following its recently announced Boeing 737 MAX order. easyJet's current plan would then see fleet growth slow down from FY2019, but it has an additional 100 A320 neo purchase rights that give it flexibility to maintain (or otherwise vary) its growth rate.
See related report: Ryanair SWOT: low costs remain the key strength, even as customer service enhancements take root
easyJet fleet plan to FY2022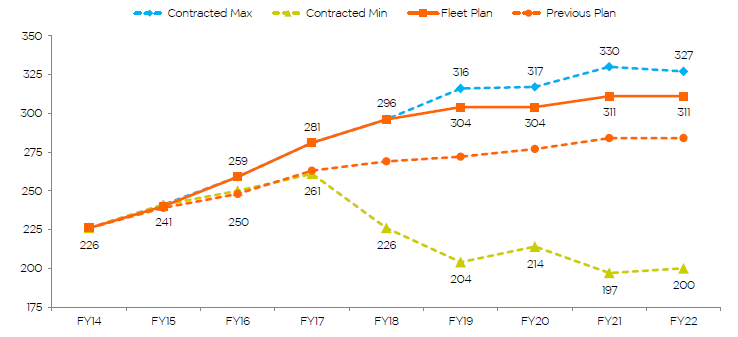 707" height="323" />
Cost savings
Much of the focus of easyJet's Investor Day presentations was on the market opportunity and growing the top line, and the company also sees scope for cost savings under its 'easyJet lean' programme. The main sources of identified savings are in engineering and maintenance, airport deals, engine selection, the upgauging of the fleet to include a growing proportion of A320s versus A319s and the introduction of the A320 neo.
easyJet cost savings pipeline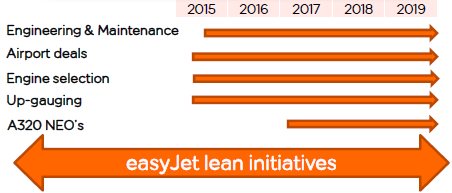 Dividend will be increased
Capital expenditure averaged 18% of revenues between 2005 and 2012, before falling to 9% in 2013-2014. easyJet expects capex to be 11% of revenues in the period 2015 to 2017 and to remain broadly similar (10% to 12%) from 2018 to 2022.
With capex expected to be in a manageable range and return on capital being at robust levels, easyJet now proposes to reward shareholders by raising its ordinary dividend payout ratio from one third of profit after tax to 40% from FY2014 (September year end).
easyJet dividend payments since FY2011

Stelios' baby is in good hands
Two key members of easyJet's senior management team, CEO Carolyn McCall and CFO Chris Kennedy, both joined the airline in Jul-2010 from outside the industry.
The financial performance of the company since FY2010 demonstrates the focus they have brought to creating shareholder value through improved return on capital. This focus has been sharpened by the influence of Stelios, who has rightly benefited from the cash returns he has received through dividends and brand licence payments.
Building on its strong pan-European network of mainly primary airports, easyJet has a disciplined approach to route selection. Its cost advantage over the full service carriers that form the major part of its competition, looks set to underpin further growth in the years to come. Its initiatives to attract higher yielding business passengers, which are showing positive results and have pointed the way for other LCCs such as Ryanair, should further enhance easyJet's margins.
While Stelios' presence on the share register can sometimes seem a little brooding, his relationship with management has matured. He can be confident that his baby is in good hands.
See related reports: