easyJet expected to be profitable in FY2009; Tiger Airways reports USD20 million loss in FY2009
Analysis
easyJet shares gained 2.7% on 16-Nov-2009, ahead of the release of the carrier's financial results today (17-Nov-2009). The carrier is expected to be profitable in the 12 months to Sep-2009, although the level of profitability is expected to be down on a year-on-year basis.
According to brokerage, Collins Steward, easyJet is expected to outperform the market in terms of yields, despite the challenging revenue environment, with the carrier also expected to see increased demand of at least 3.4%.
The brokerage added that easyJet has "very strong earnings momentum over the coming years. Returns are set to bounce back into value-creation territory, and there is scope for further upside if costs can be cut further than management's current plan".
Flyglobespan denies reports it is in danger of collapse
Also in Europe, Edinburgh-based Flyglobespan denied reports it is in danger of collapse and revealed new financial backing from investment company, Halcyon Investment.
Tiger Airways reports USD20 million loss in 12 months to Mar-2009
Singapore Airlines confirmed it has stopped accounting for its share of further losses from the LCC, after Tiger Airways reported a loss of SGD28 million (USD20 million) for the 12 months ended 31-Mar-2009. Singapore Airlines' cumulative losses in Tiger have now reportedly increased to SGD45 million (USD33 million), after initially injecting SGD39 million (USD28 million) in the carrier.
Selected LCCs daily share price movements (% change): 16-Nov-09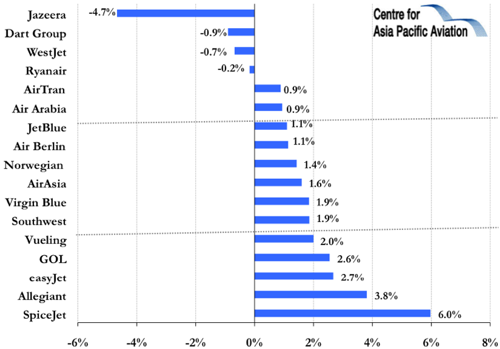 Also in the Asia Pacific region, SpiceJet shares gained 6.0%, while Jazeera slipped 4.7%.