Dynamics shift in the Mexico to Latin American market in 2015 with new partnerships and routes
Although Latin America has suffered from challenging economic conditions throughout 2015 that are lingering into 2016, some interesting developments have occurred between Mexico and South and Central America. Mexican airline Volaris during 2015 has branched out its international offering beyond US transborder routes to Central America, and Aeromexico and Avianca have added routes between Mexico and South America.

Copa Airlines has also added two new destinations in Mexico as it redirects capacity from battered Brazil to routes whose revenue potential is more promising. Although it is facing currency weakness similar to other Latin American economies, Mexico's economic climate is more healthy than most countries in South America.

LATAM Airlines Group is also strengthening its ties in Mexico with a new codesharing agreement with Interjet, which has a solid domestic network. The pact shows that Latin America's second largest aviation market, Mexico, remains one of the region's strategic areas going forward.
The approximate 3% contraction of Brazil's economy has been the major headline of 2015. All the airlines operating to and within the country have adjusted their capacity to the new demand environment. For example, Panama's Copa Airlines has steadily reduced capacity to Brazil in 2015. It had previously estimated that it would cut capacity to Brazil by 18% as of Jun-2015 compared with Jan-2015. Between Aug-2015 and Nov-2015 Copa cut frequencies from Panama City Tocumen to the Brazilian cities of Belo Horizonte, Brasília, Porto Alegre, São Paulo Guarulhos and Campinas Viracopos. By YE2015, the airline is completely cutting its flights to Campinas.

See related report: Copa Airlines plans lower capacity growth in 2016 after weathering tough conditions during 2015

Among the new markets Copa has added during 2015 are flights from Panama City Tocumen to Puebla and Villahermosa, Mexico. Those join existing flights from Panama City to Cancun, Guadalajara, Mexico City, and Monterrey. Copa also operates flights from Bogota to Mexico City and Cancun.

Mexico's economy is on stronger footing than other Latin American economies. Its GDP is projected to grow at 2.3% in 2015, and forecasts are showing an economic expansion of 2.9% in 2016. According to schedules in CAPA and OAG, Copa is operating the new, thinner Mexican routes with 94 seat Embraer 190s, which are better suited for the markets than Copa's higher gauge Boeing 737 narrowbodies.

Mexico's largest airline, Aeromexico, has cut service from Mexico City to Rio de Janeiro during 2015, but added new flights from Mexico City to Medellin, putting additional frequencies to the route after the initial launch. The new service to Medellin joins Aeromexico's existing flights from Mexico City to the South and Central American markets of Bogota, Buenos Aires, Caracas, Quito, Lima, Santiago, Sao Paulo Guarulhos, Guatemala City, Managua, San Jose, San Salvador and San Pedro Sula.

During 2015 Avianca has inaugurated new service from its hub in Lima to Cancun, joining rival LAN Airlines on the pairing. LAN still holds the majority of seats on the route, with an 81% share. Avianca also serves Lima from Mexico City, and offers flights from its hubs in Bogota and San Salvador to Cancun and Mexico City.

For the week of 14-Dec-2015, one-way seats between Mexico and upper South America have increased nearly 10%, which is a healthy rise given the general economic climate in Latin America. Aeromexico and LAN are the largest airlines operating between the two regions holding shares of 35% and 17%, respectively.
Mexico to Upper South America (seats per week, one way): 15-Dec-2014 and 14-Dec-2015

Volaris expands its network to Central America during 2015, but takes a measured approach
Volaris, Mexico's second largest airline measured by seats (it has a 16% system seat share for the week of 15-Dec-2015), has started a new phase in its network development in 2015 with the launch of international flights outside its extensive US transborder route offerings.

Volaris has added service from Cancun to Guatemala and San Juan (technically a US territory), and flights between Guadalajara and Cancun to San Jose, Costa Rica. The economies of Guatemala and Costa Rica are also stronger than most Latin American countries, with projected GDP growth in 2015 of 3.8% and 3%.

The airline has not yet tabled plans to add more destinations in Central America, and has concluded numerous opportunities still remain within the US transborder market. But the additions outside the US are an important step in Volaris' network evolution, showing that the airline is slowly, but wisely, looking to diversify outside of its US transborder markets.

See related report: Volaris expands its international scope beyond the US transborder with new flights to Guatemala

Seats between Mexico and Central America have grown 20% year on year for the week of 14-Dec-2015; but Volaris only represents a 5% share, reflecting its slow approach to building out its network outside of US routes. It only offers roughly two weekly flights in each market it operates to Guatemala, San Jose and San Juan. Aeromexico's seat numbers have grown 37%, driven by the launch of new service to Managua in Dec-2014.
Mexico to Central America (seats per week, one way): 15-Dec-2014 and 14-Dec-2015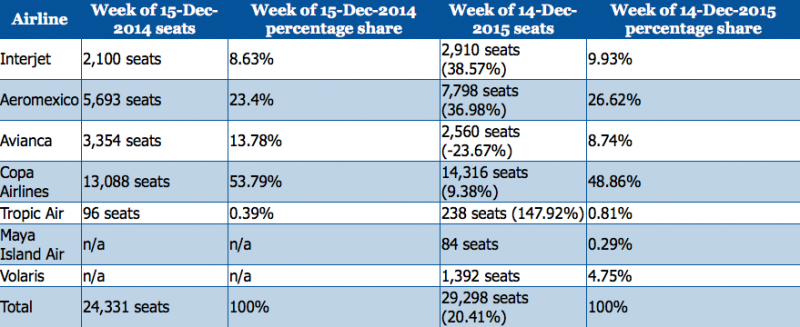 At times, Latin American airlines have to jump out of alliances to grow their network breadth
One interesting development in the Mexico-Latin American market during 2015 is the forging of a codeshare by LATAM Airlines Group with Mexico's third largest airline (measured by system wide seats) Interjet.

Aeromexico and Volaris may be Mexico's two largest domestic airlines, but Interjet has a strategic presence at Mexico City Juarez. It holds a 29% share of domestic seats deployed from Juarez, Mexico's largest airport.
Mexico City Juarez International Airport domestic capacity by airline (% of seats): 14-Dec-2015 to 20-Dec-2015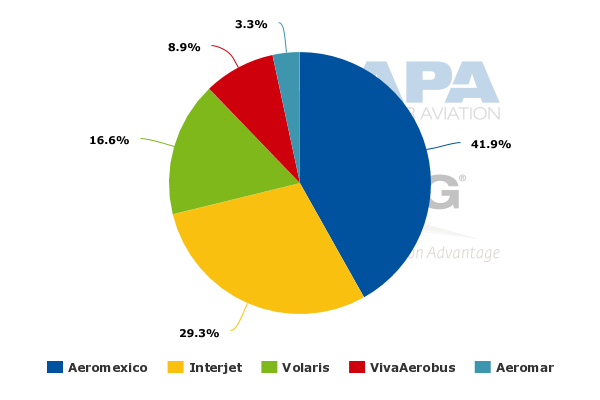 Interjet gains benefits through the partnership by receiving feed from Latin America's largest airline group. TAM operates flights to Juarez and Cancun from its hub at Sao Paulo Guarulhos, and LAN serves Mexico City from its hubs in Lima and Santiago.

Interjet's international offerings include Houston, San Antonio, New York, Las Vegas, Miami, Bogota, Costa Rica, Havana and Guatemala. Interjet has not yet branched out into lower South America, but perhaps at some point LATAM and Interjet will forge a codeshare on LATAM's service between Mexico and South America, giving Interjet a key ability to market flights to major markets including Sao Paulo, Lima and Santiago.

oneworld airlines LAN and TAM each also have a codeshare agreement with SkyTeam's Aeromexico. LATAM's rival Gol also has access to the Mexican market through a codeshare with member Aeromexico.

The LATAM codesharing partnership entails placing LAN or TAM's code on Aeromexico's flights to South America, and LAN and TAM place their codes on some of Aeromexico's domestic routes. According to Airline Route, TAM is placing its code on roughly 27 of Interjet's domestic routes from Juarez and LAN is putting its code on approximately 20 of Interjet's domestic markets. It appears Interjet is offering LATAM more domestic feed than Aeromexico.

All the moving pieces of the partnership puzzle between Mexican airlines and those based in Latin America show the importance of having access to key markets, even if that means jumping outside alliances to form partnerships. Aeromexico also codeshares with Star partner Avianca.
Airlines need to think about Mexico for the long term. What does that mean for partnerships?
Despite the MXP falling by approximately 26% against the USD at the end of 3Q2015, demand within the Mexican domestic market and from Mexico to Latin America remains solid. Even with Latin America's shaky economic performance in 2015 and an uncertain outlook for 2016, the region's airlines do need to contemplate how to position themselves for the long term in the area's most important markets.

Mexico is Latin America's second largest aviation market behind Brazil. It makes sense for airlines to turn some temporary attention away from Brazil in order to gain a long term foothold in Mexico. However, one lingering question is the longevity of the numerous partnerships being formed to ensure blanket coverage. One certainty emerging is the current alliance framework does not adequately offer blanket coverage of all the strategic regions of Latin America.