Delta's 4Q2012 international route cuts free up significant widebody capacity
Analysis
Planned route cuts by Delta Air Lines being instituted in late 2012 as part of the carrier's capacity management scheme to reduce trans-Atlantic supply by 5% and trans-Pacific capacity by 1%-2% will free up a number of widebody aircraft. As the carrier makes seasonal adjustments throughout its network it is not exactly clear where the widebodies exiting certain markets will be deployed.
The carrier's planned 4Q2012 cuts in trans-Atlantic capacity will mostly be implemented in late Oct-2012, at the start of the IATA winter 2012 schedule and about one month after the peak travel season in the US ends. Most of the capacity will be restored at the start of the summer 2013 schedule in late Mar-2013. Nearly one-third of Delta's international capacity (seats) is currently deployed on routes to Western Europe.
Delta Air Lines international capacity by region (% of seats): 25-Jun-2012 to 01-Jul-2012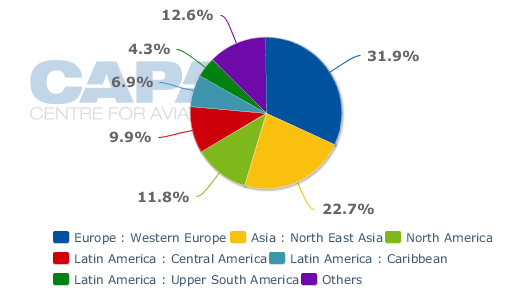 Delta's latest trans-Atlantic cuts scheduled for 4Q2012 include the seasonal suspension of flights from Atlanta to Barcelona and New York JFK to Prague. The carrier also recently decided to drop entirely flights from its Detroit hub to Hong Kong from Aug-2012.
Delta will retain flights from its JFK hub to Barcelona during the winter season, competing with American Airlines on the pairing. United also operates flights from nearby Newark to Barcelona. Schedules in Innovata show that US Airways also currently offers seven weekly flights from its Philadelphia hub to Barcelona, but from Nov-2012 no direct flights are available from Philadelphia, and instead passengers are routed through the Frankfurt and Munich hubs of US Airways' Star Alliance partner Lufthansa.
New York JFK to Barcelona El Prat capacity by carrier (seats per week, one way): 19-Sep-2011 to 16-Dec-2012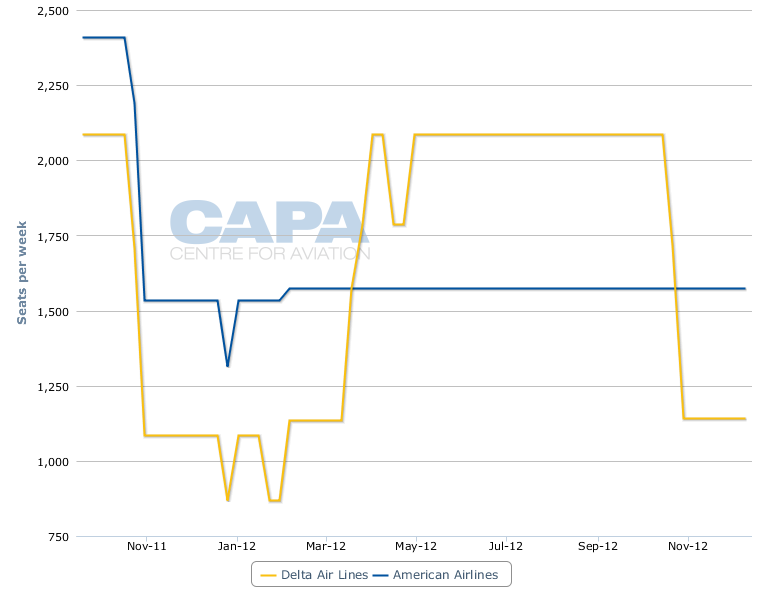 Delta's New York-Prague route, which is being suspended from Nov-2012 to Mar-2013, is now the only non-stop route connecting the US with Prague. Other legacy carriers rely on their alliance partners to transport passengers to the capital of the Czech Republic. US Airways offers connecting flights through Lufthansa's Munich hub while United offers flights to Prague through connections in Frankfurt and Brussels operated by Lufthansa and Brussels Airlines. For the winter season Delta will also have to rely on connections via European hubs with its SkyTeam partners, including Air France, KLM and CSA Czech Airlines.
Latest cuts at Delta follow previously announced market exits
The latest two trans-Atlantic cuts follow previous adjustments by Delta to suspend for the winter season flights from New York to Rome and Athens and from Atlanta to Milan. Current schedules in Innovata show Delta also offers daily flights to Rome from its Atlanta and Detroit hubs, but Delta's booking engine shows no direct flights from Detroit to Rome are available for travel in Nov-2012.
Delta, its SkyTeam trans-Atlantic joint venture partner Alitalia and American all offer flights from JFK to Milan, and Alitalia also offers flights from Miami to Milan. But a decade ago direct flights to Milan were also available from Toronto, Washington Dulles, Chicago, San Francisco, Boston, Detroit, Philadelphia and Los Angeles.
See related article: US carriers slash fourth quarter trans-Atlantic capacity as Europe's outlook dims
Alitalia now serves its larger Rome hub from New York JFK, Newark, Miami, Chicago, Los Angeles and Boston. But Alitalia has decided to seasonally suspend its Newark-Rome service. According to GDS filings, Alitalia will drop its Newark-Rome service from 08-Nov-2012 through 02-Apr-2013. United earlier decided to also seasonally suspend its Newark-Rome route, which means there will be no non-stop service by any carrier on the route for the winter 2012/13 season.
US Airways also has decided to seasonally suspend service to Athens from its Philadelphia hub. US Airways is only offering service to Athens via connecting flights through other European hubs during the fourth quarter.
Delta is also seasonally suspending flights between Memphis to Amsterdam from Sep-2012. The carrier offers ample service Amsterdam - a hub for its SkyTeam trans-Atlantic joint venture partner KLM - from several US cities including its Atlanta, Minneapolis, Detroit and JFK hubs. The carrier also serves Amsterdam from Portland in Oregon, Boston, and Newark.
Rounding out Delta's trans-Atlantic cuts is the elimination of three weekly flights from Atlanta to Accra, Ghana, a route inaugurated by the carrier in 2010. The carrier is adding a weekly frequency to its JFK-Accra pairing, but overall the changes will result in a net reduction of two weekly frequencies from the US to Ghana. United in Apr-2012 also scaled back its service to Africa when it ended flights from Washington Dulles to Accra just two years after launching the service.
See related article: United continues international network shifts and drops service to Accra in Ghana
Delta plans redeployment and maintenance of jets exiting trans-Atlantic routes
The permanent and seasonal adjustments Delta plans to make in 2H2012 are freeing up several widebody aircraft. The carrier states it has maintenance modifications planned for some of the jets, and will redeploy some of the aircraft elsewhere.
Delta now operates Boeing 767s on five of the affected routes – JFK-Rome, JFK-Prague, Atlanta-Milan, Atlanta-Accra and Memphis-Amsterdam. It also uses 767s on Atlanta-Paris, a route it now plans to serve with only one daily flight this winter compared to an original plan to offer two daily frequencies.
On the other two affected routes – Atlanta-Barcelona and JFK-Athens – Delta now uses Airbus A330-300s. Delta's Detroit-Hong Kong flights are flown with Boeing 777-200LRs/ERs.
Delta launched its Detroit-Hong Kong route in 2010 and has cited high fuel prices and fluctuating passenger demand as the reasons for its decision it end the flights. Data from the US Department of Transportation show that Delta's load factors on its flights to Hong Kong during 2011 were fairly strong at 78%, which indicates the carrier might have traded off loads for yields.
Delta has few options for onward connections at Hong Kong as Hong Kong is dominated by oneworld carrier Cathay Pacific and its subsidiary Dragon Air, which account for roughly 50% of the airport's seating capacity. Delta will continue to serve Hong Kong with its one daily 777 flight from its mini-hub at Tokyo Narita.
Hong Kong International Airport capacity by carrier (% of seats): 25-Jun-2012 to 01-Jul-2012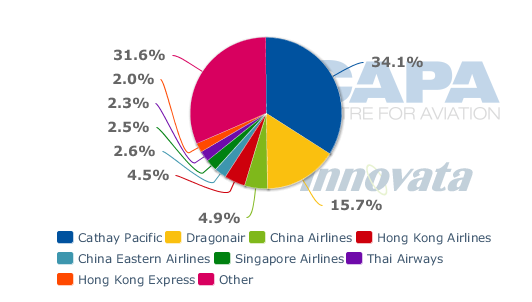 Some of the 767s Delta now operates on the trans-Atlantic routes which are being cut for the winter season will likely be re-deployed to markets where Delta plans to down-gauge aircraft during the winter 2012/13 season. Schedules show Delta will switch this winter from A330-300s to 767s on flights from JFK to Amsterdam and Paris, and from Minneapolis to Paris. Delta also plans to switch the aircraft used on JFK-Moscow this winter from A330-200s to 767-400ERs.
Delta's plans for the A330s being freed up from trans-Atlantic routes are not exactly clear. Delta currently operates 21 298-seat Airbus A330-300s it owns outright with an average age of only six years.
The carrier has several widebody aircraft that will need to either undergo maintenance or be re-deployed elsewhere in Delta's network. Some of the aircraft could possibly be used on routes where the carrier operates its Boeing 747-400s, which are being reconfigured with lie-flat business class seats and new economy economy seats throughout 2012. But the modifications on Delta's 15 747-400 widebodies are scheduled for completion by Oct-2012.
Delta Air Lines fleet as of 31-Mar-2012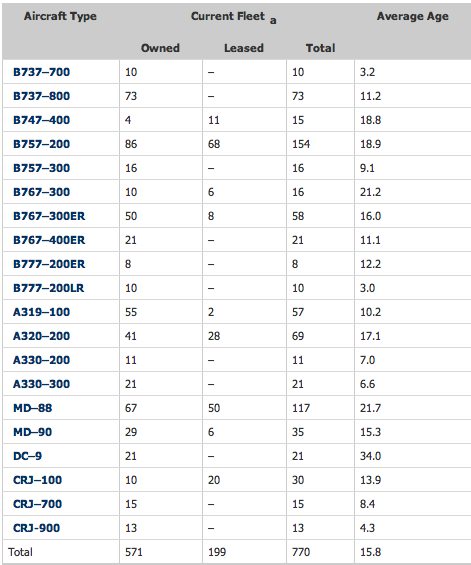 Falling fuel crimps Delta's 2Q2012 operating profits
Meanwhile, Delta has issued a warning that it will record a negative 1% operating margin for 2Q2012, driven partially by a USD155 million loss from fuel hedges that turned unfavourable as the price of fuel has fallen by more than 25% during the last few weeks. Other carriers that have hedging programmes that will likely experience similar losses from those schemes.
Delta expects unit revenue for 2Q2012 to grow 8% year-over-year for the quarter, on a decline in system capacity of 1%-2%. The revenue strength appears to indicate demand is holding up heading into the peak summer travel season. But Delta could have challenges in managing its capacity during the winter if it cannot re-deploy the widebodies exiting trans-Atlantic flying into profitable operations.