Delta Air Lines misses targets for a return to positive PRASM, caps 2016 capacity growth at 2%
Analysis
Underpinning the strong 3Q2015 results posted by Delta Air Lines was an acknowledgment by the company that reaching it would slip on its target of flat year-on-year passenger unit revenue performance.

Most US airlines have faced passenger unit revenue headwinds throughout 2015. In the case of Delta, approximately half of its 3Q2015 decline was driven by foreign exchange headwinds. Currency pressure is also a major contributor to the company's anticipated 2.5% to 4.5% passenger unit revenue decline in 4Q2015.

Delta has pledged that is 2016 capacity will be flat to up 2% as it works to create a positive trajectory for its unit revenue performance. Although the company stresses it manages margins and free cash flow, Delta emphasises a priority is a return to positive passenger unit revenue growth.
Delta faces increasing foreign exchange pressure throughout 2015
Delta's profits during 3Q2015 jumped to USD1.3 billion versus USD357 million the year prior. Its 21% operating margin was a 5ppt improvement year-on-year, and at the upper end of previous guidance of 19% to 21%. Obviously significantly lower fuel costs helped to buoy Delta's profit. On a year-on-year comparison the airline's top line fuel expense fell 38%, or USD1.1 billion, to USD1.8 billion.

The airline's passenger unit revenue declined roughly 5% and yields dropped 5.4% on system capacity growth of 3.2%. Its passenger unit revenue performance was closer to the upper end of previous guidance for a decrease of 4.5% to 6.5%.

Approximately 2.5ppt of the unit revenue slide stemmed from negative effects of the appreciating USD against most global currencies. Delta estimated it had USD235 million in foreign currency headwinds during 3Q2015, compared with USD105 million in 1Q2015 and USD116 million in 2Q2015. With the increasing foreign exchange pressure, Delta's passenger unit revenue performance has continued to slide on a sequential basis for the first nine months of 2015. The largest jump in capacity growth year-on-year was during 1Q2015, when Delta's supply expanded 5% versus 1.7% growth the year prior. Delta started citing foreign exchange pressure during 4Q2014, and its unit revenues only increased 0.8% to USD14.19 cents year-on-year.
Delta Air Lines passenger unit revenue and capacity growth: 1Q2014 to 3Q2014 vs 1Q2015 to 3Q2015
| | | | | |
| --- | --- | --- | --- | --- |
| Quarter | 2014 passenger unit revenue | 2014 capacity | 2015 passenger unit revenue | 2015 capacity |
| 1Q | USD14.29 cents, up 4.9% | up 1.7% | USD14.00 cents, down 1.7% | up 5% |
| 2Q | USD14.99 cents, up 5.7% | up 3.2% | USD14.29 cents, down 4.6% | up 3.4% |
| 3Q | USD14.83 cents, up 2.4% | up 3.2% | USD14.10 cents, down 4.9% | up 3.2% |
Delta's unit revenue declines are most pronounced in the trans-Atlantic and trans-Pacific
The worst performers among Delta's geographical entities measured by passenger unit revenue during 3Q2015 were trans-Atlantic and trans-Pacific markets. Passenger unit revenues fell 9.5% in the trans-Atlantic and 9.3% in the trans-Pacific.
Delta Air Lines passenger unit revenue and yield performance by geographical entity: 3Q2015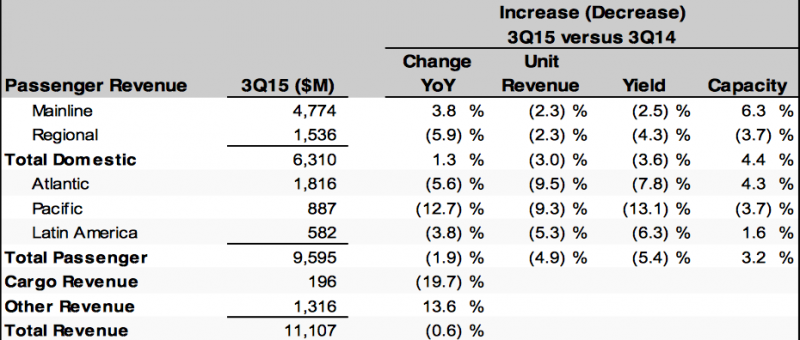 Delta recorded the second largest capacity increase in the trans-Atlantic during the quarter, with supply growing 4.3%. Company president Ed Bastian remarked that trans-Atlantic markets were challenged by industry capacity growth and from foreign exchange pressure. Delta estimates that foreign exchange pressure represented 6.5ppt of the passenger unit revenue decline in the trans-Atlantic, and estimated a USD120 million hit from foreign exchange pressure in the region during the quarter. Mr Bastian concluded that demand in core European markets remained strong, citing margin expansion in Delta's joint ventures with SkyTeam partners Air France-KLM and Alitalia and Virgin Atlantic. The weakest markets were routes to Africa, the Middle East and Russia.

For the last year Delta has been restructuring its trans-Pacific operations to put less emphasis on connecting traffic at its Tokyo Narita hub. It has also downgauged the aircraft used on trans-Pacific routes. At the end of 2014, Delta pledge to increase its Pacific margins by five to 10 points during the next three years.

See related report: Delta Air Lines directs the bulk of 2015 capacity growth to domestic markets and increases partners

Data from CAPA and OAG for the week of 12-Oct-2015 show that Delta's seats to Japan are down nearly 23% year-on-year, and both Japan Airlines and All Nippon Airways have surpassed Delta in seat share.
United States of America to Japan (seats per week, one way): 13-Oct-2014 and 12-Oct-2015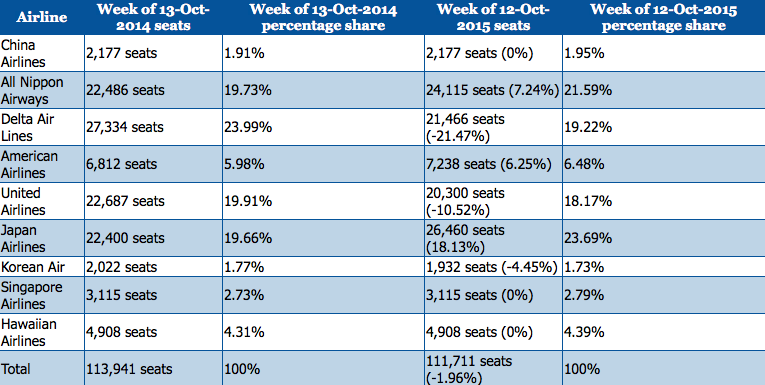 Mr Bastian stated that margins at Delta's Tokyo Narita hub grew by 7ppt year-on-year in 3Q2015; however currency pressure and lower fuel surcharges dragged down Delta's trans-Pacific unit revenues by 14ppt.
Delta slows its capacity expansion to Latin America after breakneck growth
After growing Latin American capacity by 13.2% in 1Q2015 and 7.9% in 2Q2015, Delta's expansion to the region slowed to 1.6% in 3Q2015. Mr Bastian stated prior to the 3Q slowdown, Delta had recorded eight consecutive quarters of above average capacity growth to Latin America. Unit revenues on routes to the region fell 5.3% year-on-year. The decline was driven mostly by currency pressure from Brazil. As of mid-Oct-2015, the exchange rate was USD3.80 to the BRL.

Elsewhere, Mr Bastian stated that routes to the Caribbean and Mexico were largely US point of sale, "and as a result continue to do quite well".
Delta believes its 4Q2015 domestic capacity growth is justified
Delta's US domestic passenger unit revenues fell 3% in 3Q2015 on a 4.4% rise in capacity. The airline cited yield pressure trends that were similar to previous quarters. Delta has remarked that three markets are driving the largest decline in yields – Chicago, Dallas and Orlando. The pressure in Chicago and Dallas is being driven by American and Southwest. Fare decreases are more pronounced in Dallas, where Southwest has grown significantly during the last year with the repeal of the Wright Amendment that prohibited certain long haul flights at Dallas Love Field.

See related report: Delta Air Lines is not immune from soft domestic pricing. Will domestic capacity shrink? Can it?
The airline concludes that overall demand in the domestic space remains strong, particularly corporate sales. However, Delta stresses it is not obtaining the yields it has in the past.

Delta is planning 3% domestic capacity growth in 4Q2015 and flat system growth. Its capacity increase is the largest among the three large global network airlines. United plans a 1% to 2% increase in domestic capacity growth, and American plans overall domestic growth in 2015 of 1% to 2%.

See related report: The Big 3 US airlines American, Delta and United, increase 3Q2015 profits despite lower revenue

Delta rationalised its 4Q2015 domestic capacity expansion by stressing the growth was in areas where it has made investments, New York and Seattle. Mr Bastian remarked that Seattle's domestic unit revenues were on par with the entity average in 3Q2015 despite a 24% jump in capacity. However, Delta's average PRASM declined during the quarter.
Delta acknowledges hurdles to achieving positive unit revenue in 2015
In mid-2015 Delta declared that it was aiming to restore its unit revenue performance to flat year-on-year or positive growth by YE2015. But now the airline is forecasting 2.5% to 4.5% decline in 4Q2015, 2ppt of which is attributed to foreign exchange pressure.

Mr Bastian explained that the continued low fuel price environment (presumably lower fuel surcharges) and steeper foreign exchange headwinds have created challenges for Delta in stemming its unit revenue decline. "It [achieving positive PRASM] is still an important goal for our commercial team even if it happens on a slightly longer time," said Mr Bastian. He explained that while Delta may see continued pressure on unit revenues, the benefits of lower fuel costs are driving margin and cash flow benefits. Delta projects an operating margin of 16% to 18% for 4Q2015.
Delta pledges no more than 2% system-wide capacity growth in 2016
Some investors have questioned US airline industry capacity growth in 2015 after those airlines have spent years trumpeting their capacity discipline. Delta has issued initial projections of flat to 2% capacity expansion for 2016.

For now the airline is not breaking out its specific capacity allotment for 2016, but Mr Bastian remarked that "obviously the shape of 2016 is following what you're seeing in the fourth quarter with domestic up in line with general economic growth in the US and international down in the areas with the greatest foreign exchange and demand weakness". Delta's 4Q2015 international capacity is falling 4.5% year-on-year. Although Delta plans to crystallise its 2016 capacity plans later in 2015, Mr Bastian's remarks may imply that perhaps a solid portion of the growth next year may be directed towards the domestic market given US GDP growth for 2016 is projected at approximately 2.8%.
The paradox for Delta and US airlines continues – strong earnings and weak unit revenues
Delta will no doubt continue to record strong profitability for 4Q2015 and CY2015 even if its passenger unit revenues continue to contract. The airline appears to be making the right moves to ease investor concerns by spelling out a cap of 2% system capacity growth in 2016, and highlighting the importance of regaining positive unit revenue momentum.

The wildcard for Delta and other US airlines could be the effect macroeconomic conditions will have on the US during 2016. If consumer confidence starts to erode, it seems that most airlines will take steps to adjust capacity accordingly. What remains to be seen, however, is when pricing traction in the US market place will be restored.