Delta Air Lines and United focus on US domestic routes as United ramps up capacity and Pacific slows
Analysis
The US major network carriers Delta Air Lines and United Airlines have turned a corner on their respective weak passenger unit revenue performances that have remained stubbornly negative since 2014. But Delta's unit revenue outlook for 3Q2017 is more robust than United's forecast of broadly flat growth year-on-year.

Delta and United remain at divergent phases in their network evolution. United is on a quest to regain lost domestic ground by bolstering capacity on routes in the US, whereas Delta is leveraging its strong domestic base to enjoy its position as a first mover in developing and selling branded fares, which represented nearly 40% of Delta's growth in top line passenger revenue for 2Q2017.
Both companies are zeroing in on a rebound in domestic pricing to sustain their unit revenue momentum, rather than betting on a quick recovery in trans-Atlantic and trans-Pacific markets. Although each airline expects some upside in those challenging entities, a consistent positive performance in those regions seems out of reach in the near term.
Both Delta and United are encouraged by improved business demand on flights to Europe, and robust US point of sale on those routes, but their performance in Asian markets continues to be battered by growing industry capacity. Delta is hinting that a turnaround in its Asian performance is not likely until 2018, while United continues to believe the Pacific remains its most challenging geographic commitment in the short term.
Delta cites a significant upside in pricing of US business fares
Delta's 2.5% increase in passenger unit revenue (PRASM) during 2Q2017 was the first positive performance the airline achieved in that metric since 2014.
The airline has promised a return to positive PRASM on several occasions, but missed those targets as pricing pressure, particularly in the US market, remained intact until late 2016. Delta's 2Q2017 PRASM performance reached the upper end of its forecast of 1% to 3% growth year-on-year.

The US domestic market was Delta's strongest performing operation in 2Q2017, and it was driven in large part by improving corporate yields.
Delta and United passenger unit revenue (PRASM), yield performance and capacity by geography: 2Q2017
Airline
Domestic
Trans-Atlantic
Trans-Pacific
Latin America
Delta

Unit revenue up 2.8%

Yield up 2.1%

Capacity up 1.6%

Unit revenue lower by 1.9%

Yield lower by 7.1%

Capacity up 1.3%

Unit revenue up 2.2%

Yield lower by 0.1%

Capacity lower by 10.9%

Unit revenue up 10.8%

Yield up 6.4%

Capacity up 3%

United

Unit revenue up 2.4%

Yield up 2%

Capacity up 5.6%

Unit revenue up 3.3%

Yield up 0.7%

Capacity lower by 1.5%

Unit revenue lower by 5.5%

Yield lower by 2%

Capacity up 4.8%

Unit revenue up 7.8%

Yield up 8.9%

Capacity up 7.5%
The airline found corporate revenues to have turned positive in mid-Apr-2017 as sequential yield improvement continued in that sector. Delta remains the most bullish about its domestic performance for the future, noting that still-improving business fares remain below historical levels.
Previously, Delta has explained that average US domestic business fares had declined in the double digits from early 2015 to late 2016. At the end of 1Q2017 the company recorded that prices had regained broadly half of their lost ground.

Delta also believes its tiered pricing structure should continue to lift revenues. During 2Q2017 Delta's top-line passenger revenues grew by 3%, or approximately USD260 million to USD9.2 billion. Broadly USD100 million of the increase was attributable to branded fares.
Domestic markets account for two thirds of Delta's revenue, and the airline's position is that the opportunities to restore business yields, along with upward traction from branded fares, should allow it to grow domestic unit revenue at, or above, US GDP. The airline expects to roll out its segmented fares on all domestic routes by YE2017. Among the three large US full service airlines, Delta has the greatest number of seats deployed into the domestic market – nearly 85%.
American, Delta and United % of seats and ASKs deployed into the US domestic market: 17-Jul-2017 to 22-Jul-2017
| | | |
| --- | --- | --- |
| Airline | % of seats deployed in the US domestic market | % of ASKs deployed in the US domestic market |
| American | 82% | 61.6% |
| Delta | 84.5% | 59.5% |
| United | 78% | 53.5% |
Additionally, Delta continues to upgauge its domestic fleet, adding more Airbus A321s and Boeing 737-900s as its 50-seat jet fleet continues to shrink. The higher-density aircraft allow Delta to offer a larger number of premium seats to bolster its top-line revenue. CAPA's fleet database shows that Delta is projected to take delivery of 17 Airbus and Boeing narrowbodies in 2017.
Delta Air Lines projected aircraft delivery dates (from OEMs and lessors) as of 17-Jul-2017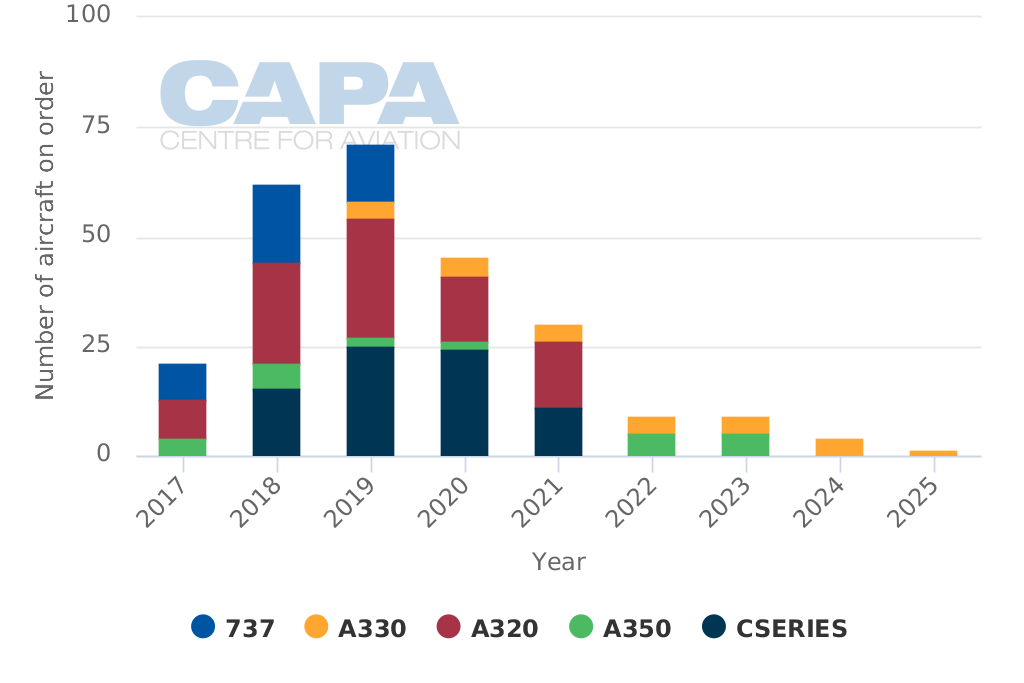 United Airlines' domestic push to close competitive revenue gaps remains in its infancy
As Delta works to reap the benefits of a stable US domestic pricing environment, United has taken steps to bolster the performance of its domestic network during 2017, after concluding that one major reason for the revenue disadvantage the company had had versus its peers was less emphasis placed on domestic routes during the past few years.

See related report: United Airlines stresses that capacity adds are accretive as 2Q2017 unit revenues turn positive

United's domestic capacity grew 5.6% year-on-year in 2Q2017, and is projected to increase between 5.5% and 6.5% year-on-year in 3Q2017. For CY2017, United expects to post 3.5% to 4.5% growth on US domestic routes – markedly higher than its rivals American and Delta.

The capacity push initially spooked Wall Street, but United has stressed much of the growth is being executed by leveraging strength in its hubs, pulling smaller regional jets off larger routes and improving overall connectivity.

United remains in the initial phases of its domestic revamp, but did post a 2.4% rise in domestic PRASM during 2Q2017. It is forecasting flat growth for 3Q2017, due to industry capacity growth and shifts in the timing of certain holidays.
The company cited a ramping up of industry capacity, particularly in the second half of Aug-2017 and Sep-2017 (which is in part by its own capacity expansion).
Data from CAPA and OAG show US domestic ASKs are projected to increase 6.4% at the start of mid-Aug-2017 (week of 14-Aug-2017).
United States of America weekly total domestic ASKs: 2014 to late 2017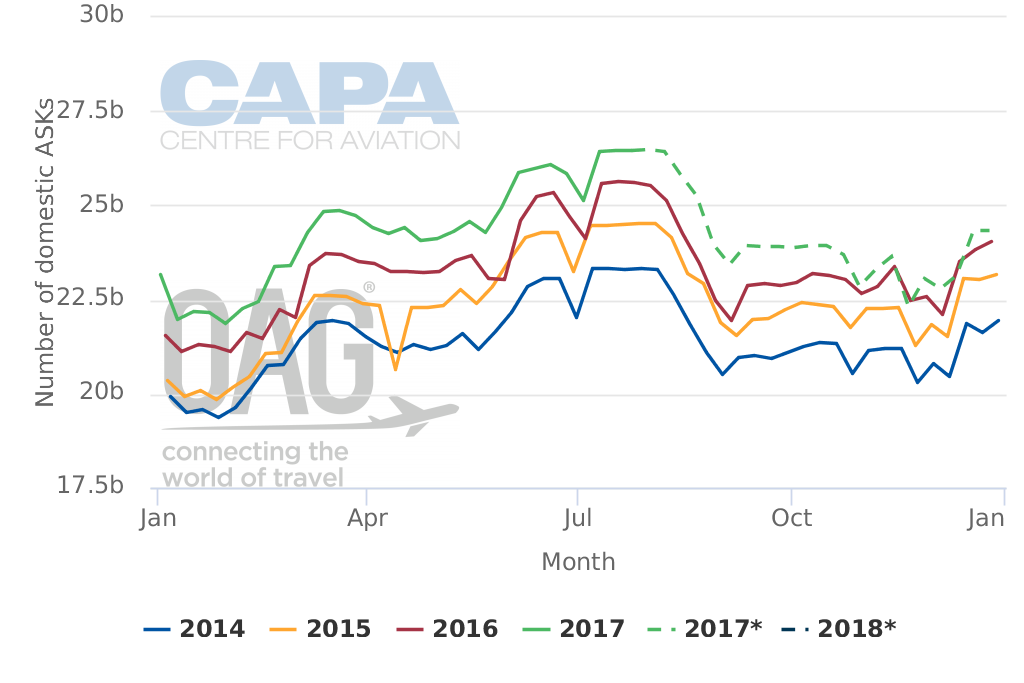 United Airlines weekly total domestic ASKs: 2014 to late 2017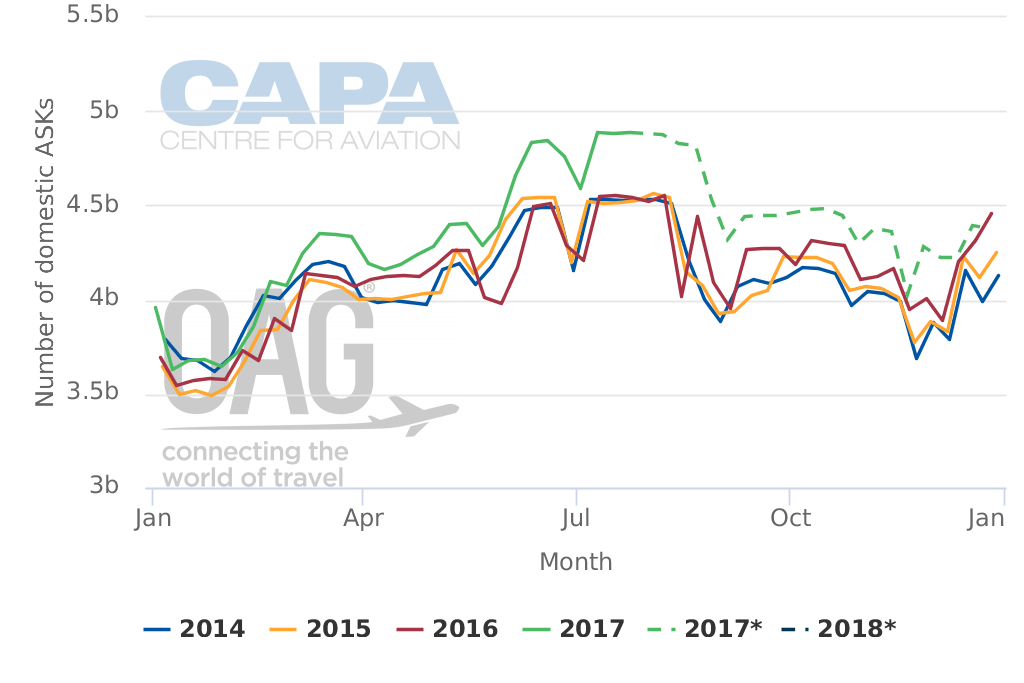 Delta cites optimism for the Pacific in 2018; United expects tough times ahead
The Pacific has posed challenges for US airlines for numerous quarters, and 2Q2017 was no different.
Delta's 2.2% PRASM decrease on Pacific routes year-on-year during 2Q2017 was a sequential improvement from the 3.9% posted in 1Q2017, but it could be some time before the airline achieves a positive performance on Pacific routes. Similarly to its trans-Atlantic situation, Delta noted that strong business demand had offset softness among leisure travellers due to industry capacity increases.

Data from CAPA and OAG for the week of 17-Jul-2017 show seats between the US and Asia are up 9% year-on-year. Delta's seats are flat, United seats have grown 2% year-on-year and American's have jumped 10%, driven by its Asian expansion during the past few years to level the competitive playing field with United and Delta.
Eva Air and Hainan are adding higher levels of capacity in the US trans-Pacific market, growing their seat shares during the same period by 23% and 31%, respectively.
United States to Asia Pacific one-way weekly seats: Jan-2012 to Jan-2018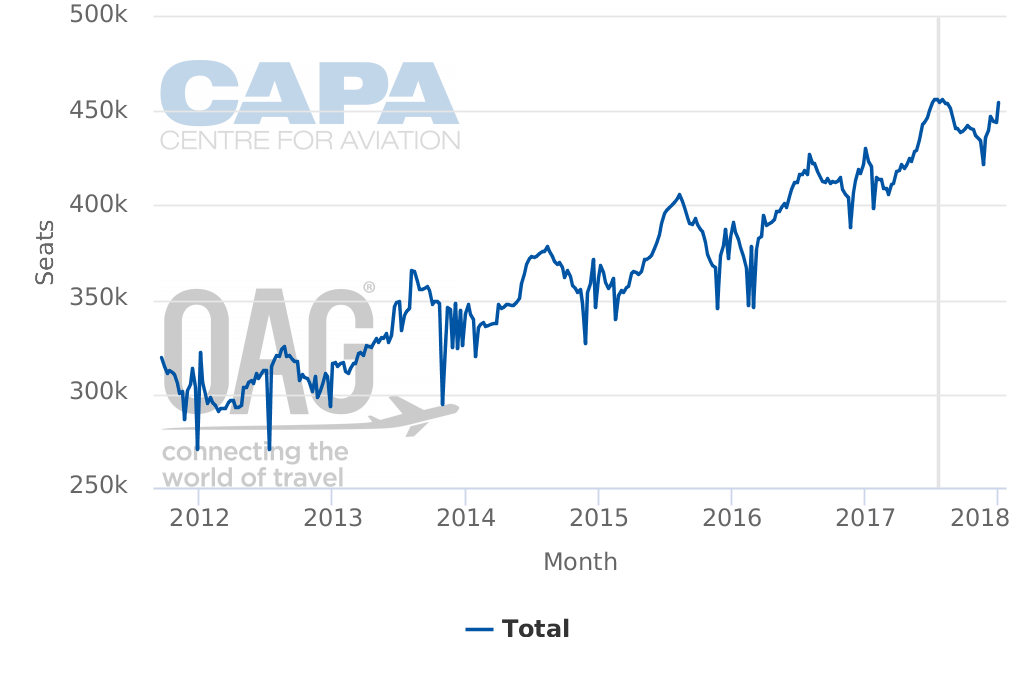 Delta is in the middle of a multi-year effort to revamp its Asian operations through a reduction on connections through Tokyo Narita, phasing out 747s in lieu of smaller widebodies on Asian routes, and building up partnerships with other airlines, including China Eastern (in which it has a 3.55% stake). Its most recent declaration has been to forge a joint venture with its fellow SkyTeam partner Korean Air, after years of separation between the two airlines. Delta's focus now is connecting passengers through Shanghai, Beijing and Seoul.

The airline's partnership with China Eastern remains in the early stages, and the joint venture with Korean is in the conceptual phase.
Given those circumstances, Delta has said that 2017 will be the last year of its Pacific network restructuring, declaring the joint venture with Korean is the last element necessary to produce a more competitive Pacific offering: "...we're really at the endpoints of the restructuring and looking forward to very much improved 2018 in the Pacific", company President Glen Hauenstein recently stated. That assessment implies that Delta's Pacific unit revenues will remain under pressure for the remainder of 2017.

The Pacific was United's worst-performing operation in 2Q2017, and the only region with a negative PRASM year-on-year. The airline blamed softer than expected demand for the 5.5% PRASM decline, which was 400 basis points below the airline's initial expectations. United's is the largest airline operation between the US and Asia Pacific, holding a 14% share for the week of 17-Jul-2017.

United has said that softer demand in China and Hong Kong drove its worse than expected Pacific performance in 2Q2017. The airline has previously outlined capacity pressure in secondary markets, which remain a challenge for the airline, citing subsidies that airlines are receiving to open up new routes from Chinese secondary cities.
In Mar-2017 Hainan launched flights from Chengdu to San Francisco, and in late 2016 Sichuan Airlines added service from Los Angeles to Hangzhou, with continuing service to Chengdu. United serves Chengdu, Xian and Hangzhou from its San Francisco hub.

United expects a flat PRASM growth in its Pacific markets for 3Q2017, but believes Asia is the most challenged of its operations.
Latin America remains a bright spot, but United works to temper expectations
Latin markets have recovered quickly for both Delta and United as the region climbs out of a tough economic slump driven by a recession in Brazil.
Each airline recorded its best PRASM performance on Latin American routes year-on-year during 2Q2017. Delta's approximately 11% PRASM growth was driven by the recovery on routes to Brazil, with growth of 15% year-on-year.
However, all US airlines are working off a low base in re-establishing their historical level of performance in Brazil. Delta is quickly spooling up its joint venture with Aeromexico to bolster its profitability in Latin America by leveraging connections from Aeromexico's domestic hubs in Mexico City and Monterrey.

United expects to sustain a positive performance in its Latin markets, but believes its PRASM performance will temper from 2Q2017 to 3Q2017, given the calendar position of the 2017 Easter holiday. The airline also cautioned that year-on-year comparisons in 2H2017 will be tougher as the company begins to lap the start of Brazil's unit revenue recovery.
United offers a tempered revenue outlook, as it restores "natural share" of capacity
For various reasons both Delta and United are placing a focus on their domestic networks to sustain flat to positive PRASM results. At the end of 2Q2017 Delta said that two thirds of its domestic entity was posting positive unit revenue growth, and the airline expects that to expand to 75% of its domestic network in 3Q2017. Delta believes more short term opportunities exist for pricing traction in the domestic market.

United's domestic strategy rests on its view that the company needs to regain lost ground, after determining that one major reason it holds a revenue disadvantage by comparison with its peers is that the airline has lessened its focus on the US domestic market and subsequently lost share.

United is in the initial phases of a domestic network revamp, or as management states – regaining "natural share". During the US summer 2017 period United is adding 15 new domestic markets and upgauging five markets from regional to mainline aircraft. United's plan is that the new routes will be margin-accretive, but it is too early to conclude what level of success the airline will achieve with its new domestic experiment.

Delta and United also have divergent PRASM forecasts for 3Q2017.
Delta expects its passenger unit revenue to grow 2.5% to 4.5% year-on-year, whereas United has issued a more conservative projection of essentially flat revenue growth year-on-year. United's forecast is in conjunction with higher 2017 capacity growth (3.5% to 4.5%) than those of American or Delta, which could create some angst among investors.

Some of United's more conservative guidance is driven by its higher level of exposure to Asia and ramping up of domestic capacity during the US shoulder periods of Aug-2017 and Sep-2017. United is typically a bit more conservative in its forecasting; but Delta seems to have learned its lesson in missing targeted PRASM goals, and appears to be focused on meeting or exceeding its guidance.
United still has much to prove as Delta leverages its established strengths
Pricing in the US domestic market began to stabilise and improve during late 2016 after low oil prices triggered capacity growth that pressured fares. With industry capacity pressure in the trans-Atlantic and trans-Pacific markets, Delta believes zeroing in on its domestic network is the best tactic to sustain its positive passenger unit revenue performance.

For United, its decision to revamp its domestic network is a more long term endeavour. United's domestic push has its detractors, but the airline remains steadfast in its belief that regaining "natural share" will close margin gaps with Delta.
Obviously, Delta is not resting on its laurels, and is using its first-mover advantage in fare segmentation to widen the competitive gaps with its peers.
During the past year United has pulled together a management team that is determined to meet or exceed Delta's margin performance, but it remains to be seen whether United will ultimately reach those lofty ambitions.