Delta and United vie for Cape Town: who wins?
Analysis
As most airlines worldwide continue their work to rebuild towards pre-pandemic operating levels, it would seem that a battle for route rights would be far out in the future.
But in the US, Delta Air Lines and United are embroiled in a spat over which airline has the better prospects for serving Cape Town. The rhetoric has amplified as each airline attempts to convince regulators that their own proposed service is superior.
In some ways, it seems odd that these competitors are engaged in a fierce argument to add service to Cape Town, because long haul international travel is not forecast to rebound fully for some time.
But on a broader scale, it reflects how airlines are working to position themselves as air traffic continues to move towards a more normalised state.
Summary
United and Delta are vying to obtain the majority of remaining frequencies between the US and South Africa.
The rhetoric has amplified as each airline attempts to convince regulators that their own proposed service is superior.
With year-round service the route could generate R523 million worth of direct tourism spend within the first year of operation.
Delta and United engage in heated competition to serve Cape Town
In Feb-2022 United outlined plans to convert seasonal service from its Newark hub to Cape Town to a year-round offering beginning in Jun-2022. There are four remaining frequencies of 21 allocated to US airlines in the current bilateral agreement between the US and South Africa.
United also asked the US Department of Transportation (DoT) for authority to operate three weekly flights from its hub at Washington Dulles International airport to Cape Town. The proposed flights would start in Nov-2022 with Boeing 787-9 widebody jets.
Delta has asked the agency for three of the four frequencies to serve Cape Town from its Atlanta hub three times per week with Airbus A350-900. Those flights would also start in Nov-2022.
CAPA's sister publication Routes Online has reported that Delta last served Cape Town in 2009, and during 2020 and 2021 the airline attempted to launch an Atlanta-Johannnesburg-Cape Town service, but could not gain approval for the routing from South Africa's government.
The two airlines trade legal barbs over the merits of their proposals
The vying by Delta and United for the frequencies has erupted into a tit-for-tat argument through legal filings, with each operator attempting to convince regulators that their proposed service is the best option.
United attempted to broker a truce, proposing that each airline obtain two of the remaining four frequencies, but Delta dismissed the proposal.
United has argued that its proposed service pattern would bring it closer to offering daily service between the US and Cape Town. It offers flights to Cape Town from Newark on Wednesday/Friday/Saturday and it aims to operate service from Dulles to Cape Town on Thursday/Saturday/Monday.
The airline also believes that connecting the US capital to the legislative capital at Cape Town would facilitate the strengthening of government and trade relations between the two countries by "improving the convenience of travel for government, academic, and industry representatives of both countries and enhancing the opportunities for more frequent face to face contact".
Delta has argued that granting United its request would cement United's advantage on US-Cape Town flights. The Atlanta-based airline told the DoT that the maths was simple: United has been awarded 10 frequencies for South Africa service and Delta has only seven. Thus, approving Delta's proposal would enhance competition and consumer benefits.
Data from CAPA and OAG show that as of late Aug-2022 United is projected to have a 58% seat share between the US and South Africa, compared with Delta's share of approximately 42%.
US to South Africa: one-way seats from late Aug-2019 to late Aug-2022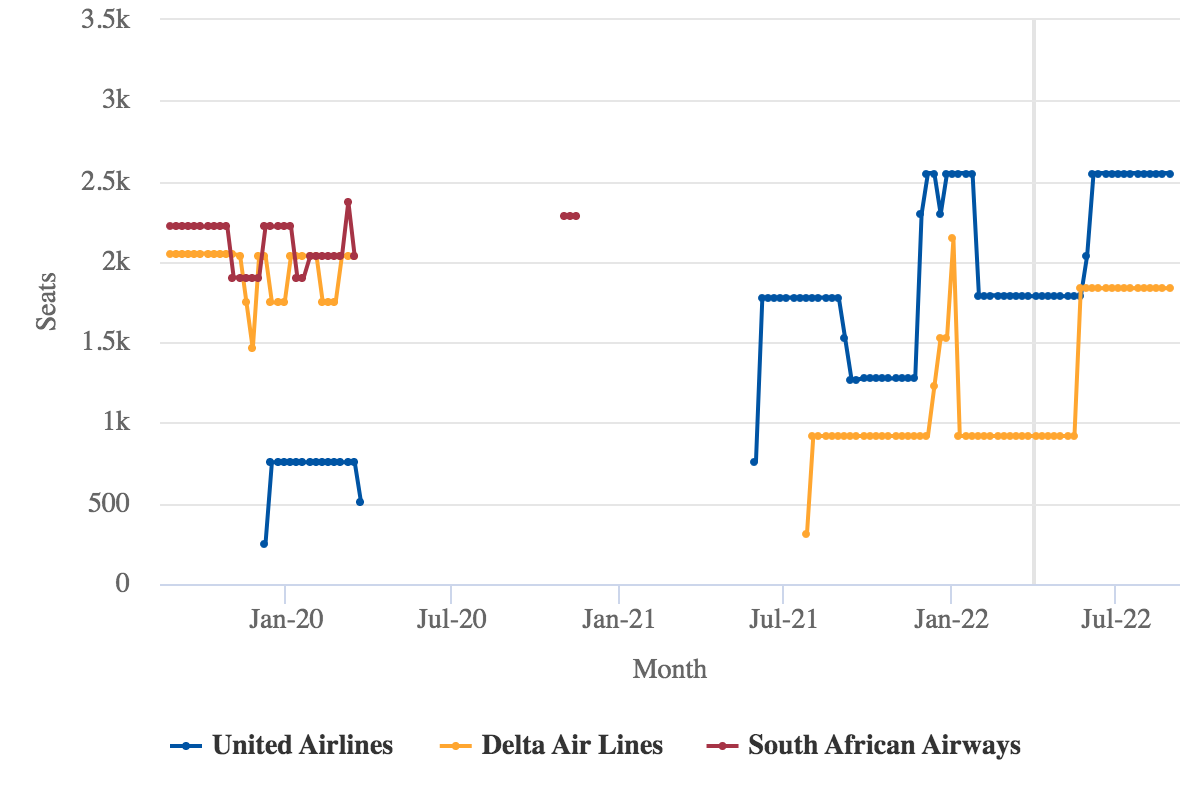 Obviously those numbers reflect current market dynamics, and United has argued to the DoT that obtaining its requested frequencies would enhance competition against Delta, which United said had been the incumbent US airline to Africa for almost two decades.
United has built its presence in Africa during the past couple of years, noting after it inaugurated flights to Cape Town in 2019 that the market quickly became one of its marquee international routes. The airline launched flights to Johannesburg from Newark in 2021, along with Dulles to Accra and Lagos in that same year.
After the wrangling in formal proceedings, United has now requested that the DoT institute an airline selection proceeding to consider the competing applications.
Why has a battle erupted on US-Africa service?
As Delta and United trade legal barbs over the merits of their respective proposals to serve Cape Town, the obvious question is why is the rhetoric heating up when long haul demand is just starting to rebound?
There could be clues in a response by Cape Town Air Access to United's plans to resume flights from Newark to Cape Town in Jun-2022, which is ahead of the airline's previous schedule. With year-round service, the group said the route could generate R523 million worth of direct tourism spend within the first year of operation.
Additionally, Cape Town Air Access explained that historically the US has been Cape Town's third largest mark for International travel, with two-way passenger volumes between the US and Cape Town equalling 213,000 passengers in 2019.
Beyond tourism, the economic benefits of the route, and the added capacity by United, will increase total air cargo trade value between the US and Cape Town. "In 2021 this value stood at R7.5 billion, making the US the top trading partner for air freight value in 2021", said Cape Town Air Access.
Cargo has been particularly strong for United during the COVID-19 pandemic. For the full year 2021, United's cargo revenue of USD2.3 billion was 90% higher than in 2019.
The outcome of this latest route tussle is somewhat unpredictable
It is yet to be determined what US regulators will rule in the contest between Delta and United in securing frequencies to serve Cape Town.
But the back and forth certainly shows that airlines are thinking beyond the short term to reach into emerging markets that they deem could be lucrative over the medium to long term, and the outcome will be interesting to watch.