Cyprus Airways: investor needed as market share evaporates
Analysis
The government of Cyprus is currently assessing the expressions of interest it has received in connection with its controlling stake in the national carrier Cyprus Airways. The highest profile potential bidders are Ryanair and Aegean Airlines, who also happen to be the two most profitable European airlines in the first six months of calendar 2014.
For the outside observer, up to date analysis of Cyprus Airways' financial performance is not possible. Nevertheless, our previous analysis suggested that its unit costs were higher than those of its main competitors in the Cyprus market and it is unlikely that this situation has fundamentally changed. Moreover, its share of seats at its Larnaca base and in Cyprus overall is continuing to flow to others.
The sale of the airline could be its last chance of survival, although potential buyers may be tempted to use the process to find out as much as possible about an ailing competitor before letting it wither.
See related report: Europe's airlines: 1H2014 results season shows improving trend, but cost reduction is the key driver
Cyprus Airways' restructuring has meant further capacity cuts
Since our last detailed CAPA analysis report on Cyprus Airways in Sep-2013, it has not reported any updates to its financial statements or traffic figures. It last reported (preliminary) financial results for 2012, announced in Mar-2013. It had been loss making since 2009 and had a negative equity balance at the last reported balance sheet date of Dec-2011. It seems likely that it has continued to be loss making.
See related report: Cyprus Airways: an airline in need of the turnaround of all turnarounds
Part of its restructuring plan has been to reduce capacity, as we noted in our Sep-2013 report. Seat capacity figures from CAPA's databases show that it remains on a capacity reduction path, after cutting ASKs by almost 18% in 2012.
Share of Larnaca seat capacity down to 17% from 28% over past year
Cyprus Airways' share of scheduled seats at its Larnaca Airport hub has decreased considerably over the past year. According to OAG, its share of seats is now 17% (week of 15-Sep-2014), compared with a share of 28% a year ago (using data from Innovata for the week of 16-Sep-2013). It is still the number one carrier at the airport, but Transaero and Thomas Cook Airlines have aggressively grown their presence, while Emirates and British Airways have also increased their share.
Larnaca International Airport seat capacity by airline: Sep-2013 and Sep-2014

Greece is its most important destination country, but domestic Greek routes dropped
There are no domestic routes in Cyprus and Cyprus Airways' capacity is now all in international markets, having ceased operating routes in the Greek domestic market.
Greece remains by some distance its most important destination country, accounting for 39% of its seat capacity (week of 15-Sep-2014). This reflects ethnic and cultural ties between Greece and the Greek-speaking part of Cyprus in which Cyprus Airways is based.
Relative to Sep-2013, its seat capacity to Greece, Lebanon and Netherlands is stable, but it has made significant cuts to its capacity in other countries (see chart below). It has withdrawn from Italy and Qatar.
Cyprus Airways international seat capacity by country: Sep-2013 and Sep-2014

LCC competition continues to grow
Data from CAPA and OAG show that competition from LCCs in Cyprus is growing. The share of scheduled international seat capacity in Cyprus taken by low-cost carriers is almost 40% for 2014 so far, up from 37.9% in 2013 and less than 1% in 2006. LCCs' share has seen particularly strong growth since the global financial crisis, coinciding with Cyprus Airways' period of capacity reduction (see chart below).
The biggest LCC by seat numbers at Larnaca, Monarch Airlines, has only a 6% share, but the airport is also served by easyJet, Wizz Air, Jet2.com, Blue Air, NIKI and Norwegian. Ryanair's Cyprus operations are based at Paphos Airport, located around 130 kilometres from Larnaca on Cyprus' west coast. easyJet, Jet2.com and Monarch also operate from Paphos, where LCCs have more than two thirds of seats.
LCC Capacity Share (%) of Total Seats in Cyprus: 2001 - 2014*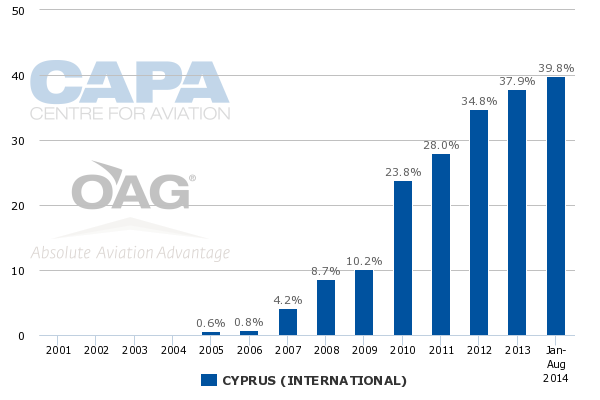 Cyprus Airways has a falling share of a shrinking scheduled market
The Cyprus market for scheduled seats has shrunk considerably over the past two years and Cyprus Airways has shrunk more than the market. In summer 2014, the total number of scheduled seats operating between Larnaca and Europe roughly halved relative to summer 2012. The number of scheduled seats operated in this market by Cyprus Airways in summer 2014 is only around one third of its summer 2012 number.
The Larnaca-Middle East market has fallen by around one third, while Cyprus Airways has reduced its seat numbers to the Middle East by more than a half over the past two years.
Cyprus Airways' share of scheduled seats in Cyprus as a whole is just 9% in Sep-2014, down from 13% in Sep-2013. Moreover, the market has become more fragmented, with the top 15 airlines accounting for 81% of seats, compared with 85% one year ago. If we exclude market leader Pegasus and the other Turkish carriers, since Turkey is a market not open to Cyprus Airways, then it is the leader in the remaining market. However, its share of this market has fallen from 19% to 12%, just ahead of Transaero. Ryanair has 9%, easyJet 8% and Aegean Airlines 7% of seats in this Cyprus-excluding-Turkey market.
Top 15 airlines in Cyprus ranked by share of scheduled seats: Sep-2013 and Sep-2014
Share of total seats

Share of seats excl Turkish carriers

Rank by Sep-14 seats

Airline

Sep-13

Sep-14

Change (ppts)

Sep-13

Sep-14

Change (ppts)

1

16%

15%

-1.2

-

-

-

2

13%

9%

-4.2

19%

12%

-6.3

3

6%

8%

2.0

9%

12%

2.8

4

7%

8%

0.3

-

-

-

5

7%

6%

-1.1

10%

9%

-1.7

6

6%

6%

-0.3

9%

8%

-0.5

7

4%

5%

1.0

-

-

-

8

5%

5%

0.1

7%

7%

0.1

9

6%

4%

-1.3

8%

6%

-1.9

10

0%

3%

3.3

0%

5%

4.7

11

2%

3%

0.4

3%

4%

0.6

12

4%

2%

-1.2

5%

4%

-1.8

13

3%

2%

-0.1

4%

4%

-0.2

14

2%

2%

0.1

3%

3%

0.2

15

2%

2%

-0.3

-

-

-

All others

17%

19%

23%

27%
Note that charter carriers play an important role in the Cyprus market and that the falling number of scheduled seats does not fully represent the market for air travel to/from the island. Data on charter traffic are scarce, but figures for passenger numbers at Paphos and Larnaca show that the combined traffic at the two airports fell by 4% in 2013, but have increased by 5% in 2014 so far (year to Jul-2014). This suggests that CY's share of the total market has fallen even more sharply.
Larnaca to Athens remains Cyprus Airways' biggest route by number of seats, although its seat capacity on the route is down 9% from a year ago. The importance of Greece to the airline is further highlighted by the significant increased in its seat capacity to Thessaloniki over the past year. Thessaloniki is now its third biggest routes (it was its seventh biggest a year ago). Cyprus Airways has maintained its capacity to Beirut and Amsterdam, but cut the number of seats on the other routes in its top 10.
Cyprus Airways top 10 international routes by seats: Sep-2013 and Sep-2014

Number one on five of its top 10 city pairs, but dropped to number three on London route
Cyprus Airways is the biggest airline by number of seats on five of its top 10 routes from Larnaca: Tel Aviv, Thessaloniki, Amsterdam, Paris and Zurich. It has lost its number one position on Larnaca to London (its biggest route in Western Europe), which has also seen the entry of Thomas Cook Airlines and Norwegian. It is now ranked third on the London route (treated as a city pair). If Cyprus is treated as a single market, Cyprus Airways ranks fifth by number of seats to/from London, behind easyJet, BA, Monarch and Ryanair.
Cyprus Airways is the number two carrier behind Aegean on Larnaca-Athens, by far its most important route. It retains its monopoly to Amsterdam and to Paris (although Transavia operates the latter route in peak summer only), but ceased operating its other monopoly route to Rome in Oct-2013. It has slipped from number two to number four on the city pair Larnaca to Moscow, following the entry of Transaero and S7.
Cyprus Airways market position on its top 10 routes by seats: 8-Sep-2014 to 14-Sep-2014
| Route | Cyprus Airways rank by seats on city pair | Competitors on city pair |
| --- | --- | --- |
| Larnaca-Athens | 2 | 1 Aegean, 2 Cyprus Airways |
| Larnaca-Tel Aviv | 1 | |
| Larnaca-Thessaloniki | 1 | 1 Cyprus Airways, 2 Aegean |
| Larnaca-London Heathrow | 3 | 1 British Airways (LHR and LGW), 2 Monarch (LGW and LTN), 3 Cyprus Airways, 4 easyJet (LGW), 5 Thomas Cook Airlines (LGW), 6 Norwegian (LGW) |
| Larnaca-Beirut | 2 | |
| Larnaca-Amsterdam | 1 | Monopoly |
| Larnaca-Moscow Sheremetyevo | 4 | 1 Transaero (SVO, VKO, DME), 2 Aeroflot, 3 S7 (DME), 4 Cyprus Airways |
| Larnaca-Paris CDG | 1 | Monopoly (2 Transavia Jul, Aug only) |
| Larnaca-Zurich | 1 | 1 Cyprus Airways, 2 Helvetic Airways (summer only) |
| Larnaca-Frankfurt | 2 | 1 Lufthansa, 2 Cyprus Airways |
European state aid investigation
Cyprus Airways' management continues to experience considerable change at the top. Makis Constantinides, previously Permanent Secretary at the Ministry of Communications and Works, replaced Tony Antoniou as chairman of the Board of Directors and Marinos Kallis became vice president of the Board in Aug-2014.
The European Commission is investigating whether Cyprus' plans to provide Cyprus Airways with a EUR102 million capital injection comply with European Union (EU) state aid rules. In Dec-2013, Cyprus notified the Commission of a EUR103 million aid package to restructure the airline under a restructuring plan running from 2012 to 2017. The plan includes a EUR31 million capital injection granted in 2012, a EUR63 million conversion of debt into equity and EUR9 million to cover the deficit of the company's Provident Fund, a benefit scheme for employees (excluding pilots).
The Commission questioned whether the restructuring plan could ensure Cyprus Airways' long-term viability and whether the proposed capacity reduction through the cancellation of routes is sufficient to compensate for the "distortions of competition created by the state support". The Commission already approved restructuring aid for Cyprus Airways in 2007 and, according to EU rules, restructuring or rescue aid may only be provided once in a 10 year period.
Heathrow slot sale has met with union opposition
As part of its restructuring, and to improve the airline's cash resources, Cyprus Airways sold its two London Heathrow slots to Middle East Airlines (reportedly for EUR6.3 million) and American Airlines earlier this year. The Pancrypian Airline Pilots Union (PASYPI) expressed its opposition to the slot sale: "Selling the timeslot would be catastrophic for the company's future" (Cyprus Mail, 03-Jun-2014).
However, Cyprus Airways' then chairman Tony Antoniou defended the decision: "Over the past year we have applied the strategic plan submitted to the European Commission, which we will be called to document to the Commission soon. The conversion of assets, like time slots, to cash will strengthen the company's viability and should be appreciated by the Commission."
London route switched to Stansted
Following the Heathrow slot sales, Cyprus Airways will operate its daily service to London Stansted from 14-Sep-2014. Whereas its Heathrow service departed Larnaca at 10.05, returning from Heathrow at 14.25, its Stansted service will depart Larnaca at 08.45 and return from Stansted at 12.45.
This arguably gives it a better outbound departure time, but a worse return slot. Its passengers will also miss out on the opportunity to make long-haul (especially trans-Atlantic) connections from Heathrow.
A buyer is now being sought by Cyprus government
Cyprus Airways' difficult financial situation has prompted Cyprus' Minister of Communications and Works Marios Demetriades to say that the airline will not survive in the medium term "without a strategic investor" (Cyprus Mail, 17-Jul-2014). Moreover, Minister of Finance Harris Georgiades has warned that the airline will face bankruptcy if the European Commission fails to approve its restructuring plan and state aid given in 2012 and 2013 (Cyprus Mail, 05-Jul-2014).
Mr Georgiades said: "The company has sold all of its assets, its operational cost is still high, employees have to be let go, wages have to be cut and the rescue plan is yet to be fully implemented. And all that could be in vain if the EU Commission rejects the proposed restructuring plan. In that case, the company will close down."
The government of Cyprus is seeking a buyer for its 93.67% stake in Cyprus Airways. It has been reported to have received 15 expressions of interest, of which more than half are non-binding, including from Ryanair and Aegean Airlines.
Aegean Airlines met with representatives of Cyprus' Government on 25-Aug-2014, to discuss the carrier's business plan for Cyprus Airways (The Cyprus Weekly/Cyprus Mail, 25-Aug-2014). Aegean is reportedly planning to use Larnaca as its second base after Athens.
Athens to Larnaca is Aegean's biggest international route and Larnaca is its number seven airport and its largest outside Greece (ranked by seat capacity for the week of 8-Sep-2014, source: OAG). The combination of Aegean and Cyprus Airways would lead to a monopoly on Athens-Larnaca and so the competition authorities may require some kind of remedies such as slot divestment to allow competitors on the route.
See related report: Aegean Airlines Group benefits from Olympic Air integration with a strong 1H2014 profit increase
Ryanair is "not particularly interested"
Ryanair CEO Michael O'Leary has said his airline is "not particularly interested" in acquiring Cyprus Airways, despite submitting an expression of interest, according to (The Telegraph, 28-Jul-2014). Mr O'Leary said: "We have submitted an expression of interest principally because the Cyprus government asked us to submit it. We are not particularly interested in Cyprus Airways, which has huge legacy issues and historic losses. We would however be interested in growing our business in Cyprus and we would be very keen to base additional aircraft there."
Mr O'Leary added: "If we are going to put aircraft in Cyprus, we would need to have a Cypriot air operator's certificate (AOC) so we could go from Cyprus into some of the Middle Eastern destinations… But there are other places where it would make sense to have some flights; from say Cyprus to places like Israel, the Lebanon, Egypt, Russia. So we're looking at a Cypriot AOC."
Ryanair flies from its Cyprus base at Paphos to the Greek cities of Athens, Chania, Patrai, and Thessaloniki, in addition to Brussels South Charleroi, London Stansted, Kaunas, Manchester and Stockholm Skavsta. Ryanair has not favoured acquisitions historically, preferring to grow organically, but acquiring Cyprus Airways would be a short cut to growth in Cyprus.
Buying Cyprus Airways would make Ryanair the biggest airline in the country and add Larnaca to its Paphos base in Cyprus. It would also help with Ryanair's expansion in Greece and prevent its main Greek rival Aegean from making the acquisition. Mr O'Leary's comments suggest that Ryanair would not be prepared to pay more than a nominal sum and that the deal would not matter too much to it either way.
Sale process may be Cyprus Airways' last hope
As noted earlier, Cyprus Airways has not reported financial results since 2012 and so we are not able to update our estimate of its unit costs. Nevertheless, it is unlikely that its CASK will have changed enormously.
As we noted in our Sep-2013 report on the carrier, we estimate that its CASK compares favourably with the bigger legacy carrier groups in Europe, but still puts it at a unit cost disadvantage compared with the LCCs and even some of the more efficient legacy carriers.
See related report:
Cyprus Airways: an airline in need of the turnaround of all turnarounds
In particular, Cyprus Airways has a significantly higher CASK than all of its biggest competitors: Aegean, Monarch, easyJet and Ryanair (Transaero is also a major competitor, but we do not currently have a CASK estimate for it).
Its restructuring is not enough to sustain Cyprus Airways and the sale to a strategic investor looks to be its only hope of longer term survival. If this turns out to be either of Ryanair or Aegean, Cyprus Airways may face a brighter future.