Copenhagen Airport's Gulf and Asian growth: 615-seat Emirates A380, soon Cathay?
Analysis
Copenhagen is the largest international hub for SAS, which accounts for 42% of seat capacity at the airport. SAS is a member of Star Alliance, whose members have just over half – 52% – of all seat capacity at the airport. The next largest grouping with 38% of capacity is unaligned carriers, comprised mostly of LCCs. Norwegian, easyJet and Ryanair are the second, third and fourth largest carriers respectively at Copenhagen.
Copenhagen airport seat capacity share by alliance: 28-Sep-2015 to 4-Oct-2015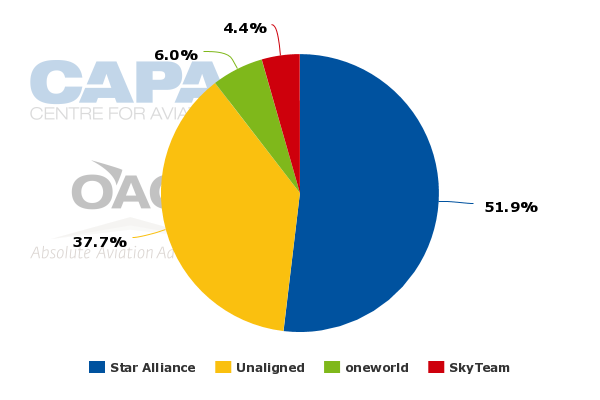 The dominance of Star's SAS poses some challenges to long haul carriers looking to serve Copenhagen and gain onwards connectivity. Although right after SAS in terms of size there are three independent airlines, they are all LCCs and have not (yet, at least) hybridised to pursue partnerships.
Copenhagen's long haul services are mostly from SAS or Star Alliance partners (Air Canada, Thai, United and Singapore Airlines). Norwegian has a number of routes, but benefits from its large short haul base there. Other long-haul carriers – Beijing Capital Airlines, Delta (seasonal), Emirates and Qatar Airways – largely depend on Copenhagen as the start/end point with limited or no connections.
A prospective service from Cathay Pacific would make the route the longest into Copenhagen by a carrier in an alliance other than Star. It would be longer than Beijing Capital's services from Beijing and Hangzhou, but these are effectively charters sold almost entirely ex-China.
90% of Copenhagen's seat capacity is within Europe. North America is the largest non-European region, representing approximately 4% of seats. Northeast and Southeast Asia comprise 3% while the Middle East is 2.2%. The Middle East capacity is mostly flown by Emirates and Qatar. Their capacity is mainly supplied to provide transits to Southeast Asia. This effectively makes Asia the largest non-European market for Copenhagen.
Copenhagen Kastrup Airport international seat capacity by region: 28-Sep-2015 to 4-Oct-2015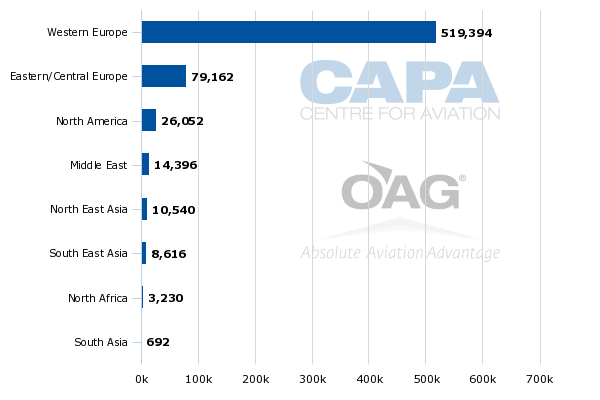 Copenhagen Kastrup Airport international seat capacity share by region: 28-Sep-2015 to 4-Oct-2015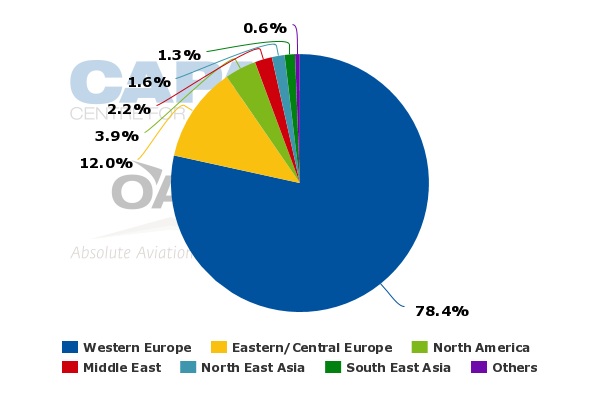 The North American region will see growth as new routes are added from SAS and Norwegian. Copenhagen is the main long haul base for SAS, while Norwegian, which has most of its long-haul routes from Oslo, is building up its long haul presence in Copenhagen.
See related report: SAS & Norwegian Air set to take market share in Scandinavia-US market as United and Delta pull out
Copenhagen was the first long haul destination for Beijing Capital Airlines, affiliated with the large HNA Group. Beijing Capital Airlines took A330s to embark on long haul flying. Chinese carriers have tended to prefer Australia as a long haul market. Denmark receives no service from Chinese carriers, further making Beijing Capital's long haul programme unique. The flights to Copenhagen – from Beijing and Hangzhou – were effectively charters with once weekly service from each Chinese city. The programme runs for two months (due to end later in Oct-2015) and Copenhagen expects Beijing Capital will return in 2016 but for a longer charter season. Copenhagen worked with a Chinese travel company to link up the service.
Beijing Capital has announced plans for three A330s and a regulatory notice said it planned to launch Beijing-Helsinki service by the end of 2015, but there has been no update on this. The airline has however announced service to the Maldives for the Chinese winter.
Copenhagen was the largest un-served European destination from Chinese carriers. However SAS has services from Copenhagen to Beijing and Shanghai.
See related reports:
A more significant Asian development for Copenhagen could be non-stop Hong Kong-Copenhagen service from Cathay Pacific. Hong Kong is Copenhagen's largest un-served Asian destination. Cathay has flagged Copenhagen as a potential destination for A350s, which begin deliveries from Feb-2016. Cathay is embarking on European expansion after large growth in North America.
New European destinations (or re-launches) for Cathay include Manchester, Zurich and Dusseldorf. In Sep-2015 Cathay announced Madrid service from Jun-2016, and Copenhagen believes this means a Cathay service to Copenhagen is unlikely in 2016.
Cathay would have the longest route into Copenhagen from an airline that is not locally based or a member of the Star Alliance. Cathay would need to largely rely on Copenhagen as the end market. From the other end, Copenhagen expects substantial connections from mainland China, Taiwan, Vietnam and the Philippines. The latter would be mostly low-yielding and accommodate the Filipinos who work on cruise ships that depart from Copenhagen. Copenhagen is one of Europe's largest cruise points.
See related report: Cathay Pacific 1H2015: 'Our commitment is unwavering.' But the market is not returning loyalty
SAS in Sep-2015 launched service to Hong Kong. SAS' Asian routes had been served exclusively from Copenhagen since 2009, but SAS launched Hong Kong from Stockholm.
As CAPA previously noted, Copenhagen had larger traffic volumes to Hong Kong, but departing from Stockholm could be an attempt to limit traffic going on Finnair via Helsinki. With SAS serving Beijing and Shanghai from Copenhagen, Stockholm allows it to diversify its greater China network.
See related report: SAS Scandinavian Airlines vs Finnair: the original Europe-Asia Nordic leader tries to fight back
Copenhagen is the first destination for the 615-seat Emirates A380. Qatar responds with double daily flights
Middle East capacity from Copenhagen will expand approximately 43% towards the end of 2015. Leading the charge is Emirates up-gauging from a 777-300ER to two-class, 615-seat A380 on its single daily service. This will increase its capacity by approximately two thirds. For three years Qatar Airways had more seat capacity into Copenhagen than Emirates. Emirates' service would otherwise have given it a very significant size lead over Qatar.
Emirates' up-gauging was planned around Apr-2015 and in Aug-2015 Qatar Airways disclosed plans to increase Copenhagen from 11 weekly flights to 14, all on the 787. This will give Qatar 508 daily seats to Copenhagen compared to Emirates' 615 (21% more). Qatar will be able to offer double daily services, but the benefits of increased frequency may be limited since the market is heavily leisure and mostly travels to Southeast Asia.
Copenhagen Kastrup Airport to Middle East (seats per week, one way): 19-Sep-2011 to 30-Nov-2015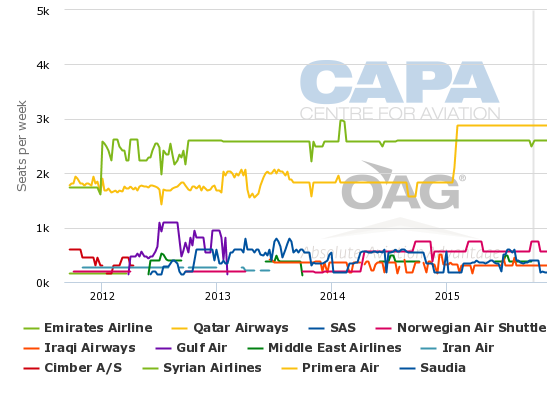 Copenhagen is the first destination for Emirates two-class A380. This version features no first class and a reduced business cabin size. Economy seats replace both first and business seats. It will be the largest A380 configuration in use, with no other carrier known to be planning a larger version. Emirates is planning to take 15 two-class A380s. Bangkok has also been announced for the variant while London Gatwick was planned but scrapped.
The aircraft were designed for more leisure markets where premium demand was light but economy demand heavy. Copenhagen had to make infrastructure changes to accommodate the largest A380. While Copenhagen does not boast this, many in the industry see the two-class A380 first going to Copenhagen as Emirates rewarding the airport for making infrastructure changes.
Gulf growth adds to Southeast Asian competition for Norwegian, Thai and SIA
It is a balance to create new growth without negative impacts to competitors. In the case of Gulf carriers at Copenhagen, their traffic is heavily reliant on Southeast Asian connections, and largely to Thailand. (Emirates also sees sizeable traffic to Dubai as an alternative holiday point whereas Qatar carries far less traffic terminating at Doha for a holiday.)
This Southeast Asia and, in particular Thailand, focus creates a potential conflict with Copenhagen's non-stop Southeast Asian services. But Copenhagen believes there is still a balance and opportunity for more growth. It is reassured by Thai Airways telling the airport that Copenhagen is the carrier's best performing European service. Thai operates nine weekly 777 flights in peak periods. Singapore Airlines has a five times weekly 777-200ER service to Copenhagen, and Copenhagen expects to go daily in the medium-term. SIA has a JV with SAS, but the benefits are unclear since SAS no longer operates to Southeast Asia.
SAS' exit (it served only Bangkok in Southeast Asia) reflects the fact that not all expansion is pure growth. SAS' decrease was quickly followed by Singapore Airlines increasing capacity. Two years later Norwegian entered the Bangkok market, and of course there has been the Gulf carrier growth in addition to transits via other hubs.
Copenhagen Kastrup Airport to Southeast East (seats per week, one way): 19-Sep-2011 to 20-Mar-2016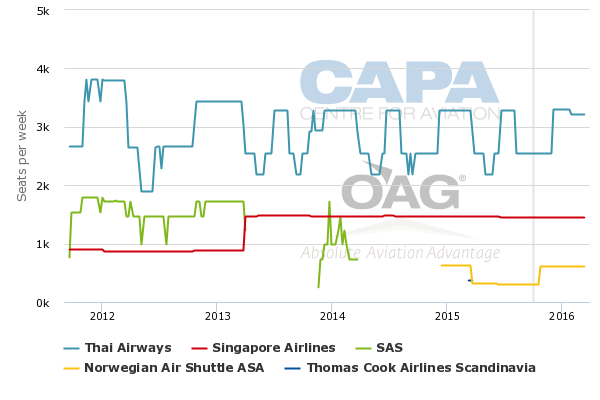 Etihad does not yet serve Scandinavia
The surge in Gulf capacity in Copenhagen is the result of only Emirates and Qatar; Etihad does not serve Copenhagen – or any Scandinavian point, for that matter. Etihad service to Scandinavia is now only a matter of time. An Etihad-SAS partnership formed in Nov-2015 is largely viewed as Etihad laying the groundwork for local codeshares and feed for when it does launch service.
SAS' increasing focus on North America and Northeast Asia makes its network complementary with Etihad, whose Asian strength is in Southeast Asia, not Northeast Asia. As CAPA previously wrote:
In Nov-2014 SAS formed a codeshare agreement with Etihad. It is a curious alliance since SAS does not fly to a Gulf hub and Etihad does not serve Scandinavia. Qatar entered in 2007 and Emirates in 2011, unique for Emirates to follow another Gulf carrier in the market. Emirates has quickly spooled up and in 2015 is due to have a larger presence in the market than Qatar.

They each serve Copenhagen, Oslo and Stockholm.

The partnership covers traffic between Scandinavia and Abu Dhabi. This is a small market for SAS but larger for Etihad since Etihad can connect its global network to Scandinavia. SAS has little to connect to Abu Dhabi and could find more value partnering beyond Abu Dhabi. The components of the partnership, as they were announced, are:

SAS place its SK code on Etihad Airways' flights between Abu Dhabi and Brussels, Düsseldorf, Frankfurt, Rome, Milan, Zurich, Geneva and London Heathrow
Etihad Airways plac

ing

its EY code on SAS-operated flights from

those

European destinations, excluding Brussels, onto SAS' hubs in Copenhagen, Oslo, and Stockholm
EY also being placed on flights beyond Copenhagen to Billund and Ålesund; beyond Oslo to Ålesund, Kristiansand, Trondheim, and Stavanger; and beyond Stockholm to Umeå, Sundsvall, and Östersund

Eventual Etihad service to Scandinavia will increase its proposition since it will not have to rely on two-stops. For destinations beyond gateway Scandinavian cities, a connecting flight will be shorter than if connecting to SAS at another European gateway.

Depending how the relationship evolves, SAS could look to partner beyond Abu Dhabi. Etihad is a logical partner in some ways as SAS explores opportunities (and perhaps ultimately awaits a new buyer, which may change partnerships). Emirates is a large competitor while Qatar is in oneworld (SAS is in Star). Etihad is not in an alliance and overall is smaller than Emirates and Qatar. This provides comfort to airlines weary of fast Gulf growth.
See related report: SAS Scandinavian Airlines vs Finnair: the original Europe-Asia Nordic leader tries to fight back
One other new service Copenhagen hoped to attract is Air India. Denmark is not linked to India although Gulf carriers do provide one-stop options. In Jul-2014 Air India told Live Mint that it was considering Delhi-Madrid-Barcelona and Delhi-Amsterdam-Copenhagen routes.
Air India has been growing in Europe following overall improvements (although more are necessary) and efficiency gains from having a mostly 787 long haul fleet. Air India launched a Milan-Rome tagged service in Europe (as well a Melbourne and Sydney service in Australia). The Barcelona-Madrid service has not eventuated, and neither has Amsterdam service, on its own or tagged with another city.
Air India's network approach tends to serve a route three times weekly with the 787 on a triangular routing, often delivering at best a weak compromise. This is starting to change, with Melbourne and Sydney de-linked as a triangular operation. At Copenhagen, Air India could benefit from the presence of SAS. Air India joined SAS in the Star Alliance in 2014.
However CAPA's research indicates that the Amsterdam/Copenhagen and Barcelona/Madrid services are no longer in Air India's route development plans.
Copenhagen Airport is a melting pot for the intersection of Gulf carriers, impacts to legacy airlines and new Chinese markets
Copenhagen Airport long ago recovered from the Global Financial Crisis. The airport carried 25.6 million passengers in 2014, up 6.5% from 2013. Traffic in 8M2015 is up 1.5%.
Europeans account for the vast majority of passengers, but long haul is growing – especially from Asia and the Middle East.
Copenhagen Kastrup Airport annual passenger numbers: 2008-2014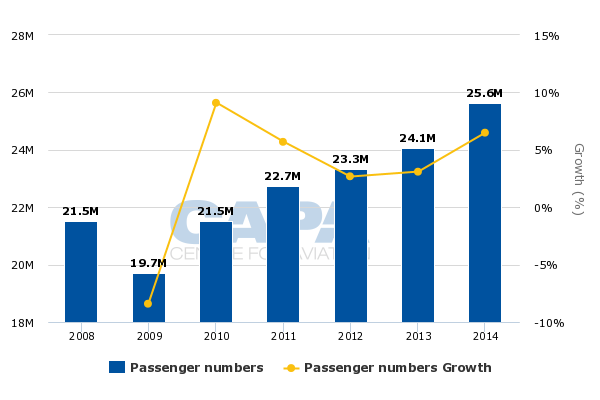 Individually, the growth out of Asia and Middle East is largely unlinked but collectively touches on the industry's themes of competition between carriers, new markets emerging from Asia, the impact from a single aligned carrier on prospective new long-haul services, and the impact to incumbents from expanding Gulf carriers.
So far, the pie is growing, as long haul links increase. And growth can often spawn more growth.