Copa expects no slowdown in expansion or profitability
Copa remains confident it can continue to post industry-leading profit margins and expand rapidly despite the rise in fuel prices. The Panama-based airline group has reported 1Q2011 net income of USD94 million and operating income of USD101 million, representing improvements of 123% and 29% compared with 1Q2010. The group's operating margin for 1Q2011 reached 23.9%, which once again puts Copa at the top of the entire global airline industry, as yield improvements offset increases in fuel costs.
In 1Q2010, Copa's operating margin was 23% and for the full year it was 18.6%. Copa says it is maintaining previous guidance for an operating margin of 18% to 20% for the full year 2011. During the entire global downturn, Copa continued to pursue growth and remained highly profitable, posting industry-leading annual operating margins in the 17% to 18% range in 2008 and 2009.
Copa operating profit margin: 1Q2008 to 1Q2011
Copa.png" alt="" width="460" height="298" />
Unlike other carriers in the Americas, Copa is not slowing down capacity growth in response to the recent rise of oil prices. Copa still expects year-over-year capacity growth (ASKs) of 20% for 2011. For 1Q2011, capacity was up 25% but revenues were also up 25% to USD423 million.
In fact, Copa has further accelerated capacity growth for 2012 and 2013 by committing to four additional aircraft. The airline group reveals that in 1Q2011 it signed agreements to lease four new B737-800s, one of which will be delivered in 2H2012 and the other three in 2013.
Copa, which placed orders in Nov-2010 for 22 additional B737-800s, has been going to the leasing market to supplement its growing fleet of owned aircraft. Copa in 4Q2010 committed to leasing five additional B737-800s for delivery in 2011 and five additional B737-800s for delivery in 2012. The additional leases resulted in Copa adjusting its 2011 fleet plan from five to 10 additional aircraft and its 2012 fleet plan from four to nine additional aircraft.
With the four new leases signed in 1Q2011, Copa's 2012 fleet plan has been adjusted again to include 10 additional aircraft (12 new B737-800s will be delivered while two B737-700s are slated to exit the fleet). The revised 2013 fleet plan now includes seven additional aircraft for a total of 90 aircraft by the end of 2013 – 46 B737-800s, 18 B737-700s and 26 E190s.
"We feel the moment is right to step up our growth plan," Copa CEO Pedro Heilbron told analysts during a conference call to discuss 1Q2011 earnings. He points to strong GDP growth throughout Latin America, which is expected to be roughly 5% this year. Economic growth is even higher in Panama, which has emerged as a regional centre for banking and other industries, driven in part by the Panama Canal expansion project.
Of the 10 B737-800s being added in 2011, Copa took two aircraft in 1Q2011. Copa says it has since added a third B737-800s, giving the group a fleet of 20 B737-700s, 20 B737-800s and 26 E190s. The remaining seven B737-800s that are to be added this year will all be delivered in 2H2011. According to Ascend and CAPA data, Copa currently has outstanding orders for 49 B737-800s.
Copa and Copa Colombia current fleet in service and on order
| Aircraft Type | In Service | Order |
| --- | --- | --- |
| B737 (NG) | 40 | 49 |
| Embraer 190 | 26 | |
| Grand Total | 66 | 49 |
Copa fleet plan to 2013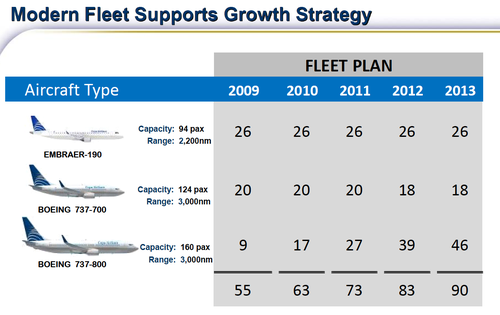 With the recently delivered batch of new B737-800s, Copa is increasing frequencies to several existing destinations and launching four new routes from its Panama City hub – Nassau in the Bahamas, Toronto in Canada and Brasilia and Porto Alegre in Brazil (which will give Copa six destinations in Brazil). The new flights are being added in June-2011 to coincide with the addition of two new banks at Copa's hub at Panama City Tocumen Airport. Copa says the new banks, which will give it a total of six, will result in more and better timed connections throughout the Americas.
Copa is already by far the largest carrier in the growing intra-Latin America market. The four new destinations will give Copa an even 50 spokes from Panama City, far more than any other Latin American hub. Copa has been able to build up the largest intra-Latin American operation by pursuing a one-hub strategy, compared to the multi-hub strategies of rivals LAN and Avianca-TACA.
Tocumen is also less congested than most other major airports in Latin America. The airport is now in the final stages of an expansion project which will add 12 jet bridges for a total of 34. Tocumen already has more jet bridges than competing Latin American hubs.
Copa was originally expecting to gain access to the 12 additional gates in May-2011, ahead of the launch of the two new banks. But Heilbron now says the expansion project will not be completed until 4Q2011. However, Copa has the space to add the banks without the additional gates.
Heilbron reports that demand in Panama and across the region remains very healthy. In 1Q2011 yields were up 4% despite an 8% increase in average length of haul. Copa is now projecting a 13% increase in RASM for the full year. Higher fuel surcharges will drive some of the RASM increase but base fares are also up. Heilbron says "demand looks very strong across the board" and there currently is a "healthy revenue environment".
April traffic "extremely strong"
Heilbron also called Copa's traffic figures for Apr-2011 "extremely strong". Copa has just reported 27% growth in RPKs for Apr-2011 on 24% higher capacity. As a result, Copa's load factor improved 2 percentage points to 75.5%. For the 1Q2011, Copa's load factor was 77.4%, which represented a 2.6 percentage point drop from 1Q2010 as RPKs were up 21% while capacity was up 25%.
Copa CFO Victor Vial reiterated that there is "strong demand throughout the region" and "great momentum" on the demand side. As a result he says Copa is not having any trouble offsetting the recent increase in fuel costs. Unit costs excluding fuel, which were down 10% in 1Q2011, are also expected to continue tracking lower for the remainder of the year.
Excluding special items net income for 1Q2011 was USD82 million, a 31% increase over 1Q2010. This marks the first time Copa has reported its profits based on IFRS standards. It previously reported based on GAAP standards and decided to shift to IFRS in part because all its peers already report in IFRS, making comparisons easier. As a result of the accounting change Copa is restating its 2009 and 2010 results.
The restated results show an even higher net profit and net profit margin, due primarily to changes in the way maintenance is accounted for. For 2010, Copa is now showing a 16.2% net margin based on IFRS compared to the original 15% net margin reported based on GAAP. Operating income and net margins are not impacted by the change.
Copa: Transition to IFRS - Impact on net income