Copa Airlines sees positive trends for Latin American demand. A full recovery remains distant
Analysis
Panama's Copa Airlines is joining other Latin American airlines in expressing cautious optimism that some negative trends in the region are starting to stabilise, after a tough couple of years of challenging economic conditions. Copa, in particular, believes that weakened demand is beginning to improve, driven in part by some currencies within Latin America that are strengthening against the USD.

For 2H2016 Copa is continuing to post stronger close-in bookings that began to improve in 2Q2016, which is a positive sign for airlines operating in the region. Some of the upswing in bookings stems from capacity reductions by most Latin American airlines, to right-size supply with demand. That capacity discipline should continue in 2017, since all of the region's major airline groups have worked to defer aircraft deliveries in order to maintain a proper supply-demand balance and lower capex commitments.

Similarly to other Latin American airline groups, Copa has worked to shore up its balance sheet to withstand overall economic weakness in many of its markets. Its cash balances at the end of 2Q2016 increased from the first quarter, and its leverage was the best among some of Latin America's publicly traded airlines.
A bounce in close-in bookings improves Copa's outlook for 2H2016
At the end of 2Q2016 the deterioration of Copa's yields and unit revenues had sequentially improved since 4Q2015. At the end of 1Q2016 Copa was warning of a tough second quarter – typically a period of low demand for Latin American airlines. But capacity reductions and currency stabilisation helped to bolster close-in bookings for 2Q2016.
Currency depreciation in two of Copa's weakest markets – Brazil and Colombia – stabilised year-on-year in 2Q2016. At the end of 2Q2016 Brazil's BRL had fallen 14% agains the USD, which is a marked improvement from the 37% depreciation that occurred in 2015. The Colombian COP depreciated 17% against the USD at the end of 2Q2016. In mid-Aug-2015 the COP depreciated 53% against the USD year-on-year.
Yield and unit revenue performance for Copa: 4Q2015 to 2Q2016
| | | |
| --- | --- | --- |
| Quarter | Year-on-year yield decrease | Year-on-year RASM decrease |
| 4Q2015 | 20.4% | 20.2% |
| 1Q2016 | 15.4% | 13.9% |
| 2Q2016 | 14% | 7.7% |
See related reports:
Other airlines operating in South America have also encountered some signs of stabilisation.
Avianca Holdings has cited positive trends in its largest domestic market, Colombia, and easing of yield pressure on routes between Colombia and North America. LATAM Airlines Group posted a sold sequential improvement in unit revenues on its Brazilian domestic routes from 1Q2016 to 2Q2016.
Although yields and unit revenues for most Latin American airlines will remain negative for FY2016, the sequential improvement in the levels of degradation is an encouraging sign.
Capacity discipline should be a mainstay in Latin America throughout 2017
Copa's load factors grew 4.9ppt year-on-year during 2Q2016 to 78.3%, as its capacity increased 0.4% and traffic – 6%. The company has revised its load factor forecast for 2016 by 3ppt to 79%.
Copa believes the higher load factors should offset some of the continued yield weakness in its markets, driven in part by capacity growth in 2016 that should fall in a range of plus or minus 2%. At one point Copa planned 3% capacity expansion for 2016.

Copa's 2016 capacity projections are higher than those of the LATAM Airlines Group, which estimates its capacity will fall into a range of a 1% decline to growth of 1%. Gol is projecting the largest decrease of up to 8%; but the bulk of Gol's capacity is deployed into the still-weak Brazilian domestic market.
Some of Avianca's 3% to 5% growth is driven by the lapping of introducing flights from Bogotá to Los Angeles and adding frequencies from Cali and Medellín to Madrid, after visa requirements for Colombians travelling to Europe were eliminated in Dec-2015.
2016 capacity forecasts for Copa Holdings, Avianca Holdings, LATAM Airlines Group and Gol
| | |
| --- | --- |
| Airline | 2016 capacity forecast |
| Copa | plus/minus 2% |
| Avianca | 3%-5% increase |
| LATAM | plus/minus 1% |
| Gol | 5% to 8% decrease |
See related report: Avianca works to attain its leverage goals by slashing its capex commitments through 2019

The overall capacity discipline exhibited by Latin American airlines should continue into the foreseeable future, given that most of those airlines have worked to defer aircraft deliveries that were scheduled for the next couple of years.

For 2016, Copa is taking delivery of one Boeing 737-800 and plans to return two Embraer 190s for a YE2016 total of 99 aircraft – one less than in 2015. At the beginning of 2016 Copa planned to defer one aircraft delivery for 2017, but the deferrals planned for 2017 have grown throughout 2016. At one point Copa planned six new deliveries during 2017, with lease expirations on six jets in its operating fleet.

In 2Q2016 Copa further adjusted its fleet for 2017, reaching an agreement with Boeing to defer four additional aircraft scheduled for delivery in 2016. This results in two deliveries for the year and the return of one leased aircraft, for net growth of one shell in 2017.
Copa Holdings fleet summary as of 8-Sep-2016
Copa Holdings projected delivery dates of all aircraft families as of 8-Sep-2016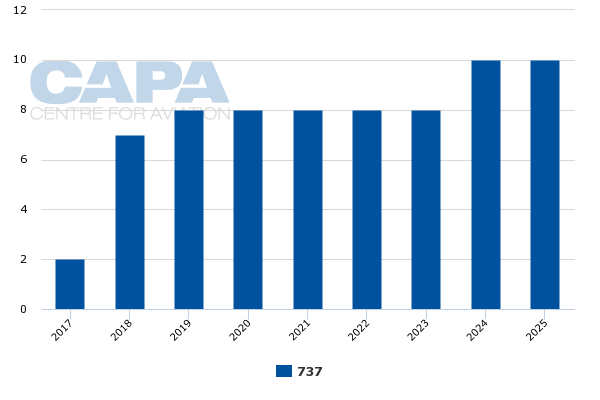 LATAM Airlines Group has also been working to reduce its commitments, slashing its capital commitments in early 2016 from USD7.7 billion for 2018 to USD4.8 billion. In May-2016 LATAM outlined additional plans to reduce its fleet assets by USD2 billion to USD3 billion over the next 18 months – through aircraft sales, redeliveries and renegotiations of future deliveries. Between 2016 and 2018 its total fleet will fall from 329 to 323 aircraft.

See related report: LATAM's merger: despite tough conditions, a watershed moment in Latin American aviation

Avianca Holdings has reached an agreement with Airbus to reschedule 28 aircraft deliveries from 2016 to 2019 in order to cuts its capex by USD2.4 billion. Brazil's Gol, meanwhile, has worked with aircraft lessors and suppliers to reduce its capital commitments, and as a result its fleet will shrink by 15% from YE2015 to YE2016 – to 122 Boeing narrowbodies.
See related report: Gol nears the end of a crucial debt overhaul, but challenges in Brazil still loom large
Copa enjoys better leverage than some rivals workings to cut their debt ratios
The restructure of fleet commitments by some of Latin America's airlines serves two purposes. Firstly, it allows those companies to better match capacity with demand, and secondly, it provides for a significant reduction in capital commitments. The lower capex helps those airlines improve their leverage ratios – one key financial factor as they work to withstand the region's downturn.

At the end of 2Q2016, among Latin America's publicly traded airlines, Copa had the best leverage ratio of 2.8x, whereas Avianca, LATAM and Gol are all working to lower their ratios. Avianca and LATAM, in particular, will always have higher ratios given their widebody requirements for long haul operations.
Leverage ratios for Copa Holdings, Avianca Holdings, LATAM Airlines Group and Gol at the end of 2Q2016
Between the close of the first and second quarters of 2016 Copa bolstered its cash balance by USD41 million to USD765 million, which represents 36% of the company's trailing 12M revenues. Copa's favourable balance sheet, along with Panama's stronger economy (GDP growth projections for 2016 are 6%), should help the airline gain favourable access to credit if the need arises.
Copa ended 2Q2016 with USD1.25 billion in bank debt, of which 60% was fixed. The blended interest rate for the floating and fixed rates was 2.6%.
Stabilising trends result in Copa upping its 2016 margin forecast to double-digit growth
Copa's higher load factors, capacity discipline and favourable unit costs (plus or minus USD6.4 cents for 2016) have resulted in the airline revising its operating margin forecast upwards from 9% to 11%, to 11% to 13%. Factoring out fuel hedge losses, Copa's margins in 2016 could reach 17%. Copa lowered its margin guidance at the end of 1Q2016 to the 9% to 11% range.
If the company had kept that guidance intact, and delivered a 9% operating margin, it would have been the first time that Copa had posted single-digit margins during the last five years. There can be few airlines in the world who would be disappointed with such a result.

The company's revised margin forecast for 2016 is a far cry from the 21% margins that Copa posted in 2011, but double-digit operating margin growth is still highly commendable given that Latin America's economy is likely to contract for the second consecutive year in 2016.
Copa works to ensure it remains on solid footing for the onset of Latin America's recovery
Copa has consistently been one of the strongest financial performers among Latin American - and global - airlines, and although 2016 is still a challenging year, its overall results (although still historically weak for Copa) are on track to outshine those of some competitors.

But similarly to its rivals, Copa and the other Latin American airlines that have faced challenges ushered in by the region's economic downturn still face yield degradation, despite recent positive trends in other important metrics.
Copa understands the challenges that still loom large, and has taken steps to ensure its foundation remains solid until a recovery begins in full force.