Chinese airlines overtake US carriers across the Pacific. The big dilemma: US-China open skies?
Analysis
There were two prominent themes at CAPA's Americas Aviation Summit in Las Vegas on 27/28 Apr-2015. First was the intensity with which some US airlines fear competing with Gulf carriers, which operate under open skies regimes to the US.
Second - and of more lasting importance - was how important North America, and especially the United States, will be to international growth from Chinese airlines. Air China VP and GM North America Dr Zhihang Chi called China-US services "low-hanging fruit" while Hainan Airlines VP Hou Wei said North America was the biggest opportunity for Hainan, which recently announced its intent to take 30 787-9s, mostly for North American service. Although the two themes may seem separate, they are becoming interwoven.
For years the US has wanted open skies, while China, whose airlines were smaller than America's, wanted gradual expansion. But now the tables are turning. In summer 2015 Chinese airlines for the first time in history will be larger than their US counterparts between the US and China. The rapid change of pace and with more growth clearly to come, is giving US airlines cause to reflect on their experience with Gulf carriers.
As a new round of bilateral negotiations approaches, US airlines may no longer favour open skies with China, hoping to keep the liberalisation genie in the bottle and prevent another influx of foreign carrier capacity. Consumers, tourism bodies and the US government may have another fight looming.
Chinese airlines overtake their US peers in China-US market
Chinese airlines have overtaken their US peers, with Air China, China Eastern, China Southern and Hainan Airlines to offer 2,028 weekly US-China flights in the third quarter peak (01-Jul-2015 to 30-Sep-2015), which encompasses the peak northern summer travelling season. This compares to 1,853 flights from US airlines.
Chinese airlines will operate 9.4% more flights and 14.5% more seats than US peers, according to CAPA and OAG data. This may change further: Hainan Airlines has announced a twice-weekly Changsha-Los Angeles service that is not yet bookable and excluded from this data.
This change is a swing from 2011, when US airlines had nearly double the amount of flights to China as Chinese airlines had to the US.
Weekly US-China flights by Chinese and US carriers: Q3, 2005-2015F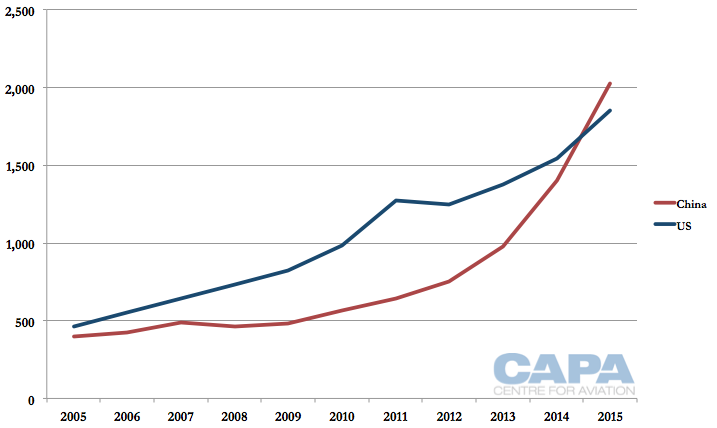 717" height="428" />
Chinese airline capacity is more seasonal than US carriers
There is greater variation with Chinese carriers' capacity than at US carriers. Although the Chinese carriers will be larger than their US counterparts in the peak season, in the shoulder and off-peak seasons Chinese carriers will be smaller. However, in the second half of 2015, Chinese carriers will overall be larger than US carriers.
Weekly US-China flights by Chinese and US carriers: 2015F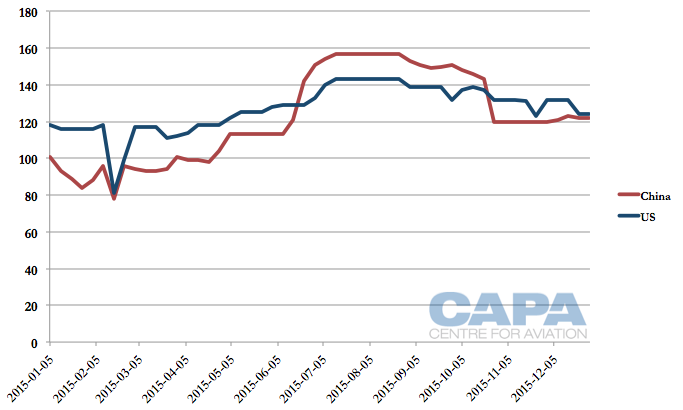 Chinese carriers started 2015 with 90-100 weekly flights but will so far end the year with 122 flights. US carriers started 2015 with about 116 weekly flights but will end with 125-132 weekly flights, a smaller increase than the Chinese carriers are making. Provided Chinese carriers continue their 2015 expansion into 2016, their year-round capacity to the US should be larger than US carriers into China.
Based on Apr-2015 data, US carriers will have 4% more flights year-round than Chinese carriers in 2015, but additional Chinese carrier growth during the year could shift the balance.
Chinese airlines have the larger home market – plus a huge catchment area
Chinese airlines have many potential advantages, including one of size. They come from a market of 1.3 billion people compared to 300 million in the US. Although travel propensity may be larger in the US, it is rapidly increasing in China.
Air China underscores the opportunity: Dr Chi at CAPA's Americas Aviation Summit said 80% of Air China's US-China flights used to come from US point of sale, but this has shifted to 50:50 and Dr Chi expects this go to 60% in favour of China point of sale. The US has stepped up visa processing for Chinese nationals and now offers 10 year visas. The US issued 1.8 million non-immigrant visas in 2014, up from 2013's 1.5 million. Late 2014 and early 2015 visa issuance, after the 10 year visa approval, is reportedly up 68%.
In addition to their home market, Chinese carriers have been growing sixth freedom traffic from China to other parts of Asia, a far more populous catchment area than the US carriers can target beyond the US. Air China even looks at US-China-India traffic flows, and with time Chinese carriers will be much stronger sixth freedom players.
Non-immigrant US visas issues to mainland Chinese nationals: 2003-2014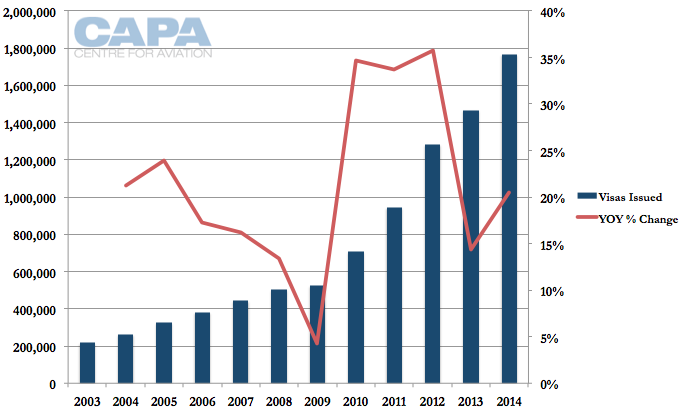 US carrier growth into China appears limited, still focussed on domestic operations, whereas Chinese airlines are ramping up their expansion, with plans for more. Hainan Airlines intends to take 30 787-9s, mostly for North American service, while most of China Eastern's order for 20 777-300ERs will be used to serve North America.
See related reports:
Chinese airlines are forming partnerships outside their alliance - an opportunity for Southwest Airlines?
One measure US airlines take to protect their long-haul markets is to charge partners high interline and codeshare rates for behind gateway flights, thereby giving US carriers an advantage. However, foreign airlines have partially worked around this by partnering with non-alliance US carriers, mostly JetBlue but also Virgin America. These airlines have no long-haul networks of their own and thus have nothing to protect; passengers fed to them are incremental and generally profitable.
Dr Chi said Air China has wanted to partner with Southwest Airlines, but Southwest's legacy IT system cannot even interline and so a partnership has not been established. (This could change as Southwest prepares to cut over to Amadeus.)
An obvious Air China-Southwest pairing would be at Los Angeles, which is Air China's largest North American destination with up to three daily flights. Los Angeles is Southwest's 10th largest hub. Southwest has the fourth-largest domestic network from Los Angeles and could be to foreign airlines serving Los Angeles what JetBlue is to foreign carriers serving New York.
Southwest Airlines top 10 hubs/bases/stations/focus cities ranked on available seat capacity: 27-Apr-2015 to 3-May-2015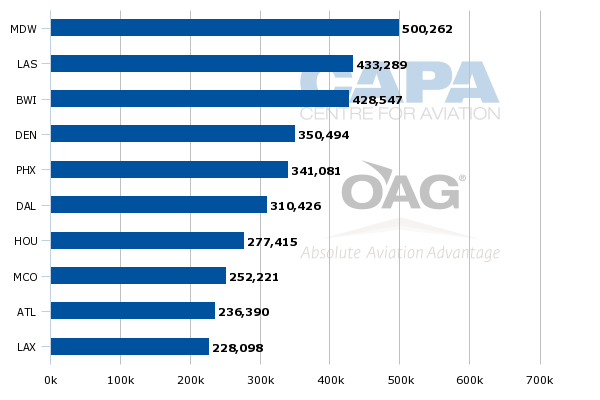 China Eastern has recently established a partnership with Virgin America - one that was not welcomed by Delta.
Could US airlines do the same in China? There are independent carriers like Spring Airlines and Juneyao that want greater interlines and codeshares. Their development however is slower and they may not meet the requirement of US carriers in the near future.
The US has truly independent carriers like Southwest, JetBlue and Virgin America. In China, however, over 75% of domestic capacity is affiliated with one of the country's big four groups: Air China, China Eastern, China Southern and Hainan. This may make it challenging to find partners across the network. Both Spring and Juneyao are based at Shanghai.
The four Chinese airlines serving the US received USD1.1 billion in subsidies in 2014
It is no secret some of the Chinese carriers' long-haul growth is under-written by local Chinese governments. This amounts to more than route launch incentives, which are globally common. Without the subsidies some Chinese carriers' trans-pacific routes would simply not be offered.
The US airlines tout their two years' worth of "forensic investigations" that they claim found USD42 billion in subsidies to Gulf carriers over the years. Far less effort is needed to investigate the four Chinese airlines serving the US: their 2014 annual reports openly state they collectively received over USD1.1 billion of subsidies and grants in 2014.
This includes USD162 million at Air China, USD589 at China Eastern, USD276 million at China Southern and USD82 million at Hainan. Notably, most of the subsidies – USD865 million – were to China Eastern and China Southern, partners with Delta, which is leading the US crusade against Gulf airlines.
Chinese airline subsidies and grants (USD): 2014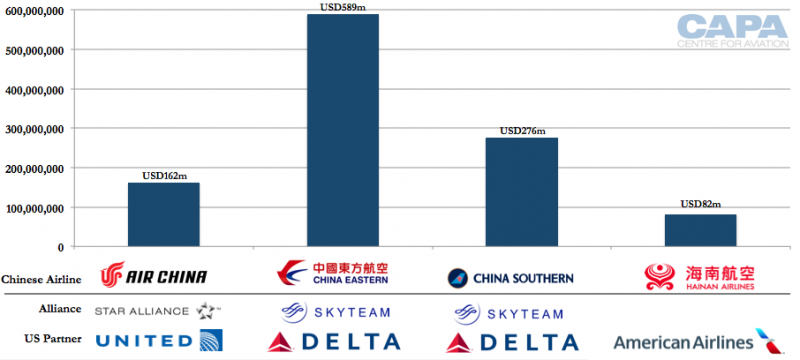 The subsidies and grants are not broken down, with the exception of Hainan, which says 72% of its subsidies received are for unspecified route subsidies. It is unclear how much of the subsidies at any of the airlines directly or indirectly benefit US services. This is also the case with the alleged subsidisation of Gulf carriers.
As is invariably the case, no one comes to the subsidy table with clean hands. It might be asked how much United Airlines receives for its San Francisco-Chengdu service. Chengdu is known to have a large subsidy programme. Likewise, Delta partner Air France reportedly received EUR30,000 for each of its Paris-Wuhan flights before a re-negotiation that resulted in undisclosed terms.
For now, the US airlines overlook these facts but could avail of them if they want to restrict Chinese carrier expansion. Herein lies an emerging dilemma.
Chinese carrier expansion – and open skies – is in the interest of the US
Although there are no public rumblings yet about derailing US-China open skies, it is not difficult to see the American carriers take a similar view to Chinese carriers as to Gulf carriers: they have a geographical, network and cost advantage. They will be bigger than US carriers. The Chinese carriers, unlike their Gulf counterparts, have documented subsidies – and labelled as such – in their own accounts.
Unlike in the Gulf, the US carriers need ample Chinese capacity, but not as much as Chinese carriers need US capacity. The US carriers will also need Chinese partnerships, meaning any effort to slow down the growth of Chinese carriers cannot be as brash as the US airlines have been with their Gulf counterparts.
There is precedent for stalling liberalisation in Asia: American Airlines alleged that Delta Air Lines tried to derail US-Japan open skies as Delta would lose its advantage on the Japanese market it inherited from Northwest Airlines. The US and China committed in 2007 to work towards full liberalisation. Stopping an open skies agreement from forming would be easier than trying to unwind an agreement once in place.
As with the Gulf nations, open skies with China is in the interest of the US. 2.2 million Chinese visited the US in 2014, up 21% from 2013. China is the sixth largest source of visitors for the US, larger than Germany or France.
Chinese visitors (mainland only) to the US: 2008-2014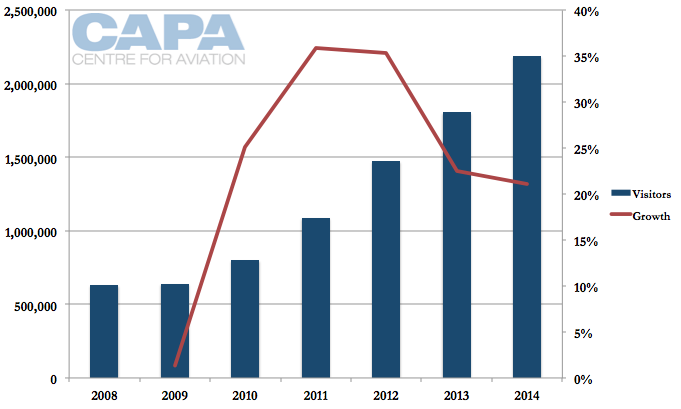 Ironically, it was the Chinese airlines that rebuffed open skies requests from US, fearing Chinese airlines would be overrun by US carriers. Now the emerging concern is the opposite. Open skies between the US and China would permit ATI JVs.
Delta has spoken of one day having a JV in China, but the road is a long one. Relationships between Chinese and US carriers can be tense and half-hearted. Both sides might consider whether
long-term independence is better than partnerships. Delta may want a hub in Shanghai, but Shanghai's China Eastern may not feel the same way.
See related report: Delta Air Lines' Shanghai hub plans: replicating the Amsterdam-KLM relationship will be difficult
Each side of the US-China market may want to have the market to itself. But the potentially larger competitors are sixth freedom intermediaries in Hong Kong, Japan and Korea. Various factors – geography, costs, bilaterals – could limit the ability of intermediaries to grow China-US traffic flows. But they will certainly look to exploit any weakness in China-US airline relations.
The US carriers could ride their (inevitably temporary) wave of anti-Gulf campaigning and seek to restrict Chinese airline expansion. Alternatively, a defeat in their anti-Gulf lobbying could bring them back to earth and explore how to be better partners with Chinese airlines.
As China and the US run out of frequencies for growth and need a new round of air talks, the US government will undoubtedly remember that whatever the rhetoric from its airlines, increased visitors to the US make an economic contribution far larger than whatever airline they take. The US government has supported open skies and logic suggest they will inevitably continue to do so.
For the major US airlines, notably Delta, the great dilemma is whether to promote open skies so that the airline's highly favoured metal neutral JVs can be authorised (possible only under open skies), or to pre-empt future growth and revert to a more protectionist stance.
Despite the status quo-supportive stance being taken over the Gulf carriers, support for open skies with China - subsidy and all - surely seems a no brainer.