China's airlines surge on fuel cost cut - ANA punished by hedges
China Southern Airlines and China Eastern Airlines enjoyed strong share price gains on 19-Dec-08, as the government announced plans to cut the price of jet fuel by a third from 01-Jan-09 - offset somewhat by significant cuts in domestic fuel surcharges later this week. The surcharge reduction should help to continue the recovery in the price sensitive domestic market that started in Sep-08.
China Eastern's shares also gained on separate reports the airline's parent was seeking a further USD1.5 billion in government support. A request of this magnitude could ring some alarm bells in Beijing and add to the voices calling for sweeping structural change to the airline sector next year.
Asia Pacific selected airlines daily share price movements (% change): 19-Dec-08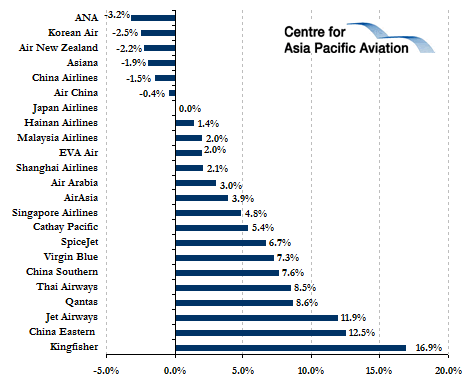 Meanwhile, All Nippon Airways' (ANA) wrong-way bets on fuel surcharges are hitting the airline's earnings and share price (falling another 3.2% on Friday). Bloomberg estimates the carrier has hedged 75% of its fuel needs for the fiscal year starting 01-Apr-09 at an average of USD111.73 per barrel. The airline's efficiency plans are also being hampered by delays to the B787 programme. ANA was originally scheduled to receive its first B787 in May this year, but will now have to wait until 1Q10 for the first aircraft - if Boeing's fourth revision to the programme sticks.