China Southern slips, Cathay Pacific, Qantas and Singapore Airlines also down
Shares in All Nippon Airways remained stable on Thursday (02-Jul-09), after falling the most in more than six years on the Tokyo Stock Exchange on Wednesday (01-Jul-09).
The stabilisation of the carrier's share price, despite a fall in the overall market, suggest investors are supportive with the carrier's plan to raise more than JPY150 billion (USD1.6 billion) in a public share offering. Rival Japan Airlines' shares gained 1.6% yesterday. JAL President, Haruka Nishimatsu, yesterday stated that the carrier would present aggressive cost-cutting plan to the Japanese Government shortly, as part of requirements to secure approximately JPY100 billion (USD1 billion) in emergency loans.
Asia Pacific selected airlines daily share price movements (% change): 02-Jul-09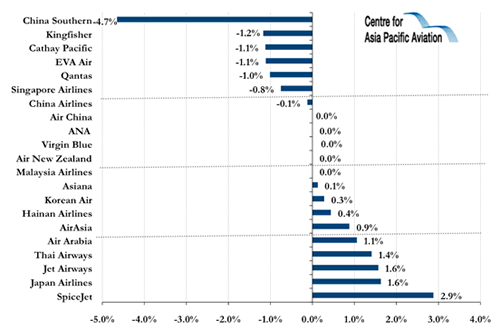 SpiceJet shares also gained yesterday, up 2.9%. The carrier, which reported a loss before tax of USD1.5 million in 1Q2009, stated it expects to breakeven in the current financial year, as it benefits from a reversal of foreign currency losses, increased passenger traffic and a general reduction in capacity in the Indian domestic market. SpiceJet Director, Ajay Singh, added that LCCs are doing better than network carriers in the current environment, with the carrier seeing a "definite shift" in traffic towards LCCs, which currently account for over 50% of the domestic Indian market.
China Southern shares fell 4.7% yesterday, with the carrier to suffer the most from China's recent upward price adjustment (+22%) in jet fuel prices, as it purchases 80% of its jet fuel in the domestic market. The move is likely to increase the carrier's fuel expenses by USD483-570 million.
NYMEX and Brent oil prices fell back notably on Thursday, to USD66.73/barrel and USD66.66/barrel, respectively.