China Southern Airlines expects 1H loss as capacity outstrips demand amid economy re-ordering
Analysis
China Southern Airlines on 11-Jul-2014 projected a rare first half net loss of RMB0.9-1.1 billion (USD145-177 million). This adds to growing weak performance in Asia's airline sector. With China sneezing, is the rest of Asia in for a cold? While there may be more declining performances across greater China and broader Asia, they are not inherently linked. Thai Airways is suffering from its national political environment and Malaysia Airlines from weakened traffic following its MH370 tragedy (which even Singapore Airlines is feeling as Chinese tourists avoid Southeast Asia).
China Southern's challenges are equally nuanced. While shifting exchange rates continue to impact the carrier, its core business has been caught in China's economic re-ordering. Economic growth is slowing but China Southern is having to adhere to state-led capacity growth plans established when the economy was stronger. China Southern has been unable to revise capacity at its discretion, resulting in over-supply that is causing load factors and yields to decline. A net 1H2014 loss follows 1H2013's net profit but operating loss, further highlighting shakiness.
China Southern is Asia's largest domestic airline and with highest domestic exposure
China Southern is Asia's largest airline and the largest in the domestic market. China Southern in the first five months of 2014 had 42% more domestic ASKs than China Eastern and more than double that of Air China (airline).
Air China Limited, which comprises subsidiaries including Shenzhen Airlines, only releases group-level statistics; for Air China (airline) we use OAG capacity figures.
Air China has a large international network while its subsidiaries are primarily domestic operators, distorting group-level statistics.
Air China airline/Limited, China Eastern and China Southern domestic ASKs (millions): Jan to May-2014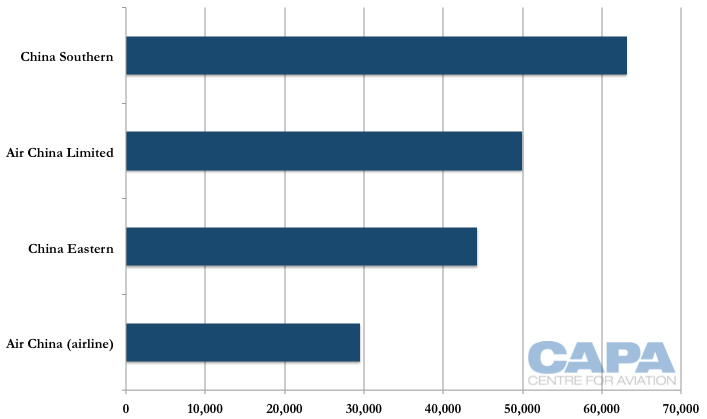 707" height="419" />
Not only is China Southern the largest domestic carrier by ASKs, a higher proportion of its ASKs than peers are in the domestic market. Approximately 77% of China Southern's system ASKs are in the domestic market compared to 69% for China Eastern and 65% for Air China Limited.
Air China Limited, China Eastern and China Southern capacity share by market: Jan to May-2014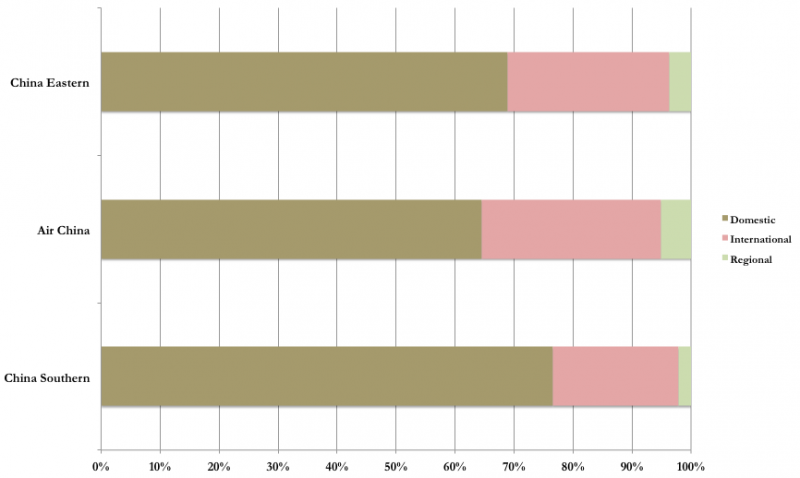 China Southern's domestic exposure makes it a favourite for investors, as China Southern effectively becomes a proxy for the domestic market's strength.
On 06-Jul-2014 the Singapore Government, through its investment arm GIC Private, increased its stake in China Southern Airlines to 5.04%, purchasing 2.03 million shares (0.07%) at HKD2.413 (USD0.3) per share.
Capacity continues to outstrip demand amid economic changes
In a filing to the Hong Kong stock exchange on 11-Jul-2014, China Southern attributed its projected net loss due to the yuan's depreciation and "the slower growth of Chinese economy". For the latter, the slowing Chinese economy is a factor, but more directly the problem has been Chinese carriers' inability to respond to the slowing economy.
Whereas airlines in other markets would cut capacity and even defer aircraft, state-run carriers have limited say, their capacity output largely driven by the state in five-year plans, the last of which was drafted when economic conditions were more robust. The economic growth forecast was tightly linked to Chinese carriers' growth plans, but now despite the older, higher economic growth projections being reduced, airline capacity is difficult to adjust, a condition that state-run carriers bemoan.
China Eastern and China Southern have released traffic figures through Jun-2014, but Air China only through May-2014.
Growth is continuing, but at varying levels. China Southern's 1H2014 domestic growth of 10% was slightly ahead of 1H2013's 9.3%. China Eastern's 1H2014 domestic growth of 7.0% is slower than 1H2013's 9.8%.
Air China Limited, China Eastern and China Southern year-on-year domestic ASK growth: 2014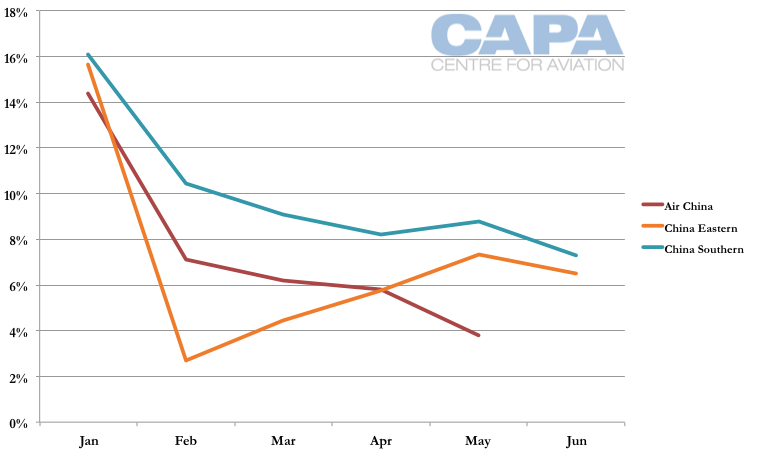 757" height="452" />
Capacity pressure further challenged by declining yields
The growth is still impressive and fast, but is ahead of demand. This is not immediately apparent by looking only at load factors. China Southern's 1H2014 domestic load factor declined 1.2% to 80.0% after 1H2013's load factor was flat. China Eastern's load factor for 1H2014 was up 0.7ppt to 80.3%. Its 1H2013 load factor was also essentially flat at 79.5%.
Air China Limited's load factor in the first five months of 2014 is flat at 82.4%. In the first five months of 2013, Air China's load factor improved 1.2ppt to 82.3%.
Load factors improved in Jan-2014 and Feb-2014 during the extremely popular (Lunar) New Year travelling season. But for the rest of the first half, performance was up and down. One cautiously upbeat note is Air China reporting higher load factor growth in May-2014 than Apr-2014.
China Eastern and China Southern experienced month-on-month declines. Many carriers were surprised by the weak performance of Jun-2014, suggesting that interest in watching World Cup games possibly impacted the inclination to travel domestically.
Air China Limited, China Eastern and China Southern year-on-year domestic load factor changes (ppt): 2014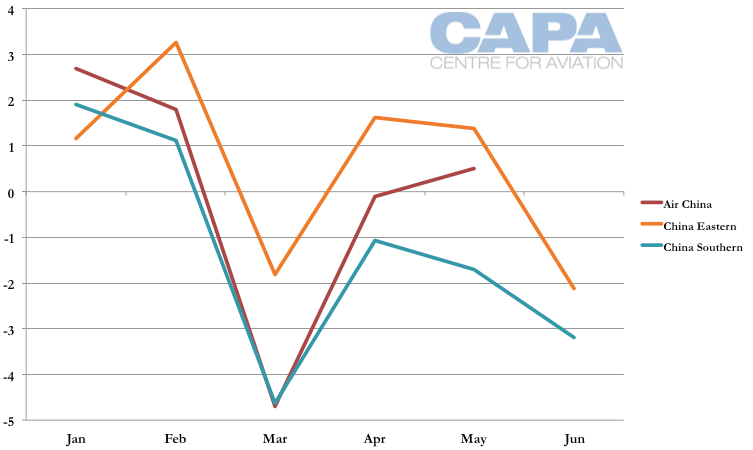 It is yields where the blood shows, meaning that airlines have heavily discounted tickets in order to absorb capacity at similar load factor levels. Yield information for 2014 is not yet available for the carriers, but previous months probably point the direction. In 2013, China Southern's domestic yields declined by 11.6%, a level the carrier minced no words about by describing yields as having "deteriorated".
Some of this decline is offset by a change in tax accounting, but only partially. Air China's yields declined by 10% while China Eastern suffered a decline in domestic yields of 7.3% – an amount made more extreme considering China Eastern was not impacted by the accounting change in 2013.
The first 1H net loss in over five years for China Southern
China Southern's projected RMB0.9-1.1 billion (USD145-177 million) net loss compares to a net profit of CNY344 million (USD55 million) in 1H2013 – weak, but still in the black, if barely. That net profit was less than a 1% margin. A net loss in 1H2014 would be China Southern's first in over five years.
Air China, China Eastern and China Southern 1H net profit (CNY 000s): 2008-2013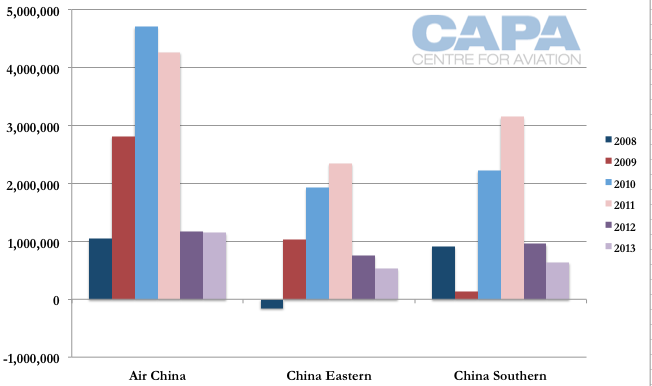 In announcing its profit warning China Southern did not state what its operating result would be.
Poorer operating results have been more common, with China Southern incurring one in 1H2013. All three of the "Big 3" incurred operating losses in 1H2008.
Air China, China Eastern and China Southern 1H operating profit (CNY 000s): 2008-2013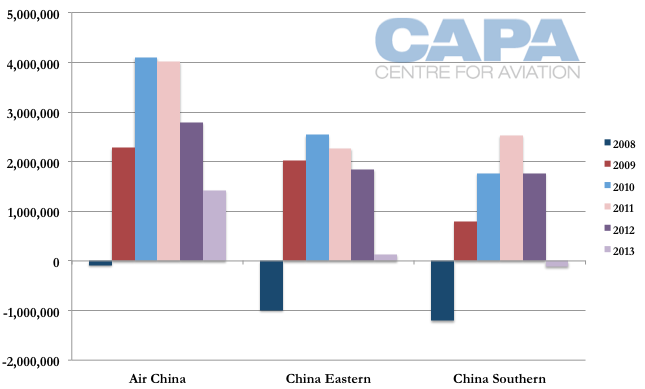 A bright outlook remains, but there is work to be done
China Southern's profit warning comes amid some gloom in Asian aviation, from aircraft deferrals to financial losses. But in China the fundamentals remain strong even if the short term poses large strategic questions. One such question is how airlines will adjust to weakened premium demand that is likely here to stay, and was never particularly strong to begin with. China Southern's premium load factor in 2013 was under 50%; more seats flew empty than filled. And then of course there are the new airlines – with high ambition – being ushered in under China's reforms.
One of the few LCC start-ups is Jiu Yuan/9 Air, which plans to call Guangzhou home, delivering China Southern direct LCC competition in its home base. 9 Air will be a fraction of China Southern's size and will face its own challenges, but on overlapping routes China Southern will feel pressure, and this will build as competition increases.
See related reports:
China Southern's long-haul network is little changed from the status quo. Management has flagged slowing growth while looking to mature the network, possibly via partnerships. China Southern's A380s remain under-utilised with a high loss contribution while a new 777-300ER long-haul flight to New York JFK to be launched in Aug-2014 comes amid high growth in the US east coast. Although only one flight, and less than daily, it will be the longest in China Southern's network.
See related report: China Southern Airlines to move long-haul focus from growth to sustainability and partnerships
Long-term opportunity however does not excuse short-term action. Some factors, including big ones, are beyond management's control. Although it is not difficult to see a bright future for China Southern, there could first be more pain for China Southern and peers.