China Eastern likely to merge with Shanghai Airlines. China's airline shakeup begins
Over the weekend, the guard changed at China Eastern, the most troubled of all of China's airlines. Following last week's CNY4 billion capital injections to it and China Southern, this signals the first round of restructuring of the country's ailing airline industry.
Chairman of China Southern Airlines, Liu Shaoyong, replaced China Eastern's chairman Li Fenghua. Also, Ma Xulun, Deputy General Manager of state-owned China National Aviation Holding Co. (CNAC), was appointed President, in place of Cao Jianxiong. CNAC also owns Beijing-based Air China.
The likely outcome is that China Eastern will now combine with local competitor, Shanghai Airlines. But there is more happening beneath the surface in Beijing, where the shots are being called, so nothing can be safely forecast at the moment.
Meanwhile, Mr Liu is to be temporarily replaced at China Southern by director, Li Wenxin.
More to come yet
The concept of a clean line between government, politics and major airline management does not yet exist in China (in fact it doesn't in many countries) - especially not when the still-formative industry is in turmoil and several airlines are in financial trouble. There is a lot more to be done to get the country's airline industry to where it needs to be.
Right now, it is in trouble. Passenger traffic figures slumped during the first part of the year. After years of double digit growth, both domestic and international passenger numbers actually went into negative territory, fuelled by a combination of domestic natural and climate-related disasters, Olympics limits on travel, together with an international clamp down on visa issuance.
The fall is dramatic.
Chinese carriers' annual passenger and cargo volume growth: 2005 to YTD Oct-08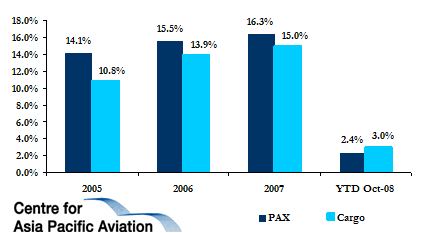 But there is some cause for optimism, as October - and reportedly November's - traffic figures show signs of reviving.
China Mainland carriers' passenger monthly growth: Jan-07 to Oct-08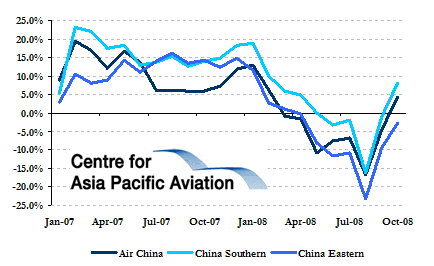 Air freight, which has been much more subdued, is also staging a minor comeback in October.
China Mainland carriers' cargo volume growth: Jan-07 to Oct-08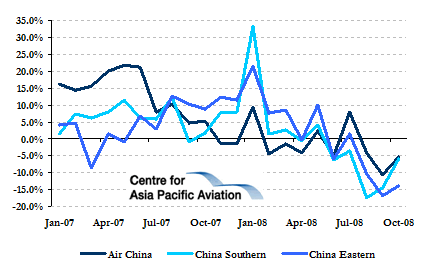 The financial equation is not good
But much of the financial problem is systemic. Even when growth was there, China Eastern in particular was losing money. And, as fuel prices mounted over the last year, disarray spread. Currency oscillations have also recently added to the fire.
Paradoxically, it can be hard to make money in a market where growth is consistently in the 15-20% range. Matching capacity to demand is a difficult task at the best of times, but this hyper-growth puts significant pressures on management.
Despite the reasonably profitable operations of Air China (linked too to Cathay Pacific and Dragonair), it too has slipped into negative territory in the past few months.
Chinese carriers' operating profit margin and net profit margin: 9 months to 30-Sep-08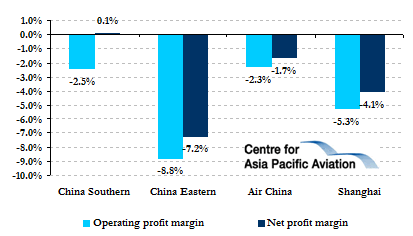 And management, not always highly experienced and subjected to heavy political overlays, has had to deal with several other difficulties. Bedding down the enforced mergers of the late 1990s and the early years of this century has taken time.
The mergers, based around three regional airlines and their respective hubs in Beijing, Shanghai and Guangzhou, were not done on a commercial basis, rather geo-political; the airlines concerned brought with them a cacophony of aircraft types and, as always, the need for an enormously complex rearrangement of political and commercial leadership.
Will a Shanghai merger help China Eastern?
Neither of the Shanghai-based airlines has distinguished itself financially and the usual questions remain about the value of merging two airlines which are already each under duress.
Normally there might also be some prospect of reducing capacity in these circumstances and so improving yields. But, since both Shanghai Airports are open to "hub" operation by both Air China and China Southern, they will eye any opportunity to expand to fill any gaps that may open up - unless of course Beijing goes the step further and limits route expansion for a period.
But this in turn would cause suffering at the major airports of Pudong and Hongqiao. These are already carrying much of the burden of the downturn (while medium size airports are actually growing strongly).
China mainland airports annual passenger growth: 2005 to YTD Oct-08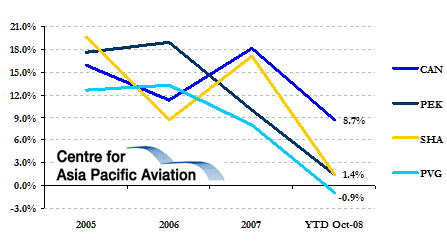 Fine tuning an entire aviation industry while a global economic hurricane is raging is not an easy task. As Beijing itself continues to adjust its own internal decision making team, the task is not made any simpler.
The chances are that this merger - if that is in fact the intention - will not in fact resolve many issues. Hopefully it will not simply lead to a bigger airline, with even bigger losses.