China aviation: CAPA's airline and airport review 2012: Part 1
Analysis
While the world watched China's Nov-2012 central government leadership change, of greater relevance to air transport will probably be another change: that of the aviation regulator, the Civil Aviation Administration of China (CAAC), which is expected to undergo a high-level turnover within the following six months. Current administrator Li Jiaxiang is expected to retire from the CAAC, possibly to take up a higher office 
in government.
The new leader may well preside over a period of radical redirection of the powerful body – for that is what is needed in today's very different world.
The CAAC is more than the industry's regulator and safety authority on a micro and macro level: it decides exactly what routes local and foreign airlines can fly, sometimes with perplexing outcomes, as well as the general policy of how air transport should develop.
China's domestic market is about half the size of the world's largest domestic market, the United States, but Airbus expects China will overtake the US by 2031.
 It may well happen before that. Boeing forecasts that China will need to take 5,260 commercial aircraft until then – almost one new aircraft every day for the next 19 years.
This extract is Part 1 of a detailed review of China's aviation outlook contained in the October-November issue of Airline Leader, CAPA's journal for aviation CEOs.

If the CAAC's ambit sounds too ambitious for one government office to realise, that's because it is. The CAAC has already divested itself of managing airports (and until 1987 was an airline too), but its portfolio is still too broad for what can be managed effectively and what should be regulated. In China almost everything is centrally planned and achieves the same outcome: at the top, superficial level the gains look impressive, but venturing not too far into details shows a system which is often bloated, deeply inefficient and sometimes seemingly days away from bursting at the seams.
So there is cause for a cautious optimism that those within China favour China Eastern chairman Liu Shaoyong to take the reins at the head of the CAAC. Even so it is unlikely to undergo sweeping reforms towards an open market, a concept China generally still grapples with. But there are a number of areas within which Mr Liu can work and there is no consensus on a viable alternative CAAC administrator.
While Mr Liu may not have the expansive entrepreneurial aspirations of a Tim Clark or Tony Fernandes, or the effective redirection of aviation strategy implemented by a John Borghetti or James Hogan, Mr Liu is perhaps the closest Chinese aviation has to a maverick figure.
Likely incoming CAAC administrator, Liu Shaoyong, China Eastern's current chairman
and the closest Chinese aviation has to a maverick figure
In his previous role at China Southern Mr Liu was involved in the purchase of A380s, which no other mainland carrier – not even flagship Air China – ordered. After being moved to China Eastern to restore 
the ailing carrier to profitability, he recently formed a joint venture with Qantas to establish a division of its low-cost carrier Jetstar in "China-but-not-quite" Hong Kong, the first partnership of its kind for a Chinese carrier and one that is still highly innovative. The result – Jetstar Hong Kong, launching in 2013 – will help China Eastern acquaint itself with the LCC model in familiar but not competing territory, testing the waters to bring the concept to the mainland in due course.
CAAC Administrators
Mr Liu also saw strategic developments on the full-service side, establishing codeshares with Etihad Airways and Hong Kong Airlines. With time they could develop into deeper partnerships, but even for now few Chinese carriers have shown interest in any airline partnership outside of those from marketing alliances (or where there is an equity stake, such as between Air China and Cathay Pacific).
Growth and consolidation focus to give way to improvements in corporate standards
Whereas past CAAC administrators
 have emphasised growth and, more recently, consolidation, the agenda for the next five 
years or so is expected to centre on making the country's airlines smarter competitors as they become savvy and adapt acumen, which Mr
 Lui has helped realise at China Eastern and China Southern. Increased competitiveness will not strictly be through growth or consolidation but a mixture, as airlines expand into new 
and profitable markets while looking at partnerships, especially for less nascent markets.
An open market is unlikely to be high on
 the agenda, allowing airlines their individual fiefdoms, favouring steady growth and
 avoiding the failures inevitably experienced when activities are unconstrained and free market forces set the direction. Beijing is unlikely to warm to foreign (minority) stakes in its carriers; contention still lingers over Singapore Airlines' failed 2007 acquisition of China Eastern. International capacity is being cautiously increased, so China typically has 
a lower share of international markets. Air rights, usually limited, are likely to be expanded gradually, as the benefits of working with foreign carriers become more apparent.
This is the evolutionary vision. The policy direction may involve a steady progression, but far more revolutionary changes are possible.
First is support for greater domestic low-cost carrier activity, which would usher in higher growth and also foreign carriers 
as they look to establish the cross-border joint venture subsidiaries
 now becoming commonplace in the region. China now has a full-scale academic interest in the LCC model, but significant structural and conceptual changes must occur before more domestic LCCs find ground.
The second issue is Air China's eventual increase of its 29.99% stake in Hong Kong's Cathay Pacific, which would trigger a takeover bid. Most Chinese carriers are government-owned, but Air China is the pride of Beijing, and the initial Air China-Cathay equity swap (Cathay owns 19.53% of Air China) sought to align greater China's two flagships.
An Air China takeover would be deeply political, and is seemingly not a question of if but when, how and what the competitive response is. Cathay expects Air China's stake to increase, but Cathay's board 
must first approve a takeover, which is not expected in the short term. The mood from Swire, Cathay's largest shareholder (42%) and source 
of senior management – and almost its entire culture – is a firm commitment to Cathay and aviation in greater China but also seems to be that it will sell, but for a premium. As for accepting a takeover, the time may come when Cathay and Swire know that not cooperating with Beijing will yield unfavourable outcomes, as Hong Kong edges closer to becoming more fully a part of China.

The combined Air China-Cathay Pacific corporate structure that the market prefers, but without deep consideration, would probably be similar to British Airways and Iberia under International Airlines Group (IAG), or LAN and TAM under LATAM. Air China is twice as big as Cathay, but internationally is only half Cathay's size. With the Cathay brand far better established internationally, the identity would remain for a considerable time, although Cathay's mainland and leisure-focused Dragonair brand could more readily be amalgamated.
Another view is that as Air China gains prominence, a more nationalistic China would find it incompatible for its flag to partner with an independent carrier heralding from colonial days. The relationship with Hong Kong is a dynamic one, characterised by constant pushbacks in the democratic SAR against such mainland initiatives as the failed attempt earlier in 2012 to introduce a more nationalist and pro-Beijing curriculum into local schools. Hong Kong's identification with the Cathay brand is high; in an enclave of confused identity – no longer British but not mainland Chinese – Cathay is a rock, a perhaps vestigial company that Hong Kong can still call its own.
A merger of China Eastern and China Southern in response to a combined Air China-Cathay Pacific would have fewer emotional overtones. Merger rumours swirled during the last decade when the two were in financial straits as a result of global conditions. Today a merger would be complex, and such talk has largely evaporated, although the two have grown close, expanding a domestic codeshare arrangement and sharing membership of the SkyTeam alliance.
Global alliance attitudes in China will influence the equilibrium
The global alliances would see implications from a merged Air China-Cathay Pacific, or perhaps even before. Some favour a classically Chinese divide and conquer strategy in which Air China and Cathay remain in their respective Star and oneworld alliances, not easy with Star's membership provisions. But Star would be reluctant to lose its grip in the world's fastest growing market for the sake of its partnership principles. An alternative scenario is Cathay leaving oneworld – with which it has a looser relationship than Air China in Star – and joining Star.
Cathay's exit from oneworld would open the door for fledging rival Hong Kong Airlines 
to join the alliance, although the carrier may consider an independent alliance strategy as Etihad and others have done, allowing it to work with the long list of diverse carriers that have yearned for a local partner but never found traction with previously insular Cathay.
Hong Kong Airlines' part-owner Hainan Airlines, based in the mainland, wishes to join oneworld, but has been rebuffed by Cathay, feeling it fulfills the alliance's mainland presence. Even if that point became moot were Cathay to leave oneworld, Beijing may continue to block Hainan's ascension in a move to protect Air China, China Eastern and China Southern.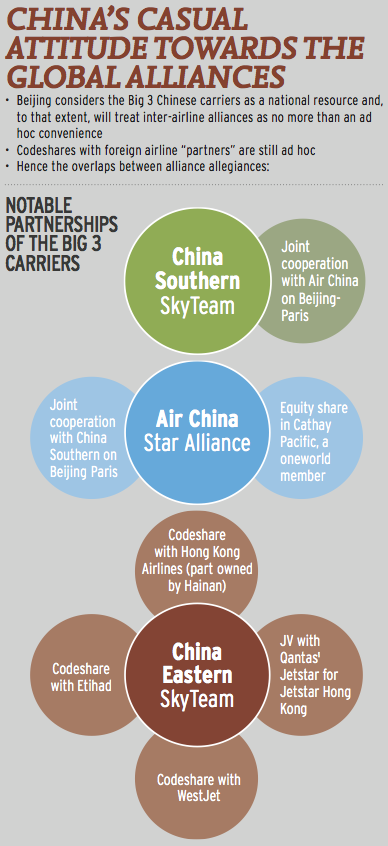 Cutting across any of these global alliance scenarios are both the general Chinese ambivalence towards alliance fidelity, and more importantly the seismic shift in partnership thinking since the Gulf carriers burst in on the three alliances' parties in Oct-2012, forming links with several flag carriers, including alliance leaders Air France, as well as Qatar Airways moving for full membership of oneworld. Each of the Gulf carriers has focused heavy attention on the Chinese market and it is only a matter of time before others follow Etihad and China Eastern's lead.
China's leading airports: 2011 passengers (size of bubble) and growth
In China's other Special Administrative Region of Macau, local carrier Air Macau (which has a concession agreement that gives it a monopoly for another decade) is already partially owned by Air China and after some choppy years, is showing early signs of a turnaround to build tourist traffic at Asia's gambling capital.
Pressure from resort (casino) hotel operators to open up the market to more local competition will intensify in the short term as 10s of thousands of new rooms need to be filled. But the outlook for Macau's aviation is unclear past 2016, when a bridge between Hong Kong and Macau is due to open. Currently stalled by environmental objections, it would be risky to centre the SAR's aviation policy around that development.
These are longer-term considerations, perhaps beyond the tenure of the new CAAC leadership. Of more immediate concern are pressing reforms and developments.
The pace of change will be constructed around a range of ingredients that pitch meeting market demand against ensuring airline profitability
Air China, China Eastern and China Southern in Jul-2012 issued 1H2012 profit warnings on the back of increased fuel costs but also weakening demand in the domestic market, the source of most profits. Capacity increases have outstripped demand, albeit only marginally, although expansion rates have not been at levels seen in recent years.

The carriers made reference to unspecified initiatives later in 2012 that would stimulate demand, assumed to be a government economic stimulus once the leadership transition takes place. A China Southern spokesman remarked in Sep-2012 that "the Chinese Government has given top priority to 'maintain stable growth' and intends to further stabilise economic growth by continuously strengthening the magnitude
 of each controlling policy. It is expected that with the launch and adoption of the policies, the domestic economy growth is likely to be stabilised in the second half of 2012, which in turn stimulates the aviation market."
Prior to the changeover, the Government became something of a lame duck, preoccupied with the intense negotiation that establishes the new leadership line-up. This transition was especially fraught given the scandals surrounding former Chengdu mayor and near cult figure Bo Xilai. The prolonged negotiations and the need to avoid further controversy may slow the implementation of the stimulus, which has become a mainstream discussion and all but guaranteed.
There are deeper concerns about the Chinese economy in a globally weak environment that even a stimulus may not alleviate. Economists looking at growth indicators such as slowing electricity generation suspect official growth figures may be over-stated. Meanwhile, scores of empty apartment buildings raise talk of a bubble burst, and stockpiles of unsold manufactured goods suggest investment is going to waste.
And then there are emerging concerns about bank loans, such as to solar panel companies that are seeing diminished demand and receiving new loans to pay back old
 ones. Although small in the larger picture, it is representative of the centrally controlled Chinese tendency to sweep up problems without addressing the cause.
Airport expansion, while valuable, is also increasing public debt, often with little consideration for profitability
Relevant to aviation is the concern that 
the multitude of gleaming airports being constructed is financed by public debt, and by the CAAC's own admission, many airports
 will not quickly recoup their costs. All of 
this creates uncertainty about China's true economic position and resulting demand, and 
it may not only be the public left in the dark: by failing to address problems, the Government – and in turn airlines – does not have a completely clear account of the economy either.
One potential upside is that the big airlines have a sizeable number of older aircraft, especially narrowbodies, in need of retirement and weakened demand could see new aircraft partially replenish rather than strictly grow fleets. But the carriers are clued in, with China Southern in 2013 to take 57 new aircraft but retire 10. China Eastern in 2H2012 will take 25 aircraft but retire four.
Short-term growth as a response to economic demand is partially beyond the control of the CAAC, although it has the power to limit aircraft acquisition and influence growth. For the remaining facets of Chinese aviation – excluding air traffic control – the CAAC is deeply entrenched in commercial outcomes. Policies will largely centre on the bias of CAAC and its administrator.
Mr Liu could help restore the airline balance within China
The appointment of Mr Liu would bring balance to a CAAC that over the past decade has more generally aligned itself to Air China's interests. Li Jiaxiang was Air China's chairman immediately prior to assuming his current role as the CAAC administrator. His predecessor, the Minister responsible for the CAAC, Yang Yuanyuan, had been a vice president at China Southern but during his tenure at the CAAC occasionally flew 747-400s for Air China.

The CAAC's perceived favouritism of Air China became so accepted that the running joke about enquiring of a route or policy application's status used to be to "ask Air China". Despite China typically limiting international routes to one local carrier, Air China has been allowed
 to make advances, opening or resuming services to Frankfurt, Milan, Paris and Sydney from Shanghai, the hub of China Eastern, which also services those destinations (except Milan). China Eastern has not been able to operate long-haul routes from Beijing alongside Air China.
Restoring the airline balance among the big three

In one of the more intriguing political moves in Chinese aviation, the CAAC had rejected a counter-offer from Air China to take a stake in China Eastern instead of Singapore Airlines, to which Beijing gave tentative blessing. Within days of Mr Li's Dec-2007 appointment, Air China opposed SIA's stake and made a fresh bid. The confusion Air China thus created ultimately saw the deal called off.
Even if Mr Liu pursues a more objective course, there will be imbalances to address.
Given Air China's headstart on the other Big Three airlines, if proposals for a takeover of Cathay were to come to a head during Mr Liu's term, it is exceedingly difficult to see the CAAC opposing the deal, irrespective of the lopsided advantage this would give the Beijing carrier. A more complex question for the CAAC would be how – or perhaps even whether – to introduce corresponding measures to bolster the others.
(Further parts of CAPA's extended analysis of China's aviation system will be published over coming days)