China and Hong Kong air freight softness reflects growing global economic gloom
The spectacular rebound of air freight demand in the world's factory, China, over the past two years has come to an abrupt halt in 1H2011 amid worrying signs for the global economy. Predicting the impact of weakness in Europe and the US on the Chinese and broader Asian economies is a key challenge for analysts at the moment. If the air cargo segment's credentials as a bellwether of underlying economic activity holds true, there could be turbulence ahead.
US consumer confidence slumped in Aug-2011 to the lowest level since the last recession, while business confidence has also declined in recent months. Meanwhile, a small but increasing number of Chinese economists are beginning to predict sharply lower annual growth rates of 6-7% over the next few years, according to a Wall Street Journal report earlier this month.
International airline industry group IATA has forecast that global cargo markets (which Asia dominates) and airline profitability will be squeezed in the second half of 2011, amid slowing economic growth and excess capacity in bulk and container shipping. Air freight volumes peaked in 2Q2010 amid the post-recession replenishment of industries. Growth rates have declined steadily since then, especially within Asia.
Asia Pacific carriers, which account for more than 40% of the worldwide air freight market, saw the steepest year-on-year decline of 5.8% in Jun-2011, but maintained the highest cargo load factor of any region at 58.6%. Total freight (FTKs) declined 3.0% in Jun-2011, with a 3.0% decline in both international and domestic markets. Commenting on the results, IATA CEO and Director General and former Cathay Pacific CEO Tony Tyler commented: "Air cargo continues to be in the doldrums, at 6% below the post-recession peak." July figures could be worse.
The Association of Asia Pacific Airlines (AAPA) meanwhile, reported a 6.0% decline in FTKs in Jun-2011, reflecting the strong base for comparison in 2010 and "some recent moderation in demand for Asian exports."
Cathay Pacific, which became the world's biggest freight airline last year, reported a marked decline in cargo and mail tonnage in Jul-2011, based on combined Cathay Pacific and Dragonair traffic figures. Commenting on the weakness, Cathay's GM Cargo Sales & Marketing James Woodrow said: "There was no real change from the previous month's market situation, with weak demand continuing out of both Hong Kong and Mainland China". He added, "we expect the markets to remain soft through to mid-September".
CEO John Slosar previously stated the carrier expects stronger cargo traffic in the seasonally-stronger second half, with growth of 5-6% anticipated in the full-year. However, the carrier has also stated it expects the slowdown in its freight business to continue in the current quarter as a result of economic uncertainties.
Mr Woodrow, in the Jun-2011 issue of CX World, stated that despite both tonnage and revenue showing a year-on-year decline, "there's no sign of any structural change in demand". Mr Woodrow also noted that "comparisons with last year are skewed because 2010 really was exceptional, with consistently strong demand as the economy bounced back from recession. We have to remember that the period April through June is traditionally a slacker period, so in some sense what we are seeking now is a return to normal market conditions".
For now Cathay remains relatively sanguine, but its language in monthly traffic reports in the run-up to the pre-Christmas peak will be watched closely.
Cathay/Dragonair handled 140,050 tonnes of cargo and mail in Jul-2011, an 11.0% year-on-year decline, while the cargo and mail load factor slumped 9.4 ppts to 66.6%. Capacity, measured in available cargo/mail tonne kilometres, was up by 4.2%, while cargo and mail tonne kilometres flown were down by 8.6%. For the year to date, tonnage has declined by 5.2% compared to a capacity increase of 12.9%.
Cathay Pacific Airways Cargo Volume (2009 to 2011)
Cathay Pacific Airways Cargo Load Factor (2009 to 2011)
Demand and supply are clearly out of alignment. Reality is not matching expectations. Unless the situation improves, Cathay could again take the knife to its near-term capacity plans.
Meanwhile, capacity plans to meet the medium-term outlook continue to be laid. This month, Cathay entered an agreement with Boeing to purchase eight B777-200Fs, for delivery between 2013 and 2016. The aircraft will be deployed primarily on regional and European routes. The airline is also taking delivery of ten new B747-8 Freighters, with the first two now scheduled to arrive in late Sep-2011 and another three being delivered by the end of 2011. The B747-8s will be used almost exclusively on routes between Hong Kong and North America.
Cathay Pacific currently has 21 widebody freighters in its fleet, but two B747-400BCFs will be sold to the airline's cargo joint venture with Air China (in addition to the two that have already been sold), while one or two more will be dry-leased to all-cargo subsidiary Air Hong Kong (two have already joined the AHK fleet). Following the arrival of the new purchases and the departure of the BCFs, Cathay Pacific's freighter fleet will number up to 35 aircraft by 2016. With the latest purchases, Cathay Pacific now has a total of 97 new aircraft, including 79 widebody passenger and 18 freighter aircraft, on its books for delivery up to 2019.
HACTL and AAT note freight declines
The handler of Cathay's cargo and some of its rivals, Hong Kong Air Cargo Terminals Limited (Hactl), stated its tonnage throughput for Jul-2011 fell 7.7% year-on-year to 237,739 tonnes. Export volume declined 9.8% to 126,369 tonnes and import volume declined 13.1% to 58,904 tonnes, although transshipment volume increased 5.3% to 52,466 tonnes.
Smaller HKIA handler Asia Airfreight Terminal reported a 2% decline in tonnage in Jul-2011 to 60,088 tonnes. Export cargo registered 40,598 tonnes, a drop of 5% when compared with the same month last year. Import cargo volume was 17,716 tonnes, down 2% year on year. Trans-shipment cargo volume was 1,774 tonnes, surged 342% when compared against corresponding period in 2010. AAT General Manager for Corporate Development, Kenneth Yeung said, "It may be prudent to watch the US and European economy for its ripple effect on Asian markets in the coming months."
Air China sees slight contract in cargo volumes in Jul-2011. International cargo volumes weaken
The Chinese mainland carriers are much smaller, but their freight volumes are interesting to watch nonetheless. The recent picture has been mixed, with Air China and China Southern experiencing weakness, while China Eastern and the much smaller Hainan Airlines have had a bounceback after struggling earlier in the year.
Air China reported a slight contraction (-0.2%) in cargo volume in Jul-2011 to 91,149 tonnes. Cargo carried on domestic routes increased by 0.2% in the month, regional (HK/Macau) cargo volumes increased 2.7% and international cargo fell by 1% in the month.
Cargo capacity, measured in Available Freight Tonne Kilometres (AFTK), was 0.8% weaker in the month and Revenue Freight Tonne Kilometres (RFTK) increased by 1.1%, resulting in a 1.2 ppt improvement in cargo load factors to 60.4%, with load factor improvements across the carrier's domestic, international and regional operations.
Air China Limited Cargo Volume (2009 to 2011)
Air China Limited Cargo Load Factor (2009 to 2011)
Despite this cargo weakness, Air China Cargo, the fast-growing cargo JV between Air China and Cathay Pacific, is expanding its network and fleet, initially on routes in North Asia and to Europe and North America, with Southeast Asia destinations to following next years. However, Air China Cargo COO Titus Diu noted that cargo has been impacted by the slower than anticipated Chinese export market.
See related article: Air China Cargo enters Hong Kong-Shanghai route. Expanding with new aircraft
China Southern Airlines cargo volumes weaken slightly in Jul-2011. International volumes stronger
China Southern Airlines' cargo volumes declined by 0.1% to 89,830 tonnes in Jul-2011. Domestic cargo volumes weakened by 1.5% to 66,979 tonnes, regional cargo levels increased 1.8% to 1140 tonnes for a second month of year-on-year gains and international cargo, as has been the continuing trend, increased, by 4.4% to 21,730 tonnes. Freight traffic (RTKS) increased 4.9% in the month, outpacing a capacity (AFTKS) increase 0.3%, indicating an improved freight load factor in the month.
China Southern Airlines Cargo Volume (2009 to 2011)
China Southern Airlines is reportedly entering the final stages of negotiations with Sinotrans & CSC's Sinotrans Air Transportation Development Co subsidiary to establish a JV cargo airline, according to reports in the Economic Observer. Sinotrans Air Transportation Development's cargo JV with Korean Air, Grandstar Cargo, will reportedly be incorporated into the new JV cargo airline. China Southern is the last of China's big three carriers to establish a dedicated cargo subsidiary.
China Southern Chairman Si Xianmin said the carrier aims to gradually increase freight revenues as a percentage of total revenue from 7%-8% in 2010 to 10%, though a timeframe was not disclosed. China Southern has a fleet of seven freighter aircraft with one more to be delivered shortly. The carrier, on 31-May-2011, ordered six B777Fs from Boeing to grow its cargo business. The six aircraft will be delivered between 2013 and 2015 and will boost its cargo capacity (ATKs) by 8.4%.
China Eastern Airlines, unlike Air China and China Southern, reported cargo growth of 12.2% to 128,080 tonnes in Jul-2011, reversing weakness between February and June. International cargo volumes surged 20.5% to 61,190 tonnes. Domestic cargo volumes also increased, by 6.5% to 56,070, although regional cargo volumes increased by only 0.9% to 10,820 tonnes.
Cargo load factors also improved notably, by 7.0 ppts to 63.3%. Load factors were strongest on international routes, increasing 7.6 ppts to 71.9%. Load factors on domestic (+2.4 ppts to 42.4%) and regional freight services (+0.4 ppts to 49.7%) remained below 50% despite gains in the month.
China Eastern Airlines Cargo Volume (2009 to 2011)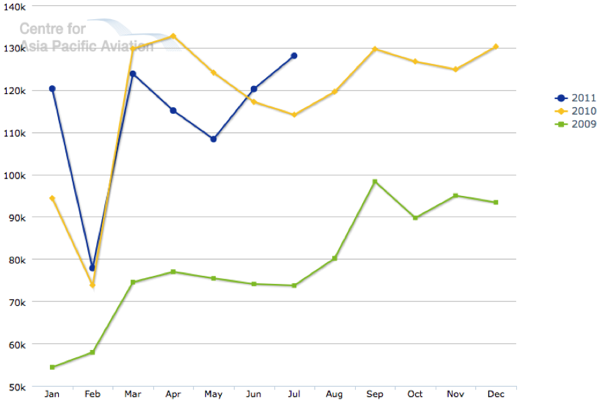 China Eastern Airlines Cargo Load Factor (2009 to 2011)
China Eastern relaunched its JV China Cargo Airlines on 31-May-2011. The company has registered capital of CNY3 billion (USD463 million) of which the Shanghai-based carrier holds a 51% stake. China Ocean Shipping Group owns 17%, Evergreen Airlines 16% and Singapore Airlines Cargo 16%. China Cargo Airlines owns 18 freighters and two more B777Fs will join the fleet this year. It will also use the cargo space in 337 passenger aircraft of China Eastern so that it is able to extend services to more than 200 destinations worldwide.
The cargo airline will integrate air and ground transport businesses and has obtained approval to run express business services. The carrier operates 10 domestic express routes at present. The carrier will also construct a truck transit centre in the Yangtze River Delta to link its air delivery services with ground transport.
Hainan Airlines reports second consecutive month of cargo growth
Hainan Airlines stated cargo volumes increased by 2.8% to 23,113 tonnes in Jul-2011, marking the second consecutive month of year-on-year gains following four months of year-on-year contractions.
Hainan Airlines Cargo Volume (2009 to 2011)
Chinese cargo growth moderates in 2011 following post-recession recovery
In 2010, air cargo in China reached 5.63 million tons, a 26.4% year-on-year increase. Domestic freight increased 16% to 3.7 million tons and international freight increased 52.8% to 1.9 million tons, according to the CAAC. The growth occurred as the country's manufacturing sector recovered strongly after the global financial downturn. But growth has stalled in 2011. In 1H2011, cargo volumes actually declined by 0.4% to 2.7 million tones, according to the CAAC.
CAAC international and domestic freight growth: Jan-2010 to Jun-2011
In China, the "big three" - Air China, China Southern and China Eastern - dominate cargo operations, although the market is extremely fragmented with numerous private carriers and new entrant JV carriers competing for market share. Despite the weakening environment, the Chinese airlines as well as express freight carriers and international airlines, are expanding their fleets to position themselves strategically for an expected upswing in demand in the years ahead.
Over the next 20 years, traffic flows linking China with other countries are expected to grow strongly. For example, the flow between China and the US will become the world's largest, representing more than 15% of worldwide FTKs in 2028, according to Boeing. Domestica China is expected to become the second largest market in terms of total FTKs, accounting for 8.2% of the global total by 2028.
But if the near term freight conditions continue to slacken, some moderation of capacity could be needed, or risk a shake-out.