China and Australia remove airline growth restrictions as China cautiously embraces open skies
Analysis
China has agreed to liberalise passenger flights and remove capacity restrictions with Australia, its largest outbound long haul market after the United States. This is a relief to Chinese airlines, which face bilateral constraints in North America and Europe. The result is already evident as Chinese airlines deploy more capacity and larger aircraft to Australia.
In North American and European markets the local governments hold back on traffic right expansion (let alone open skies). But for Australia it was the Australian government, which signalled some years ago that it wanted to liberalise once China was ready – a time that has now come.
Australia's view was progressive and detached from bygone days of national carrier interest; Chinese airlines hold 90% of the market to Australia. Elsewhere many governments still hold back on Chinese traffic right expansion so their local airlines can continue to grow. There are 15 Chinese airports that have nonstop flights to Australia with a total of 27 airport pairs – figures that should expand in 2017 as the market evolves further with the Virgin Australia-HNA partnership.
China and Australia liberalise markets but avoid 'open skies' terminology
In Dec-2016 China and Australia announced an opening of their aviation market. Under the agreement there has been a removal of passenger capacity restrictions for each side. Codeshare regulations and traffic rights have also been liberalised to allow "Australian and Chinese airlines to service destinations between and beyond both countries".
Although the agreement sounds to be open skies, the Australian government has not used the "open skies" terminology. Full open skies includes many smaller matters, including cargo.
The agreement comes ahead of 2017, which is the Australia-China Year of Tourism, an initiative that originated in China (2016 was to USA)
Australia was waiting for China to liberalise
There is a perception that it is Australia that has agreed to this liberalisation. After all, in Dec-2016 Qantas accounts for approximately 4% of the China-Australia market. In Dec-2015 the Qantas Group had a 7% share, split between 5% for Qantas and 2% for Jetstar. (Including transits via other hubs, such as Hong Kong, the Qantas Group has a higher share.) Chinese airlines operate over 90% of nonstop capacity.
There is some change in 2017 as Qantas resumes Sydney-Beijing and Jetstar looks to new routes in China.
Virgin Australia does not operate its own metal to China, but partners with minority shareholder Singapore Airlines in serving the market and will probably do so with Hainan Airlines and Hong Kong Airlines, out of the fold of new shareholder HNA.
Australia to China (seats per week, one way): 16-Dec-2013 to 29-May-2017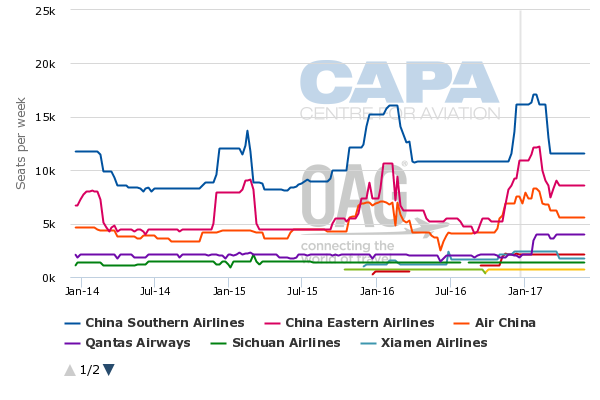 The capacity broadly follows direction of travel, heavily tilted towards outbound China. Australian posted 20% growth in Chinese visitor arrivals in 10M2016. This is on top of the 20% growth in 2015.
Australia annual visitor arrivals from mainland China: 2008-10M2016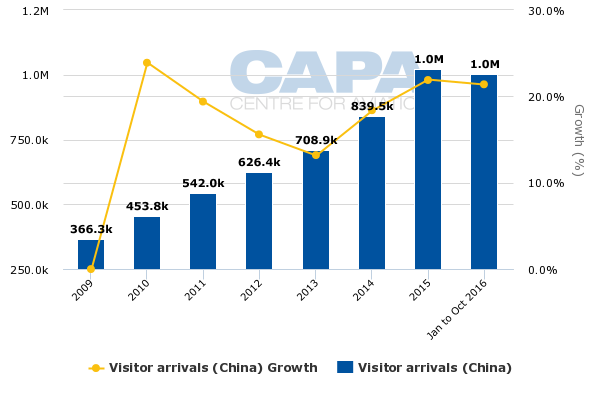 Yet with such imbalance traditional thinking would in the past have been that Australia would want to hold back Chinese airlines to allow its own airlines grow. This dynamic is a feature in other long haul markets (Canada, Germany, United States) where it is the foreign government, not China, that is repelling air service agreement expansions or moves to open skies.
However, in Australia the government has sought to allow Chinese capacity to expand ahead of demand. In fact, the Australian government made it clear to the Chinese government that it would be willing to remove constraints once China was ready. Australia expects the China market to grow 10% per annum.
It was at CAPA's 2014 Australia Pacific Aviation Outlook Summit in Sydney when the Australian Department of Infrastructure and Regional Development Secretary Mike Mrdak outlined that Australia would like to form an open skies agreement with China and was waiting on the Chinese side.
See related report: Australia & China expand airline traffic rights en route to open skies. Xiamen Airlines to Sydney
As is typically the case, China likes to see gradual, not sweeping, change.
Principal to China's concern in aeropolitics with Australia was that unlimited capacity would overwhelm Chinese airlines and they may rush to grow, or try to grab market share from each other. The growth in 2016 has been large, in overall size as well as in the number of airlines, airports and city pairs involved. One view is that liberalisation may not add a step-change in complexity; another view is that all of this growth has occurred with airline management that China is comfortable with.
Overall, half of Australia's passengers travel under an open skies agreement, and moving to liberalisation – at least, one of nonstop passenger services – will increase this share. The UAE, Qatar and Hong Kong are the largest markets without open skies. In these markets it is Australia restricting growth and not yet willing to move to open skies (or in the case of Hong Kong perhaps will never be willing, given the frosty relations between the respective authorities and their airlines).
15 Chinese airports with service to Australia, and 27 airport pairs
Seven Australian airports offered nonstop service to mainland China in 2016. This is one more airport than forecast in late-2015; the addition is Adelaide, which China Southern serves. So far in 2017 the number of Australian airports with service to mainland China will decline to five (the same as 2014).
This is due to Jetstar exiting the Gold Coast-Wuhan market at the completion of a one-year contract agreement with an agent. The Jetstar service was Gold Coast's only direct Chinese link, however Jetstar is examining new Chinese opportunities in partnership with agents. Although market demand is important, so too are government and airport incentives. China Eastern is no longer flying Cairns-Shanghai.
Through additions and subtraction the net number of Chinese airports with Australian service is so far forecast to be 15 in 2017 – the same as 2016.
However, this is more than the 12 Chinese airports that were expected in late 2015 to have services to Australia in 2016. City pairs in 2016 reached 27, which was more than the 21 forecast for 2016 in late 2015.
As the change in figures indicates, the Australia-China market grows quickly and with little notice. Given the reliance on group agents and China's typically late booking curve, new services can be put into the market on a few weeks' notice. It is likely that there could be further growth in early 2017 than has been finalised. As a result, 2017 figures should be treated with caution, and not so much should be read into the decreases.
China-Australia routes by airport (left axis) and city pairs (right axis): 2005-2017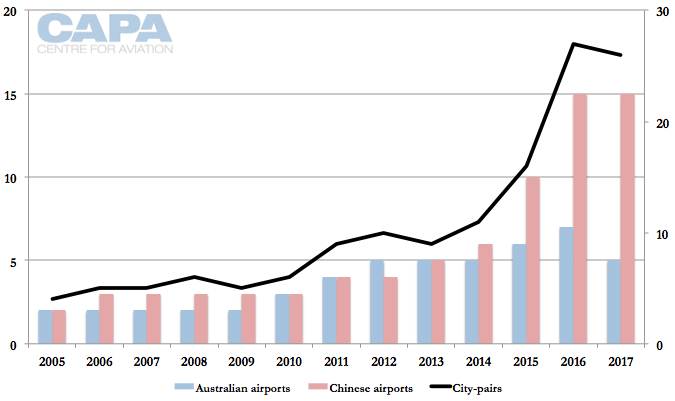 Outlook: Virgin Australia-HNA partnership ushers in further growth in quantity and complexity
Despite the many changes and large expansion of the China-Australia market in 2016, 2017 is set to bring more. Challenges will also grow.
The market enters 2017 with further concerns about overcapacity. Chinese and other Asian airlines are shifting growth to Australia due to constrained traffic rights to North America and Europe, over-saturation in North America and outbound Asian concern about terrorism in Europe. It would not be surprising later to see some correction in 2017 growth from Chinese airlines, especially via downgauges. Yet overall the market outlook remains strong.
Fundamentals will shift in 2017, for the China-Australia market and broader Australian international market, as Virgin Australia plans to begin Hong Kong and Beijing flying in partnership with various airlines of the HNA Group – which is now a major Virgin Australia shareholder. It is the first time since Ansett's collapse that Australia will have two local airline groups flying to Asia (although Qantas, citing Virgin's shareholders, may dispute if Virgin is "local").
Qantas already has a joint venture with China Eastern, and the two of them have responded to the Virgin-HNA development with Qantas' resumption of Sydney-Beijing. China Eastern is blocked from serving Beijing-Australia routes since Air China already serves the blue chip city pairs.
See related reports:
The two groups – Qantas-China Eastern and Virgin-HNA – must also explore partnership opportunities with the other airlines in the market. Although smaller, they are sizeable and growing. China Southern, the largest airline by far in the market, remains single as far as the Australian market is concerned.
Implications spill over to the historically established intermediate operators – Cathay Pacific and Singapore Airlines. If they need to pivot away from the Australia-Asia transit market towards the Australia-Europe transit market, the domino effects continue.
Whatever the shakeout, Australia's economy and tourist industry comes out ahead. It also gives Australia's relatively imaginative airlines the room to experiment with new options, including beyond China operations. Few other governments are willing to risk the interests of their national airlines by such openness - but Australia's airlines have shown they can adapt and often take advantage of the opportunities that arise, rather than focussing on preserving the status quo.