Chile emerges as Latin America's fastest growing market despite domination from LAN
Analysis
Chile has recorded 17% passenger growth for the second consecutive year, making it the fastest growing market in Latin America. The rapid growth in Chile is somewhat surprising as it is one of the more mature markets in Latin America and the market is dominated by one player, LAN, which can have a stifling impact on competition. But the small country of 17 million continues to support rapid increases in travel propensity, which is already the highest in Latin America, driven by a strong economy and Chile's unusual geography.
After recording flat traffic figures for 2009, Chile's aviation market has grown by 57% over the last three years to 15.2 million passengers, according to Chilean Civil Aeronautics Board data. Growth in 2011 and 2012 was an impressive 17% while 2010 ended with 11% growth despite the impact of a devastating earthquake which struck Santiago in Feb-2010.
Chile monthly systemwide passenger traffic and growth: Jan-2010 to Dec-2012
Chile annual passenger traffic (millions) and year-over-year growth (%): 2009 to 2012
Chile has Latin America's fourth largest and fastest growing domestic market
Chile's domestic market has grown by 63% over the last three years from 5.1 million passengers in 2009 to 8.3 million passengers in 2012. The international market has grown only slightly more slowly, increasing by 47% from 4.7 million passengers in 2009 to 6.9 million passengers in 2012.
Chile now has the fourth largest domestic market in Latin America, smaller than only the much more populated countries of Brazil, Mexico and Colombia. It has a bigger domestic market than three other more populated South American countries – Argentina, Peru and Venezuela.
Passenger growth in Latin America's six largest domestic markets: 2012 vs 2011
Argentina, which has more than twice the population of neighbouring Chile, had six million domestic passengers in 2012, according to data from airport operator Aeropuertos Argentinas 2000. Peru, which is about 70% more populous than Chile, had 6.6 million domestic passengers through the first 11 months of the year, according to Peruvian DGAC data. Full year data is not yet available but Peru most likely ended 2012 with 7.2 domestic passengers.
The relatively large domestic market in Chile is a reflection of Chile's high spending power as it has the highest GDP per capita in Latin America – about USD17,000. Chile's very long and narrow shape, which spans 4,300km from the desert by the Peruvian border to Antarctica, also makes it a natural aviation market.
LAN accounts for more than 75% of Chile's domestic market
Chile's carriers are confident the domestic growth spurt seen over the last three years – which included 18.6% in 2012, 17.6% in 2011 and 18.1% in 2010 – can continue. LAN, which merged in mid-2012 with Brazil's TAM to create leading Latin American airline group LATAM, reportedly expects its domestic traffic in Chile to increase by 15% to 20% in 2013. LAN recorded domestic traffic growth in Chile of 18% in 2012, matching the growth of the overall industry, according to Chilean CAB data.
LAN captured a powerful 76% share of Chile's domestic market. This includes a 29% share from LAN Airlines and a 47% share from the predominately domestic brand LAN Express. LAN Express carried just under 4 million domestic passengers in 2012, representing growth of 22%, while LAN Airlines carried 2.4 million domestic passengers in 2012, representing growth of 12%.
LAN Airlines and LAN Express both operate under the LAN Airlines' LA code although the LAN Express brand has a lower cost structure and different labour contracts. LAN Express was initially launched in 2001, taking over flights from Ladeco, which had been an independent Chilean carrier before being acquired by LAN in 1995.
While LAN Express grew faster in 2012, almost all of the capacity the LAN group added to Chile's domestic market in the 2008 to 2011 period came at the main LAN Airlines brand. In 2008, LAN Airlines only transported 300,000 domestic passengers while LAN Express transported 3.3 million.
Chile's Sky continues to grow rapidly
Chile's second largest carrier, Sky Airline, captured 20% of Chile's domestic market in 2012, up from 19% in 2011. Sky was able to expand its market share despite the rapid growth at rival LAN by growing its domestic traffic by 24% to 1.7 million passengers.
Chile domestic market share (% of passengers carried) by carrier: 2012
Chile's domestic traffic (number of passengers carried) by carrier: 2012 and Dec-2012
Sky has grown rapidly since launching services in late 2001. Sky passed the 500,000 passenger mark in 2004, giving it at the time a 17% share of Chile's domestic market. It passed the 1 million mark in 2010, giving Sky at the time a 19% share of Chile's domestic market.
Sky also has been focusing the last three years on renewing its fleet, replacing its original 737-200s with A320 family aircraft. The carrier, which serves 13 domestic destinations according to Innovata data, currently competes with LAN across all major trunk routes.
Chile's PAL struggles to compete in scheduled market
Chile's third carrier, PAL Airlines, launched as a charter carrier in 2003. It expanded into scheduled services in 2009, primarily in the domestic market, and grew from 2009 to 2011. But PAL shrunk by 7% in 2012 as the overall market expanded significantly, carrying only 272,000 domestic passengers compared to 293,000 passengers in 2011. PAL captured only a 3% share of the domestic market in 2012, down from 4% in 2011.
PAL has continued to shrink in recent months, carrying only 14,000 domestic passengers in Dec-2012 – a 43% reduction compared to Dec-2011 and giving it only a 2% share of the market. It is now barely larger than Chile's fourth largest carrier, Aerovias DAP, which unlike Sky and PAL is a regional carrier and does not overlap with LAN. DAP, which operates within the Patagonian region of southern Chile, carried about 36,000 passengers in 2012.
The challenge PAL has faced in competing with LAN domestically is highlighted in the load factor data reported by Chile's CAB. PAL recorded a domestic load factor of only 35.4% in 2012. While this is the carrier's highest domestic load factor since expanding into the scheduled domestic market, it is clearly not sustainable. PAL's domestic load factor was only 29.2% in 2009, 25.4% in 2010 and 24.5% 2011. The improvement in 2012 came as PAL reduced ASKs by 32%.
Chile domestic RPK, ASKs and load factors by carrier: 2012 versus 2011
The domestic load factor for the overall industry improved significantly from 70.9% to 75.2% as RPKs were up 18% on only an 11% increase in capacity. LAN Express and LAN Airlines both recorded load factors of 82% in 2012 while Sky recorded a load factor of 65.7%. Sky's domestic load factor has been consistently in the mid to upper 60s over the last four years – a respectable level given the competition with LAN but likely not high enough for sustainable profits. LAN's domestic load factor has been consistently above 80%, and as a result the carrier's domestic operation has consistently been highly profitable while the country's smaller carriers have struggled.
PAL, which operates a small fleet of 737-200/300s, is particularly in a vulnerable position. The carrier only operates scheduled services to five domestic destinations. It has struggled to compete against LAN and has been more a nuisance rather than a serious competitor, filing a protest to Chile's anti-trust court TDLC against the LAN-TAM merger that resulted in a delay to the merger process. More recently PAL filed protests to try to block non-Chilean carriers from operating domestically.
Foreign carriers are free to compete in Chile's domestic market
Chile has opened up its domestic market to foreign carriers, hoping to attract new entrants and avoid the market from being stifled by powerful LAN. Uruguay's Pluna briefly operated some domestic routes in Chile in 2009 and 2010 and again in 2012. But Pluna, which carried about 9,000 domestic passengers in Chile during 1H2012, ceased all operations in Jul-2012.
Mexican carrier Global Air, also known as Aerolineas Damojh, entered Chile's domestic market in 2012 and continues to operate a 737-200 in the country. But it only transported 21,000 domestic passengers in 2012, including 4,000 passengers in Dec-2012, giving it a 0.5% share of the total market. Swedish cargo carrier West Air also has taken advantage of Chile's openness and started operating during 2012 a Bombardier CRJ200 freighter domestically, which allowed it to capture a 4% share of the domestic cargo market.
But it will be nearly impossible for any carrier – from Chile or overseas – to become a significant player in Chile's domestic market. The domestic market could potentially be big enough to support an LCC but the prospect of competing with LAN would likely turn off any LCC group that potentially considers a Chilean operation – such as Gol, Azul or VivaColombia/VivaAerobus. Competition with LAN already prompted Gol to suspended international operations in Chile in 2012, leaving the Chilean market without a single LCC.
The fact Chile's domestic market has been able to grow rapidly over the last decade with only a slight increase in competition shows the market can still expand despite having a dominant leading carrier. LAN has only seen its market share slip by 6ppt over the last decade, from 82% in 2003 to 80% in 2007 to 76% in 2012.
LAN believes its cost structure and fares are low enough to support further growth, particularly among the portion of Chile's 17 million people who have not flown before. LAN has said it carried about 1 million first time fliers in Chile during 2012. This trend will likely continue as Chile's economy, which expanded by about 5% in 2012 and is expected to grow by another 5% in 2013, and the country's middle class continues to grow.
While almost the entire country is already covered by air, there are opportunities to continue growing on most existing domestic routes. In 2012, LAN Express recorded double digit growth on eight of its 10 domestic routes (see background information), giving LAN confidence there is room to pursue double-digit domestic growth again in 2013.
Chile sees strong international growth with LATAM controlling 67% of the market
The strong economy will also likely drive further rapid growth in Chile's international market. Outbound international travel has been growing as more and more Chileans have the income levels to holiday overseas. The outlook for the inbound travel market is also promising as Chile has become a major tourist and business destination.
Chile's domestic market overtook Chile's international market in size during 2009 and every year since the domestic market has been growing at a faster pace. But Chile's international market has also grown at an impressive clip since 2009, growing by 9% in 2010 despite a huge drop in traffic during March because of the late Feb-2010 earthquake, followed by 17% growth in 2011 and 16% in 2012.
LAN, not surprisingly, is the leading carrier, capturing 61% of Chile's international market in 2012, compared to 60% in 2011. The merger with TAM, which is the largest foreign carrier serving Chile, gives LAN and the new LATAM grouping a powerful 67% share of Chile's international market.
See related article: New LAN-TAM parent LATAM emerges as a leader globally and a powerful force across South America
LAN recorded 18% international passenger growth in Chile in 2012 to 4.2 million passengers (excludes TAM). TAM, including the Brazilian carrier and its Paraguayan subsidiary, also recorded 18% growth in 2012 to slightly less than 400,000 passengers. As a result LATAM, which was formally established in Jun-2012, recorded 18% growth to 4.6 million passengers.
LATAM therefore was able to surpass the 16% growth in the total international market and increase its market share by 2ppt. Chile-based LAN Airlines recorded 25% passenger growth in 2012 while LAN Peru and LAN Ecuador saw decreases and LAN Argentina's traffic doubled on a low base. LAN often transfers international flights between its different affiliates so only the overall LAN figure is significant. TAM's Brazilian carrier, TAM Lineas Areas, recorded 18% growth while the Paraguayan subsidiary TAM Airlines recorded 17% growth.
Chile international market share by airline group: 2012 vs 2011
Chile international market share (% of passengers carried) by carrier: 2012
Chile's international traffic (number of passengers carried) by carrier: 2012 vs 2011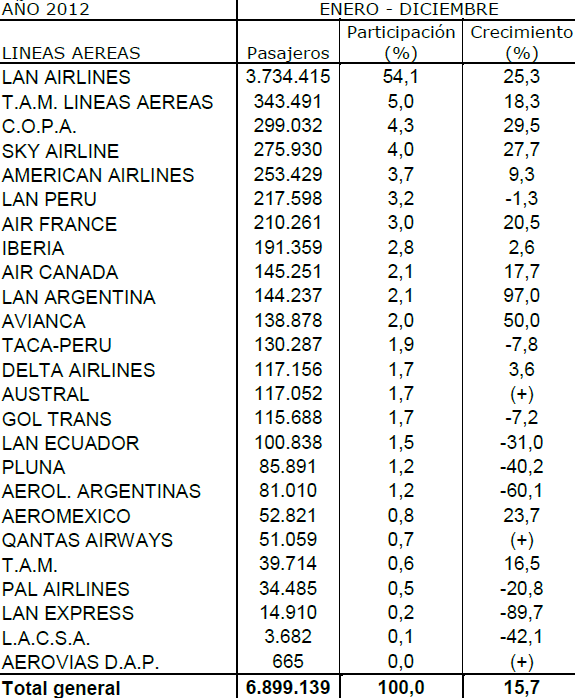 LATAM is the only airline group with a strong position in Chile's international market as there are no other players with more than a 4% share. Two other leading Latin American airline groups, Avianca-TACA and Copa, only captured a 4% share of Chile's market in 2012. American Airlines and Sky Airline also captured a 4% share while Aerolineas Argentinas, Air France and Iberia each captured 3% shares.
There are currently only 13 airline groups serving Chile, including the smaller local airlines Sky and PAL.
Sky looks to become international player through codeshares and network expansion
Sky currently serves four scheduled international destinations: Arequipa and Lima in Peru; Buenos Aires in Argentina; and La Paz in Bolivia. The carrier grew its international traffic by 28% in 2012 to 276,000 passengers (includes charter passengers). Most of Sky's international expansion came in 2011, when international growth of 241% was recorded on a very low base.
Sky is in a stronger position than smaller PAL both domestically and internationally. It has pursued a smart strategy of modest international expansion while forging partnerships with international carriers. Sky began codesharing with Avianca-TACA in 2011 and plans to start codesharing with Aerolineas Argentinas in 2013. Aerolineas and Avianca-TACA are two of LAN's biggest rivals in the region.
See related articles:
The partnerships are logical as it gives Sky some leverage in the Chilean market against powerful LAN while Aerolineas and Avianca-TACA gain domestic feed for its services to Santiago. While LAN and to a lesser extent Sky have some international flights from secondary Chilean cities, all foreign carriers in the Chilean market currently only serve Santiago. As LAN is in oneworld, it is logical for airlines from SkyTeam such as Aerolineas and from Star such as Avianca-TACA to use Sky to virtually expand their networks in the fast-growing Chile market.
Sky faces uphill battle as it tries to compete with LAN
Sky, however, still faces a challenging future as independent carrier. There are very few remaining carriers in Latin America that are competing on major routes (rather than thin regional routes) and are not part of one of the region's seven major groups. Sky may ultimately need to sell out to a larger airline group such as its partner Avianca-TACA.
Sky's hiatus in further expanding its international network since late 2010, when it added Buenos Aires and Lima, illustrated the challenges of competing against LATAM. Sky for example could have launched Santiago-Sao Paulo and would have been given slots at Sao Paulo Guarulhos from LATAM as part of a mitigation measure in the LAN-TAM merger.
See related article: LAN-TAM concessions to increase competition on Santiago-Sao Paulo route
But Sky has not yet entered the market, leaving LAN and TAM as the only carriers in the second largest international route from Santiago. Brazil's Gol previously served the route but stopped operating non-stop flights between Santiago and Sao Paulo in 2008 and in Oct-2012 also dropped one-stop services, leading to an even stronger position for LATAM. About 850,0000 passengers flew between Santiago and Sao Paulo in 2012. Only the Santiago-Buenos Aires route was larger, with nearly 1.2 million passengers.
Santiago's international markets by passengers carried: 2012
LAN Airlines grew traffic on the Santiago-Sao Paulo route in 2012 by 74% to 505,000 passengers, according to Chilean CAB data. TAM grew its traffic on the route by 16% to 326,000 passengers. Santiago-Sao Paulo is now LAN Airlines' third largest international route from Santiago (see background information) after Buenos Aires and Lima.
Santiago Airport sees rapid growth, prompting terminal expansion
Santiago International Airport has seen rapid growth in recent years, prompting the airport to launch a terminal expansion project. The airport handled over 14 million passengers in 2012 and has seen traffic growth of nearly 60% since 2009. The airport is now operating over capacity but construction is expected to begin this year on a new multi-phase project which is designed to increase the airport's capacity to about 29 million annual passengers.
See related article: Chile announces USD14bn in infrastructure investment opportunities
Santiago, which has a population of 5 million, handled 6.8 million international passengers and 7.4 million domestic passengers in 2012. Santiago accounted for 98% of Chile's international passenger traffic in 2012 and 45% of Chile's domestic traffic, according to Chilean CAB data.
Santiago Airport monthly passenger traffic: Jan-2010 to Nov-2012
Iquique, Easter Island, Antofagasta, Arica, Punta Arenas and Conception also have international airports but with limited services. Antofagasta is the second largest airport, handling 1.6 million domestic and 15,000 international passengers in 2012. Iquique, Puerto Montt and Calama are all roughly equal in size, each handling about 1.1 million passengers in 2012. Projects have been unveiled to expand all three of these airports.
Santiago-Antofagasta is the largest domestic route from Santiago with about 1.25 million passengers in 2012. LAN accounted for over 75% of the market, with LAN Airlines carrying 550,000 passengers and LAN Express carrying 406,000 passengers. Sky carried 231,000 passengers on the route, giving it about an 18% share, while PAL carried 61,000, giving it a 5% share. Santiago-Antofagasta was Sky's largest route in 2012 while it was the second largest for LAN Airlines.
Santiago-Calama was the only other route with over 1 million passengers with LAN accounting for about a 74% share. LAN Airlines carried 696,000 passengers on the route in 2012, LAN Express 47,000, Sky 149,000 and PAL 80,000. Santiago-Calama was the largest domestic route for PAL and LAN Airlines in 2012 while it was the second largest for Sky.
Santiago top 10 domestic routes by passengers carried: 2012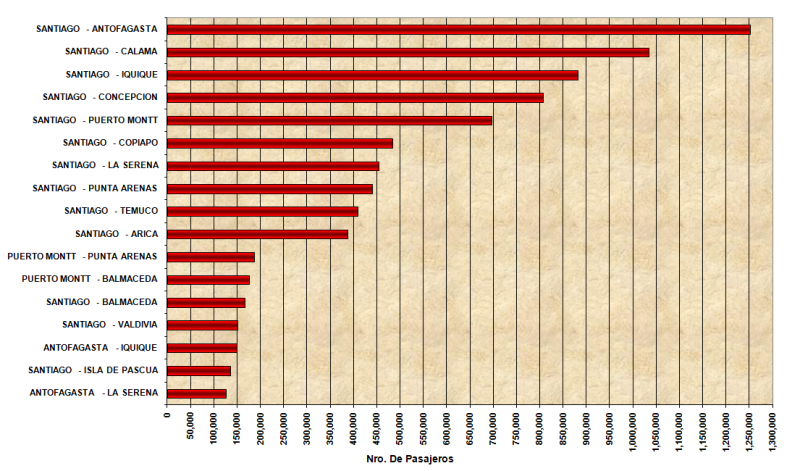 LAN has driven growth in Chile but the market needs more competition
Santiago and Chile's aviation market has benefited significantly from being the home of LAN, which started as a tiny carrier in a remote corner of the world before the company started pursuing a rapid pan-South America expansion strategy that included establishing passenger airline affiliates in four countries before merging with TAM, the biggest carrier in South America's largest market. Chile's market is poised for further rapid growth as LATAM continues to expand at several of its hubs.
But the market could also benefit from more competition, particularly outside oneworld. TAM is expected to join LAN in oneworld, which would further grow oneworld's share of Chile's international market from 69% to an even more powerful 75%. Chile would also benefit from more low-cost carrier services as the market lost its only LCC in Oct-2012, when Gol dropped service on the Santiago-Buenos Aires-Sao Paulo route.
The loss of Gol shows the challenges that Chile faces in attracting carriers in a market dominated by LATAM. While Chile's aviation market will likely continue to grow at a rapid clip for at least the near to medium term, LATAM will likely continue to control three-quarters of the domestic market and two-third of the international market. Chile's consumers would benefit from more competition but the overall relatively modest size of the market and LAN's very strong position means new entrants are unlikely and the smaller carriers now serving the market face a challenging future.
Background information
LAN Airlines top 20 international routes based on passengers carried: 2012 vs 2011
LAN Express top 10 domestic routes based on passengers carried: 2012 vs 2011
Chile monthly passenger domestic traffic and growth: Jan-2010 to Dec-2012
Chile monthly international passenger traffic and growth Jan-2010 to Dec-2012