Cathay Pacific shrinks into profitability as it looks to stay the course amidst choppy waters
Analysis
Cathay Pacific has been rewarded for its move to decrease capacity for the first time since 2009 as a 4.8% cut in ASKs in 1H2013 has led its Cathay Pacific and Dragonair brands to reverse their operating loss from a year prior and collectively post a modest pre-tax profit of HKD452 million (USD58 million). This is less than half the group's 1H2013 operating profit of HKD1035 million (USD133 million), which includes the profit from third-party catering and other divisions. The group's operating margin was 2.1%, indicating a fundamental weakness remains in the business – although it is performing better than struggling Singapore Airlines.
Yet conservative Cathay is once again offering no new strategy. It is looking to stay the course of being a premium airline with few strategic partners and is banking on a rebound to the corporate and freight markets. But even once those markets rebound, Cathay does not enjoy the entitlement to the traffic it once had. Competition on price and convenience is increasing in almost every region and competitors in once inertia-filled Asia are finally waking up and becoming smarter.
It's small consolation, but Cathay is faring better than Singapore Airlines
If there is to be a silver lining in Cathay's results for the six months to 30-Jun-2013, it is that Cathay is performing better than Singapore Airlines. SIA has been more exposed to low-cost carriers, which have greater prominence in Southeast than Northeast Asia, including having two – Jetstar and Tigerair – based on its home turf. On the long-haul front, SIA has considerably more capacity than Cathay to Europe, which has weak performance. Cathay meanwhile has greater capacity than SIA to North America, which is performing well. SIA is also burdened with 747-400 freighters whereas Cathay is phasing those out in favour of more fuel efficient 747-8Fs.
An exact comparison between the SIA and Cathay groups is not possible due to their different accounting standards (Cathay only gives a group and airline profit figure while SIA breaks down profit by unit but only discloses each unit's revenue annually, and Cathay and SIA have different fiscal years). But it is possible to get an approximate comparison.
SIA's two core passenger divisions, Singapore Airlines and SilkAir, collectively achieved a SGD60.8 million (USD48 million) profit in the six months to 30-Jun-2013. Including SIA's Cargo division, that drops dramatically to a SGD17.9 million (USD14 million) loss. The group overall has been profitable due to SIA's engineering division (Cathay has sister engineering companies part of the Swire Group). It is not possible to calculate operating margins due to limited disclosure.
Cathay's first half recipe: reduce capacity and expenses but flat revenue brings back profits
Capacity in 1H2013 measured in ASKs dropped 4.8%, not enough to offset a 3.4% drop in RPKs, leading to a 1.2% increase in passenger load factor but 1.8% decline in cargo load factor.
Cathay Pacific capacity: 1H2013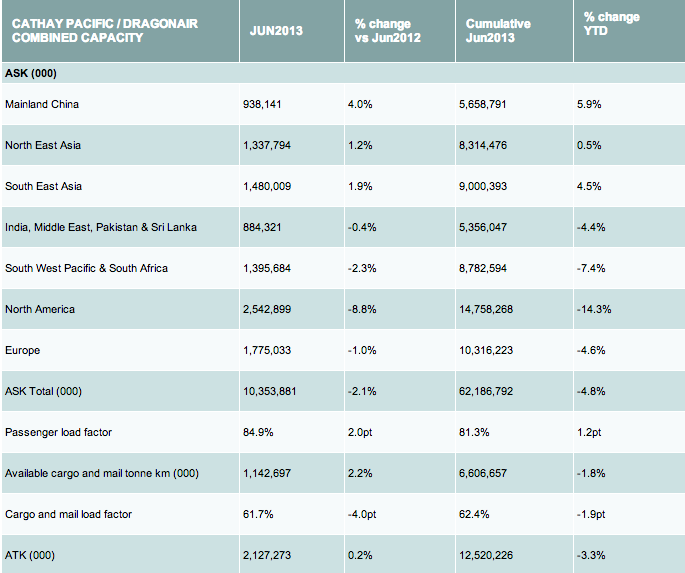 Cathay Pacific demand: 1H2013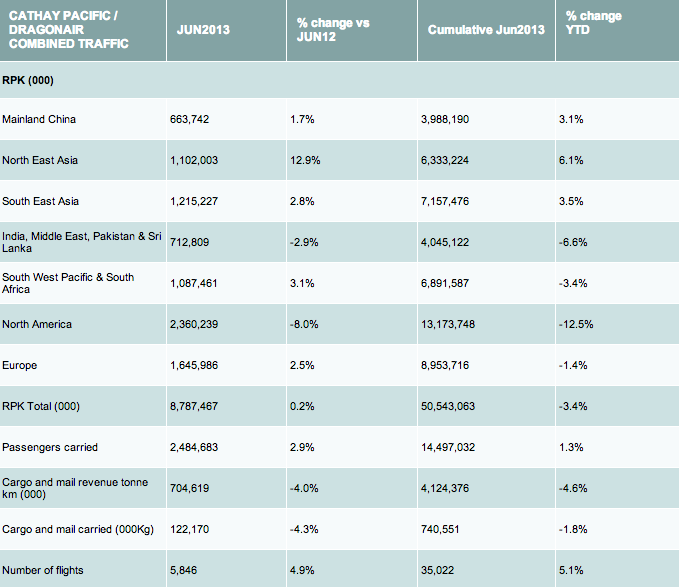 But overall revenue was flat as yields increased. Overall passenger revenue actually increased in 1H2013 compared to 1H2012 while cargo dipped. The carrier says passenger revenue increased due to a 1.2% points increase in load factor and a 4.4% increase in yield offset by a 4.8% decrease in capacity.
Cargo revenue decreased due to a 1.8% decrease in capacity, a 1.9% points decrease in load factor and a 3.3% decrease in yield.
Cathay Pacific revenue: 1H2013

The strongest yield gains (yield by region not disclosed) occurred in North America as Cathay pulled capacity down in mid-2012, although this will be restored by Sep-2013.
Cathay Pacific capacity, load factor and yield by region: 1H2013

Fewer flights translates to lower operating costs. While there were increases in staff and passenger amenity costs, the big ticket items saw large decreases: fuel down 9% and aircraft maintenance 19%. These are not entirely related to reduced flying as Cathay since mid-2012 has increased the retirement of 747-400s in the passenger and freight variety, which are fuel inefficient and require expensive maintenance. Cathay replaced some passenger 747-400s by pulling-down 777-300ERs and re-deploying them.
The carrier says fuel costs decreased due to a 3.7% decrease in the average into-plane fuel price and a 5.0% decrease in consumption.
Cathay Pacific expenses: 1H2013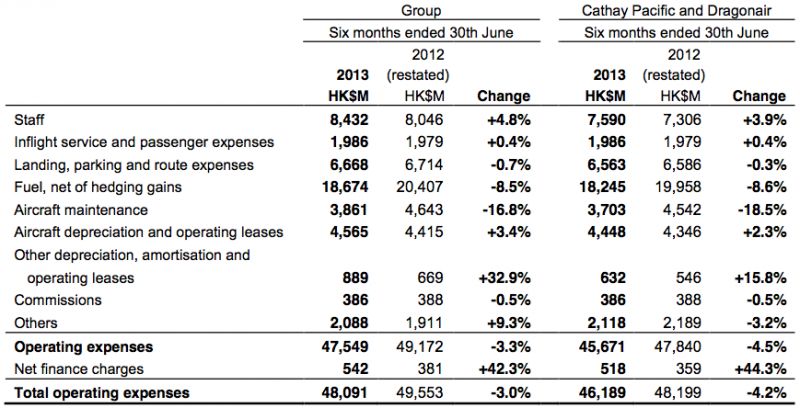 Revenue was down across all regions except India/Middle East
The only region to record an increase in revenue in 1H2013 was India, the Middle East, Pakistan and Sri Lanka. Although the region saw a decrease in capacity and passengers flown, Cathay says the market took a stronger liking to its new business class and premium economy product.
Cathay Pacific revenue by region: 1H2013

Yield was down only in North Asia as Cathay grabs slots, fights competition
The only passenger region to see a decrease in yield in 1H2013 was North Asia – a trend that has not changed from 2012. While Cathay consolidates yield information for North Asia, for traffic reports it breaks out China and Northeast Asia. Both regions have seen a sharp rise in ASKs with load factor deteriorating. Northeast Asian ASKs have increased 10.9% from 2011 but it was only in early 2013 the market began to absorb this capacity – with lower yields – and load factors have improved from 2011, let alone 2012 when they sunk dramatically.
ASKs in China have increased 14.4% since 2011 but RPKs have grown 13.7%. Load factors in China showed improvement in early 2013 but quickly sank below 2011 levels, partially as H7N9 scares saw demand decrease.
Cathay Pacific (Group) monthly available seat kilometres (China): 2011-2013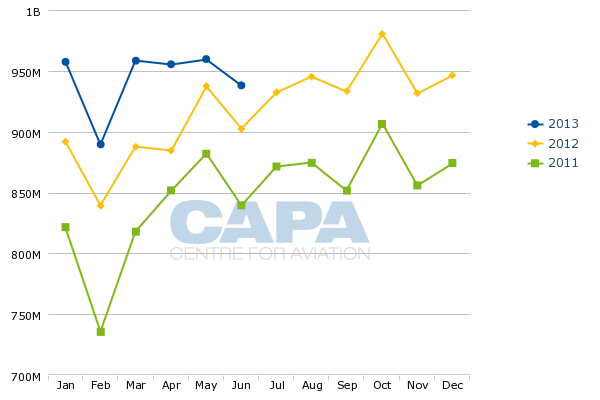 Cathay Pacific (Group) monthly available seat kilometres (North Asia): 2011-2013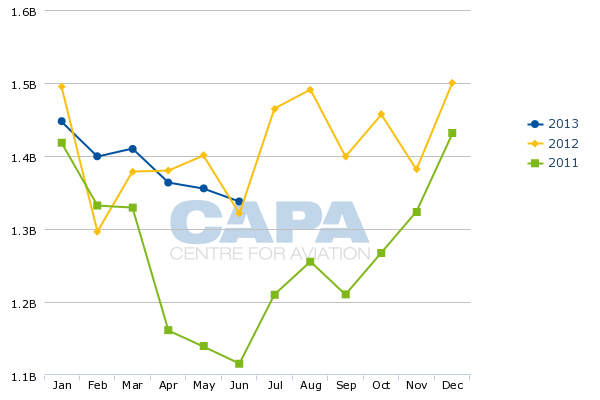 Cathay Pacific (Group) load factor (China): 2011-2013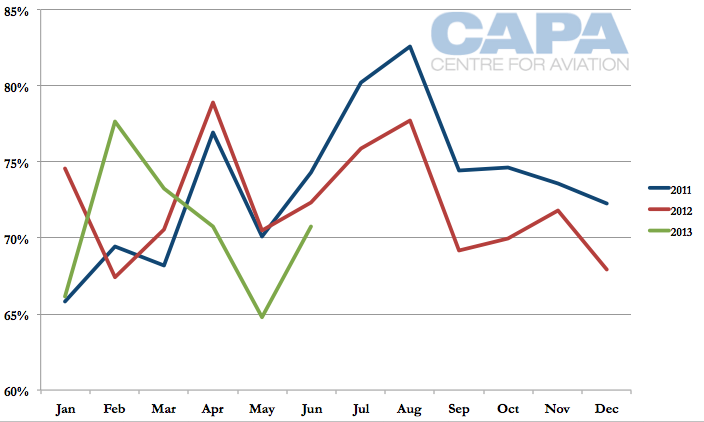 Cathay Pacific (Group) load factor (North Asia): 2011-2013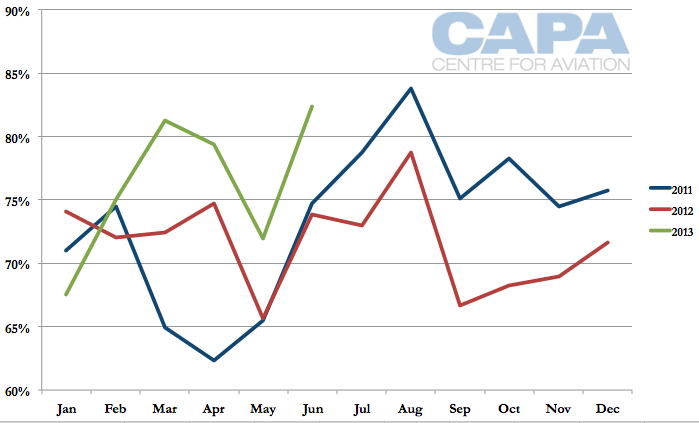 This strategy is intentional as Cathay is looking to grab slots and use them on short routes (and thus limit losses) as Hong Kong is quickly running out of slots. Around the latter half of the decade most slots are expected to be occupied and additional ones will not be made available until early/mid next decade at the earliest with the construction (awaiting finalisation) of a third runway. Hong Kong Airlines is also engaging in this slot grab, and pending carrier Jetstar Hong Kong has noted it needs to rapidly grow early in its early years as slots become unavailable later on. The reckoning is to utilise slots now, limit losses, and bring them to profitability later when there is genuine demand growth.
This strategy is a long-term one, and perhaps one the airlines are to be congratulated for as they show commitment to a long-term strategy despite the short-term pain, which markets like to see airlines avoid. But there is a price to pay as this will continue to weigh Cathay down and not bear fruit for some years.
Cathay moves to become more premium: no LCC and no major moves until A350s later in the decade
Cathay at the start of 1H2013 embarked on a cabin retrofit programme to make its regional product more premium after years of neglect and increasing competition, namely from home carrier Hong Kong Airlines. Hong Kong Airlines had a more modern product and despite difficulties, has started to win market share, with even some Hong Kong financial institutions requiring staff to travel on the cheapest ticket in the market, which includes Hong Kong Airlines and requires justification to fly typically more expensive Cathay and Dragonair.
Cathay and Dragonair's move upmarket was the perfect opportunity to introduce a low-cost brand to capture traffic full-service Cathay/Dragonair cannot. But the group remains staunchly opposed to its own LCC, although most likely it simply does not know how to approach this different type of carrier and is waiting for all other cards to be played.
Hong Kong Express is transitioning to a LCC model, while proposed LCC Jetstar Hong Kong has been repeatedly delayed and is awaiting gazettal in Aug-2013. Cathay would clearly prefer Hong Kong Express over Jetstar Hong Kong, which Cathay perceives as stronger, but the worst case scenario is the existence of both – and perhaps another LCC that sets up base in Hong Kong.
On long-haul, Cathay is typically moving cautiously. It has finally announced overdue plans to enter the Maldives market, where there is huge demand from China. Singapore Airlines has been cleaning up this market in Cathay's absence. A new service to Newark reflects long-haul growth in the strong market of North America, but also Cathay's inability to target the secondary cities that have become a growing feature of North Asian counterparts. Cathay is also weak in Europe, arguably a blessing for now, but later will be problematic. The introduction later this decade of A350s will enable Cathay to open new thinner points and continue its needed fleet replacement.
The lack of a strong European presence highlights Cathay's highly independent stance that sees it form few close strategic partnerships. Some partnerships may be waiting in the wings as Cathay transitions its reservation systems, but a mindset change over this and other strategic matters is surely in order.
Cathay cannot expect to sail into the rest of the decade with its same skills and attitude, which, to their credit, brought success – but those were vastly different times.
See related reports:
Background Information
Cathay Pacific fleet profile: 30-Jun-2013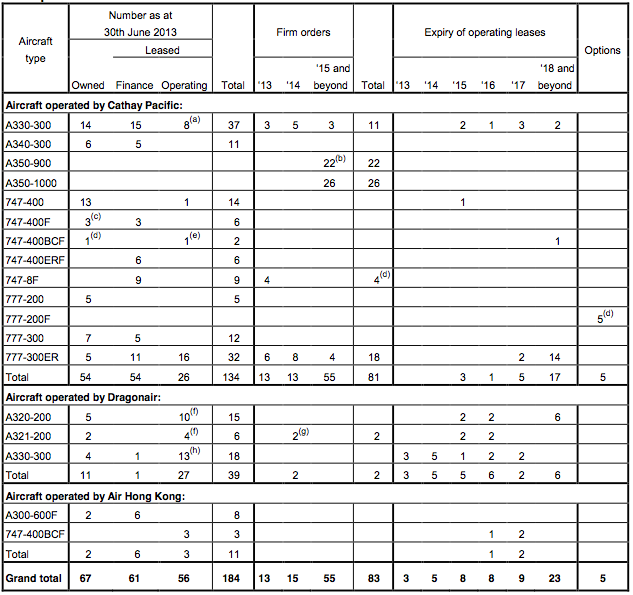 * Includes parked aircraft. The table does not reflect aircraft movements after 30th June 2013.
(d) Four Boeing 747-400BCF aircraft were agreed to be sold to The Boeing Company in March 2013. Three of these aircraft
were delivered in the first half of 2013. One will be delivered in August 2013. An order for eight Boeing 777-200F aircraft was cancelled in March 2013. At the same time, three new Boeing 747-8F aircraft were agreed to be purchased (for delivery in the second half of 2013) and options to purchase five Boeing 777-200F aircraft were acquired.
(f) The operating leases of three Airbus A320-200 and three Airbus A321-200 aircraft were extended in July 2013. The leases
of these aircraft will expire after 2018.
(g) In February, the Group agreed to lease two new Airbus A321-200 aircraft. These aircraft will be delivered in February and
October 2014.