Cathay Pacific sees easing in swine flu impact, but ongoing weakness in premium demand
Analysis
Cathay Pacific reported a 9.9% fall in passenger numbers in Jul-2009 to 2.1 million (including Dragonair), while capacity (ASKs) fell by 7.5%, resulting in a 0.6 pps fall in load factor to 83.5%. The airline noted that the adverse impact of swine flu on regional demand continued in July, "although there was a pickup in leisure travel towards the end of the month as concerns eased in some markets".
No material yield recovery
Cathay added premium passenger demand remained "especially weak which, combined with ongoing aggressive economy class competition and adverse currency movements, continued to stymie any material yield recovery."
See related report: Cathay Pacific's yields plummet to pre-Dragonair merger levels
Cathay Pacific ASK, RPK and passenger numbers growth (% change year-on-year): Aug-08 to Jul-09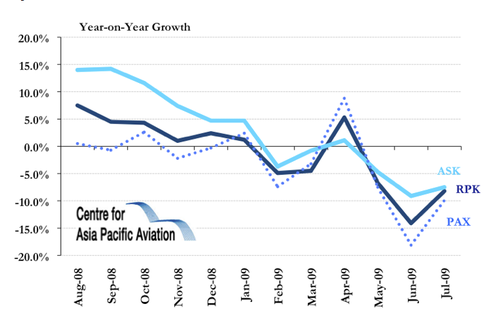 Cargo volumes bottoming out, but yield under "considerable pressure"
Cathay and Dragonair carried a total of 133,233 tonnes of cargo and mail last month, down 6.7% year-on-year, while load factor rose by 6.6 ppts to 72.6% as a result of a 12.6% cut in capacity.
Cathay stated July's drop in cargo volume was the smallest so far in 2009, adding, "the indications now are that the massive slide in the air cargo market has bottomed out and we were encouraged to see an increase in demand out of our home market, Hong Kong". But the airline noted, "intense competition is still putting yield under considerable pressure."
Cathay's cargo volumes started to decrease in August last year (following a 5% year-on-year increase in Jul-2008).
See related report: Hong Kong cargo handlers see some stabilisation, but decreases now compounding
Cathay Pacific cargo volume and AFTK growth (% change year-on-year): Aug-08 to Jul-09