Cathay faces some "very difficult decisions"
Cathay Pacific, fresh from reporting deeply negative annual results for 2008, has disclosed it is on the verge of making some "very difficult decisions" about its network and about the company generally, to secure the sustainability of the business as demand and revenues continue to weaken.
In a monthly newsletter to staff, Cathay Pacific CEO, Tony Tyler, warned the revenue outlook is "very poor, and it could be a long time before we see the bottom of the market, let alone any signs of recovery." He added that yields are "hugely down", as business travel to and from Hong Kong has virtually dried up and the carrier resorts to deep discounting to top up load factors.
Cathay is now focusing its efforts on preserving cash by cutting capacity and implementing other measures. Mr Tyler stated, "in 2007 we brought about HKD6 billion more cash into the business than went out. In 2008, it was HKD6.5 billion the other way [and] if we follow that direction for long anyone can see what would happen to our cash reserves". He added, "we won't have a sustainable business if we keep flying high loads but at a loss".
Premium traffic - and revenues - in freefall
Network cuts appear inevitable, not only for Cathay, but most other Asia Pacific full service carriers that rely on business passengers to make their models work. IATA reports Asia was worst affected in terms of premium traffic reductions again in Jan-2009. Within Asia, premium travel fell 23.4% and across the Pacific there was a decline of 24.7%. Premium travel between Europe and Asia was down 21.2%.
IATA Premium traffic growth (% change-year-on-year) by region:
Jan-2009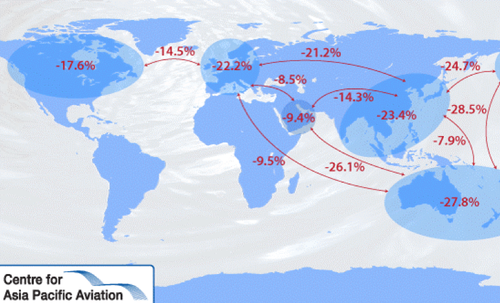 'Global Recession' worse than SARS
Mr Tyler stated the current market downturn is "certainly worse" than the 2003 SARS crisis. Traffic and load factors continued to weaken in Feb-09:
Passenger numbers: 1.8 million, -7.4% year-on-year;
Passenger load factor: 76.6%, -1.0 ppts;
Cargo volume: 100,906 tonnes, -16.7%.
Cathay Pacific passenger number growth and cargo volume growth:
Mar-08 to Feb-09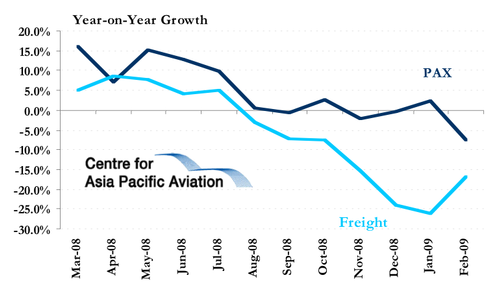 The airline stated the figures reflected a "deep slump in premium cabin demand", while leisure demand held up "relatively well, but needed to be stimulated by a raft of promotional fares in most markets".
Cathay Pacific passenger capacity growth by region: Mar-08 to Feb-09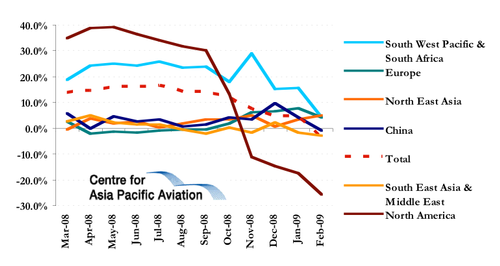 The airfreight market remained weak in Feb-09, though figures were slightly better than Jan-09, due to the Chinese New Year effect. The airline stated there was "no sustained post-holiday pick-up this year and many of the factories in the Pearl and Yangtze River Deltas remained closed for much longer than usual". Cathay added, "the market out of Hong Kong remained depressed throughout February, though there was a slightly better performance for inbound traffic".
First annual loss in a decade
On 11-Mar-09, Cathay Pacific unveiled its first annual loss since the Asian Financial Crisis.
Cathay Pacific financial/traffic highlights: 12 months ended 31-Dec-08 (USD)
| USD | 2008 | % change |
| --- | --- | --- |
| Revenue (mill) | 11,164 | +14.9% |
| Operating costs (mill) | 12,126 | +39.0% |
| Operating profit (loss) | (1,022) | # |
| Net profit (loss) | (1,103) | * |
| Passenger numbers (mill) | 25.0 | +7.3% |
| Passenger load factor | 78.8% | -1.0 ppts |
| Passenger yield (per RPK, in HKD) | | +5.3% |
| Cargo volume (tonnes, mill) | 1.6 | -1.6% |
| Cargo yield (per FTK, in HKD) | | +12.4% |
Despite a 14.9% increase in revenue to USD11.1 billion, the carrier reported an operating loss of USD1.02 billion, compared to a profit of USD998 million in the previous corresponding period. Operating costs surged 39% to USD12.1 billion, including a 92% increase in the carrier's fuel bill.
Cathay Pacific Group staff cost proportion and fuel cost proportion of the total cost: 2000 to 2008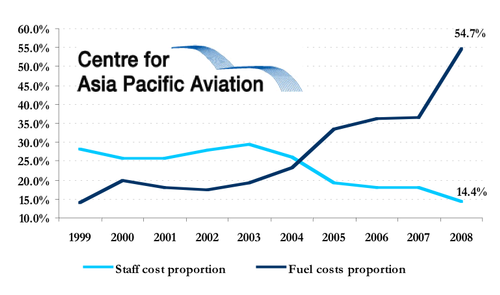 Net losses reached USD1.1 billion in 2008, compared to a profit of USD906 million in the previous corresponding period, translating to a net margin of -10%.
Cathay Pacific operating profit margin and net profit margin: 2000 to 2008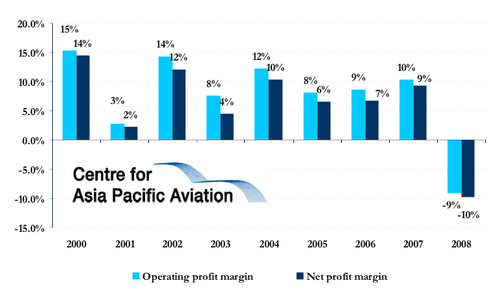 Passenger numbers rose 7.3% in 2008 year-on-year to 25 million, while passenger load factor eased 1.0 ppts to 78.8%. Cargo volume also eased 1.6% to 1.6 million tonnes, while cargo yield (in HKD) rose 12.4% year-on-year. Passenger yield rose 5.3% (in HKD), with increases in all markets.
Cathay Pacific passenger capacity growth and yield growth by region in 2008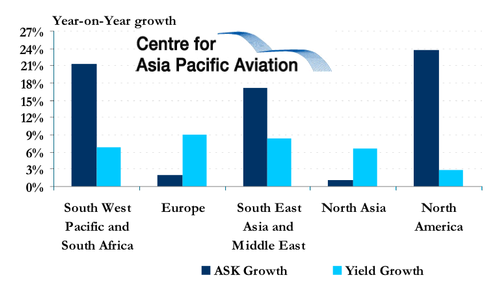 The 2008 results are now history and Cathay's management must confront some significant challenges to prevent a repeat performance in 2009.
Outlook: A smaller Cathay, as "tremendous" yield pressures will force a network re-think
Chairman, Christopher Pratt warned investors to expect "an extremely challenging year in 2009", as passenger and cargo demand is expected to remain weak. He added that further losses on fuel hedging contracts will be incurred if fuel prices remain at their present levels.
Cathay stated (11-Mar-09) unrealised mark-to-market losses on fuel hedging were HKD1.9 billion (USD245 million) for the 2 months ended 28-Feb-09, compared with a loss of HKD7.6 billion (USD980 million) for 2008. Cathay Pacific has hedged approximately half of its fuel requirements until the end of 2011. The carrier stated it would cost the airline USD1.4 billion to settle its hedging contracts if Brent oil prices average USD45/barrel for the period. However, if the average price is approximately USD75/barrel, it would face no further cash losses from its hedging position.
Cathay confirmed plans to dispose of five B777-200 aircraft and stated it would not renew leases on two A330-300s and one A320-200 operated by Dragonair when they expire in Jun-09 and Oct-09, respectively. The carrier also plans to take three B747-400F aircraft out of service (two from Cathay Pacific and one from Dragonair), due to the significant reduction in cargo demand.
In its Feb-09 traffic report, Cathay stated the outlook for premium-cabin demand remains "persistently weak" and this, coupled with a downward pressure on fares and negative currency movements, is putting "tremendous" pressure on yield.
Further network cuts are inevitable if the weak demand environment persists for much longer. Mr Pratt conceded, "we have already cut capacity, and it is likely we will be cutting more. All passenger routes are under review. When that is finished we will know which routes we can't operate".