CAPA Profiles What's driving the world's busiest airports? #1, Atlanta Hartsfield-Jackson
In the first of a new series of reports on the world's Top 30 airports, we review the key statistics behind the busiest of them all: Atlanta Hartsfield-Jackson International Airport. This series will utilise the tools and information now available on the CAPA profiles, providing readers access to vast amounts of information and data on all aspects of aviation. Click here for the Atlanta profile page.
Click here for the Atlanta profile page.
Atlanta is virtually synonymous with the world's biggest carrier, Delta Air Lines. The carrier is headquartered there and has been a powerful presence for decades. Despite that knowledge, the first chart still surprises as it graphically depicts the influence that Delta wields at ATL. Its closest rival, AirTran provides only a fifth of the seats that Delta supplies and American, its nearest legacy rival, has only 2.5% of Delta's seat offer.
Atlanta Hartsfield-Jackson International Airport capacity (seats per week, to/from) by carrier (21-Mar-2011 to 27-Mar-2011)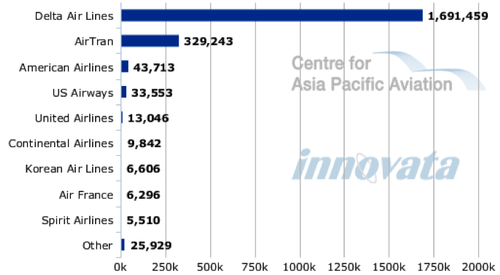 All of this results not only in Atlanta being the world's busiest airport, but also one of the world's airports most dominated by a single carrier. It has few rivals in the US and none elsewhere in the world. This kind of monopoly position is a US phenomenon.
And Skyteam too
As might be expected, Delta's SkyTeam group is also tops at the airport. Since Delta is the sole SkyTeam member in the US, that position is again, pretty much a solo performance.
Atlanta Hartsfield-Jackson International Airport capacity share by alliance (21-Mar-2011 to 27-Mar-2011)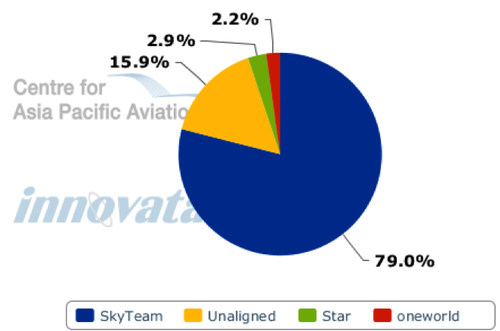 International access
Longhaul international service to ATL began in 1978 when SABENA began flights to Brussels. Since that time, and especially in the past decade, the airport has seen itself linked to an increasing number of global points.
It now boasts nonstop service to points as diverse as Dubai, Johannesburg, Tokyo and Buenos Aires as well as the more conventional places like London, Paris and Frankfurt. However, again, virtually all of that global access is provided by Delta or its SkyTeam partners.
In fact, for a major global hub, it may have the smallest pool of international competitors of any airport on earth, with only three non-SkyTeam rivals: a single BA flight to London, a single Lufthansa service to Frankfurt and a few flights to Toronto operated by Air Canada.
Atlanta Hartsfield-Jackson International Airport international capacity by region (21-Mar-2011 to 27-Mar-2011)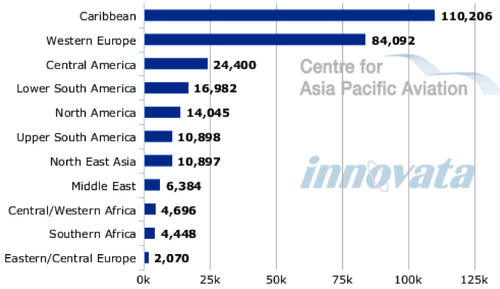 Nonetheless, and despite this very significant buildup, the airport remains overwhelmingly focused on domestic services. This may be the result of Delta's position, which makes Atlanta an orphan route for many foreign carriers.
Atlanta Hartsfield-Jackson International Airport international vs domestic capacity share (21-Mar-2011 to 27-Mar-2011)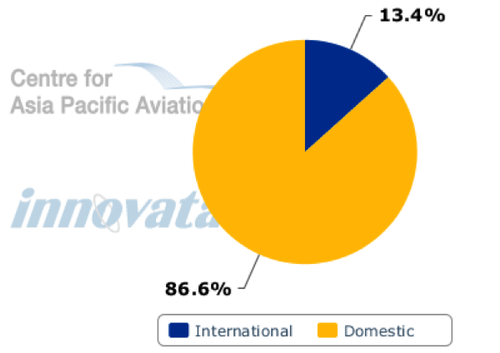 Low Cost competition
As we saw in the first chart, AirTran, soon to be Southwest, is the only formidable challenger to Delta and is doubtless responsible for keeping fares lower than would be the case absent its presence.
However, before it was acquired by Southwest, AirTran announced that future growth would likely be focused on cities other than Atlanta due to Delta's extraordinary presence.
The arrival of Southwest and its network may present a more formidable foe.
Fares
CAPA's Atlanta fares tab shows that return fares to New York's LaGuardia Airport have fluctuated wildly since the third quarter of 2010, ranging from a high of $600 ($.39 per mile) to a low of about $175 ($.11 per mile). The 30-day moving average now is at just about $300 ($.197 per mile).
In general, the moving average has been declining though that is to be expected during the weaker part of the year.
Return economy fares from Atlanta to New York LaGuardia (USD): Oct-2010 to Apr-2011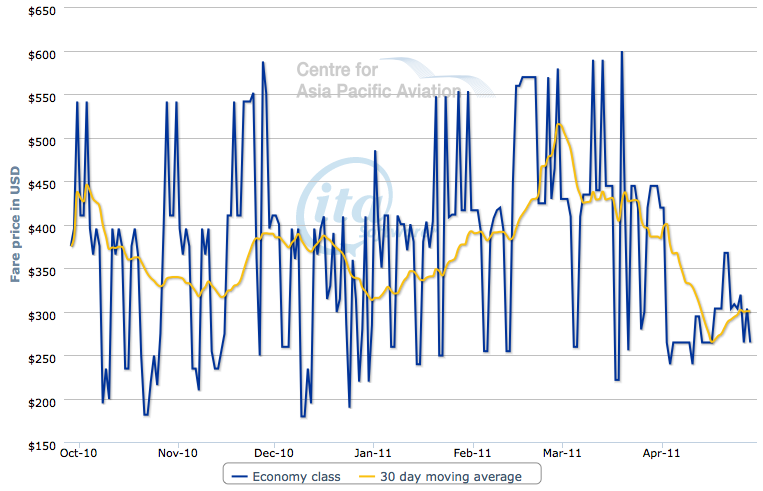 Summation
Atlanta is not only the world's largest airport, but also one of the most concentrated in terms of carrier dominance. It offers users a significant global network, albeit with virtually no choice amongst carrier for nonstop international services.
Its peak hour for operations is 1900-1959 when there are over 200 movements but these are well managed by five available runways in acceptable weather conditions.
As long as Delta remains one of the globe's dominant airlines, the airport is guaranteed a prominent position amongst its peers, and, while Southwest may make inroads, there are few troubling signs for ATL.