CAPA India Aviation Outlook 2017/18: Surging traffic but infrastructure constraints become critical
Analysis
India's status as the fastest growing aviation market in the world creates tremendous opportunities. But risks are also heightened as the inadequacy of India's infrastructure planning, a fast emerging shortage of skills, flawed policy initiatives, and weak regulatory oversight threaten to become major stumbling blocks. The potential is enormous; but unless government bites the bullet, it will be seriously constrained.
This report is a short extract from CAPA's comprehensive 200-page India Aviation Outlook Report FY2017/18, to be released in Feb-2017 at the CAPA India Aviation Summit. The Outlook includes CAPA's projections for traffic, capacity, yields and earnings and presents fleet induction plans, detailed operating and financial analysis and risk assessments of each Indian airline and airport operator. The report also includes analysis of policy and regulatory issues.
India's airlines: a combined profit of USD122 million in FY2016, returning to the black at an industry level after 10 years
Last year represented a turnaround in the fortunes of India's aviation industry after several very difficult years. Lower fuel prices combined with modest capacity growth and strengthening economic fundamentals were largely responsible for surging traffic and an improvement in airline financials in FY2016. Domestic traffic was up 21.2% while international grew by a more modest 7.7%.
CAPA estimates that India's airlines reported a combined profit of USD122 million in FY2016, the first time in a decade. This included record profits at IndiGo, Jet Airways, SpiceJet, GoAir and Air India Express.
AirAsia India and Vistara, still in their initial years of operations, were however loss-making, as was the national carrier, Air India. Although Air India reported its first operating profit in a decade.
India's domestic market is on track to surpass 100 million passengers in FY2017
After a strong FY2016, traffic growth has accelerated further in FY2017, with India likely to overtake Japan this year to become the world's third largest domestic market behind the USA and China.
In reaching this milestone, India will have achieved average domestic traffic growth of over 15% per annum since the liberalisation of the sector commenced in FY2004.
India Domestic Airline Passengers FY2004-2017F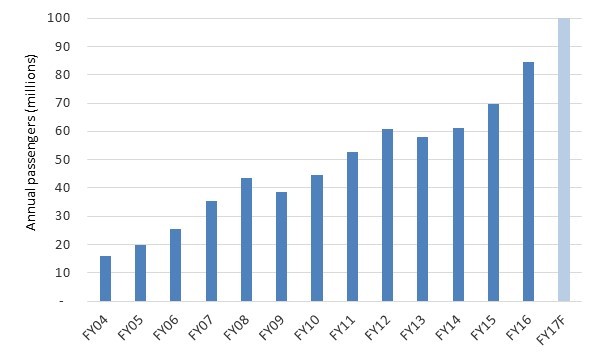 Strong economic fundamentals have contributed to the growth – although traffic has been over-stimulated by low fares. India is expected to achieve 7.5% GDP growth in FY2017, with the IMF projecting that economic performance should improve still further over the next five years.
India GDP Growth and Projections to 2021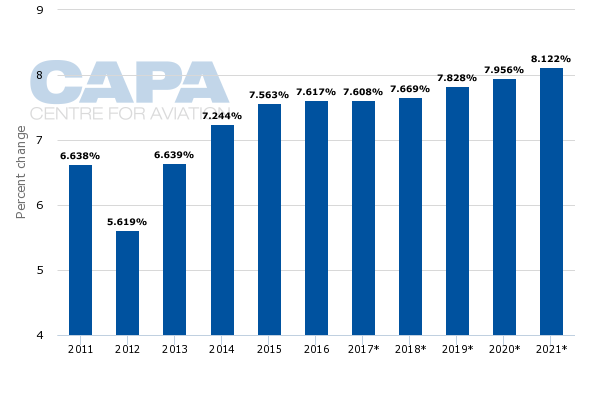 However, the ramifications of the Indian government's demonetisation initiative announced in Nov-2016 (which resulted in the withdrawal and replacement of around 86% of the value of currency in circulation, to reduce the volume of undeclared cash in the economy) are still unclear, although there is no visible impact as yet.
CAPA's India Aviation Summit will be held in Mumbai on 8/9-Feb-2017 and will bring together virtually every airline and airport CEO in the country for two days of informed analysis and discussion on the key issues and outlook for the world's fastest growing aviation market. This is a must-attend knowledge-building and networking forum for any company with an interest in Indian aviation. To register visit www.capaevents.com/india17 - early bird rates are available until 11-Jan-2017.
Domestic traffic could grow by nearly 25% in FY2018 and approach 130 million passengers
The next financial year is expected to be the third consecutive year of domestic growth above 20%. Growth could be as high as high as 25% but may be tempered by 3-5 percentage points because of the impact of demonetisation.
Traffic growth remained strong in Dec-2016 and there are as yet no signs of a slowdown.
However, the purchase of air travel using some withdrawn denominations was permitted until the first half of Dec-2016 which may result in a delayed impact in the first half of FY2018. As of now, it is difficult to fully factor in what the impact may be, if any.
Traffic growth at Indian airports FY2016 to FY2018F
| | | |
| --- | --- | --- |
| | Domestic | International |
| FY2016 | 21.2% | 7.7% |
| FY2017E | 22-23% | 9-10% |
| FY2018F | 20-25% | 10-12% |
The introduction of the GST next year may possibly also have a short-term negative impact on economic growth for a couple of years until more positive results emerge.
Based on aircraft deliveries, competitive dynamics and the positive outlook for the economy, domestic growth at 20% or higher could continue for up to a further two years.
Indian airlines are scheduled to induct 60-65 narrow bodies and 10-12 regional aircraft in FY2018
The pace of aircraft inductions in FY2018 will be one of the key drivers of traffic growth. This is however subject to deliveries of A320neos proceeding as scheduled, and operators being able to deploy the equipment as planned, as some operational challenges have been experienced.
LCCs are likely to have a domestic market share of 75-80% within two years
With LCCs taking delivery of the clear majority of narrow body aircraft coming into the market (an estimated 50 out of 65 inductions), their share of the domestic market is expected to rise from around 65% today to reach 75-80% within two years.
The last time that LCCs had a similar market position was in early 2011 when their share stood at over 70%. However, on that occasion it was as a result of a blurred demarcation between the full service and low cost operations of Jet Airways and Kingfisher. Airline business models in the market are better defined today and LCCs will have a clearly dominant position.
International traffic is expected to expand at 10-12% in FY2017 and FY2018, but bilateral restrictions preclude achieving true potential

Most of the ten largest international carriers are achieving year-round average load factors of 90% or higher, indicating constrained capacity. Without India's unhelpful restrictions, international growth could be in the region of 15-17% per annum which would result in international traffic volumes doubling within five years. However, demonetisation could negatively impact demand for short haul tourist destinations such as Dubai, Singapore and Thailand.
Several Gulf and Asian carriers are seeking additional entitlements to the tune of up to 150,000 weekly seats. Bilaterals have become a key issue in India's geo-political relations with markets such as the UAE, Qatar, Turkey, Hong Kong, Singapore and Malaysia. The Indian government may only agree to more modest incremental expansion in seats than is being sought by some countries.
Air India continues to expand its international footprint, primarily using 787 equipment
Air India has been increasing its European and North American network, launching new non-stop services from Delhi to Vienna, San Francisco and Madrid over the last 12 months and a one-stop between Ahmedabad and Newark via London.
New destinations under consideration for next year include Washington, Toronto, Nairobi, Tel Aviv, Copenhagen and Stockholm. But CAPA believes that the viability of Air India's ultra-long haul routes could increasingly be challenged beginning FY2018 due to cost creep and a possible softening of yields.
Jet Airways is likely to revive its long haul ambitions and may possibly join SkyTeam in 2017 or 2018
Jet Airways is focusing on international growth and the Amsterdam hub signals a revival of its long haul ambitions. The re-induction of 10 777 aircraft which Jet had sub-leased to other airlines, and some of the 777s could be used to launch several new routes.
The carrier has been upgauging capacity to Amsterdam and Paris and has entered into extensive codeshare agreements with Delta, Air France and KLM for connectivity to the US and Canada. Closer cooperation with these carriers may be a prelude to SkyTeam membership in the next two years.
LCCs will grow more aggressively on international routes from Summer 2017, overseas routes will remain modest in terms of total operations
IndiGo and SpiceJet have pursued relatively modest expansion on international routes to date, preferring instead to focus on the domestic market. However, both carriers are expected to ramp up their international service from Summer 2017. This is also when GoAir plans to commence international services for the first time, primarily to unconnected destinations in Central Asia, the Gulf, China and Vietnam.
Re-engined narrowbodies have the potential to transform the economics of regional international routes by making more city pairs viable. However, despite the overseas opportunities, the domestic market will remain the core focus for LCCs. At IndiGo for example, international operations are expected to account for only 10-15% of total capacity.
IndiGo is increasingly controlling domestic capacity growth and moving the market
IndiGo's share of traffic has crossed 40% and could approach 55-60% within the next two years, a remarkable achievement in such a large and competitive market. As its share grows the carrier is becoming more competitive with its pricing.
India Domestic Airline Market Share Nov-2016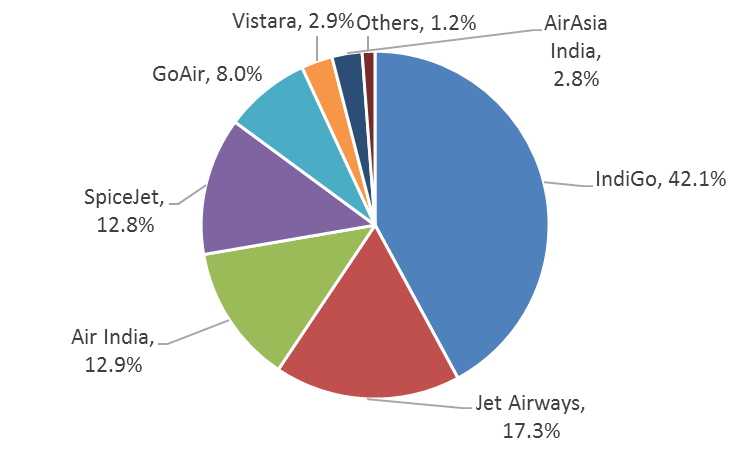 IndiGo will take delivery of more than two aircraft a month through to Mar-2018 which will see its fleet size reach 160 by then (of which around 140-145 aircraft will operate on domestic routes).
The improved economics of the A320neo will further strengthen IndiGo's market position. The carrier remains highly profitable and the market leader on all counts.
Full service airline market share could fall to 20-25% within two years
Jet Airways and Air India could each see their share fall to around 10% or less unless they pursue faster expansion.
The full service airline model continues to decline in relative terms. Jet Airways and Air India, which together had a combined domestic market share of close to 90% in 2003 could each see their hold on the market fall to around 10% each or less within two years unless they accelerate their expansion. This pace of IndiGo's growth is creating a strategic compulsion for other Indian carriers to scale up to remain relevant.
Indian airlines could place orders for 250-300 aircraft (including options) in the next 3-6 months
SpiceJet first, followed by Vistara, will be the primary drivers of new aircraft orders, both of whom are expected to stick with Boeing and Airbus respectively for their narrow body fleet requirements. For its long haul operations, Vistara is likely to opt for the 777X.
Vistara is likely to bring forward deliveries while AirAsia India is also expected to target aggressive expansion
The government's decision to remove the five-year qualification requirement for domestic airlines to be permitted to operate international services and to retain only the 20-aircraft threshold, may push Vistara and AirAsia India to expand on domestic routes faster than planned. Vistara could bring forward deliveries to reach 20 aircraft by Mar-2018.
AirAsia India is also likely to pursue a more aggressive growth path to remain competitive in the market. Both carriers will need significantly higher levels of capital to pursue their accelerated expansion strategies.
Lessor confidence in the Indian market is returning but is not completely restored
Lessor interest in the Indian market is returning as memories of the aircraft recovery challenges experienced following the collapse of Kingfisher start to fade. The strong turnaround by SpiceJet in the last two years have also helped to restore confidence in the market.
However, recent regulatory hurdles which have stalled the implementation of the Cape Town Convention in the Indian civil aviation code, despite India being a signatory to the agreement, could impact the country's risk rating.
Traffic is surging but last year's profits may have been a high-water mark; the industry is expected to return to losses in FY2017 and FY2018
CAPA estimates that India's airlines reported a combined profit of USD122 million in FY2016, the first black ink in a decade. But this era of industry profitability is likely to be short-lived. Traffic growth is being stimulated above its underlying demand as a result of excess capacity and competitive fares. The downward pressure on yields, combined with cost creep, is expected to push the consolidated industry result back into the red for the 12 months ending 31-Mar-2017.
IndiGo, Jet Airways, SpiceJet, GoAir and Air India Express are all expected to remain profitable, but at levels lower than in FY2016. Jet Airways will be the only profitable full service carrier in FY2017. While losses are projected to increase at Air India, AirAsia India and Vistara. At a total industry level losses could reach USD250-300 million.
With expected cost creep of 10%, a 5-7% decline in yields, oil at USD55-60 per barrel and an exchange rate of USD1=INR73-75, industry losses could widen further to USD380-450 million in FY2018, although most LCCs are expected to remain profitable. Yields could potentially decline further than assumed given the capacity induction planned.
Profitless growth will increase viability risks starting from 2Q2018
As the industry faces the prospect of transitioning to a phase of profitless growth, the risk for India's carriers is that if they continue to expand without sufficient capitalisation they could face significant challenges when the next external shock hits.
When the fuel price spike and global economic slowdown hit the industry in 2008/09, what followed was a period of widespread red ink with billions of dollars of losses which led to the failure of airlines such as Kingfisher Airlines and Paramount Airways and almost brought SpiceJet to the verge of closure. Should history repeat itself, this time the industry has much further to fall.
Actual and projected combined net profitability of India's airlines FY2007 to FY2018F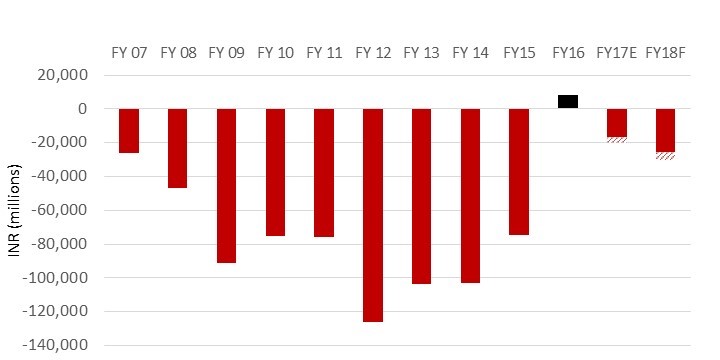 Indian carriers are expected to seek to raise USD1 billion of capital next year, led by Jet Airways at USD300-400 million
Jet Airways planned to raise USD300-400 million but its capital raising activities were delayed due to a change in strategy. And its improvement in performance on domestic routes in FY2016 appears to have peaked. Investment in product enhancement is a critical issue for the carrier to remain competitive.
AirAsia India and Vistara are likely to require significant recapitalisation in FY2018 to provide for much larger war chests in the face of strong competition. Following its recent funding exercise in Nov-2016, AirAsia India may need another tranche of capital by 3Q2018 and Vistara may need significant funding once it has taken a decision on acceleration of its fleet expansion.
But apart from the recent equity infusion in AirAsia India there has been limited progress on the capital raising front, with most plans delayed. The window for carriers seeking capital through IPOs or external funding may narrow as market dynamics are expected to deteriorate over the next 18 months with rapid capacity expansion placing downward pressure on yields, and cost creep visible.
Another strategic investment in an existing Indian airline is possible in FY2018 but valuations will be a hurdle
Another investment by a foreign airline in an Indian carrier (which does not currently have an overseas investor) is possible. The delay in expanding bilateral air services agreements may precipitate such an investment to achieve market access, although the deal may not quite be in the mould of the Jet-Etihad strategic partnership.
However, the Indian government's recent bold decision to permit 100% foreign direct investment in domestic carriers is unlikely to result in any transactions to that level in FY2018.
Airports and ATC: Rapid growth is straining infrastructure, increasing safety and security risks
These may become visible in FY2018 as traffic reaches higher levels
Skills shortages are emerging with airlines facing particular challenges in recruiting sufficient commanders. This is already impacting expansion plans. Meanwhile the institutional and regulatory framework at the Directorate General of Civil Aviation and the Bureau of Civil Aviation Security, is particularly weak and under-resourced. And these issues do not appear to be receiving the urgent attention that they require.
Capacity constraints at India's metro airports have already become visible
The situation at key metros such as Mumbai and Chennai is particularly acute as these airports are fast approaching saturation. But slot constraints and congestion are an issue at most of the metro airports and are expected to remain so for the near term as new terminals and runways will take 2-3 years to develop.
India faces the very real prospect of an airport capacity crisis.
Delays in developing a long term national airport plan could jeopardise economic growth.
Based on projected growth rates, most of the 40 largest airports in the country will exceed their design capacities within the next decade. However, it is a serious concern that there is no long term vision for India's airport capacity requirements.
There will vast economic ramifications if air connectivity to India's centres of commerce, industry and tourism is choked off due to airports being saturated.
Development of airports of national importance have been subject to lengthy delays. Financial bids for Navi Mumbai could again be delayed beyond 09-Jan-2017
There is a need to accelerate the award of greenfield airport concessions, many of which – such as Navi Mumbai – have been subject to inordinate delays. In fact, the Navi Mumbai tender could potentially be subject to more delays. And commissioning of the new airport could take a further 5-7 years.
The award of the concession for Goa Mopa in Aug-2016 broke a recent drought in privatisation of airports. Nagpur MIHAN and Bhogapuram, could be the next to be decided, with more opportunities expected from next year.
Precious capital for airport development needs to be well-directed towards viable projects
Airport development needs to be pursued with viability considerations in mind. India's most recently-constructed greenfield airport at Durgapur in West Bengal, built with 100% private capital, has struggled to attract commercial airline operators. Air India briefly served the airport but has since suspended services due to insufficient demand. Reliance's investment in regional airports in Maharashtra, and IL&FS's interest in projects in Karnataka have similarly failed to perform.
The tender process which awards concession to the bidder offering the highest revenue share needs to be reviewed
The current evaluation criteria of bids which favours aggressive revenue shares is not helpful to airport development. It ultimately results in higher charges for airlines and consumers, deters investors and serves only to subsidise losses at AAI airports.
ANS Corporatisation is a necessary structural change. More than a cosmetic hiving-off is needed

Airspace is another potential choke-point on the supply side. If this sector is to receive the management attention and capital that it needs to keep pace with projected growth, the air navigations services division of the Airports Authority of India needs to be hived-off as a separate entity and corporatised.
After a couple of false starts, signs are emerging that this could be back on the agenda.
Aviation regulation: India's New Civil Aviation Policy could prove to be a hindrance to the development of the sector unless there is an urgent review
The New Civil Aviation Policy (NCAP) announced in Jun-2016 was a document almost 20 years in the making. This is the first time that India has had a single document vision for the aviation sector and that is a welcome development.
But design flaws in the policy, particularly with respect to regional connectivity, ground handling and bilateral policy, mean that it will be difficult to implement in practice and could inadvertently act as an obstacle to achieving desired objectives. The NCAP requires a thorough review to ensure that India has a policy that will deliver the aviation sector that it needs.
Because of the weaknesses in the policy, little has changed on the ground since it was released. Furthermore, several issues that are fundamental to the long-term sustainability of the sector have been ignored, namely strengthening and restructuring of the DGCA and BCAS, and developing a viable business plan for Air India and the Airports Authority of India, both of which continue to operate sub-optimally.
The Ministry of Civil Aviation deserves significant recognition for actively consulting and engaging with the industry, which is starting to yield results
The Ministry deserves significant recognition for actively consulting with industry stakeholders on a regular and positive basis to identify and address issues. The strategy of engagement and taking accountability is highly welcome and demonstrates a commitment to listening to problems and developing solutions.
A new direction for the future of Air India could be a surprise development, possibly before 2019, as there is no prospect of sustainable profitabilitys under government ownership
After its first operating profit in 10 years in FY2016, Air India is again headed for an operating loss in FY2018. The current administration is showing signs of reluctance to continually fund losses and CAPA does not rule out a significant decision on the future of the national carrier. There may finally be political appetite for a meaningful restructuring, including privatisation, before 2019.
Taxation and levies are likely to increase cost pressures for India's airlines
Other clouds on the horizon include uncertainty related to the rate that will apply on aviation following the implementation of the Goods and Services Tax (GST).
Although intended to simplify India's complex tax code and generally viewed as being positive for the economy in the long term, a higher effective tax rate for economy class air travel could possibly increase fares by 9-12%.
Given the price sensitivity of Indian passengers, this could have a significant negative impact on demand. The implementation of GST may also result in higher upfront costs for aircraft and leases, spares and parts, and distribution costs, increasing cash flow requirements, although airlines will receive input tax credits later.
CAPA's India Aviation Summit will be held in Mumbai on 8/9-Feb-2017 and will bring together virtually every airline and airport CEO in the country for two days of informed analysis and discussion on the key issues and outlook for the world's fastest growing aviation market. This is a must-attend knowledge-building and networking forum for any company with an interest in Indian aviation. To register visit www.capaevents.com/india17 - early bird rates are available until 11-Jan-2017.
CAPA India Aviation Outlook FY2018 will be released globally in Feb-2017 – it will provide the most comprehensive and detailed assessment on every segment of the market, supported by financial analysis and industry forecasts. Email capaindia@centreforaviation.com to purchase a copy.