CAPA Global LCC Summit 2018: finance, strategy, long haul & corporate travel. Singapore 1/2-Mar-2018
Analysis
Since LCCs became widely established over the course of the 21st century, in Europe, then in Asia and Latin America, the model and style has proliferated and evolved enormously.
The basic form, of the no frills, ultra low cost airline has in most cases morphed into often unrecognisable shapes. Eschewing basic principles has become standard practice, to the extent that the product is indistinguishable from the legacy model it has disrupted.
Inevitably, in the quest for higher yield and greater diversity of opportunity, legacy features have been adopted; long haul operations, with network connections, business class seating, codesharing and connectivity, distribution through GDSs and much more. With very large order books, in some cases some LCCs have also established leasing companies to dilute risk.
The legacy features have also been adapted, often to generate ancillary revenue for services which historically were part of the bundled product.
And at the same time, full service airlines have rushed to adopt many of the practices of the LCCs - to the extent that baggage and rebooking charges accounted for almost all the profit of the highly profitable US majors.
At CAPA's Global LCC Summit in Singapore, March 1/2, 2018 (Capella), LCC CEOs and experts from every continent will meet to discuss the key directions the industry is taking. This is a new event for CAPA, complementing its existing suite of global strategic industry forums held in key markets across the world.
For more details about attendance and sponsorship please see CAPA Global LCC Summit 2018: Singapore 1/2-Mar-2018
Among the issues to be reviewed at the Singapore LCC Summit will be:
The LCC Air Finance Outlook: The perspectives from airline and lessor CEOs

Can LCCs be effective in establishing their own leasing companies? (Masterclass)

Are pure LCCs a dying breed? The development of ancillary revenues

Is the long haul low cost model sustainable in the long term? Independent and group subsidiaries

The role of LCC subsidiaries in FSC airline groups

How LCC distribution strategies are evolving

The evolution of the airline-airport interface; how can airports cater most effectively for LCCs

Leveraging digital solutions to deliver a personalised customer experience; using data more effectively

How LCCs can compete more effectively in the corporate travel space (Masterclass)
CAPA TV (centreforaviation.tv) carries multiple interviews with the world's leading LCCs.
We interviewed some of the CEOs of long haul low cost airlines in recent months. They offer some deeper insights into the evolution of this market sector:
In this interview Norwegian CEO, Bjorn Kjos, discusses the new 737MAX-operated Cork-Providence route and looks at the potential for the A321LR on North Atlantic routes. He anticipates further Asian routes, subject to Russian overflight rights and gives an update on progress with Norwegian Argentina.
Mr Kjos also discusses the profitability of Norwegian's long haul network and the international perception of its brand.
Here Cebu Pacific CEO Mike Szucs discusses the airline's decision to cut long haul flights to the Middle East and redeploy A330s on regional routes as well as the decision to shelve consideration of new generation widebody aircraft to launch long haul flights to North America. The redeployment of the A330s has enabled Cebu Pacific to accelerate growth in the domestic market, where it is starting to regain market share, and in the regional international market. The delivery of seven A321ceos in 2018 will enable Cebu Pacific to continue domestic and regional expansion while also potentially freeing up A330s for a resumption of long haul expansion, starting with the possible launch of Melbourne. A321neos will arrive from the end of 2018 and be used on longer regional routes.
Jetstar Asia had a busy end of 2017 with the launch of three new routes – Hat Yai, Okinawa and Clark. CEO Barathan Pasupathi discusses the three new routes and how the airline has been able to expand the network despite not growing its fleet. Jetstar Asia's fleet has been stuck at 18 A320s since early 2014 and its ASKs have been on the decline the last two years due to heavy maintenance requirements.
Jetstar Asia has cut back capacity to some existing destinations and is focusing on profitability rather than growth. Fleet expansion will only resume if there is consolidation or the Southeast Asia market starts behaving more rationally.
Korea's LCC market
South Korea's LCC fleet is now over 100 aircraft, with a domestic traffic share of over 40%, and international share also climbing. But where to from here? Seoul and Busan are maxed out on slots, and early 2017 restrictions on operating some international charter services to China, whilst a relatively small impact on overall capacity, did create some unwanted issues for Korean LCCs looking to continue expanding. Jeju has promised to achieve 10m pax in the full year 2017.
Can South Korean LCCs grow revenue and yield in such a crowded and competitive market?
In this panel discussion, moderated by Embry-Riddle Aeronautical University, Assistant Professor June Lee, the panel consisted of:
CAPA also publishes LCC-related (and many other) reports on centreforaviation.com
Some recent reports from the past month include:
Joon: Europe's (compromise) newest airline manages to break all the LCC subsidiary start-up rules
Europe's newest airline, Joon, took to the skies on 1-Dec-2017 from Paris CDG on routes currently operated by its parent Air France. Its first routes were to Barcelona, Berlin Tegel, Lisbon and Porto, deploying A320 aircraft transferred from Air France.
Joon was established by Air France on 20-July-2017, after an agreement allowing its creation was reached with unions - not an ideal formula for a low cost airline. It will provide service to Air France under a wet lease agreement, operating certain scheduled flights from CDG on behalf of its parent company.
Joon is Air France's modest response to the high level of competition in the airline industry, particularly from Gulf airlines on long haul. Long haul routes will be added in summer 2018, initially to Cairo, Cape Town, Tehran, Fortaleza and Seychelles.
With Joon, Air France hopes to reduce costs and achieve a targeted increase in its customer base. Air France's growth has been constrained by weak financial performance for many years, and Joon is intended to offer it the chance to grow again.
However, Joon is not a low cost airline, merely lower cost. It is joined at the hip to its parent; it doesn't even have a separate website and there is lots of common activity with its parent. Moreover, its growth is limited to a fleet of 28 aircraft (18 narrowbodies and 10 widebodies). Its compromise is to aim at a "millennial" market segment and bears all the signs of a compromise airline. It has been called "Le Song", recalling the failed Delta subsidiary, which had similar but compromised trendy ideas.
Still, times have changed. It may still have a future as a substitute for Air France on more marginal medium/long haul routes. But Air France needs so much more than that.
Europe's aircraft fleet: two clear shifts highlighted by analysis of the CAPA Fleet Database

There is a clear top seven among European airline groups by fleet size
Ranked by aircraft in service, Europe's leading airline groups form into a top seven that are comfortably ahead of the chasing pack.
Lufthansa Group leads the way, with 710 aircraft; followed by IAG, with 603; Air France-KLM, with 536; and fourth placed Ryanair, with 413, making its fleet the biggest single airline fleet.
Turkish Airlines Group is fifth, with 351 aircraft; just ahead of Aeroflot Group, which has 331. EasyJet Group completes the top seven, with 277 aircraft.
EasyJet is almost twice the size of eighth ranked Norwegian, which has 143 aircraft just ahead of its Scandinavian rival SAS' – 133 aircraft. Alitalia, in spite of being in administration, is still a top 10 European airline group by fleet size, with 120.
There are no other European airline groups with more than 100 aircraft as at 4-Dec-2017.
Europe: aircraft on order by airline group as at 14-Dec-2017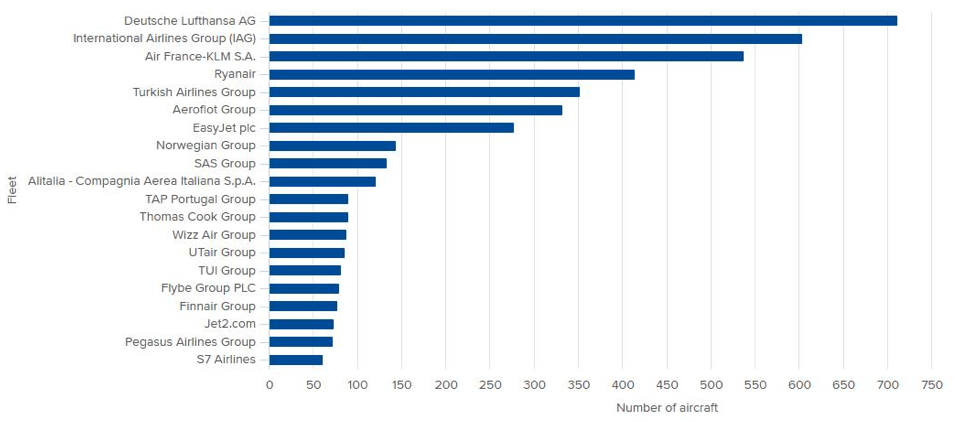 Norwegian Air Argentina has 153 routes approved: and under served aviation market, but challenges exist
On 26-Oct-2017 the Argentine National Civil Aviation Administration (ANAC) authorised Norwegian Air Argentina to operate 153 routes from the country, both domestic and international. The Norwegian Group expects that its Argentinean subsidiary, established in Jan-2017, will finally launch operations in the middle of 2018.
It had originally hoped for a winter 2017/2018 launch, but the regulatory process has taken longer than expected. Operation of the authorised routes will be phased in over a period of years, but Argentina will be a major focus of Norwegian Group's growth in 2018.
Norwegian Group's first Argentinean flight will be London Gatwick-Buenos Aires, operated by Norwegian Air UK on 14-Feb-2018, but Norwegian Air Argentina itself will begin with domestic and intra-Latin American routes. Intercontinental routes to cities in Europe and North America are also on its authorised list and will be added over time. It plans to grow its presence in Argentina to up to 70 aircraft.
Argentina is an underserved aviation market, with high fares, offering significant potential to low cost airlines. Some liberalisation has attracted a number of possible new entrants, but challenges include infrastructure and a minimum fare regulation.
Jetstar Pacific: slower fleet growth but outlook brightens as market conditions in Vietnam improve
The Vietnamese low cost airline Jetstar Pacific has slowed its expansion, selling three A320ceo deliveries that were initially slated for 2H2017 and leasing out four aircraft. Jetstar Pacific will end 2017 with only 17 A320s in its network, or seven fewer aircraft than in its initial plan.
Jetstar Pacific has continued to grow in 2017, and is planning more growth for 2018. However, the rate of growth has slowed significantly from the 40% achieved in 2015 and 2016.
As a result, Jetstar Pacific will fail to meet the target of operating 30 aircraft by early 2019, set by shareholders Vietnam Airlines and Qantas two years ago. A period of strategic domestic expansion has ended as Jetstar Pacific shifts focus to international expansion and improving profitability.
EasyJet: a digital leader growing ancillary revenue, but profit falls again as Dame Carolyn departs
EasyJet has been a leader among European airlines in digital innovation, particularly in its commercial strategy. Its digital initiatives are widening its distribution channels, facilitating a smoother customer experience and adding to payment options. This is helping to grow customer loyalty and to drive both revenue growth and cost efficiencies.
In addition to developments in distribution and customer relationship management, other innovations enabled by IT and digital technology include easyJet Worldwide (the new partner airline flight connecting product); actions in easyJet's 'lean' cost saving programme; the use of iPads for pre-flight checks in Palma; predictive maintenance, and engineering initiatives to reduce fuel use and carbon emissions.
However, it will be a source of at least some disappointment to the departing CEO Dame Carolyn McCall, when looking back on her otherwise successful seven years in charge, that easyJet's profits have fallen for the past two years.
The problem has mainly been related to weak unit revenue. Digital developments helped ancillary revenue to outpace fare revenue and to grow to 20% of the total in FY2017 from 16% two years ago. However, this was only back to the level when Dame Carolyn took over, and suggests that easyJet's digital strategy is not yet yielding its full potential.
Indigo Partners A320neo order gives Frontier, Volaris, Wizz & JetSMART platform to accelerate growth
Four ultra-low cost airlines from four distinct markets are planning rapid expansion under an ambitious order placed by LCC specialist equity group Indigo Partners. Indigo signed an MoU at the 15-Nov-2017 Dubai Airshow for 430 A320neo family aircraft which are intended for US-based Frontier Airlines, Hungary-based Wizz Air, Mexico-based Volaris and Chilean start-up JetSMART.
The order from Indigo is intriguing in that Indigo only owns a minority stake in Volaris and Wizz. The deal therefore could be viewed as a combined order from four loosely aligned airlines that are keen to leverage the economies of scale associated with a bulk aircraft order. The "order" is essentially a series of four MoUs between Airbus and each individual airline. In the case of Wizz and Volaris, approval from all of the shareholders is needed. Frontier and JetSMART, by contrast, are wholly owned by Indigo.
Indigo is likely taking advantage of attractive pricing during a down year for aircraft orders. The investment firm appears confident the four airlines can absorb 430 new aircraft, given the strength of their home markets and the ULCC model, but could also eventuate in allocating aircraft to new ULCCs that have not yet been established.
For more details about attendance and sponsorship please see CAPA Global LCC Summit 2018: Singapore 1/2-Mar-2018