Cancun: solid air travel growth, but negative publicity
Analysis
Despite a raft of negative publicity swirling around Cancún during the last year, the region's airport posted double digit passenger growth in 2017 and a nearly 7% increase through Jul-2018.

But US airlines are making adjustments to their schedules for Cancún as a result of various travel advisories stemming from violence and incidents of blackouts from alcohol consumption at resorts in the Cancún area.

The US is by far Cancún's most important international market, and Cancún's tourism officials are stressing that the latest travel advisory issued by the US State Department does not include Quintana Roo, which is home to Cancún and several other tourist areas. However, recent violence occurring outside the resort area in Cancún continues to create a negative perception for travel to the region.
Summary
Cancún charts solid passenger growth, driven by large US demand
Cancún has long been a haven for US tourists, reflected in the US representing the airport's largest international country measured by ASK deployment. According to CAPA and OAG, foreign airlines represented 73% of Cancún's system ASKs as of late Aug-2018.
Cancún International airport departing ASKs by country, as of late Aug-2018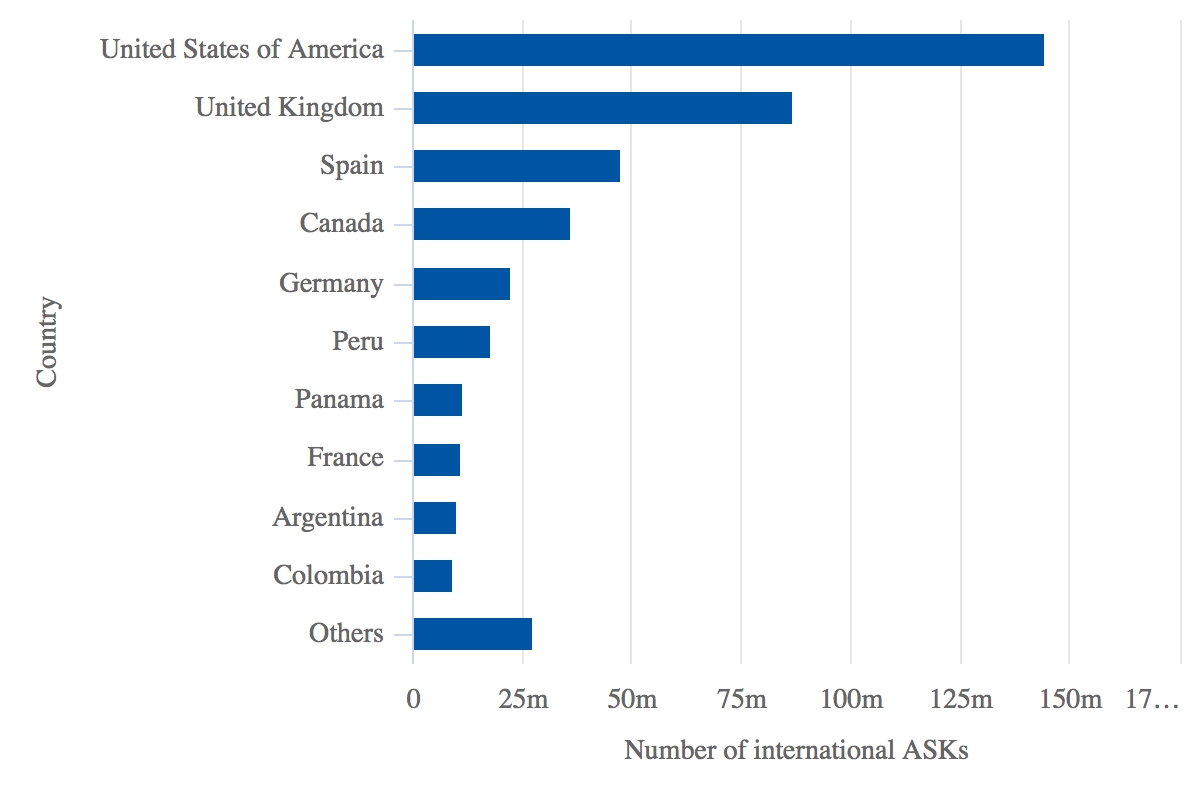 During the past few years Cancún has experienced solid passenger growth. Passenger numbers jumped 10% year-on-year in 2017, to 23.6 million, and international passenger growth reached 8.4%, to approximately 16 million.
Cancún International Airport passenger growth from 2013 to JUL-2018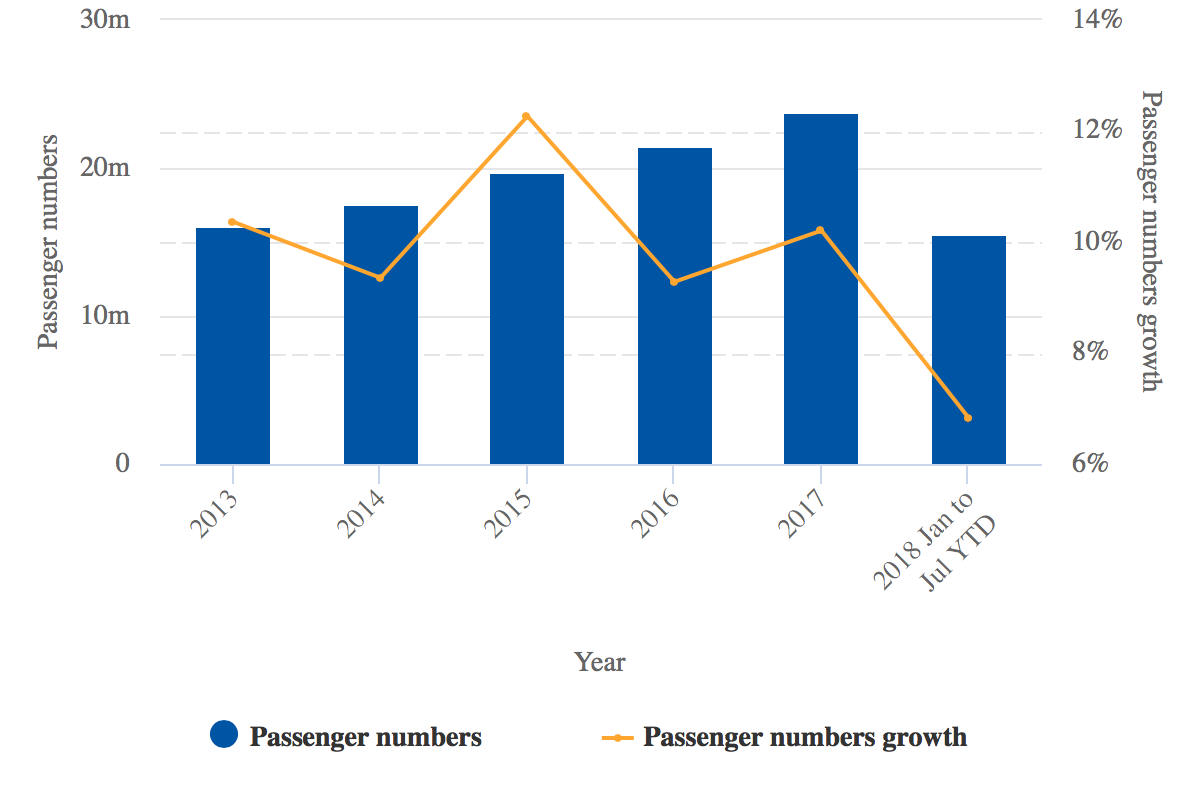 Tourists report blackouts and assaults at Cancún's resorts
But Cancún and other resorts in Quintana Roo are battling backlash from numerous incidents during the past year when tainted alcohol seems to have contributed to blackouts among tourists, and some of those patrons have been assaulted and robbed, according to an extensive investigation conducted by the Milwaukee Journal Sentinel.

The publication cited a report by Euromonitor International that concluded that as much as 36% of the alcohol consumed in Mexico is illegal. That alcohol is sold or produced under regulated conditions, the publication explained. Its investigation also discovered the bootleg liquor could be infused with grain alcohol or dangerous concentrations of methanol.

The Journal Sentinel has compiled reports from more than 170 individuals detailing blacking out after consuming small to moderate amounts of alcohol at the resorts.

"Some have been assaulted and robbed. All reported little or no recollection of what happened. The incidents occurred at various resorts, to men and women of varying ages, single and in pairs", the publication reported.
US airlines pull back capacity as demand to Cancún softens
As reports of the blackouts and other violence have mounted, there have been some effects on demand to the Cancún region.

American, Delta and United have all cited weakness in Mexican beach markets, and Delta is adjusting its capacity on some of its routes in the region.

The US ULCC Spirit Airlines also cited signs of weakness in the Cancún market during 2Q2018, and has calculated sagging demand to the region would affect its 3Q2018 total unit revenue by broadly 100 basis points.

Spirit executives stated that the airline had made some select capacity adjustments to Cancún for the US autumn period, and had postponed some new services to Cancún. As of late Jul-2018, Cancún represented only approximately 2% of Spirit's overall capacity.

There's no doubt that the travel advisories that "have been out there all year", according to Spirit, are also affecting airlines' ability to price effectively on routes to Cancún. At the time when Spirit outlined plans to make capacity adjustments for Cancún, its executives remarked that the airline believed the situation would "eventually resolve itself".
More violence outside Cancún's resorts is likely to create more demand softness
Those declarations were made before the discovery of eight bodies in Cancún during mid-Aug-2018. The violence occurred outside the city's resort zone, but no doubt added to the negative perception that Cancún is attempting to change.

According to Conde Naste Traveler, the US State Department issued an updated travel advisory on 22-Aug-2018 for Ciudad Juarez, which is 1,000 miles from Cancún.

The Washington Post highlighted a statement from Quintana Roo's tourism board in which the body stressed: "There are currently zero US State Department Travel Warnings against any destination in the state of Quintana Roo and there are zero Travel Warnings against any international tourist destination in Mexico".

Despite the clarification, there will continue to be a negative perception over travel to Cancún as travellers become wary about safety of resorts in the area.
In addition to the concern over illegal alcohol, the Milwaukee Journal Sentinel has reported that in some cases, local hospitals in Cancún demand thousands of dollars before treating individuals who have blacked out and been assaulted. The publication also stated that resort workers offer little help, and in many cases, local police officers are unhelpful.
Quintana Roo needs to ensure patrons feel safe at its resorts
Mexico has had its share of challenges from drug crime during the past few years, but the country's resort areas have remained largely safe. Those resorts are still effectively shielded from the violence surrounding Mexican drug cartels, but the recent spate of incidents involving blackouts and violence inside resorts in the Cancún area is no doubt deterring US tourists away from the area.

Quintana Roo tourism bodies understand the importance of US tourism to the region, and will need to work with resorts in the region to ensure that patrons feel safe. Otherwise, those tourists will look to take holidays elsewhere.