Canada's airlines Part 1: Air Canada exudes confidence in meeting ambitious cost targets
Analysis
Canada's largest airline Air Canada continues its march to slash unit costs even as the devaluation of the CAD against the USD creates some temporary headwinds for the company. It believes that many opportunities lie ahead to further draw down its costs including a new agreement with regional partner Jazz and the introduction of the Boeing 737 Max beginning in 2017.

The company has revised its 2015 unit cost projections excluding fuel from a 1% to 2% decline year on year to a 1% decrease, driven by several factors, including currency pressure. Absent the depreciation of the CAD, Air Canada maintains its unit cost decreases would be greater year on year for 2015.

Given its complexity, Air Canada's cost on an absolute basis will likely never equal that of its main rival WestJet; but keeping fuel and currency costs constant, the airline remains confident of lowering its unit costs by 21% between 2012 and 2018,. Air Canada's fleet strategy and the continued favourable performance of its low cost subsidiary rouge are major components of its cost cutting strategy.
This is Part 1 of a two part review of Canada's airline performance.
Currency pressure drives 2015 unit cost revisions for Air Canada
Air Canada in late 2015 refined its unit cost (excluding fuel and expenses related to vacation ground packages) to a 1% drop year on year compared with a previous projection of a 1% to 2% decline. The changes to Air Canada's outlook were driven by additional investments to improve the customer experience, increases in depreciation, aircraft maintenance and employee benefits and, largely, the weakening of the CAD against the USD.

No airline has yet released final results for full year 2015, but Air Canada projects the CAD will trade at CAD1.28 against the USD for full year 2015 and CAD1.32 for 4Q2015. Air Canada has estimated that if the CAD were trading against the USD at 2014 levels, its unit costs would drop 3% to 4% year on year for 2015. Its unit costs excluding fuel and ground package expense for 2014 were CAD11.3 cents, down 2.6% year on year.

Air Canada does engage in some currency hedging roughly 18 months out to mitigate the effects of the falling CAD. It has also estimated that 2.5 billion in both revenue and expense is denominated in the USD, which also provides some offset to currency pressure.

Air Canada's maintenance expense, which is denominated in the USD, grew 22% year on year in 3Q2015.
The airline stated that most of the jump was currency related. On a longer term basis, Air Canada is the midst of moving its maintenance cost structure to more power by the hour contracts, which could create higher maintenance expenses than in the past, but should lower that line item after the "maintenance holiday" of new aircraft coming online. The airline is projected to add 55 new aircraft to its fleet between 2016 and 2018.
Air Canada projected delivery dates for aircraft purchased from OEMs and leased from lessors as of 6-Jan-2016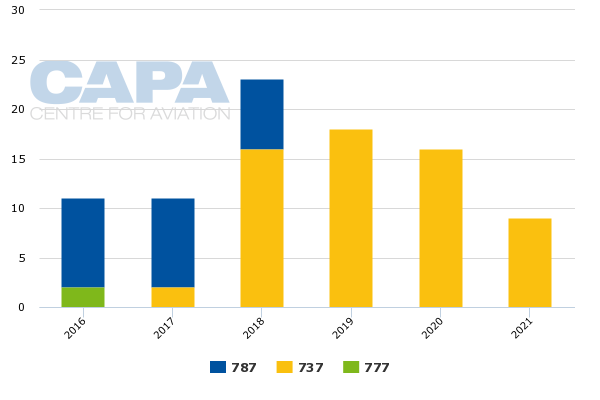 rouge and seat density are important elements of Air Canada's unit cost targets
Seat densification is one of the main factors driving Air Canada's confidence that it can drive a 21% reduction in its unit costs by 2018. It is adding 51 seats to 12 of its Boeing 777-300ERs and 31 to six 777-200LR models.

During 2015, Air Canada also struck a renegotiated contract with its largest regional partner Jazz that should save CAD550 million cumulatively over five years.

Another big contributor to Air Canada's projected unit cost decline is the creation of its low cost subsidiary rouge. The airline has estimated that rouge's unit cost differential compared to Air Canada mainline was 23% to 30% compared with original estimates of 21% to 29%. The cost efficiency is driven by lower wages for rouge employees and the higher density aircraft operated by rouge.

rouge is also a contributor to Air Canada's recent revision of targets for certain financial metrics. The company has set a return on invested capital target of 15% to 18% for 2015 to 2018 after posting a 15.2% return for the 12M ending Mar-2015. Its previous targets set in 2013 were 10% to 13%.

See related report: Air Canada can celebrate a solid cost performance for rouge as it approaches its second anniversary
Boeing 737 Max additions and Embraer reductions drive double digit unit cost reductions
Now that the Boeing 787 widebody is a growing entity in Air Canada's fleet – it operated eight 787-8s and four 787-9s as of 6-Jan-2016 – the next step for the airline in its fleet evolution is the delivery of 61 Boeing 737-8/9 Max aircraft beginning in 2017. The airline has estimated the new generation narrowbodies should produce a 10% unit cost improvement over the current generation Airbus A320 family narrowbodies they are replacing.

The airline is also replacing 20 97-seat Embraer 190 mainline aircraft with five larger Airbus narrowbodies and five Boeing 767s for a projected unit cost reduction of 10%. Under its deal with Boeing for the 737 Max narrowbodies, Boeing agreed to take 20 of the 45 Embraer 190s in Air Canada's fleet at the time the companies announced the deal. Presently, 6-Jan-2016, CAPA's Fleet Database shows Air Canada operates 34 of the Embraer jets. Subsequently, Delta agreed to acquire the 20 Embraer 190s from Boeing.
Air Canada Fleet Summary as of 6-Jan-2016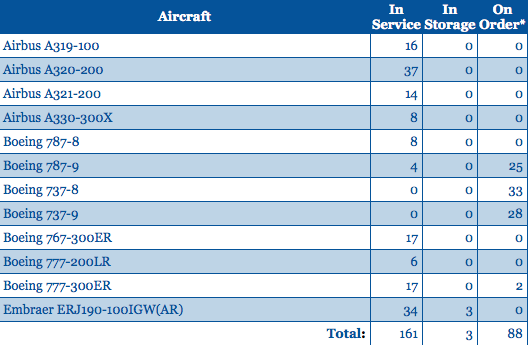 Air Canada and WestJet have different cost bases. Each airline works to fight cost creep
Air Canada's rival WestJet is projecting a 3% increase in its unit cost excluding fuel and profit share year on year when it reports financial results for 2015. Its unit costs excluding those items was CAD9.15 cents in 2014. For 2016, WestJet's preliminary cost guidance is a drop of 0.5% to a rise of 1.5%.

Although WestJet's costs have crept up from CAD8.80 cents in 2010, it still holds a cost advantage to Air Canada. With its alliance participation, trans-Atlantic joint venture membership, multiple fleet types and vastly larger network, Air Canada's cost structure is markedly different from its main domestic rival, and therefore Air Canada will continue to post higher overall unit costs than WestJet. But as WestJet adds more complexity to its model – fare options, long-haul operations and its regional subsidiary Encore – the cost gap between the two airlines could narrow.
Air Canada and WestJet's unit cost performance: 9M ending Sep-2015
| | | |
| --- | --- | --- |
| Airline | CASM, Percent change year on year | CASM X, Percent change year on year |
| Air Canada | CAD15.08 cents, down 10% | CAD10.99 cents, down 0.5% |
| WestJet | CAD12.83 cents, down 6.9% | CAD9.13 cents, up 1.5% |
For 2014, Air Canada's all in unit costs (measured by CASK in the CAPA database), were trending slightly above most of its fellow full service North American airlines.
However, its stage length (which keeps growing), was one of the longest among that peer set. United mainline, which has the largest presence between the US and Asia, was the only airline with an average stage length longer than Air Canada.
2014 CASK comparisons (including fuel) for North American full service airlines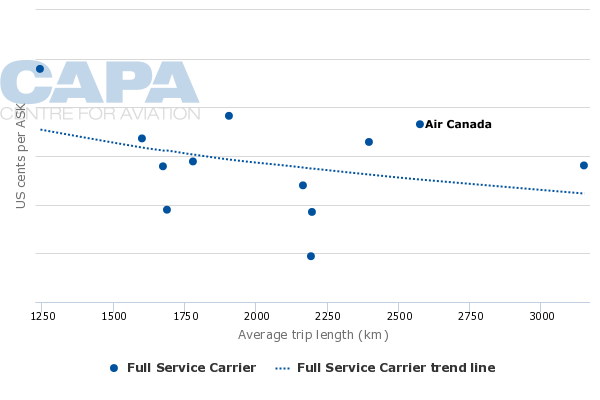 WestJet will no doubt work to keep its cost edge as it closely tracks Air Canada's progress
Air Canada has upped its unit cost reduction targets from an original goal of 15% to 21% by 2018. Fleet changes that entail adding seats to widebodies and the delivery of more fuel efficient next generation narrowbodies along with the evolution of rouge are the foundations of its confidence in achieving its stated cost goals.

The focus on unit cost reduction by Air Canada adds another layer of competition in the Canadian domestic market between the countries two largest airlines. Although WestJet shows no signs of ceding its unit cost edge, it is no doubt one of the most interested observers in Air Canada's quest to meet is unit cost targets.