Canada to Ireland: underserved markets can offer rapid growth for both LCCs & legacy airlines
Analysis
The market in airline seats between Canada and Ireland almost doubled between summer 2013 and summer 2015. Moreover, it has expanded from a summer only to a year-round market.
A number of factors have driven this, including the entry of LCC WestJet; the transfer of Air Canada capacity from its mainline operation to its LCC brand rouge and rouge's subsequent increase in frequency; Aer Lingus' return to growth mode on the North Atlantic and its flexibility in deploying wet leased capacity for its Canadian entry.
The two airlines previously making up a duopoly on Canada-Ireland have navigated the market's development quite differently over the past two years. Air Transat, still the number two airline between Canada and Western Europe overall, has lost significant market share on its Irish network, to the benefit of Aer Lingus and WestJet. Air Canada has successfully used rouge to defend its leading share of what is now a much larger market.
On all routes between Canada and Western Europe, total one way weekly seat capacity in the summer peak in 2015 was around 173,000, an increase of 4% versus summer 2014. The biggest operators on Canada-Western Europe are Air Canada (38% seat share in Aug-2015) and Air Transat (22% seat share).
British Airways, KLM, Air France and Lufthansa each had 6% to 7% of peak summer 2015 seats, Icelandair less than 3% and Condor 2%. WestJet had 1% and Aer Lingus less than 1%, according to OAG.
According to data from OAG, around 3% of the Canada-Western Europe market, or 5,500 weekly seats, were on routes between Canada and Ireland in peak summer 2015. This number was 16% higher than in 2014, when the figure was a staggering 70% up on summer 2013.
Air Canada is also the largest operator on Canada-Ireland routes, with 43% of peak summer 2015 seats, followed by Aer Lingus with 24%. Canadian LCC WestJet's 18% share pushes Air Transat into fourth place. Air Transat's seat share was 16%, less than its share on Canada-Western Europe routes overall. Only Air Canada and Aer Lingus will operate in the winter 2015 schedule, splitting the market 54%:46%.
Canada to Ireland: total one way weekly seats, 19-Sep-2011 to 27-Mar-2016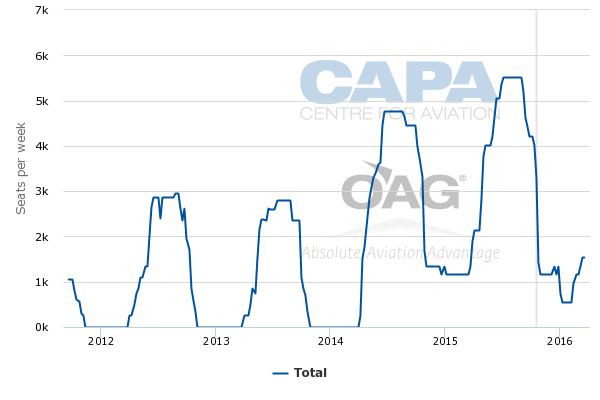 Data from OAG indicate that more than 4,000 of the Canada-Ireland seats in peak summer 2015 were deployed on direct fights between Toronto Pearson Airport and Dublin Airport, a route that has driven almost all the growth in capacity between the two countries.
Moreover, capacity on the other two Canada-Dublin routes also originates/terminates in Toronto, with both Montreal Pierre Trudeau Airport and St Johns International Airport acting as stopover points.
Air Transat operates a weekly seasonal service from Montreal to Dublin between May and late September/early October. Air Transat upgauged on this route from an A310-300 to an A330-200 in Jul-2015 and Aug-2015, when it deployed 345 weakly seats.
Montreal to Dublin: one way weekly seats by airline, 19-Sep-2011 to 27-Mar-2016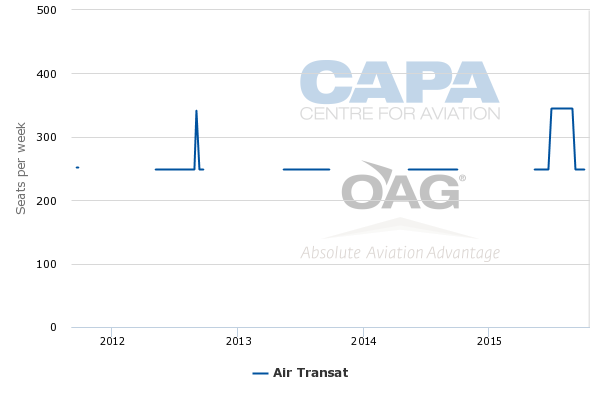 WestJet created a new link between Canada and Ireland when it launched a daily Boeing 737-700 service between St Johns International Airport and Dublin in Jun-2014. This seasonal service was extended to start in April the following year and does not operate in the winter. Weekly capacity in the summer is 952 seats, according to OAG data.
St Johns International to Dublin: one way weekly seats by airline, 09-Jun-2014 to 25-Oct-2015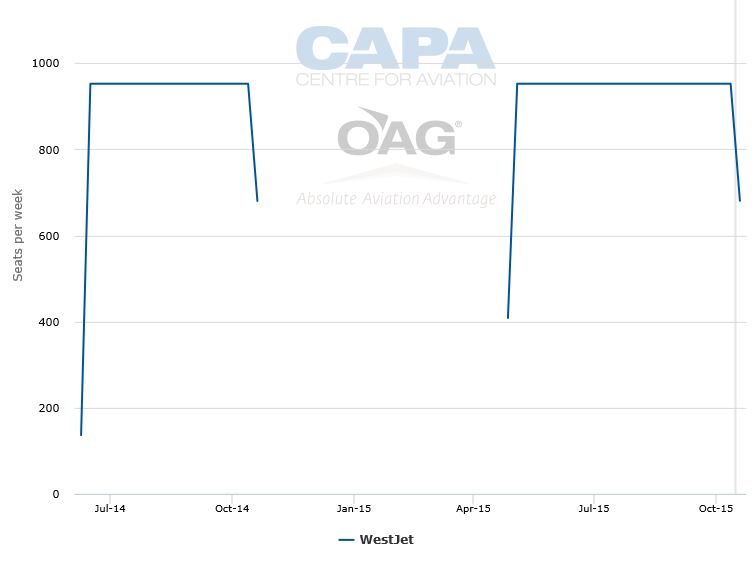 It is on Toronto-Dublin sector that the Canada-Ireland market has seen the most new activity. In 2014, not only did Air Canada move its service to a year-round operation by its low cost brand Air Canada rouge, but also Aer Lingus entered the route. This prompted Air Transat to cut its capacity on the route in 2014 and 2015, while Air Canada significantly increased its capacity. This has led to significant shifts in market share, with Air Transat the loser.
Air Canada's seat share in the June to September peak summer period was around 59% in 2012 and this dipped only slightly to around 58% in 2013. Air Canada did not operate in the shoulder summer periods at that time and so Air Transat took 100% of that smaller market in those weeks.
Following Aer Lingus' entry and Air Canada's expansion of its schedule to year-round in Apr-2014, Air Transat cut its summer only capacity by 23% in 2014 and 40% in 2015. In summer 2014, Air Canada's share fell to around 41% (of a larger market), while Aer Lingus took 36% and Air Transat the balance of 23%. In summer 2015, Air Canada increased its seat capacity by 59% year-on-year and restored its market share to 57%. Aer Lingus' share dipped to 31%, but with unchanged capacity, while Air Transat's dropped to 12% in the peak summer period.
At the height of the summer schedule, the total number of seats in the market grew by 39% year-on-year in 2014 and by 13% in 2015, when it was 4,057 seats per week. If WestJet's capacity via St Johns and Air Transat's via Montreal are added to the total, the growth was 86% in 2014 and 13% in 2014, when the total was 5,354.
Toronto to Dublin: one way weekly seats by airline, 19-Sep-2011 to 27-Mar-2016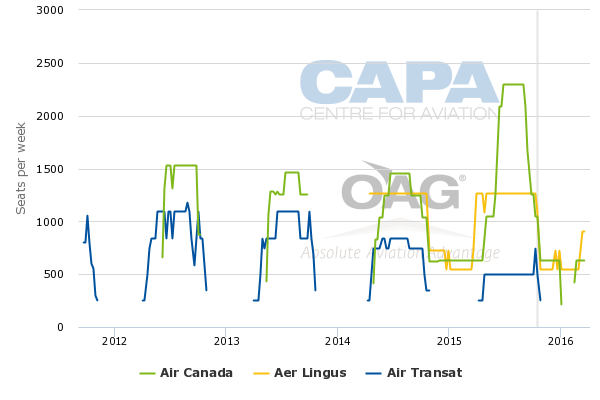 Although the two largest airlines by seat numbers between Dublin and Toronto are the two respective national airline groups, both use a platform other than their core operation. Aer Lingus' daily Dublin-Toronto service is operated on its behalf under a wet lease contract by ASL Aviation (Air Contractors) deploying Boeing 757 equipment. As noted above, Air Canada participates on this route through its rouge brand operating a six times weekly 767-300 service.
Air Transat has been serving Dublin from Toronto in the summer schedule since 1994. Its twice weekly A310-300 service (Monday and Friday for most of the summer) has a late night departure (23.40 or 23.45) from Toronto, arriving at 11.10 in Dublin the following morning. The return flight (Tuesday and Saturday) departs Dublin at 12.45 and arrives in Toronto at 15.20. It reduced the frequency on this route from four times weekly in summer 2014.
In addition to its direct service, Air Transat also operates a weekly A310 summer service from Toronto to Dublin via Montreal (A330-200 in Jul-2015 and Aug-2015). This departs Toronto at 19.15 and arrives in Dublin the following morning at 08.40 (after a 70 minute stopover in Montreal). The return flight leaves Dublin at 14.45 and arrives in Toronto at 17.05 (after a one hour stopover in Montreal). Air Transat dropped its previous weekly Toronto-Dublin-Shannon-Toronto operation at the end of summer 2014.
WestJet does not fly direct to Dublin from Toronto at all, but it operates a daily 737-700 service from Toronto to Dublin via St Johns. This departs Toronto early evening (17.00) and arrives in Dublin at 07.00 the following morning (after a 90 minute stopover in St Johns). The return flight departs Dublin at 08.20 and arrives in Toronto at 13.58 (after a two hour stopover in St Johns).
Canada-Ireland demonstrates potential of underserved markets, especially if stimulated by LCC entry
The strong growth, coupled with increased competition, on the Canada-Ireland market demonstrates a number of themes in today's airline industry. The most obvious point is that underserved markets can provide significant expansion opportunities if additional capacity is deployed. This is particularly true if the new capacity stimulates demand with lower fares.
In this respect, demand on Canada-Ireland has undoubtedly benefited from the entry of LCC WestJet and the transfer of capacity by Air Canada from its mainline operation to its LCC rouge. From summer 2013 to summer 2015, the market almost doubled and the market transformed from an all Canadian legacy airline duopoly to a market with four competitors and 61% of seats operated by low cost brands. Moreover, a market previously regarded as seasonal has been stimulated to support a year-round service.
A test bed for narrow body long haul low cost
The market has also been a test bed for long haul low cost operations, using a narrow body aircraft type, albeit on a sector that shrinks the definition of long haul. Although there is perhaps no absolute definition of long haul, at around 3,800 km, St Johns to Dublin is probably shorter than most definitions and one of the shortest possible transatlantic routes.
Nevertheless, it is an intercontinental route and demonstrates the potential for long haul low cost model to develop with narrow body aircraft, in addition to the more common wide body model.
Air Transat has lost significant market share
The shrinking of Air Transat on Canada-Ireland, not only in terms of market share, but also in absolute seat numbers, is intriguing. On Canada-Western Europe overall, Air Transat's market share slipped from 27% in peak summer 2013 to 22% in peak summer 2015, but it is still the second largest operator. Its near collapse in share on Canada-Ireland from 48% in summer 2013 to 16% in summer 2015 suggests weakness in its brand positioning.
In a market now dominated by low cost brands (albeit including one that is part of a legacy group) and an increasingly nimble and cost efficient national airline in the form of Aer Lingus, Air Transat's somewhere-in-the-middle leisure oriented brand may not be robust enough to withstand the squeeze.
Its continued deployment of ageing Airbus A310 aircraft may not be helping. It seems to have been particularly vulnerable to the speed and scale of competitive developments on its Irish routes. Air Transat's experience in this market raises questions about the robustness of its position in the wider transatlantic market.
Legacy carriers can evolve
The development of the Canada-Ireland market also demonstrates that a well run, flexible and cost efficient national 'flag carrier' group can attract growth. Aer Lingus has re-established itself on the North Atlantic mainly on routes to the US after a cost restructuring. Its Toronto route, operated under ACMI by ASL Aviation, shows that new markets can also be opened up with different operating vehicles if they provide the right cost base.
See related reports:
Taking a different option, Air Canada has used its LCC rouge to achieve a similar outcome, while adding to the growing evidence that it may be possible to establish a successful low cost subsidiary of a legacy airline.
Maybe it has something to do with both countries' national symbols involving three-pronged leafy vegetation, but the rapid expansion of the Canada-Ireland market has been very successful over the past two years.