BWI airport: a Southwest hub and a strong, popular performer
Analysis
Baltimore Washington International (BWI) airport's growth tends to fly under the radar but the airport handled 26 million passengers in 2017, which was its third consecutive year of record increases. BWI's passenger levels are higher than those of the Washington region's two other airports – Washington Dulles and Washington National.

BWI has a level of stability not enjoyed by other airports, none of which serves as a hub for one the US' three large global network airlines American, Delta and United. American is the largest airline at Washington National, and United, as of late, has opted to build up Washington Dulles However, neither of those airports are in American's or United's top five bases. But BWI is the second largest in Southwest's network measured by departing frequencies, and the airline's commitment to the airport is only getting stronger. Having the US' second largest domestic airline as an anchor tenant bodes well for BWI's long term viability.

The airport's overall network profile remains fairly diverse, with services to London and Reykjavik offering connections to other European destinations. BWI also has a steady roster of services to Latin America, and recently expanded its offerings to Canada with new services to Montreal.
Summary
BWI is celebrating a strong wave of passenger growth that has resulted in the airport's passenger numbers surpassing those of Washington Dulles and Washington National.
The airport has solid network coverage, with connections to Europe through services to London and Reykjavik and a solid roster of service to Latin America.
BWI posts three consecutive years of solid passenger growth
During the past three years BWI has been enjoying solid passenger growth of 6.9%, 5.4% and 4.9%, respectively. Its passenger levels of 26.4 million in 2017 were higher than Washington National's 24 million and the 23 million passengers travelling through Washington Dulles.
Baltimore Washington International airport passenger growth from 2009 through Aug-2018 (YTD)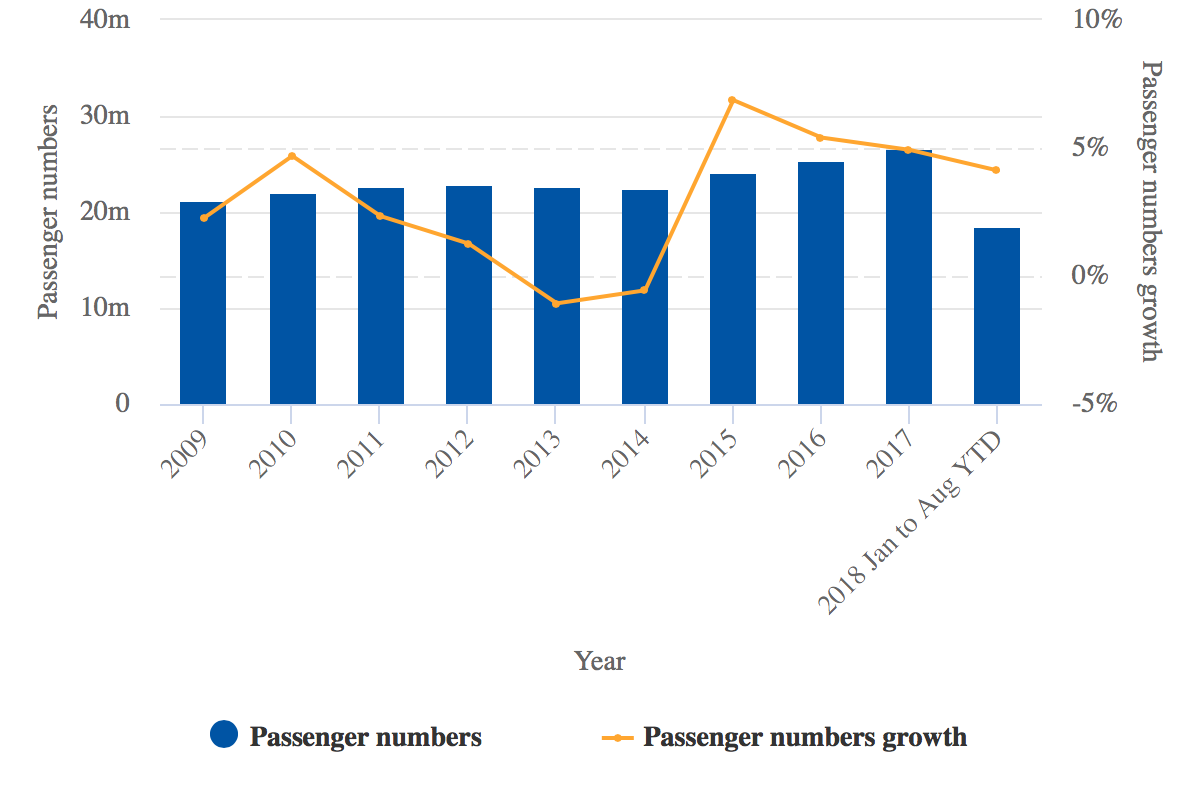 The airport offers service to 83 nonstop destinations – 71 domestic, two in Europe, seven in Latin America and a total of three to Canada and Puerto Rico.

British Airways operates flights to London Heathrow and WOW Air and Icelandair offer service to Reykjavik, giving BWI passengers one-stop access to numerous destinations on the European continent. Covering Latin America and the Caribbean, BWI has flights to Aruba, the Bahamas, Costa Rica, the Dominican Republic, Jamaica and Mexico.

Recently, new flights to Montreal operated by Air Canada joined the airline's existing service to Toronto.

During 2019 Allegiant Air is launching service from BWI to Sarasota, Florida, and Spirit is introducing new flights to BWI from Jacksonville, Florida, as well as seasonal service to the airport from Ft Myers, Florida.

The airport's ASKs have grown at a steady pace since 2015, peaking during the high travel season of Jul-2018, with 7.2% growth year-on-year for the week of 23-Jul-2018.
Baltimore Washington International airport ASK growth from 2015 to YE2018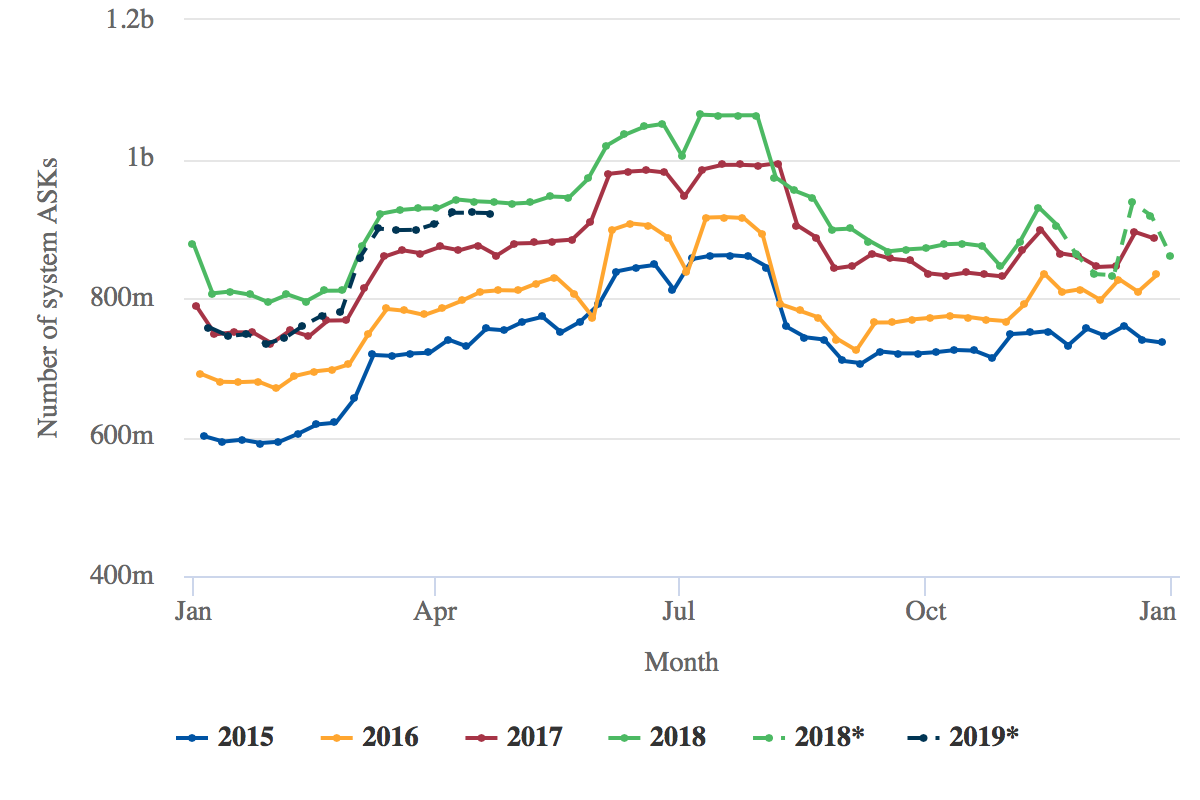 Southwest and BWI maintain their long-standing positive relationship
Southwest is celebrating 25 years of service at BWI, having launched service from the airport in 1993. According to the local news outlet The Baltimore Sun, when Southwest began serving BWI more than two decades ago the airport handled nine million passengers annually. Fast forward to 2017, and Southwest alone carried 18 million passengers through the airport, according to the publication.

By any measure, Southwest is BWI's largest airline, and data from CAPA and OAG show the airline represents almost 65% of the airport's departing frequencies.
Baltimore Washington International percentage of departing frequencies by airline as of mid-Nov-2018
The airport is Southwest's second largest base measured by departing frequencies, behind Chicago Midway.
Southwest Airlines top bases measured by departing frequencies as of mid-Nov-2018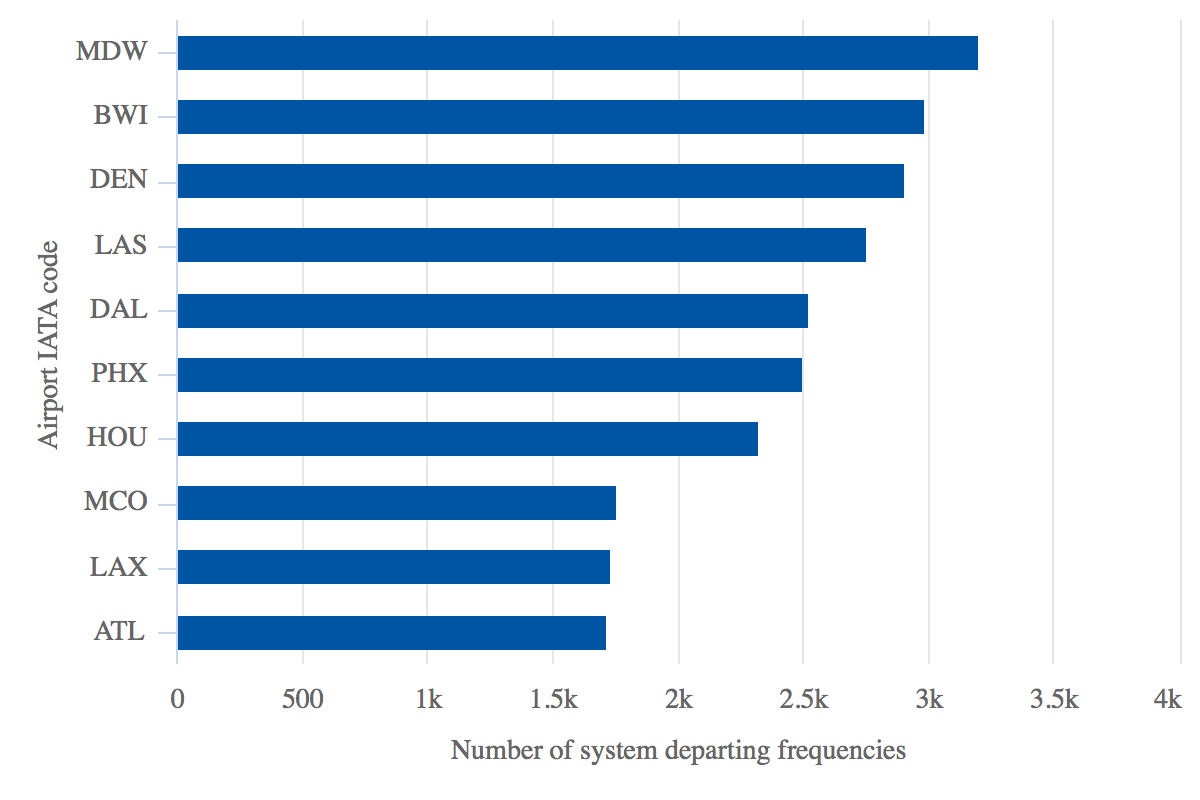 As BWI and Southwest celebrated the airline's 25 year service milestone, The Baltimore Sun quoted the airline's CEO, who declared the company's partnership with the airport was one of the greatest success stories for Southwest during the past 25 years.

Southwest's commitment to BWI remains steadfast. The airline recently announced plans to construct a USD130 million maintenance facility at the airport. It is the first maintenance hangar for the airline in the US Northeast, and Southwest has committed to USD80 million of the cost. The Maryland Aviation Administration has committed USD50 million to the project.

Earlier in 2018, Maryland's state government approved a USD60 million plan to expand and upgrade Southwest's terminal at the airport. The Baltimore Sun has reported that the Maryland Aviation Administration is aiming to break ground in Jan-2019 and finish the project in 2020.

BWI also works to keep its costs low, which is a priority for Southwest and all other airlines serving the airport. The Washington Post has reported that BWI's cost per enplanement in 2016 was USD9.51, compared with USD20.95 at Washington Dulles and USD13.44 at Washington National.
BWI recognised by passengers as one of the US' top airports
BWI also generates a favourable sentiment among its passengers. The airport recently secured the tenth spot in Conde Nast Traveler's 2018 Readers Choice awards for best US airports. Among the positive aspects mentioned by the publication's readers were transit access, the airport's efficiency, dining options, an observation deck and an ability to rent bikes to ride around the 12 mile trail surrounding the airport.

The airport has highlighted that it was the only facility in the Washington region to rank on the best airports list. Indianapolis and Portland took the top two rankings in the survey and the large hubs airport that made the list include Minneapolis, Detroit, Phoenix and Dallas-Fort Worth and Houston Intercontinental.

The only other east coast airport included in the rankings was Bradley International in Hartford, Connecticut, which shows that some of the more congested airports on the US east coast are not viewed as favourably by passengers.
BWI enjoys a solid foundation from Southwest and positive passenger sentiment
BWI has a solid network foundation anchored by Southwest Airlines. The airport's future looks bright as recent developments show that Southwest and the airport have committed to projects that will deepen their already strong relationship.

The airport has also built up a positive customer sentiment, which has resulted in BWI becoming a passenger favourite, something that is arguably hard to accomplish in the US marketplace.

Given those pillars, BWI seems poised to enjoy solid growth in the future.