Budapest Airport: Central Europe's #1 LCC airport and growing fast
Analysis
Budapest Ferenc Liszt International Airport is only Europe's 46th largest airport by seat numbers (based on in its seasonal peak week of 30-Jul-2018). However, it is significant as the largest low cost airport in Central Europe (based on the number of LCC seats). LCCs have 60% of all seats at the airport.
Budapest is growing rapidly, with double digit passenger growth in each of 2015-2017 and 17.0% growth in 1Q2018. The airport's leading airline, Wizz Air, is growing capacity at 18.0%, and number two Ryanair is growing by 33.6% this summer (week of 30-Jul-2018).
Strongly dominated by short/medium haul, Budapest's long haul network receives a boost this summer when LOT Polish Airlines establishes its first trans-Atlantic routes from outside Poland, with services to New York and Chicago. Moreover, American Airlines returns to Budapest after more than six years, with a Philadelphia service. Norwegian has mooted narrowbody trans-Atlantic routes from Budapest.
When Malev Hungarian Airlines collapsed in early 2012 the airport lost its leading airline, and there were concerns that Budapest would lose connectivity. However, the gap was quickly filled and this catalysed renewed growth. There are 55% more routes and one third more airlines in summer 2018 versus summer 2011.
Summary
Budapest Airport has enjoyed three successive years of double digit passenger growth
Budapest's passenger numbers increased by 14.5% in 2017, when they totalled 13.1 million. In the first three months of 2018, growth was 17.0%.
The year 2017 was the third successive year of double-digit growth and the fifth successive year of positive growth since a 4.7% drop in the passenger count in 2012.
That decline followed the collapse of Malev Hungarian Airlines in Feb-2012, at a time when the national airline of Hungary was the airport's leading operator.
Budapest Ferenc Liszt International Airport: annual passenger numbers, 2008 to 2017 and Jan-Mar 2018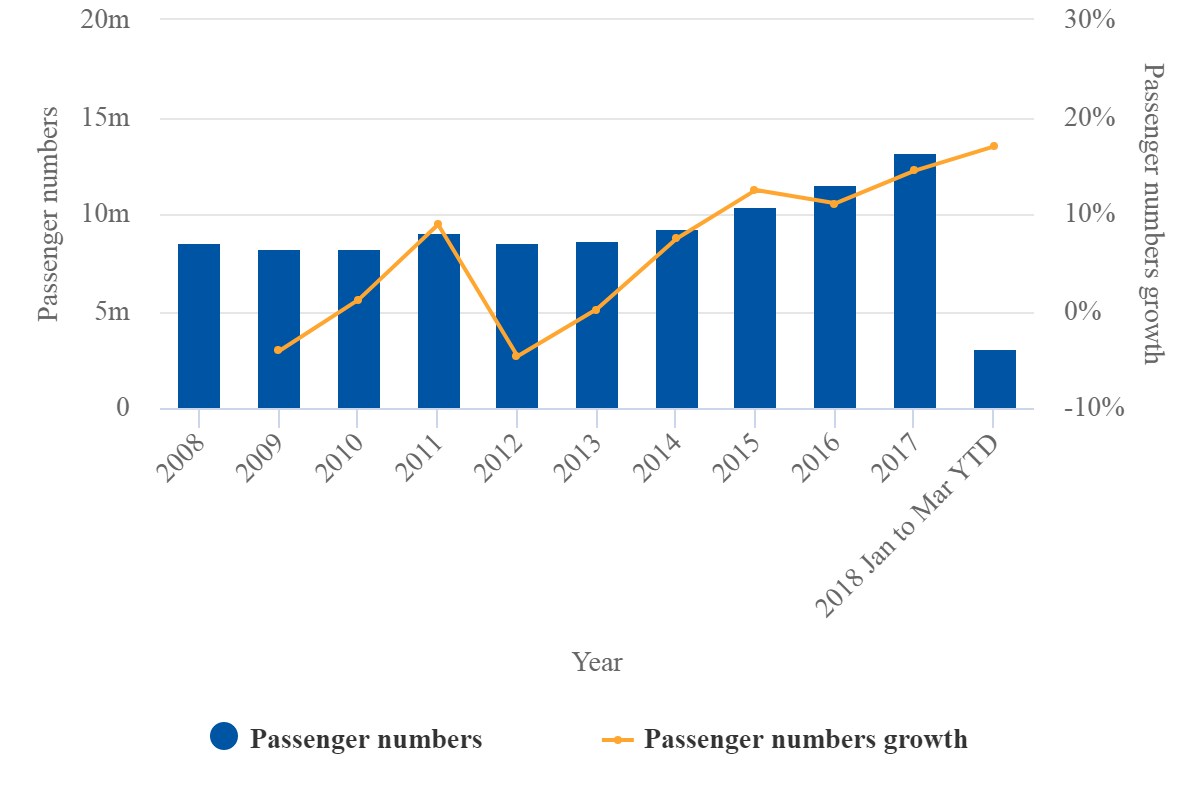 Malev's collapse in 2012 caused only a small drop in traffic, soon recovered
Given that Malev had such a significant share of traffic at Budapest (43% of seats in the week of 26-Sep-2011, during its final summer of operations), the relatively small drop in passenger numbers illustrates aviation's often cited ability to fill a vacuum.
Malev's demise prompted an almost overnight entry by Ryanair in Mar-2012. There had been 85 routes to/from Budapest in summer 2011 and there were 86 in summer 2012.
While capacity and traffic fell modestly in 2012, passenger numbers stabilised in 2013 and resumed growth in 2014.
2018 passenger numbers could exceed the 2011 count by two thirds
By 2017 the airport's passenger count was 47% above its 2011 level. OAG data for the first 40 weeks of this year indicate capacity growth of 15.0% in 2018.
If passenger numbers increase at that rate for the full year the total could exceed 15 million – more than two thirds higher than in 2011.
Wizz Air and Ryanair have led the growth, but many other airlines have entered since Malev's demise
Ryanair's entry into Budapest in 2012 prompted Wizz Air, the number two airline at the airport when Malev collapsed, to expand rapidly as the leading operator. Other airlines also entered the airport, further stimulating growth.
In summer 2011 there were 33 airlines operating 85 routes from Budapest. By summer 2017 there were 42 airlines operating 124 routes. The summer 2018 schedule consists of 44 airlines operating 132 routes (based on data for OAG for the week of 30-Jul-2018).
Wizz Air is growing by 18.0% year-on-year in the week of 30-Jul-2018, when its seat share will be 31.6% (compared with approximately 12% in summer 2011, before Malev's exit). Budapest's number two airline Ryanair is growing by 33.6% this summer.
Among the top 10 airlines at the airport, easyJet, Travel Service, and LOT Polish are also growing at a faster rate than the airport's total seat growth rate of 16.8% in the week of 30-Jul-2018 (see table below).
Wizz Air has added new routes to Stavanger, Athens and Basel, Ryanair has added Paphos and Santander, and LOT has added Krakow and two new long haul routes (see below).
The only top 10 airlines not growing are seventh placed Norwegian, shrinking by 6.7%, and British Airways, which is staying at last year's capacity level.
Budapest Ferenc Liszt International Airport: top 10 airlines by seat share, week of 30-Jul-2018
| | | | |
| --- | --- | --- | --- |
| Rank | Airline | Seat share | Growth y-o-y |
| 1 | | 31.6% | 18.0% |
| 2 | | 14.7% | 33.6% |
| 3 | | 6.6% | 15.1% |
| 4 | | 4.6% | 23.3% |
| 5 | | 3.6% | 48.0% |
| 6 | | 3.4% | 9.1% |
| 7 | | 2.8% | -6.7% |
| 8 | | 2.5% | 0.0% |
| 9 | | 2.4% | 117.8% |
| 10 | | 2.3% | -1.1% |
| | All others | 25.4% | 12.8% |
| | Total | 100.0% | 16.8% |
The network from Budapest is short/medium haul dominated
The airport is dominated by international routes (99.9% of seats in the seasonal peak week of 30-Jul-2018) and by short/medium haul operations, which make up 97.5% of seats.
Europe accounts for 90.8% of seats (Western Europe 70% and Eastern/Central Europe 20.8%), while Middle East accounts for 5.6% and North Africa 1.1%.
Budapest Ferenc Liszt International Airport: international departing seats by region, week of 30-Jul-2018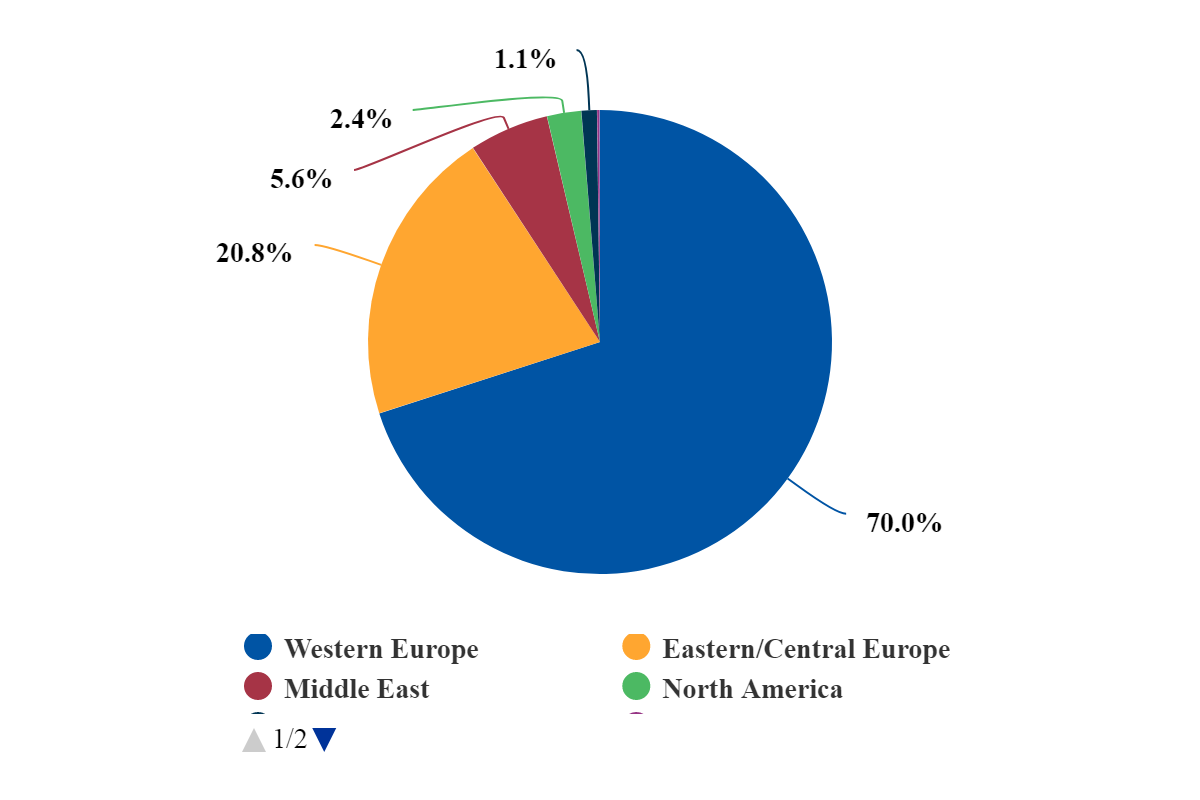 Budapest's long haul network adds three US routes this summer, led by LOT Polish
Although Budapest is short/medium haul dominated, its budding long haul market is showing signs of increasing dynamism.
Budapest's North American network increases from one to four routes this summer when LOT Polish launches services to Chicago (twice weekly from 5-May-2018) and New York JFK (four times weekly from 3-May-2018) and American Airlines launches Philadelphia (daily from 7-May-2018).
The only existing North American route is Toronto (Air Canada, increased to daily this summer from six times weekly last summer).
LOT's two new US routes from Budapest are the Polish airline's first long haul services from an airport outside Poland. It is still rare for European airlines, particularly legacy operators, to take advantage of the EU-US Open Skies agreement in this way.
This reflects LOT's more ambitious and positive attitude since emerging from its restructuring years.
See related reports:
In Asia, Air China operates a four times weekly Beijing service and Wizz Air operates twice weekly to the Kazakh capital Astana (launched summer 2017, and not strictly long haul).
Budapest to be part of Ryanair's new Jordan network and to add more long haul routes
Looking ahead to the winter 2018/2019 season, Budapest will be part of Ryanair's plans to operate to/from Jordan for the first time. Included in the Irish LCC's Jordan network will be a twice weekly service between Budapest and Amman from Oct-2018.
Beyond this Middle East expansion, further long haul growth looks set to be an increasing part of Budapest's future.
Norwegian is considering expanding its trans-Atlantic service with A321LR aircraft from Budapest, Prague and Berlin to US east coast cities. Norwegian is scheduled to begin receiving A321LR aircraft in 2019, according to the CAPA Fleet Database.
The airport is also known to be looking at adding more destinations in Asia. These may include China, South Korea, Thailand, Japan or Singapore.
Budapest: a textbook example of how aviation abhors a vacuum
Budapest has become a text book example of aviation's abhorrence of a vacuum. The collapse of Malev in 2012 left a big hole, but the space was filled very quickly. Ryanair's immediate entry, Wizz Air's accelerated growth, and the entry of several other airlines have not only filled the gap, but also brought the airport into a new era of strong growth.
Budapest is Central Europe's biggest airport for low cost airline seats, a position built on short/medium haul routes.
Now, the new US routes from LOT Polish and American Airlines, together with Norwegian's potential trans-Atlantic narrowbody services, set the stage for Budapest to become an increasingly significant long haul airport too, as "connectivity" regrows.