Brussels Airlines: the long wait for consummation with Lufthansa – Part 1
Analysis
Brussels Airlines launched its second US route (Washington Dulles) on 18-Jun-2013, throwing the spotlight on what has become the forgotten carrier of the Lufthansa empire. It is descended from a long line of Belgian national carriers, but includes some LCC genes in its make-up through the union of Virgin Express and SN Brussels Airlines in 2007. It remains a full service carrier, albeit with a simplified entry level product on European routes, offering business class and a long-haul network.
Its network is largely short/medium-haul; it has no Asian or Latin American routes and only two North American routes, but it has a disproportionately large African network. This niche is what attracted Lufthansa to Brussels Airlines when it bought a 45% stake in 2009, but the union has not yet been fully consummated in spite of a long courtship that has permitted a complete takeover since 2011.
In Part 1 of a two-part report, we assess Brussels Airlines' recent growth and analyse its network. Part 2 will examine its financial progress.
Brussels Airlines was formed from the merger of Virgin Express and SN Brussels Airlines (itself formed out of the ashes of Belgium's historic flag carrier Sabena). The two carriers came under the common ownership of SN Airholding in October 2004 and continued to operate separately until a full merger in Mar-2007. The 'SN' flight code originally applied to Sabena has survived with Brussels Airlines and still provides a convenient shorthand name for it.
On 15-Sep-2008, the Lufthansa Group announced its purchase of a 45% stake in SN Airholding, approved by the EU Commission in Jun-2009 granted regulatory approval for this strategic partnership between Brussels Airlines and Lufthansa. Lufthansa also has a call option, exercisable from Apr-2011 and annually until 2014, to buy the remaining 55% in Brussels Airlines. Brussels Airlines became a member of the Star Alliance on 9-Dec-2009.
Three fare categories on European flights
Brussels Airlines remains a full service carrier, albeit with a simplified entry level fare category. On European flights, SN offers three types of tickets: b.light economy, – b.flex economy+, and b.business. The first of these, b.light economy, is the entry level fare, with a buy on board programme offering snacks and drinks for purchase. Free drinks and a snack are also offered in b.light on flights operated by Flybe and Tyrolean Airlines on behalf of SN and on its own aircraft to Agadir, Marrakech and Moscow.
b.flex economy+ is a full service economy product with complimentary newspapers, catering, fast lane at security, change flexibility and priority boarding. b.business is Brussels Airlines' European network full service business class, offering premium meals, free champagne and full flexibility. On medium-haul and long-haul flights (Africa, United States and Tel Aviv), Brussels Airlines offers normal economy and business classes.
Passenger numbers recovered to 2007 levels in 2012
Brussels Airlines flew 5.7 million passengers in 2012, an increase of 1% versus 2011 (scheduled flights only). This returned passenger numbers almost to the level seen in 2007, before the global financial crisis.
The African network saw growth of 10.1% in passenger numbers and the long-haul network also benefited from the launch of a daily scheduled service to New York JFK, while the intra-European network decreased by 2%. European capacity was cut to adapt it better to lower demand and also adapted according to seasonality on leisure destinations.
Passenger load factor across the airline increased by 2.2 ppts to 68.7%, still low compared with the AEA average of more than 80%. The service to New York, launched in Jun-2012, registered an average seat load factor of 80%. Cargo freight tonne-kilometres increased by 24.8% in 2012.
Brussels Airlines passenger numbers: 2007 to 2012
Growth in 2013 was driven by long-haul
In the first five months of 2013, Brussels Airlines has seen passenger numbers grow by 1.6% and load factors have continued to grow. Growth has been driven by the long-haul network, while short/medium-haul has seen modest capacity reductions in accordance with the company's restructuring plan.
Consistent with this, Innovata data suggest that Brussels Airlines' Western Europe capacity is broadly stable year on year, while its capacity to Central/Eastern Europe is lower than in 2012. It is implementing some growth to Central/Western Africa, while cutting on Eastern Africa. North Africa and Southern Africa are very small sub-regions for Brussels Airlines. Capacity to North America is growing year-on-year due to the launch of the New York route in Jun-2012 and will receive a further boost from the new route to Washington Dulles in Jun-2013.
Brussels Airport to Central/Western Africa (seats per week, one way): 19-Sep-2011 to 15-Dec-2013
Brussels Airport to Central/Western Africa (seats per week, one way): 19-Sep-2011 to 15-Dec-2013
Belgium's largest airline, but Ryanair is close behind
Brussels Airlines is the largest airline in Belgium by seats (source: Innovata, week of 24-Jun-2013). Its 26% share of seats is low compared with many flag carriers in their own country (in particular the Lufthansa Group subsidiaries). The Lufthansa Group, with Brussels Airlines included, has a share of 33%. Ryanair is ranked second, with 21%, and other LCCs easyJet, Wizz Air and Vueling also feature in the top 10 in Belgium. The second biggest Belgian airline, Jetairfly (owned by TUI Travel), is number three by seats.
Top 20 Airlines in Belgium by seat capacity: 24-Jun-2013 to 30-Jun-2013
| Rank | Airline | Share of seats |
| --- | --- | --- |
| 1 | | 26% |
| 2 | | 21% |
| 3 | | 10% |
| 4 | | 4% |
| 5 | | 3% |
| 6 | | 2% |
| 7 | | 2% |
| 8 | | 2% |
| 9 | | 2% |
| 10 | | 2% |
| 11 | | 2% |
| 12 | | 2% |
| 13 | | 1% |
| 14 | | 1% |
| 15 | | 1% |
| 16 | | 1% |
| 17 | | 1% |
| 18 | | 1% |
| 19 | | 1% |
| 20 | | 1% |
| | Others | 15% |
Brussels Airlines has a 36% share of seats at its Brussels Airport hub, again a low share for a national carrier at its home hub. Moreover, this does not take account of the position occupied by Ryanair at Brussels South Charleroi airport, where Ryanair has 80% of the number of seats that Brussels Airlines has at Brussels.
While Charleroi is not a hub airport and offers very little in terms of long-haul, the erosion of short-haul point-to-point traffic away from Brussels to some extent undermines the viability of connecting services at the main airport.
See related report: Brussels Airlines to benefit from changed EU law that levels playing field for airlines
Brussels Airlines top 10 bases: 24-Jun-2013 to 30-Jun-2013
Brussels Airport: airlines share of seat capacity: 24-Jun-2013 to 30-Jun-2013
No domestic routes, but short/medium-haul dominated (and a niche to Africa)
With no domestic routes, Brussels Airlines' capacity is 100% international and dominated by Europe. Its short/medium-haul operations fly to 43 destinations in Europe, and one in the Middle East (Tel Aviv), while its long-haul network consists of two North American routes (New York JFK and Washington Dulles) and 19 destinations in Africa.
It is its African network that gives Brussels Airlines a niche and defines its distinctive role within the wider Lufthansa Group.
The five times a week Washington route, flown by Airbus A330-200 or A330-300 aircraft, was launched on 18-Jun-2013 and follows the launch of the New York route a year ago. The route is new for Brussels Airlines, but not for the SN code, under which Sabena operated the route until 2001. The service is the only flight with a late afternoon departure from Brussels Airport to the United States. The flight schedule also allows for passengers to connect to other destinations in the US with Star Alliance partners and for passengers to transfer through Brussels to destinations in Europe and Africa.
CEO Bernard Gustin said: "In four years' time we have doubled our long haul fleet from 4 to 8 aircraft. We have added 4 intercontinental destinations to our network and have increased flight frequencies on several routes. The launch of Washington is part of our strategy to operate the most important intercontinental destinations from Brussels Airport ourselves to offer passengers a comfortable and direct travel option."
See related report: Brussels Airlines to further expand in Africa and launch New York but cut back in Europe
Brussels Airlines international seat capacity by region: 24-Jun-2013 to 30-Jun-2013
The 2013 schedule has seen the addition of Edinburgh and the return of Palermo to Brussels Airlines' network, as well as increased frequencies to Tel Aviv, the Italian destinations Milan Linate, Catania, Venice and Naples; and leisure destinations such as Malaga and Faro. By contrast, Warsaw and Krakow have disappeared from the summer timetable.
African frequency is being expanded
On Brussels Airlines' African routes, it has increased frequencies to a number of destinations, continuing the growth in capacity seen in 2012, These destinations include Douala, Yaounde, Freetown, Conakry (Guinea), Cotonou (Benin), and Dakar (following a new bilateral aviation agreement between Belgium and the Republic of Senegal). Brussels Airlines also concluded a commercial agreement with Senegal Airlines regarding regional flights that connect with the direct Dakar-Brussels service.
Korongo Airlines, a carrier based in the Democratic Republic of Congo and just over 50% owned by SN Airholdings, was founded in the spring of 2012 and now offers connections to Lubumbashi for Brussels Airlines passengers who fly to Kinshasa on Monday, Friday and Saturday. Korongo Airlines also has a new scheduled service between Lubumbashi and Mbuji-Mayi, one of the fastest growing cities in Congo, and connects Lubumbashi to Johannesburg several times a week.
Brussels Airlines route map: 27-Jun-2013
Codeshares are the strategy to Asia
Brussels Airlines has no destinations in Asia, but Star Alliance partner Thai Airways carries the SN code to Bangkok from Brussels under a codeshare agreement. Brussels Airlines also has a codeshare agreement to Mumbai and Delhi with Indian partner Jet Airways. The two also have an agreement with rail operator Thalys linking their air networks via Brussels to the centre of Paris by train.
This allows passengers to book a combined Thalys/flight ticket, for example from Paris to Kinshasa with Brussels Airlines or from Paris to Delhi with Jet Airways. Under the agreement, both airlines place their flight codes on the rail service between Paris and Brussels.
In addition, Brussels Airlines has codeshare agreements with a number of other carriers on long-haul routes including Singapore Airlines, Air Canada and United Airlines.
Brussels Airlines Network Summary: at 30-Jun-2013
| Region | Number of destinations |
| --- | --- |
| Total non-stop passenger destinations | 66 |
| Domestic | 1 |
| | 19 |
| Schengen Europe | 35 |
| Other Europe | 8 |
| | 1 |
| | 2 |
Brussels Airlines has leading positions, but few monopolies, on its top routes in Europe
Brussels Airlines' top 10 international routes by seats include a number of secondary, non-Star Alliance cities (although Copenhagen and Vienna feature in the list). Codeshare agreements with Lufthansa, Austrian and SWISS give its passengers access to Star hubs in Frankfurt, Munich (and from Germany to Norway, Poland and Israel), but this relative lack of routes to alliance hubs in the top 10 suggests scope for greater integration with Star in Europe if and when Lufthansa takes full control of Brussels Airlines.
Brussels Airlines top 10 international routes by seats: 24-Jun-2013 to 30-Jun-2013
Brussels Airlines has some strong market positions on its biggest European routes. Among its top 10 international routes by seats, it is number one on six and number two on four routes, although only two (Berlin Tegel and Hamburg) are monopoly routes. Berlin is also served, in the form of Schoenefeld, by easyJet from Brussels.
Brussels Airlines market position on its top 10 international routes by seats: 24-Jun-2013 to 30-Jun-2013
Destination

SN market position

Other competitors on
airport pair

Other competitors on
city pair

1

1

None

easyJet (Schoenefeld)

1

1=

2

2

1

None

2

1=

2
Although not controlled by Lufthansa in terms of majority share ownership, Brussels Airlines is de facto part of the Lufthansa Group in operational terms. It is the smallest of the national carriers in the group and the most short/medium-haul focused.
Nevertheless, Brussels Airlines' African network is very significant to the group, in terms of seat capacity. Although Lufthansa itself has almost 10 times the total number of seats as Brussels Airlines, the latter's African network has around half the number of seats that Lufthansa has in Africa. Around 10% of Brussels Airlines' seat capacity is on African routes, compared with around 2% for the wider Lufthansa Group, and Brussels Airlines contributes 28% of the group's African seats.
Weekly seat capacity by region for Lufthansa Group airlines: 27-May-2013 to 2-Jun-2013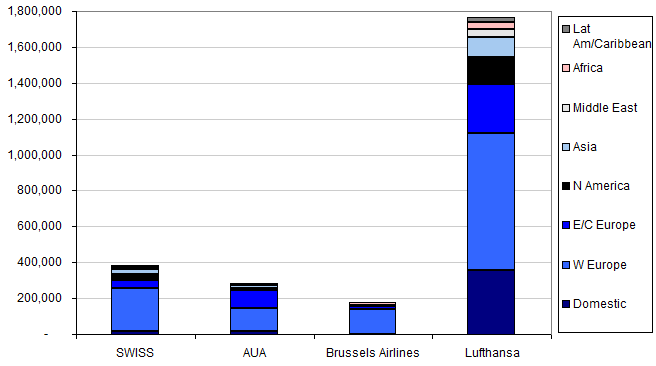 This African strength defines Brussels Airlines' role and purpose within the Lufthansa Group and it appears to be a robust niche. In part two of our report, we will probe this robustness more deeply and also analyse Brussels Airlines' cost competitiveness and financial health. It cannot be simply an oversight by Lufthansa that, in spite of Brussels Airlines' major attraction, it has decided not to buy full control of the Belgian carrier since its option became exercisable in Apr-2011.
Weekly seats by region (% of total) for Lufthansa Group airlines: 27-May-2013 to 2-Jun-2013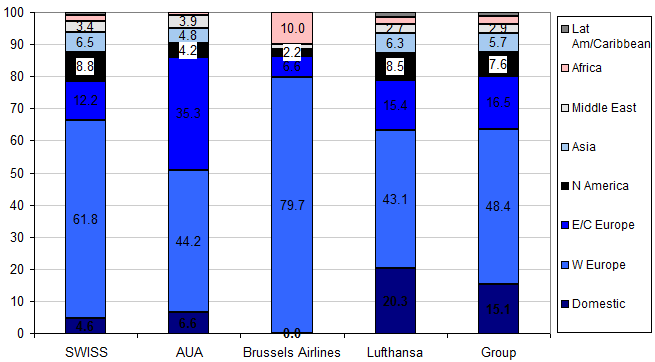 To be continued in Part 2.