British Airways' premium traffic impact worse than headline figures - falls now compounding
Analysis
British Airways' premium traffic - a barometer of health in the underlying economy - fell a further 17.2% last month. At first glance, it appears BA's premium volumes may have bottomed earlier this year, but a closer analysis of the data suggests that the trend line is actually deteriorating further.
British Airways' premium vs non-premium traffic volume growth (% change year-on-year): May-07 to May-09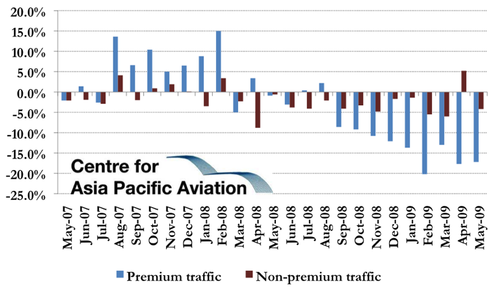 Premium traffic falls now compounding
This is because premium volumes started to become volatile this time last year, with a 0.9% decrease in May-2008. Apr-2008 premium traffic growth was actually still positive, so the Apr-2009 fall of 17.7% is somewhat softened (even allowing for the Easter effect).
But, where the starting point for year-on-year comparison is off a negative base (May-2008's -0.9%), then the May-2009 fall is compounded to -18.1%. (Note: May-2007 premium demand was negative 2.1% year-on-year too). A 12-month moving average also shows the longer term deterioration of premium demand and reinforces CEO Willie Walsh's comments that the airline is in a "fight for its survival" (see below).
Compound falls: Two-year sum of British Airways' premium traffic volume
growth (% change) and 12-month moving average: May-08 to May-09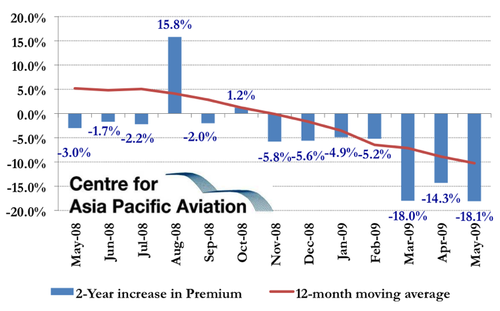 And discounting is masking even larger yield falls

The graph above, with the monthly moving average, clearly illustrates the remorseless downward trend since last August - with no sign of any levelling out.
It is important to stress that BA's figures reflect premium volumes - not yields, which, by all accounts, are likely to be much worse. Recent discounting of Business and First class travel, including 2-for-1 offers, has artificially stimulated premium traffic passenger numbers, which would otherwise be worse still. Across the Atlantic, Continental Airlines' poor yield performance in May-2009 suggests the signs of a recovery may be no more than a mirage.
Last June, BA's premium demand was down 3.1%. If figures this month are any worse than -15% year-on-year, the 'green shoots' theory will be seriously challenged – and BA (and many of its premium focused rivals) will be looking down the barrel.
'Fight for survival'
When CEO, Willie Walsh told staff this week that the airline was in a fight for its survival, he was not joking. His comments have been veiled by the context of union discussions, but they are real and sobering. This is a carrier that is not only fighting for its position as one of the big three European network airlines; it is now struggling to find an image of how it will look in two years' time.
It desperately needs to reduce costs, redirect its vision and - essentially - establish solid operating partnerships. With would-be partner Iberia now renegotiating publicly and the US Department of Transportation dragging its heels on trans-Atlantic antitrust immunity with American Airlines, the platform is looking rocky.
Whatever BA's vision of its future, as Willie Walsh's ancestors might have said: "if you want to get there, I wouldn't start from here".